May 3rd, 2009

So I was wrong. Dead wrong. What's that you ask? My dire prediction from last week's column, stating that the amazing 10 week swell run was over. While I certainly wouldn't qualify today and yesterday, as being on the same level as prior weeks, I would however, have to say this. This current swell, that showed up yesterday and is still here today, is clearly Surfable. And with the sun shining yesterday? Well, it was a fun looking Spring swell for any one of us to score. Beginner, intermediate and beyond. So what is this...11 weeks? We need to do some quick research to see if this is any kind of new record. Google have that info? I'd be curious to find out if it is in fact, a new Spring Record. 11 weeks. Whoa.
And so it continues. The swell? No my declining eyesight and hearing. What the hell is going on here? I must clearly be in denial. I mean, I've just never thought of myself as a glasses wearing individual. But with each passing week, I'm finding that my pupils just aren't what they used to be. And same with my hearing. Hardly. Case in point. I was shooting some video last week, during the peak of the Earth Day Swell. I was pretty confident that I was getting some decent footage. I mean hell, I've been shooting movies/video since 1971. I think I have it down somewhat. So, I'm firing away, talking with friends passing by, and shooting friends in the water.
It's what I've done forever. Shooting surf scenes.

I was mentally editing in my mind what I was going to do with this new footage. Everything seemed to be going good, until I went back to my studio and popped the tape into the deck to view some of the raw footage. What I saw was bona fide horror. I say this, because it's not the first time it has happened. What the hell am I talking about? Well, I'm almost too embarrassed to tell you. But here it goes. When I thought I was shooting the surf action, I was actually hitting the pause button. That's right. When I should of been hitting record, I was hitting pause and vice versa. I sat there stunned in my studio. "Not again" ( I told myself). How is this happening? Well truth be told, I am not totally at blame here. Here's why.
I blame it on faulty design mechanics on my Canon GL-1. It's true.
I don't know how many of you own a GL-1 but I'm sure if you do, you know where I'm going with this. And I'm speaking strictly GL1, and not the GL 2. The GL 1 is the original 3ccc video camcorder that Canon put out. I love the image quality, and I love the covert-commando style design. I love it. I think most videographers who own one will agree. It's a classic 3ccc camera. But here's the problem. The LED lights, that light up inside the view finder are all in Green. In other words, when you press record, it comes up with the REC letters and they are in Green. When you stop to hit Pause, they too come up in Green. The flaw must of resonated with both the customers and the designers, because all the new camcorders, from the GL-2 and on, all have changed to having the LED lights come up in RED when hitting record. Trust me, when you're on the fly like me, and you are shooting from the hip. The last thing you need to constantly do, is to stare hard at the LED, to make it is recording, and not on pause. The color change eliminates that. A quick glance at the viewfinder is evident of that. Red is record. Green is pause.
So unless they can repair this design flaw on my GL-1, I'll have to really start to pay attention as to whether or not I'm recording when I want to be. In other words, I'll need to get some eyeglasses. Oh no. Glasses. Another sign of the times.
And my hearing? Well, all the years of surfing and Rock and Roll have taken a toll on my hearing. It does not bother me, nearly as much, as it does my wife and three kids. They get totally frustrated when they say something, and I answer them, thinking they said something completely different. Personally, I think they are overreacting. Besides, there have been some humorous exchanges, because of it. Mostly at their expense.
So while I do think, my hearing is slipping, I don't plan on getting a hearing aid. That would be too much too soon. I'm not prepared to have both glasses and a hearing aid. I mean, I guess I would entertain the thought of having better vision. But not both. I need to ease into this.
The good news is, my new NIKON D-90 does not have the same issues as my GL-1. I'm completely enamored with that camera. I love it. It's been so much fun to use since I first got it back in February. Having all my surf photographer friends offer advice and lenses doesn't hurt either. Having the right kind of gear is very important in any field you work in. The new digital age has made leaps and bounds as far as ease of use and quality. I wrote about this last week. We've all benefited from the new digi age we live in.
However, there is much to be said for the gear of yesterday. The quality and richness of film over digital is one for the ages. We are always going to have the traditionalists who eat, sleep and die by film. And I have to to admire them for that stand. They are purely guided for that quality that you can only get with film. The problem is, film (like a lot of other things) are becoming obsolete. But that does not mean that film is dead. Hardly. The pros still shoot in film. The major movie industry types still shoot in film. For how long is anybody's guess. But it still does exist especially in the pro market. But the consumer market has changed. It's digital or nothing. Shoot digi and have instant gratification.
However, if you are an up and coming surf photographer, or someone who appreciates the art of film, there are some items that I will be posting soon on the CLASSIFIED page that might interest you. They are Water Housing Gear from Brian Nevins. You've seen some of his amazing water shots from Puerto to Indo and beyond. They were all shot on the gear he's unloading. This is a great chance to buy some of these custom built housings, and gear, that have been proven, many times over in the field (yes the ocean is a field). I expect to have the CLASSIFIED page up this week. So watch for it. Check back in.
Speaking of this site. A lot of you have been emailing me and asking me about the new pages. Such as: When the hell are ya gonna put them up Ralph? I'm working on it. But these dam weekly swells are killing me. Well, not actually killing me, but clearly taking up a big chunk of my time. It's been non stop shooting and editing for 11 weeks in a row now people. The additional RPOTW pages are coming. I'm asking you all, to please be patient with me. I'm working as hard as I can ,with little or no sleep as it is.
There's just not enough time in the day.
Recently we had a slight bump in the road down at 10th Street. Apparently a non surfer spray painted all over the Wall and entrance at 10th Street. One of their friends had an untimely ending. There was grief, and anger, and then gut reaction. The gut reaction resulted in the spray painting of the deceased's name all over the Wall. While all of us in the Surf community, offer our condolences, to the family and friends, from this tragic ending of a life leaving here way too young. We cannot, condone the use of Graffiti, to mark up that sacred entrance to the surf. Now some of you, might think this to be an overreaction of the surfers at 10th Street. I can assure you all it is not.
Some of us have spent our entire lives down there at 10th Street.
All surfers who have walked through that 10th Street entrance know what I'm talking about. It is a place, that is held with the highest respect, and honor, for those who actually did surf, and who no longer are with us, and have spent many days at this spot. From Joe Somogyi, Moira Daly, Jon Gould, and Danny Miller. To Dan Carginan, Todd Ross, Mark Ritchie, Ray Hackett and Bob Hayes. The list goes on and on. These were surfers who surfed and hung around here. Their names are not on this Wall. And honestly, I don't think any of them would want their names there. Why? Because this place is that sacred.
I want to ask those who hang around at the Wall in the evening hours, to keep a constant vigil over that spot. Don't let those who drink there at night, break bottles and throw trash everywhere. Parents and children use that beach during the day. Surfers from all over, walk through those cement openings, like they have since the early 60's. Who wants to walk on broken glass? Who wants to see huge gobs of Graffiti? No one. All I'm asking is to show some respect for those who have come before you and have since passed away, and to those who still surf here. This beach belongs to all of us.
But make no mistake about it. It's a spot for Surfers. Love and respect goes a long way.
Now for some of my weekly Global observances:

Someone please tell me, what genius in the White House came up with the idea of having a large Jet Plane that looked like Air Force One (The plane that carries the President), fly around Manhattan in NYC ? And they had a small fighter plane follow closely behind it?
Who thought that was a good idea? Are you FREAKING Kidding me? I read that it cost approximately $247,000 to make that flight. Not to mention, the hundreds of panicked civilians who fled from their high rise buildings, and poured out into the streets fearing the worse.

Which BONEHEAD in the White House forgot about what happened on September 11, 2001? Whoever it was, should be fired. No bonus package. No stimulus check. Just bounced on his or her head, and tossed out the freaking door. See ya.

Better yet, here's a novel idea. If you want to get a photo of the President's plane flying along Ground Zero. Save yourself some money, and pay me a few hundred dollars. I'll photoshop that plane flying along the city, and I'll even put President Obama himself on the roof of the Plane, in a damn superman suit if you want. Big ole smile on his face, waving to his fans. I mean come on. Was that crazy or what? Come on. Hello?
The Swine Flu Pandemic is out of control. Are you kidding me? Look there are more people dying from the regular Flu every damn day. There's only been one death so far in the US and that was from a small child who either lived or visited Mexico. Is this crazy or what? And then Mr Foot-in-mouth himself Joe Biden says no one should fly or ride the Subways.
Just Stay home says Joe. OBama must cringe when this guy opens his mouth. But honestly? The Swine Flu? Anybody really worried about it? If you are, check out my video clip for the week. You'll see how far this has affected us surfers.
Pakistan is in a fight for their very survival. The next few weeks will be crucial. Seriously. This is big news. We need Pakistan. I'll give BHO some credit because he has allowed the CIA unmanned drones to continue to mess up Al Qeada and the Taliban. At least he sees the threat is real here. Those evil sons of bitches hate ALL Free Thinking Human Beings. I think the White House is starting to wake up to that fact. Good. We need to defeat Al Qeada and those evil Taliban losers.
The Craig's List fiancée announced this week, that the Wedding is now off. Huh? Why the sudden change of heart? I guess the thought of the Groom still sitting in jail on the blissful day was enough of a wake up call. How does the wedding register work? Can you get a refund? I heard that someone got them a massage certificate. Ooh that's gotta hurt.
How about that 50-1 odds horse Mine That Bird Winning the Kentucky Derby? That was like a damn Disney movie. I mean are you kidding me? They showed up in a Pick up truck. Classic story. There are still some feel good stories out there people.

The Celtics beat the Bulls last Night in a GREAT GAME 7 that will go down as one of the all time series in Celtics Basketball. GREAT GAME. The RED HOT Bruins beat the Hurricanes in their first meeting 4-1. The B's The C's! The RED SOX beat The RAYS.
Like I said last week. It's all good here. Times are good for us New England Fans.

Speaking of New England Sport fans. Check out Jimmy Dunn and Drew Cropper in the Portsmouth Herald today. Click this link for the Jimmy and Drew Story
Click here for URGENT SURFRIDER New Hampshire
BEACH Clean Up News

Click here for Lil Miss Molly "STASH FOR CASH" FUND RAISER Events: Dr. Brent Reinheimer, local surfer and Exeter Hospital physician, is leading the charge for the "Stash for Cash." Dr. Brent says, "Anybody that is interested in participating in the "growth" will decide on a facial hair distribution and shave it out next Friday.

Don't forget All the shops are STILL collecting cards, gifts, and other provisions for the Rowlee family. PIONEERS , CINNAMON RAINBOWS, BRICKHOUSE, ZAPSTIX and many more shops are drop off points of interest for Miss Molly. Skip Brunette has opened a Little Miss Molly account at the SEACOAST CREDIT
UNION on 887 Lafayette Rd, Hampton NH. (see poster below for info). There are several more fund raisers in the making as well. There's still plenty of things going on for Lil Miss Molly and you can find out most of it on the Ralph's Community Page.
Little Miss Molly Fund Auction

A special GET WELL soon to our man Adam Coates. Hang in there brother, you'll be back in a few short weeks.

*Congrats to Local Surfer*
Dr. Mark R. Henschke Receives National "Patients' Choice" Award

Dr. Mark R. Henschke has been recently recognized for a national "Patients' Choice" Award. The honor reflects the differences he has made in patients lives through the exceptionally high praise granted to him by his patients. Every month, more than 40,000 patients across the U.S. provide online feedback about their experiences with their doctors. Over the course of 2008, these reviews have totaled hundreds of thousands patient opinions. While physicians generally receive positive reviews from their patients, only a select few receive uniformly rave reviews across the board. Of those that receive rave reviews, only those with near perfect scores have been voted by their patients for this honor. In fact, of the nation's 720,000 active physicians, less than 5% were accorded this honor by their patients in 2008

*SEE QWILL at BROTHERS NORTH in Hampton on Thursday May 7th & May 14th. * Qwill is the Surfer who's music is featured on both GREETING SEASONS and GROOVEMASTERS from Surf Free Or Die.

SEE Big Handsome Daddy at The Galley Hatch Conference Center on Rte 1 in Hampton on Friday May 15th at 7PM. BHD is a Blues Rock Trio featuring (yours truly) who play in the style of Stevie Ray and Jimi Hendrix. In other words...it's guitar driven Blues Rock. This is a benefit to help The American Legion POST 35 Building Fund. There are SPECIAL GUESTS The Old Bastards playing after our Set. It should be a fun night all around.
HAPPY BIRTHDAY Nohea Nichols 22 on May 2, 2009.
HAPPY BIRTHDAY Jay Gould 55 on May 7th, 2009.
HAPPY BIRTHDAY Leah Grondin 19 on May 8th, 2009.
HAPPY BIRTHDAY Gabby Fatello 19 on May 9th, 2009
HAPPY BIRTHDAY Tony Szabo 50? on May 9th, 2009
Please Support ALL The photographers who contribute to Ralph's Pic Of The Week every week for the last 6 years.
Remember my friends...Surfing heals all wounds....
Pray for Surf. Pray for Peace. Surf For Fun.

Ralph


Yesterday- Gabby Boogie Board's The Wall
(Below) This is one of my favorite surf photos of all time. No not because I took it. And not because it's my oldest daughter Gabby. It's one of my favorites because, of the smile on her face. To me, this is what surfing is all about. Having fun. What a simple basic concept. Having fun in the ocean. At the Wall ,where Gabby and her siblings and friends all grew up.
Gabby turns 19 on May 9th. Happy Birthday Gabby! We all LOVE You!
Photo by RALPH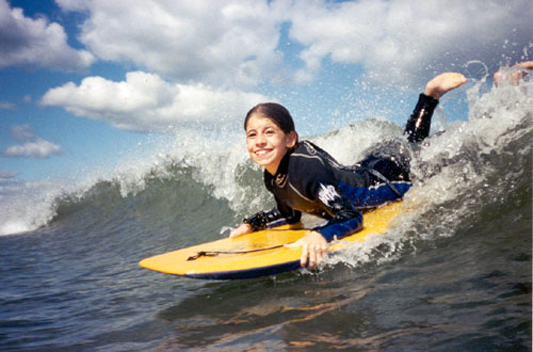 Today Leah Surf's The Wall on April 22nd, 2009
(Below) This is Leah Grondin. Leah turns 19 on Friday. Leah and Gabby grew up on this stretch of sand, cement and surf. Happy Birthday Leah! We all Love You! *CLICK ON PHOTO BELOW TO SEE MORE.
Photo by RALPH

Click on the image above to see more from last week's amazing swell.

Today-Nohea Turns 22 on May 2nd, 2009
(Above) Nohea Nichols turned 22 on Saturday May 2, 2009. The first of 3 Lil Surfer Girls. Happy Birthday Nohea we all Love you! Photo by Lenny Nichols.
Click on the image above to see more.
(Above) Tony in 1990 at Monkey Peels. Tony Szabo turns 50 something Saturday May 9, 2009. Same day as Gabby! Happy Birthday Tony we miss you!
Photo courtesy of Tony Szabo.

Today- May 2nd 2009 The Swine Flu Swell.
*Click On These Images below for the May 2nd 2009 swell to take you to the NEW Photo Gallery That will Allow you to see either Thumbnails, or Larger images That you can forward or reverse. Click photos.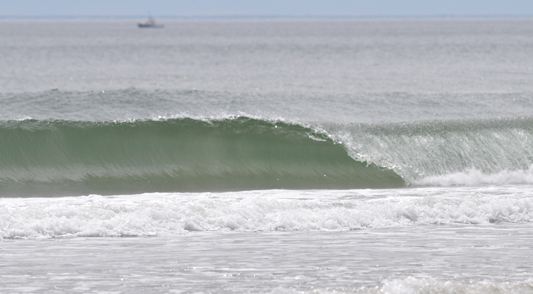 (Above) This is what the surf looked like yesterday. To see more click on the photo.
Photo by RALPH


Click on the image above to see more.
(Above) Saturday May 2, 2009. This is Mike Moran streaking on a wave at the Wall that was actually better than this looks. And this does not look bad. Click on the pic for more images from this fun day. Photo by RALPH Click on the image above.
(Above) Saturday May 2, 2009. Mike Moran again having some fun. Click on the pic for more images from this fun day. Photo by RALPH Click on the image above.

(Above) Saturday May 2, 2009. Mackey V not taking any chances against the Swine Flu or Da Kine Flu. Click on the pic for more images from this fun day. Photo by RALPH
Click on the image above.


(Above) Saturday May 2, 2009. Mackey V and BHD shooting the Swine or DA Kine Flu skit. Click on the pic for more images from this wacky skit. Photo by RALPH
Click on the image above.

(Above) Saturday May 2, 2009. Mike Stanek's bird was so happy after hearing about the Kentucky Derby winner Mine That Bird. If only he had shared his Bird Knowledge with us we all might be sitting pretty right now. Photo by RALPH
Click on the image above.

(Above) Saturday May 2, 2009. Peter Stokes deals with this blatant drop in with a causal sense of dignity and calm. Click this photo to see the whole sequence. Photo by RALPH
Click on the image above.

(Above) Saturday May 2, 2009. Johnny Grasso letting us all know he's watching.
Put cursor over image for the sequence. Photo by RALPH
Click on the image above.


RALPH'S VIDEO CLIP OF THE WEEK BELOW.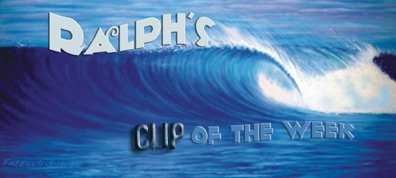 RALPH'S VIDEO CLIP OF THE WEEK.
CLICK ON THE PHOTO IMAGE BELOW FOR SHORT WINDOWS MEDIA FILE VIDEO CLIP. VIDEO by SFOD R. Fatello
(Above) Click on this image of Mackey V weighing in on The Swine or DA Kine Flu. VIDEO Clip shot on May 2nd 2009
Video Frame Grab by SFOD
Today 2009 - More From last Week's Earth Day Swell.
*Click On These Images below for more of last week's great Earth Day Rainbow Swell April 22-23-24-2009 swell to take you to the NEW Photo Galleries That will Allow you to see either Thumbnails, or Larger images That you can forward or reverse. Click photos.
(Above) Casey Lockwood. Boosting for sand dollars. Click on photo to see more of this outrageous session. Photo by Ed O'Connell
Click on the image above.

(Above) From last week. Snuggies Cove was firing! To see more click on the photo.
Photo by RALPH
Click on the image above to see more.
(Above) Stevie O Hara dealing with a pressing lip at Cemento De La Playa 4-23-09. To see more click on the photo. Photo by RALPH
Click on the image above to see more.
(Above) From last week's Rainbow Swell sesh. Billy Ritchie sitting back in the tube watching the amazing show of colors unfold at the Wall.
Photo by RALPH
Click on the image above to see more.
(Above) From last week. The Wall. To see more click on the photo.
Photo by Chris Thompson
Click on the image above to see more.
(Above) Morro Bay Rock in Central Cal by visiting New England Surfer Tim Moore.
Photo by Tim Moore
Click on the image above to see more.
*Congrats to Local NH Surfer Dr. Mark R. Henschke for Receiving The National "Patients' Choice" Award . Photo courtesy of Mark Henschke
Today- 2009 The Crop and Ross Files
*Click photos below for Thumbnails and larger viewing

(Above) Dave Cropper gets a wave and a wave in Fiji. Click on photo for more beautiful Tavarua images. Photo by Steve Lee
Click on the image above.
(Above) Ross Kunkel in the Barrel at Peaches & Cream. Click on photo for more beautiful Peaches & Cream images. Photo by Steve Lee
Click on the image above.

(Above) 50 to 1 odds Jockey Calvin Borel celebrating aboard Mine That Bird after they won the 135th Kentucky Derby. Ed Reinke/Associated Press

Today 2009 PARTING SHOT- Fight Back Against Swine!

(Above) Local Surfer Tom Miller's answer to the Swine Flu scare. Dispatch the Swine before the Swine Dispatches you. Oh and it wouldn't hurt to...Eat Pork!
Photo courtesy of Tom Miller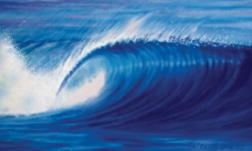 Click on Wave to return to top of page