December 13th, 2009 42 out of 43 weeks of surfable waves.

This past week, will go down in our local Surf history as one of the saddest weeks. There can be no denying the impact of losing Linda Paugh a week ago today. The week before the most celebrated of Christian Holidays, the birth of Jesus Christ and the beginning of Chanukah, this passing of one of our own, has left many of us numb with shock and sadness. Yet, even with this deep profound sadness and pain, something else happened. A celebration of sorts. The Tribe of New England Surfers came out by the hundreds to say good-bye to Linda, and to offer condolences and words of love to Linda's family and friends and to her life long lover and husband, Michael "Zappy" Paugh.
The service on Thursday for Linda Paugh was a true celebration of her short life.

Reverend Chip Thompson did a great job leading us all through this difficult time. Reverend Chip is one of us. He's a surfer. He was also the Reverend who married Mike and Linda just 4 short years ago. Having Chip be a surfer and a man of God, truly made it easier for all of us. His words were poignant and meaningful, and very spiritual. And we all took away with us, something special about Linda's life that we did not know beforehand. Services like these are eye openers. Finding out about Linda's life by those who were with her from the very beginning. Her sisters, her parents, her friends.

They all shared in Linda's life.

Surfers traveled far and wide to be there. Mitch Hargraves came in from California, Kim Overlook came up from North Carolina, but no one traveled as far as Shane Philpott . He flew in from Australia. They all came to pay their respects and to learn more about who and what Linda Novak Paugh was all about. And boy oh boy, she was something special.

Her dad NFL Coach Novak was especially inspiring. He spoke of Linda's courageous fight against the cancer. How she never wavered in her positive attitude to beat this thing. And he spoke volumes of how Mike stayed by her side every single day. He slept with her, he slept on the floor. He would only go home to shower and then return. It was both heartbreaking and beautiful. His devotion to Linda was evident. And really for all of us surfers, you can't speak of Linda without speaking of Mike and vice versa. They were Lovers. They were husband and wife. They were business partners. And they were, above all, best friends. For life. Forever.

And they took their wedding vows on September 17th, 2005 with the same Reverend Chip standing there at Linda's service...December 10th, 2009..."til death do us part".

I'm sure that Mike has faith. He wouldn't have asked for Reverend Chip to do both his wedding and Linda's Funeral if he didn't. I think most of us believe in something beyond this world. And honestly, we all need some kind of faith in our lives. No matter what your belief. Christian, Jewish, Muslim, Hindu whatever you believe. Or if you're just basically a spiritual person. Whatever your faith is, you need to hold onto to it. Because when times like this happen, when all seems lost, you need to look beyond your current surroundings and see the world that awaits us all. For me, it is all to real.

I was sinner, and Jesus saved me many years ago.
And my faith has been tested many times over. And just when I think I may be wrong, and that it is all just a bunch of BS, I witness something first hand, that is virtually impossible to be anything but something beyond this world. I've seen it. And when these special moments happen in my life, I can see the goodness of this world, and I truly believe in the amazing world that awaits us all. Please don't think I am coming off as some wild, religious zealot, who is walking the perfect line.

I am far from perfect. (Hey don't be so hurtful...I can hear you guys.)

But, I am trying to be a better person to everyone. Seeing all my friends the other night at Linda's service, just reaffirms my belief in all that is good in this world. And all that is possible in the next world. If you believe. So if I can leave you with anything positive this week, it is this:

Believe in your faith. Whatever it is.

Nourish it with your family and friends. Just don't flaunt it, or try to drive it down someone's throat. And if you are one of those who are without faith. Just be a better person. Be good to each other. Love one another. Take the time to help someone. Call a friend or a family member where you've had a falling out with, and say the simple words of..."I'm sorry."

It's the easiest and hardest thing to do. Saying those two simple words to someone. I'm sorry.
And again like last week...If I can do it-you can do it. Lord knows I've said it a few times. I'm sorry.

So say a prayer for Linda. Say a prayer for Michael. Help him find his way back home. Linda is already home. And they will be together again with Faith, Hope, and Love. Finally, it is imperative that all of us who knew Linda to speak of her. I mean, tell stories about her. Share stories and memories about her. Keep her memory alive. Because if we don't speak about her, she will be lost.

Rest in Peace Linda Novak Paugh. We won't forget you. And we will watch over Michael.

Now for some of my weekly Global observances:

I read the News Today oh boy...The Boston Globe. On the front page was a story about Al Qeada moving their operations to YEMEN. Did any of you see it? Please tell me you did. In the story was the confirmation that several of the Leading Al Qeada figures who are already in YEMEN were released from the US Prison in Guantanamo Bay Cuba. That's GITMO. Surprise surprise surprise. Look, the very fact that the Boston Globe is reporting this on their FRONT Page is reason for concern. It's also another reason why this War is called the GLOBAL WAR ON TERRORISM (GWOT). The current administration can try and call this war by some other name all they want. But here's yet another reason why it's called the GWOT. It's Global.

So the 10th Annual SANTA SPEEDO Race took place in the streets of the Back Bay in Boston yesterday. The Santa Speedo race is when adult men and women race through Boston dressed in nothing but skimpy Red Speedos. Is it any wonder that Al Qeada hates us? Help us Lord.
The Patriots beat the Carolina Panthers 20-10 today. They were two different teams. They sucked the first half and actually looked great the second half. One highlight was the fact that Stephen Gosgowski hit his 100th Field Goal today. No I'm not crazy about the Pats again, tho I do like it when they win. Hey, you show me someone who does not mind losing, and I will show you a loser. We're a long way from the Super Bowl though...a very long way.

The 2010 Chris Shipley Local Surf Calendars are now in the shops.
Rest In Peace Linda Paugh...
A continued Speedy Recovery to Surf Mom Super Saint Kim Grondin.
Happy Birthday Donna Baldarssari !
Happy Chanukah to all my Jewish friends!

PLEASE HELP THE NH SURFRIDER FOUNDATION.

*Check out the updated 12-13-09 DROPPING IN ON RALPH blog Section.
*Molly Video by Joe Carter has been moved to the Community Page.

Please Support ALL The photographers who contribute to Ralph's Pic Of The Week
every week for the last 6 years. **Think about BUYING a Photo from any of the weeks
on RPOTW as a GREAT Gift Idea. A nice framed photo of your favorite Surfer!
Remember my friends...Surfing Heals All Wounds....
Pray for Surf. Pray for Peace. Surf For Fun.

Ralph
Yesterday- December 15, 1989

(Below) This is a photo that Joe Gedritis took of me at The Wall. *The paddler in the foreground is Mike Zappy Paugh. He was hooting me on this wave. Mikey my brother, Linda is going to be hooting you on every wave you catch in the future. She will be by your side, offering words of encouragement
on every hard paddle you attempt in big surf. She will be there with you every step of the way.
Believe it Zappy ...believe it. Photo by Joe Gedritis.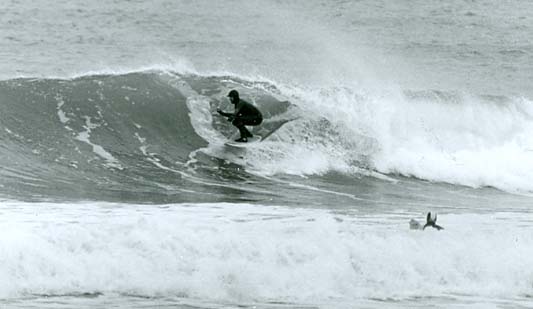 Today- December 10th, 2009
(Above) I shot this photo the morning of Linda's Service. December 10, 2009.
Yes, I believe Linda is in Heaven.
Photo By RALPH

*
Click on the photo above to see the Whole Gallery.
(Above) Unknown making a late drop at a spot my late friend Joe Somogyi pioneered and named.
December 10, 2009. Photo By RALPH
* Click on the photo above to see the Whole Gallery.


(Above) Mike Stanek laying the pink out for all to see at Coyote Bank.
December 10, 2009.
Photo By RALPH
*
Click on the photo above to see the Gallery.
(Above) Stan Refuses to Stand. Check it out...December 10, 2009.
Photo By RALPH

*
Click on the photo above to see the Gallery.
Today- 2009 Sunday, December 6th, 2009
(Above) A Wave for Linda...Sunday Morning after the storm. Dec. 6 -2009
Photo By Brian Nevins * Click on the photo above to see the Whole Gallery.

(Above) Nice Drop against a nice backdrop. Thursday Dec. 3 -2009
Photo By Ginger Nelson Kellar * Click on the photo above to see the Whole Gallery.

Today- 2009 Thursday, December 10, 2009 WEST COAST
(Above) Nice pull up and under the Blacks Beach lip. San Diego California.
Thursday Dec 10-2009 Photo By Ben Ginsberg
* Click on the photo above to see the Whole Gallery.
(Above) Blacks Beach Barrel. San Diego California.
Thursday DEC 10-2009 Photo By Ben Ginsberg
* Click on the photo above to see the Whole Gallery.

RALPH'S VIDEO CLIP OF THE WEEK BELOW.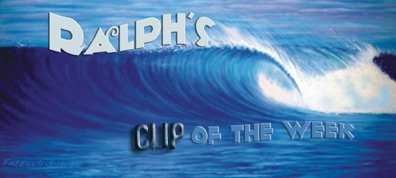 RALPH'S VIDEO CLIP OF THE WEEK
CLICK ON THE PLAY BUTTON BELOW
FOR a VIMEO VIDEO CLIP. THE RUN TRAILER -COMING DECEMBER 15th 2009!

Michael Sander Video Below Shot on December 10, 2009

Today 2009- The BLATANT DROP IN of The Week.
12-10-09 CLICK IMAGE BELOW
(Above) All Rise: 10th Street District Court of Surf Justice is now in session, the Honorable Judge Ralph G. Fatello presiding. CASE #34 BLATANT DROP IN OF THE WEEK-Freak vs GUN. While this photo is evidence enough, I did shoot a sequence of this particular crime. Click on image above to see it all. Photos By RALPH
* Click on the photo above to see the Whole Crime Scene
Today- 2009 The North Shore of Oahu- Dec. 2009
(Above) Master Lensman Bernie Baker shoots this incredible scene at Waimea Bay.
The North Shore of Oahu...prior to the Eddie. Dec. -2009

Photo By Bernie Baker
*
Click on the photo above to see the Whole Gallery.
(Above) Finally The RUN files...all the juicy inside footnotes and other interesting and not so interesting tidbits on my latest movie. This movie is ALL Locals. All Local surfers. All Local Photographers and ALL local musicians.
COMING NEXT WEEK Video Frame Grabs (above and below) by RALPH
FROM THE NEW SFOD MOVIE The RUN.
The NEW Invisible Surfer Man Series

*Click masthead above to read the original ISM story.
(Above) This is what should of happened. The surfer should of had a clear face to deal with. Instead...well check it out. Just know that this is what happens when you DROP in on someone. You become Invisible. Put the mouse over the image to see the original photo and then marvel at the results of what happens when the criminal becomes invisible. *Put the cursor over the photo to see the Real image.
Photos by RALPH
Today 2009 PARTING SHOT-"Coming down!"

(Above) Unknown at Lefty's about to meet the slab. 12-10-09. Photo By RALPH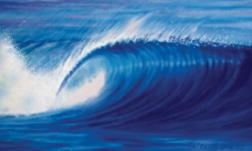 Click on Wave to return to top of page