June 24th, 2007

Some of you are old enough and knowledgeable enough to know and remember who Peter Crawford is (No not the actor), and I would especially hope, that some of you photographers would know. For the record, Peter Crawford was one of the best Surf Photographer's to ever snap a photo. Peter Crawford's work graced the covers of all the major surf mags and quite a few surf movies during the 80's and 90's.

Peter's life was cut short by, of all things, a spider bite he got in Bali.

OK, so why would I bring this up? Well, our own resident Surf Photo/Journalist John Carden almost lost his life this past week due to a spider bite. John recently returned from Bali himself. For the sake of time and money, I'll let John himself tell the story. These are John's own words.

Hey Ralph! What's going' on? I have a story to tell you.
Last Sunday I woke up with two insect bites on my neck near the jugular vein. Sunday night at work they were itchy and pointed like little pyramids. When I woke on Monday after sleeping for 12 hours straight, I noticed the bites were bubbling and had black in the centers under the bubbled skin. It was red and swollen around them halfway up my neck.
I went online to investigate, and noticed the symptoms were similar to the bite of a brown recluse spider and the black area was the beginnings of necrosis-dying tissue. The information warned that the most critical areas included the neck and could cause death.

So Tuesday I went to the VA in Manchester and saw many curious nurses and doctors until one old school surgeon said it was indeed necrosis and said "I want to cut that out of there"and they whisked me into day surgery that minute. He cut out and area about 1 1/2" x 3/8" about 3/16" deep and sent it off to a lab for analysis.

I was to return everyday that week until Friday when they would have the lab results. All week I have been wondering if this was how I was going to go... from a bug bite. (Epitaph: Here's lies John. A big brown spider sat down beside him and now he's dead. And he never ripped. (That's the saddest part))
Friday I went in and saw another surgeon who had the results. He said it was a bacteria. A flesh-eating bacteria. It was not the venom from the bite that caused the necrosis. Somehow, the bite was infected with this bacteria. If it was venom, then cutting it out would have made it worse. If it was bacteria, not cutting it could have let it spread to my organs and death would have been likely. Somehow, the staff at the VA made the correct decision and cut it out in time and put me on an antibiotic on Friday when they knew it was in fact bacteria.

Today, I am starting to feel better. The wound is ugly but you've seen uglier.
I tell you this story for 3 reasons: First, I wanted to let you know where I've been because I haven't written you for a while. Second, because as you well know, death can come at you from anywhere at any time. I am glad you and I know to appreciate everything we have every day. Third, because I gave time to serve our country, I was given free medical care for life.

So it was scary- it still is. If you google flesh-eating bacteria, it will scare you. The Internet scared me in time to get to the hospital. I haven't told my mother yet because she's in Illinois visiting family and she has just recovered from bone marrow cancer and we lost my sister to cancer so I didn't want her to worry. I'll call her tomorrow if it feels like I am recovering like today.
I'll talk to you soon.
Johnny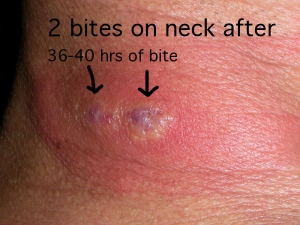 P.S. The purple/black is the beginnings of necrosis
Whoa...talk about scary shit. Bugs? I have a problem with certain bugs. Like the Mosquito. I hate them and the Greenheads. But to almost die from a spider bite? We all want Johnny boy to have a speedy recovery. Hey check your beds tonight...and I DO HOPE that the Bed Bugs DON'T BITE!

Speaking of Mosquitos. On the street I live on, the town or state, comes by at night with the Mosquito Spraying vehicle. Now those that really know me, know that I really, really, really don't like Mosquitos. So when this vehicle comes along and sprays the snot out of them bugs, it's time to celebrate. When the kids were little, I'd get them up to have them watch the truck go up and down the street killing Mosquitos by the thousands. We'd be high fiveing each other as the dreaded mushroom cloud of insecticide would engulf the sleeping "Skeeters". It was a good feeling.

Now I know, the likelihood of having the same driver year after year come and do our street is highly unlikely, and knowing this, causes me great concern each year. Well, this year was no different. And to my dismay, the (new) driver came down our Street this past Friday at dusk, and he was (in my opinion) going way too fast. I just happened to be in the kitchen when I saw him make his first pass. Because we are on a dead end street, he needed to come back up before continuing on through the neighborhood.

I grabbed my keys and jumped in my JEEP before he made his return pass. I backed out of my driveway, and came to a complete stop, blocking his vehicle from going by me. I pretended not to see him, and took my time straightening out before heading up the street. The whole time, his machine was spewing out gallons of toxic bug juice directly at our home and yard. It was beautiful.

I looked back at him and gave him a thumbs up.

He just stared straight ahead. Waiting for me to move.
I felt a little guilty...but only a little. The way I figure it, if I was not there, my family and I would of only gotten a small dose of the "Good Juice". And in my opinion, we needed a little bit more than that. I need the full treatment, not some speedy drive by where the stuff falls on the asphalt and is completely wasted.
I realize, there are those of you who shudder at the thought of this...and I really can't explain it to you, I can only tell you, that the Mosquito has my number, and we are at war with each other. I don't expect to win, but I am prepared to do battle each year...and I will take my losses with each small victory. Wish me and my family luck.
My apologies to anyone who thought that there was going to be surf coming last week, due to my misinformed prediction. I was going on the words of wisdom from two different reliable sources. I should of, in hindsight, paid a little closer attention to the week's surf activity. Sorry...

Speaking of surf, the first contest of the local ESA-NNE district was blessed with good surf. Now if they can keep the trend going there will be a lot of happy contestants. The first contest was sponsored by Cinnamon Rainbows. The next contest is slated for Saturday June 30th in York Beach Maine. The schedule needs to be adjusted because of the postponed contests early on.
You say it's your birthday? This is the week for local birthdays. Yesterday was Kevin "Doc" Grondin's b'day. And this coming Saturday is Kyle Linesman's b'day, and my wife Cory's b'day and Mike Tyson's b'day and it's also...DAVE CROPPER'S B'day! So Happy Birthday to all of the above, and we hope you all have a great day.

Actually, we hope you all get surf on your birthday. Cause if you get surf-we get surf too! I know you've all gotten surf on your birthday at least once in your life. And honestly, is there a better feeling? Getting surf on your birthday. And what's even better is, to get barreled on your birthday. Now that, is the ultimate birthday gift.

Celebrating your exit from the womb of your mom, by exiting a tube from mother ocean...that's the perfect gift.

I hear that Paris Hilton is due to leave the confines of prison tomorrow. Oh the horror...poor Paris will have to readjust to her former celebrity lifestyle. Please my friends, let's all say a prayer for her, and hope that her transition back to LaLa land is a smooth one. A Prayer for Paris.

Saturday, June 30th is also the Golf Tournament for Danny Miller you can call the shop to get details on that.

And please Don't forget. The Continuing Fund for the Late Surfer Danny Miller's young son Landon can be made to The Landon Miller Fund through ANY Citizen Bank.

Or send your donation to:

The Landon Miller Foundation
83 South Road
North Hampton, NH 03862
Click below to see Danny Tribute or see Danny Surfing
Tribute to Danny. North By Northeast
Remember my friends...Surfing heals all wounds....
Pray for Surf. Pray for Peace. Surf For Fun.

Ralph