January 16th, 2006
Today is Martin Luther King day. The man would of been 77 today. Truly one of the great Americans and this day should reflect all of what he and other great Civil Rights Activists have accomplished. Hope you get the day off. There are little waves out there today. It is however, a tad on the chilly side. Like Freezing yer Freaking Gonads off Chilly! Still, there are people out.

That's New England Surfing for you. Saturday was a balmy 53 degrees and today is minus 14 degrees with the wind chill factor thrown in. Crazy weather. And...it's supposed to climb back up to 55 on Wednesday.

Speaking of "I have a Dream"...I had a dream the Patriots lost...man what a nightmare that was.
Ok, I'm officially in mourning today...the Patriots Realm is over and it's a hard and bitter pill to swallow. I know some of you could care less about the NFL and the NE Patriots and I have to admit, I am envious of you. I wish I could be devoid of feelings for professional sports. Especially the Red Sox and Patriots. However, the feeling of euphoria when they won 3 out of 4 world championships is a feeling that I won't ever forget.
These are (were) exciting times for NE Patriots fans.
I guess I should of kept my mouth shut about the Free Waves for all Patriots fans...sorry if I jinxed us.

Hey it could be worse. We could be Colts fans!

So all my Chief photogs checked in when I called them on the carpet about not shooting last week. (See Archives January 8, 2006). Just as I suspected, some chose not to shoot because of the weather and lack of light. My guess is it won't happen again. If the surf is going off and there's talent out there taking it on, then we photographers must document the action. Nuff said.

I want to send out some much deserved props for my friends at ESM (Eastern Surf Magazine). These guys have been in business for 15 years and if you've never seen a ESM mag you are missing out on the TRUE source for all East Coast Surfing. Mez and crew have done an outstanding job representing the East Coast for 15 years. They were the first to recognize what we have both in talent and in wave quality. The mag is full of action pics and in depth articles on your East Coast brothers and sisters. That's right they cover both sexes.
And they feature photos and articles on New England on a regular basis. And that alone should be enough for you to pick up a copy. And they have recently released their first ever video titled: ALWAYS RIGHT. It's a hot DVD that features the best East Coast Surfers surfing the best East Coast Waves. Check it out.

Support your coast by supporting ESM.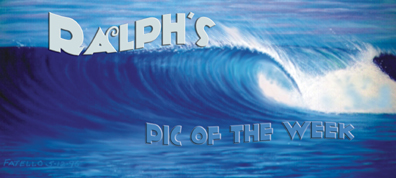 Got good surf pics? Send em off to me directly.
(See link below) Just make sure they're NOT huge files.
In fact if you have any questions about the size, email
me first and I'll write back.
Start shooting crackie!!
Ralph Pic Of The Week
If you want to access the Pic of the week from past weeks click here.
Archives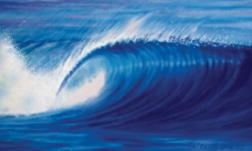 Yesterday 1970 Ultimate Surf Rig
Anyone who ever surfed through the 60's and 70's remembers the VW Van. This van belonged to the late Mike Normand. The boards and the van are straight out of the past. The Harbour Rapier, the Bing Nose Rider and a back yard board that Mike and Peter Hilton made.
Photo courtesy of SFOD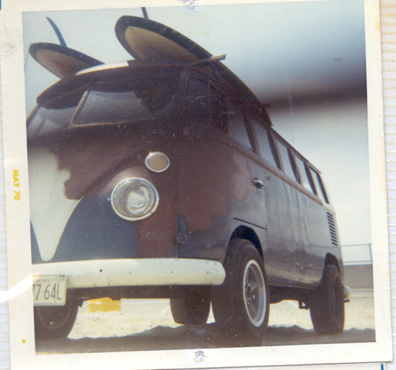 Speaking of Videos. My man Joe Carter's DVD "GET IN THE VAN" is a must see movie. Joe's latest is his best yet and he's on the verge of stepping up and into the limelight with the best of them. I mean the best of the young Surf videographers. Taylor Steele etc. etc. Joe's Get In The Van is a fast paced flick with super hot surfing in some of the sickest pits I have ever seen. Personally, I'm proud of Joe's work. He's put in the time to learn his craft and it shows.

My feeling about surf photography in general, is based on some simple rules. First and foremost; You have to KNOW surfing. I mean, you have to REALLY know it. Whether that means, you're a hot surfer yourself, (Like Joe Carter) or, you have to be a student of both the sport and the ocean. And this is something, that requires some serious time both in the water and behind the lens. And most importantly, you have to absolutely love capturing surfing on film.

To be a professional surf photographer or videographer you have to shoot the BEST surfers in the BEST waves.
That's what Joe Carter has done in GET IN THE VAN.
It's very marketable in that sense. Joe is a Pro.

It's not what I do. I like to document the local scene. I enjoy shooting everyone and I'm happy and content with that role. To me, that's the essence of Surfing. I love shooting groms and the local longboarders and hot shortboarders and everyone in between. I'm not trying to make a living shooting surfing. I'm just trying to share the experience with the local scene. Having said that. Thank you for your continued support with my videos and don't hesitate when that set comes your way...cause I'll be there ready to pull the trigger and put you in my movie.

SurfFreeOrDie Winter Surf movie WINTER 05 at the Shops and on the Shopping Cart on the Cinnamon Rainbows Online Shopping!

Good Luck to all AFC teams in the NFL Playoffs!

Thank you to all of you who called and sent emails and cards about my dog. I was truly touched by your kindness and heartfelt condolences.

Happy Birthday Kim Grondin.

Remember...Surfing heals all wounds.

As always my friends...Pray for Surf.
Pray for Peace. Surf For Fun.

Ralph




Click On Wave to Go Back to The Top.

Today 2006 Yesterday January 15, 2006 'Snow Hole'
This photo was taken yesterday in the snow squall. A perfect gem in a harsh reality.
Click on photo for more Skye Nacel photos.
Photo by Skye Nacel





Today 2006 First Swell January 5, 2006
This is a video frame grab of Lenny Nichols rocking the first swell of 2006...you see why I wanted to know where all the photos were? Clearly, this was a swell that needed to be documented. CLICK ON PHOTO for MORE of the same swell.
Video frame grab by SFOD



Today 2006 A Glassy Wall in Massachusetts
A surf photo does not have to have a surfer in it. Nor does it have to be a BIG wave. It just has to appeal to surfers.
Photo by Jeannine McKay

Today 2006 California Images
My west coast buddy Ron Freeman is a true artist behind the lens.
Photos by Ron Freeman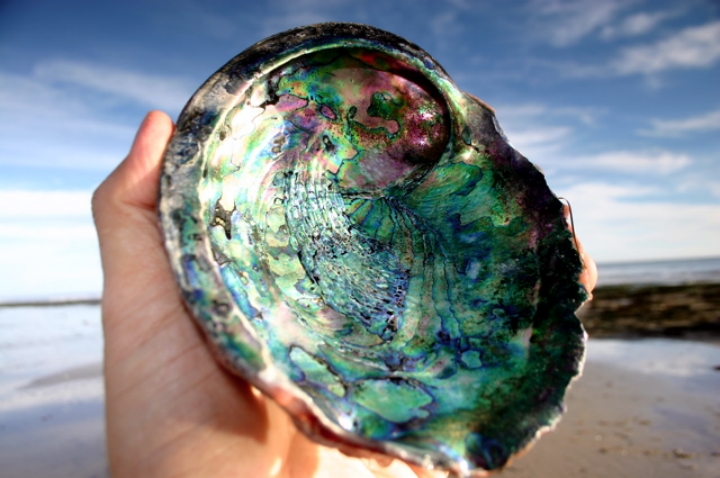 Today 2005 Images from Peru
My friend Ben Forsythe sent these pics from last November and YES that's a real photo with ONE GUY OUT!
Photos by Ben Forsythe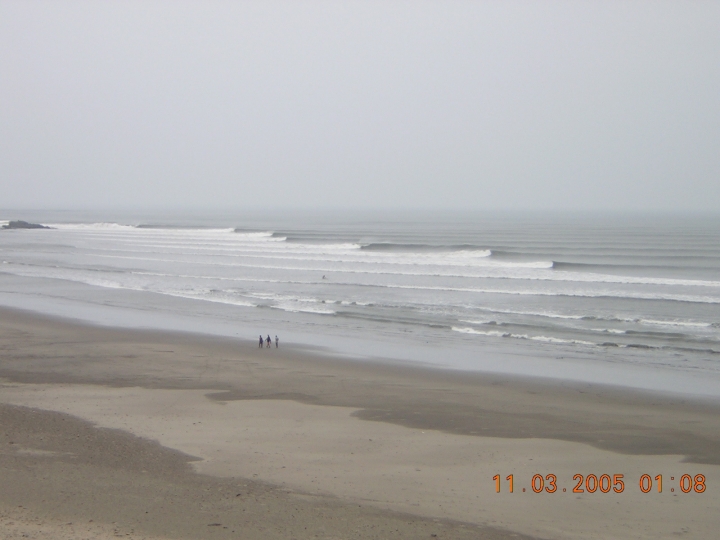 Today 2005 Ex-New Hammy Rider Kyle Howard
My son's friend Kyle Howard likes to rub it in by sending us pics of his everyday surf sessions. Dam Kyle...do you ever go to school? Oh that's right, YOU'RE on the School SURF TEAM!
Photo by brother Cory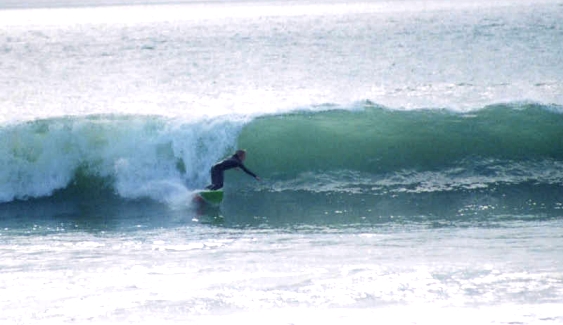 Today 2005 PARTING SHOT- Got Duck Dive?!
Are you kidding me?This is Florida my friends...sometimes you gotta deal with the elements.
Photo courtesy of Phil Beauchesne