THE LAST DAY OF SUMMER. SEPTEMBER 21st, 2021
*All photos by Shelly Berardini

The last day of summer was always the big bummer when we were kids. Thought to be honest with you, our last day of summer was on Labor Day. Because, the very next day, ugh, we were all going back to school. We were never aware of the actual last day of summer being September 21st. Our last days of summer were dreadful. Of course once we became adults, we truly understood that summer does not end until September 21.

And on Tuesday September 21st, 2021 a handful of local surfers enjoyed their last day of summer together. As friends, as surfers, as water men, who love the ocean and her waves. It was one of the best surfing days of my life. And that's saying a lot. At 70yrs old and having started surfing in 1964 that's 57 years of surfing. And as most of you already know, I've surfed quite a few places in the last 57 years. My surfing life has taken me all over the world. I've seen it all and then some. And yet, I can say without question, my favorite waves are still right here at home. Surfing in New England, or to be more specific, New Hampshire. Surfing New Hampshire waves with my friends and family.




To me, it doesn't get any better than that. And that's exactly what we all got on September 21st, 2021.*Above Johnny Meehan Photo Shelly Berardini




The swell came courteous of TS Odette. She went by us a few days earlier and had been sending in a solid swell for days on end. Since Sunday really. Nothing big. Nothing spectacular like LARRY mind you. But nonetheless, a solid consistent swell. I shot on Sunday the 19th and there were moments for sure. Monday it had dropped considerably, but she came back to life on Tuesday. And we all just showed up out of the blue and had the time of our lives out there. *Above Matt Colby Photo Shelly Berardini




*Above Britt Swartley Photo Shelly Berardini

And just who was "we?" Well, the line-up consisted of the following surfers:

Johnny Meehan, Markey Jowett, Phil Carey, Peter Stokes, Matt Colby, Britt Swartley, Tony Berardini, and yours truly. And the surf? Well the surf was waist to chest high, with head high sets. There may have been a few bigger sets. It's hard to say. But it was without question super glassy and super warm. And there was not a single cloud in the sky. To say that the vibe was upbeat and positive would be an accurate description of what we all experienced. Phil and I were semi late to the party, as everyone else was already out. We showed up about 30 minutes after everyone else. But we all scored. Like I said, the vibe was that positive. People were just giving up set waves to whoever was in the batter's box.




For instance, my very first wave was a decent head high set wave that came right to me. As I was sitting further out, it just rolled up onto the outside reef and dropped into my lap. I heard voices of "Go Ralph!" "Yeah Ralph!" And a few other positive hoots as I spun around, dug in to paddle, and easily caught the wave. I dropped down the face, hit my bottom turn and hit the brakes as I grabbed the rail in hopes of it going hollow. It never did, but it was still a great way to start the session. I'm sure I had a grin that went from ear to ear as I paddled back out. And that was the beginning of my own personal exhilarating surf session. I was in unfamiliar territory as I am usually standing on the Rocks shooting them all. *Above Ralph Fatello Photo Shelly Berardini

But this day? This last day of summer? I was one of them. A surfer.




The session was filled with laughter and hoots. When you have Johnny "Jim" Meehan and myself out there, along with Markey, Tony, and Phil it's going to be a laugh fest. And it was just that. Or as Peter Stokes called it. "A Barrel Full Of Monkeys!" That made me laugh. You hear people say that Surfing is supposed to be fun, well, this was one of the most fun sessions I've ever had in the 57 years of me surfing. Everyone was getting good waves. Every single person on that elite list above. We shared waves. We hooted each other into waves. We laughed at some of our own silly wipeouts. In short, it was FUN.
*Above Markey Jowett Photo Shelly Berardini

I wish every session could be this much fun. The day before for instance was nowhere near as fun. But this last day of Summer was a true gift. It was one of those sessions that will stay with you for months. Perhaps years. And it's an easy date to remember. The Last Day Of Summer. September 21, 2021.

There have been times in my life, when I thought about what I would want to have etched on my final gravestone. And although there were several "must haves" re: Marine, veteran, musician, artist, husband, father, grandfather, friend…etc. I keep coming back to this. SURFER. Because before I was any of the above, I was a Surfer. And I expect to be a surfer right up until the day I die.

My original mantra. "Surf Free Or Die. Is still my main mantra. As is "Surfing Heals All Wounds."

Thank you to my friends who I surfed with that magical morning. You all know what I'm talking about here. Thank you for sharing that pure stoke of what surfing is really all about. The negative BS that seems to be permeate the line-ups and certain groups from time to time was nowhere to be found on this day. The negative BS on the Internet was just that. On the Internet. It was not our reality on this day.




This day was magical. And nobody can take that from any one of us that shared that session. On this day, we were local friends, sharing local waves, and having the time of our lives. And Thank You Shelly for capturing a few of these magical moments for us all to see and remember.

*Above Tony Berardini Photo Shelly Berardini

I couldn't help but notice the similarities in these two pics. One of my son from Hurricane Larry and one of me in TS Odette. Click on the image to see a larger version.


Check out the Trailer to HURRICANE LARRY at the top pf the page. Or click here to see the video on my Vimeo page. Full feature COMING SOON.





"SURFING HURRICANE LARRY HEALS ALL WOUNDS."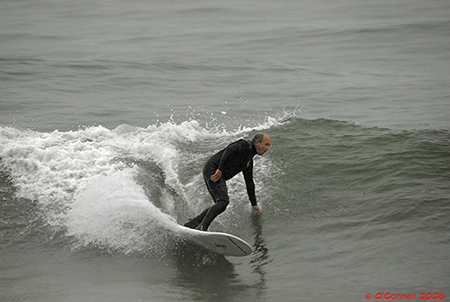 This week's Ed's corner is from September 28th, 2008. Hurricane Kyle. The featured surfer is Rick Evans father of the hottest new shaper on the coast, Mikel Evans. Not sure how many hip replacements this pic is from, but it's at least one. Poor Rick has suffered from bad hips for years now. It comes with age. Knock on wood, I've been pretty dam lucky so far. All of my friends my age or closer have had some serious surgery involving replacements of used parts. I Hope I continue my good luck streak. Though I am aware of the possibilities. Ugh.
Photo by Ed O'Connell
*Click the photo above to see a larger version of Ed's Pic.

Now for Some Local and National News
This story is beyond sad. I'm sure you're all aware of it. I mean it's been all over the news and then some. Gabby Petito 22, was the victim of a homicide. Presumably by her fiancée Brian Laundrie who is has been missing for days. If I had to guess? I'm thinking he took himself out. That's what cowards do. Kill their victims and then kill themselves. Coward low life.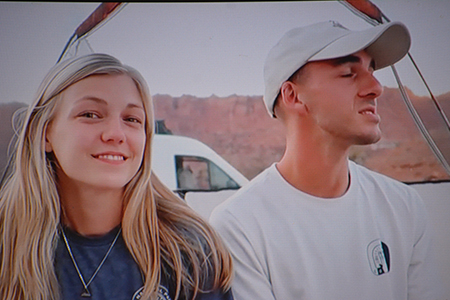 Say a prayer for Gabby's family. And let's hope they catch this loser before he takes himself out of the equation. He needs to be held accountable by a court of law, not by his own cowardly hand.

On September 24th, Linda McCartney would have turned 80. She passed away in 1988. Say what you want about her talent, or lack of. The bottom line is, they were deeply in love. They loved each other. And in the end, that's all that really matters. To have that true love is rare. They both loved each other.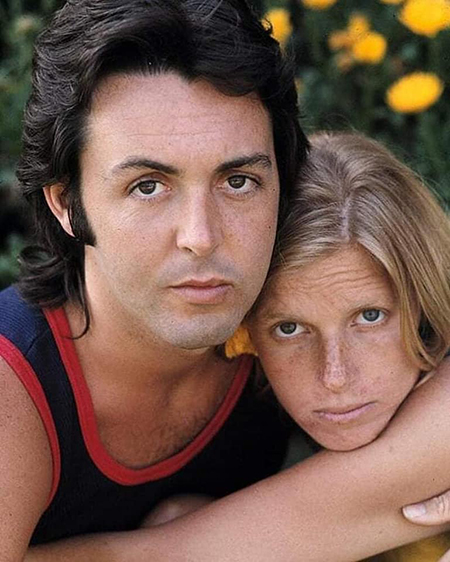 But cancer had other ideas. Cancer knows no boundaries. It crosses between the rich and the poor. The famous and the not so famous. Male or female. Young and old. We have all lost someone to cancer.

My lifelong friend Rich Appel lost his mother to cancer this week. Estelle was a remarkable woman who knew her way around the political arena as well as anyone. She was an intelligent woman who knew right from wrong, you could not BS her. A devoted wife to her late husband Ron, a loving mother to her two children, and a doting grandmother to her grandchildren. And she was an amazing cook who taught her son Rich a few tricks with her culinary skills in the kitchen.

I will personally miss chatting with her every October up north where Rich and I spend many a crisp fall day in those beautiful mountains. My thoughts and prayers are with the family during this time of sorrow. My belief is that she is with her beloved husband Ron again, and they are catching up on so many things.




Rest In Peace Estelle. You left behind one hell of a legacy.

My first grandchild turned 8 yesterday. I love this kid, She is so talented (art) and so creative. And get this? She loves the beach and riding waves. We have the best times when we are together. I am truly blessed to have her in my life, as well as her two other sisters. I love being around them and just having fun.




She has the same middle name as her mother Gabby. And that name is "Marina" Which means "Of The Sea".

Speaking of surfing. Here's a great music festival that is benefiting one of my favorite programs SURFING WITH SMILES. Mark it down on your calendars.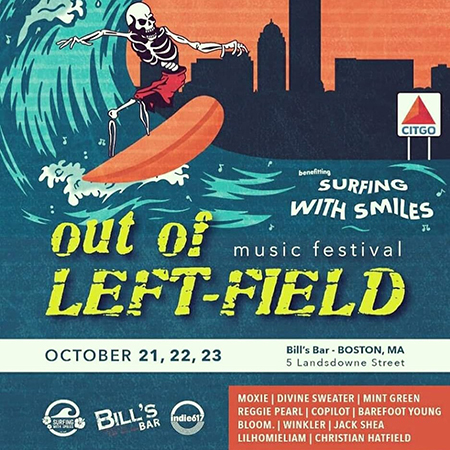 KSM Photoshop of the Week
Here's something you don't see very often. KSM checking out 46's new Billboard (stealing a slogan from his predecessor) . After all, he did replace The Taliban and the Terrorists in Afghanistan with...(wait for it)...THE TALIBAN AND THE TERRORISTS! You know, this would actually be kind of funny
if it wasn't so sad and true.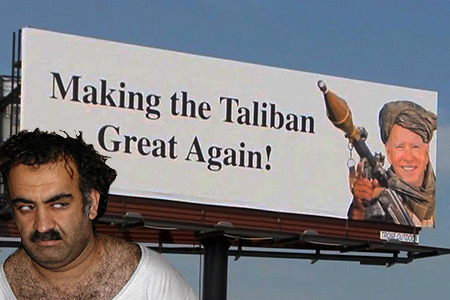 And so my friends, please take advantage of this weekly photo shop of the mastermind who planned 9-11 and resulted in the deaths of 3,000 innocent civilians by KSM (Khalid Sheik Mohammed).

*Note to self -must pick up a case of RPG's at Home Depot
this week.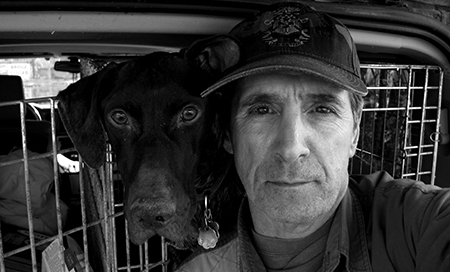 HAPPY 11th Birthday to PATCH Of Blue September 23rd, 2021!
HAPPY 8th BIRTHDAY Avery Welch September 25th, 2021!
HAPPY NATIONAL DAUGHTERS DAY to my Two Beautiful Daughters Gabrielle LaBreck (and granddaughters) and Noelle Rizzo. I LOVE You Both!
PLEASE Keep longtime NH Surfer Greg Smith in your Thoughts and Prayers.
PLEASE Keep local Surfer/Musician Pete Kowalski in your thoughts and prayers throughout the year.

Please Support ALL The photographers who contribute to
Ralph's Pic Of The Week every week for the last 16 years.
** BUY a HIGH RES Photo from any of the weeks on RPOTW.

Remember my friends... Surfing Heals All Wounds.
Pray for Surf. Pray for Peace. Surf For Fun.

Ralph






Yesterday- MOSS LANDING November 1969.
(Below) There were three surfers in my platoon in Vietnam. Myself, PFC Hood from Florida, and L/Cpl Tavolacchi from California. He had this photo sent to him from home and he carried it in his pack. He gave it to me when he rotated back to the World. The three of us used to fantasize about surfing at each other's home breaks. This was Tavolacci's home break. Moss Landing. I could kick myself for not looking him up when I came home. I hope they both are still alive and they both still surf. Miss you brothers. Semper Fi.
Photo courtesy of Tavolacci

*Click on the pic to see a larger version.



I kept a daily Blog on my CATCH A WAVE FOR MOLLY surf campaign, when I surfed every single day for 365 consecutive days. Click on the Banner above to read entries of my daily journey. There's some really interesting and true experiences
that happened during that year. Some of which are to this day, unexplainable. Some are just mind blowing. But all true.

I started on July 26th, 2010 and ended on July 26th, 2011.

Some rainy Sunday, pour yourself a cup and go through the journal. Pay close attention to the month of May in 2011. Read that month and let me know what you think of that. Be forewarned it will change you forever.