December 5th, 2021 The RUN is 16 out of 16 Weeks.
Waist high or better at least once a week.
There were waist high waves on Sunday 11-28-21.
THE RECORD FOR THE MOST CONSECUTIVE WEEKS IN A ROW FOR WAIST HIGH OR BETTER. August 8th, 2021 was 53 WEEKS! TOPPING THE 43 CONSECUTIVE WEEKS SET IN 2009!
Send your SURF Pics to me directly to ralph@adlantic.com.
Need photos by 10 AM on Saturdays. Seriously.
By 10AM. Make sure they are 1300 pixels wide.
If you have more than 10 pics please use wetransfer.com it's free up to 2 gig. Please DO NOT send me over 50 pics without first contacting and communicating with me.
Thank you.

Click on Archives link to see all the past Blogs
and pics.



The Annual RPOTW Calendars Are Out. Featuring photos from each month of 2021. And man did we ever have a great year of waves. And there's more waves coming this week. The calendars all have one large photo of an empty wave with several smaller photos of people surfing. Let's be honest with ourselves. We all love looking at the empty wave. Right? How many times have you found yourself staring at perfect empty waves? Depending on your age, it could be anywhere from hundreds, to thousands, to millions.

The empty wave is what we're all looking for. And with that in mind, I made sure that each month had a large photo of an perfect empty wave, or waves, that was taken during the month it appears on.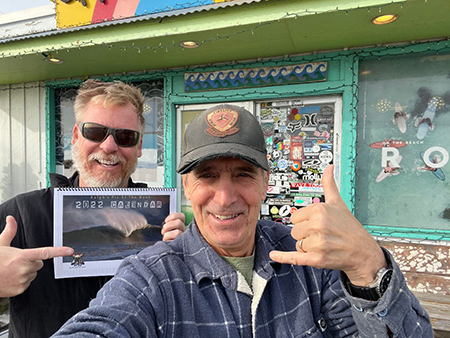 You can pick one of these up at CINNAMON RAINBOWS or email me ralph@adlantic.com and I'll set one aside for you.


This month always seems to catch me off guard. I mean I know it's coming, but it still seems to just sneak up on me. I feel like I'm still feeling the affects of Thanksgiving dinner when BAM! It's CHRISTMAS again! And that means all the annual traditions come roaring out of that time tunnel and hits me straight in the face. Every December 1st the lights go on the house and the Blue Spruce. That means no matter the weather, or how I'm feeling, the lights go on the house. And the Blue Spruce is lit up.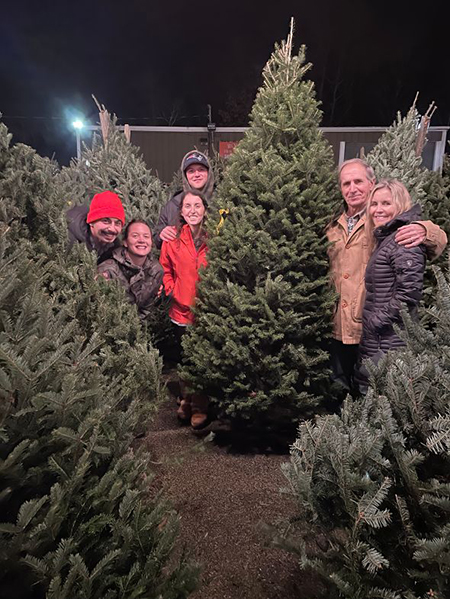 Then the first weekend in December is the annual Christmas/Holiday parade in our town of Hampton. And that same week the Christmas Tree goes up. It's all done like clockwork around my house. You can set your watch to it. We always buy our trees from Bassett in North Hampton. John's a a good man.




And those of you who have a clear and precise memory will recall that the biggest tradition of all happens when we are decorating the Christmas tree. That's when I get to hang these two cool ornaments. Talk about speaking of traditions. These two ornaments were given to me by a dear friend back in the early 80's. Guitarist extraordinaire, Elliott Easton of The CARS.

He thought they would be perfect for me, and my then girlfriend, Cory Bunton. Perfect? They ended up on top of our wedding cake in 1987!

And every single Christmas for the last 38 years, I get to hang these on our tree. As you surfers can clearly see, Cory is "dropping in on me." That's true love my friends. Letting your wife, girlfriend, boyfriend, husband...whoever. Letting them drop in on you, is all about love.

Speaking of DROPPING IN please take a moment to read this week's BDI (Blatant Drop in Of The Week). It's a positive message to what is normally considered not so positive.

And while I'm on the subject of what is positive...I'm pretty positive that I am not buying into Alec Baldwin's lame ass excuse about him claiming "I never pulled the trigger" on the gun that killed his film director. If we are all following the science on this case, it's pretty clear that Alec was holding the gun and POINTING the gun at his film director.

The ONLY WAY that gun discharges is, someone has to pull to do one of two things. 1. Pull the hammer back. 2. Pull the trigger. BAM!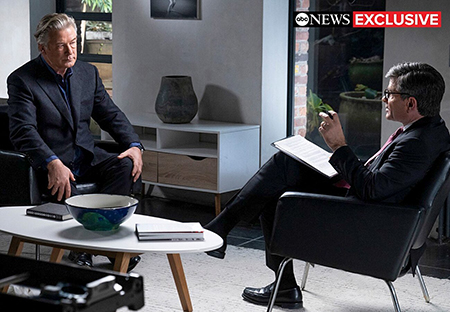 Now as far as the live round being in the chamber? He should have checked the gun prior to pointing it at anyone. I do not believe he knew the gun had real live rounds in the chamber. That part I believe. But to say that he did not pull the trigger? I'm sorry Alec, the SCIENCE says you did. You "literally" had the smoking gun in your hand when it went off. That's all on you. So save those crocodile tears for the jury. Because I believe you will be facing one when all is said and done. You didn't pull the trigger? Puhleeze Alec.

Today December 5th, 2022 America Lost a TRUE HERO.
Senator Bob Dole Kansas, was severely wounded in WWII
as a member of the US ARMY 10th Mountain Division
fighting the Nazis in 1945. He was 98 yrs old.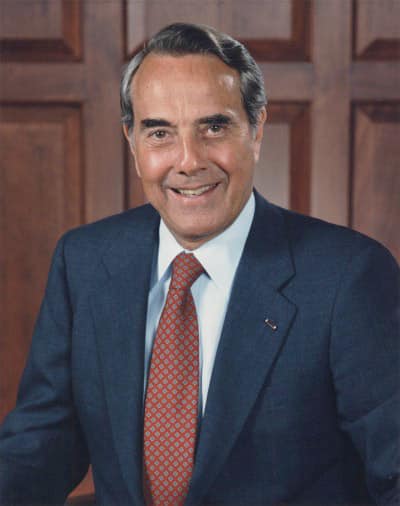 REST IN PEACE BOB DOLE. A True American Hero who served
our country for over 72 years. He was a an American Patriot.

"SERVING OUR COUNTRY HEALS ALL WOUNDS."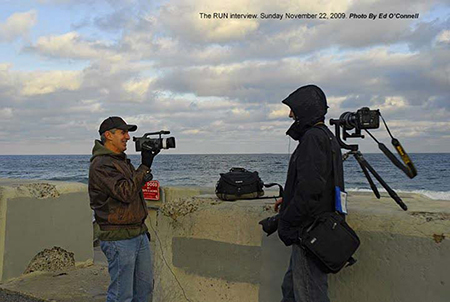 This is from my movie THE COLD COAST. I interviewed several of the photographers who appeared in the movie. This is a Ed pic of me interviewing John Carden at the Wall. Photo by Ed O'Connell
*Click the photo above to see a larger version of Ed's Pic.

NOW FOR SOME LOCAL AND NATIONAL NEWS


Well just when you thought you knew everything about The NEW ENGLAND PATRIOTS as of today December 5th, 2021 they are The NUMBER ONE Team and the entire AFC. That needs some serious repeating.

The PATRIOTS are the NUMBER ONE TEAM IN THE AFC!

How the hell did that happen? Well, we know how it happened.
Just like we know how it's happened in the last 20 years. *We're not counting last year. That did not happen. Cam Newton was like a bad acid trip. That did not happen.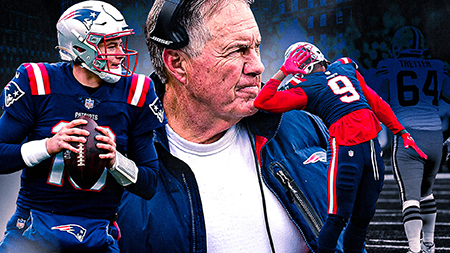 This team has gone from being below 500 to being the number one seed in the AFC. And Monday night they are facing the BUFFALO BILLS, that will surely be the game of the year so far for these young players. I feel like I'm in some kind of movie. Like it's a WONDERFUL LIFE or something.

This team along with the Coach of the century and the BEST rookie QB out there is making waves in the NFL. People are taking notice of them.

And for good reason. They are legit. No question.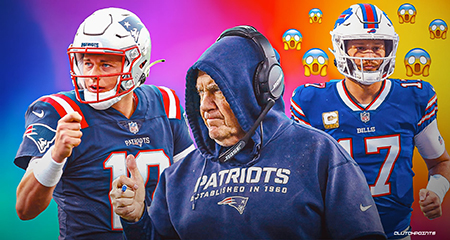 And after Monday night's game, we will have an even clearer idea as to what this team is all about, and what they are capable of doing with Coach Belichick and Mac Jones. GO PATRIOTS!

Tis The Season to Laugh Again. Hey I'm all for laughing year round. Click on the image below for tickets to Jimmy Dunn's
Christmas show.




Check out all the other listings of Jimmy's performances in the New England area. Click on Jimmy above to find out more.

I saw this meme (below) and thought it was the sweetest thing.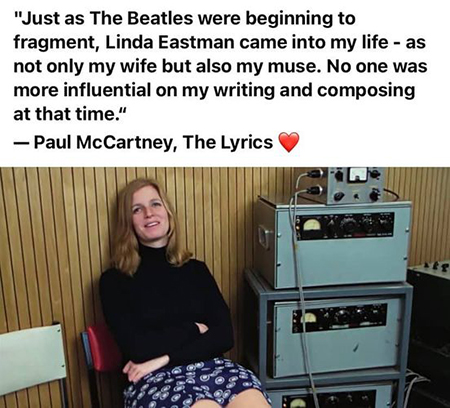 They really were in love with each other. Linda and Paul.

Speaking of sweet. My dear friend and Gold Star Mother Nat Healy from Exeter has opened a really cool Thrift Store directly across the street from the American Legion. I stopped by after
the parade and checked out some of her cool inventory.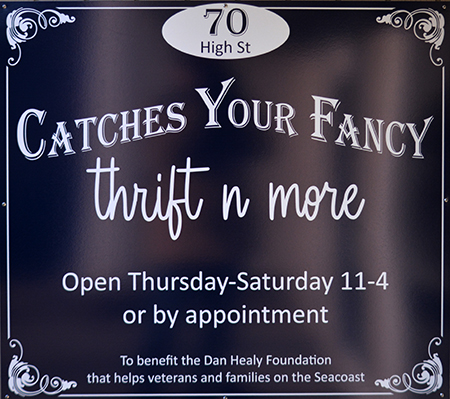 Drop by and say hello to Nat Healy at 72 High Street, Hampton, NH directly across from the AMERICAN LEGION Post 35.
Be sure and tell her that I said hello.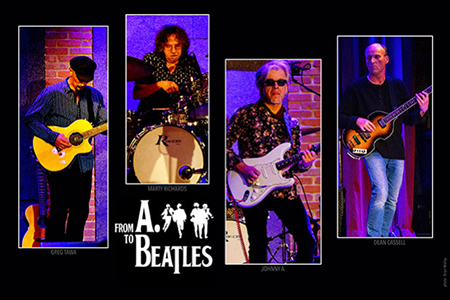 Appearing at the BLUE OCEAN in Salisbury Beach, MA
on February 25th, 2022 Click on the ad to buy Tickets.

THE SOFIA SMITH SCHOLARSHIP FUND
If you can afford to donate a few dollars to help Greg Smith's daughter Sofia out please click on the image below to lend a hand. Thank you and Mahalo.

*The SURFER'S PADDLE video for Greg Smith is down in the video section of the Blog. It's worth watching if you've not had the chance to. The drone footage by Martha Lardent is worth the viewing alone.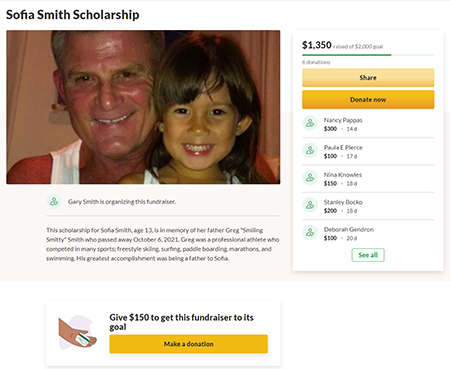 Thank you for Helping Out the Daughter of this NH Surf Legend.


KSM Photoshop of the Week
I don't think that KSM is buying into the "I DIDN'T PULL THE TRIGGER THEORY." I mean Khaliddy knows enough about weapons to be able to see right through Alec's shady excuse. No my friends, you can't fool a damn terrorist when it comes to weapons. Not even one as smelly as this current POS.




And so my friends, please take advantage of this weekly photo shop of the mastermind who planned 9-11 and resulted in the deaths of 3,000 innocent civilians by KSM (Khalid Sheik Mohammed).

*Note to self -must pick up a case of Crocodile Tears at
Home Depot this week.

HAPPY HOLIDAYS! Everyone!!
REST IN PEACE Bob Dole!
HAPPY HANUKKUH! 11-28-21 to 12-6-21!
HAPPY BIRTHDAY Donna Baldassari 12-13-21!
MERRY CHRISTMAS and HAPPY NEW YEAR!
PLEASE Keep local Surfer/Musician Pete Kowalski in your thoughts and prayers throughout the year.
Finally PLEASE keep Kim Grondin in your thoughts and prayers.

Please Support ALL The photographers who contribute to
Ralph's Pic Of The Week every week for the last 16 years.
** BUY a HIGH RES Photo from any of the weeks on RPOTW.

Remember my friends... Surfing Heals All Wounds.
Pray for Surf. Pray for Peace. Surf For Fun.

Ralph






Yesterday- STAN CHEW From The Water, November 1990.
(Below) This came in from Stan Chew this week. He said that the photographer wanted him to do a bottom turn around him. I guess they
got a little too close for comfort. Photo by Bob Pilla
*Click on the pic to see a larger version.



I kept a daily Blog on my CATCH A WAVE FOR MOLLY surf campaign, when I surfed every single day for 365 consecutive days. Click on the Banner above to read entries of my daily journey. There's some really interesting and true experiences
that happened during that year. Some of which are to this day, unexplainable. Some are just mind blowing. But all true.

I started on July 26th, 2010 and ended on July 26th, 2011.

Some rainy Sunday, pour yourself a cup and go through the journal. Pay close attention to the month of May in 2011. Read that month and let me know what you think of that. Be forewarned it will change you forever.