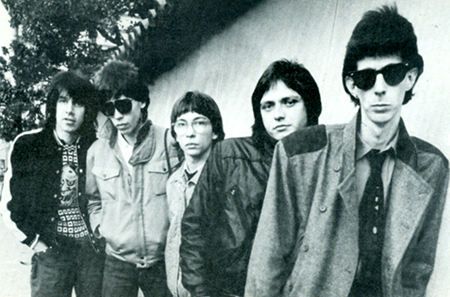 One week ago today while watching the Patriots play the Dolphins I received an alarming Private Message on my phone. "Is David with you?" It was from a longtime friend, Luis Aira from LA. "I've been trying to get in touch with him for the last hour or so." I wrote back "No, I was just with him yesterday afternoon but he's either home, or at his gallery." Then he quickly typed "What is your number? I'll tell you the news and you can tell David." News? What news? So I gave him my number, and Luis called me.

After a few quick "hello's and how long has it been" remarks, he said in a soft but shaking voice. "Ric is dead." "What? Ric is dead? How? What happened?" He then told me that Paulina (his wife) had called him an hour ago and told him she found him in his bed and that he had passed. And then he said these chilling words.

"Nobody in the band knows yet. The media does not know. Only the family, me, and now you." Suffice it to say, I was stunned. Saddened but stunned.

The irony does not escape me of watching the Patriots play the Dolphins. Because on December 8th, 1980 I was watching Monday Night Football with the Patriots playing the Dolphins when Howard Cosell broke the news about John Lennon being killed in NYC. Ric was living in NYC. "Shit...I'm going to have to tell David this terrible news. Oh no..." Life can be a kick in the teeth.

This was big news. And my mind went back to the early days of The CARS.

I was very fortunate enough in my life to not only have worked with the CARS but to also become friends with them. I've known them since their early days. I first met them when they were calling themselves Cap'n Swing. I'm talking well over 40 years. One of my earliest memories is when they played a bar in Ipswich, MA called the SUNNYSIDE. It was a Tuesday night, the club was practically empty. The owner refused to pay them. At the time my band was playing there along with other local bands like The FOOLS, and The NERVOUS EATERS.

The owner of the club was this short little bald guy with a long mullet in the back, he had a tall girlfriend with giant fake boobs who is always standing next to him (or rather over him). I went over to his office (next door) and confronted him. "You better pay these guys!" He yelled back "They SUCK!" I got in his face and said "They are going to be HUGE you Freaking idiot! Pay them or we will never play here again!" I got him to pay the band. Reluctantly.

David always brings up that story. They eventually became The CARS, and the rest as they say, is history. If you don't know much about them, I suggest you just Google them and watch some of their amazing videos. I became friends with all of them that night. Especially David.

David was not only just the drummer, he was the creative mind behind their name, their look, their overall image, and he designed all of their album covers. David produced my album and my single (VINNY) and also played on the record. Elliot Easton played on the record as well. Elliot and I became good friends in the early days as well. Having lived on Newbury Street in Boston, and with their recording studio Synchro Sound on Newbury Street, we were always hanging out at the studio. The band and the crew were like family to me back in those days.

Like I said, I was fortunate enough to be there when all of this excitement was happening. I was invited to a few "Listening Parties" of their new records. A listening party is when he just finished record was done and they would play the master tape from start to finish in the studio. And only a few outside guests were present. I was one of the few.

It was an honor and a privilege to be there. I'll never forget that.

I know for me personally, one of the highlights for me and Ric Ocasek was when he was a guest DJ on WBCN and he played my single WHY CAN'T YOU SAY LOVE? as one of his songs on his play list. That blew me away. Like I said, we were always running into each other at the studio. When Ben passed away in 2000 it was devastating. It was like losing Lennon to the Beatles. I remember telling both David and Elliot "The CARS are like the Beatles now, it will never be the same." But losing Ric? It's like losing both McCartney and Lennon.

There will never be another CARS. Not now anyway.

Photos I shot below are from the HOUSE OF BLUES in Boston, MA on
May 26th, 2011. Left to right, Greg Hawkes, Ric Ocasek, and Elliot Easton.




The last time I saw Ric in person was when they put out a record MOVE LIKE THIS and went out on tour. They played without Ben and somehow pulled it off. I wrote a review of it on the BGN website. That night Greg played all the bass parts on his keyboards and he even played Ben's bass for a song. I took many photos of that night. But this one (below) was special. When I was backstage and Ric was talking to Jimmy Harold (The owner of the RAT) I asked Ric if I could take a photo of them together. Ric looked at me and said "Of course, I owe everything to this man. Letting us play his club back in the early days helped get us where we are today. I owe everything to him."




Little did I know, that this photo would be the last time I saw him.

Last year when they were inducted into the Rock and Roll Hall of Fame I felt this immense sense of pride for them all. They all graciously spoke that night and they all mentioned Ben and the other members of the crew some who are no longer with us. Thom, Joe and Andy. We miss them all.




This image above is from their live performance in the RRHOF is so poignant and meaningful to me. There stands Ric and his trademark Gibson SG, and David my dear friend and mentor on the drums. It was one of the highlights of the CARS incredible career. They were by far the coolest band to ever come out of Boston. And I will never forget the wonderful times we all had together. LONG LIVE Ric Ocasek! LONG LIVE Ben Orr! And LONG LIVE THE CARS!

During the time I was on the phone with Luis and trying to call David another dear friend was calling to tell me some wonderful news. My friend on the phone was Lenny Nichols and he was calling about his son Kainalu Nichols down in Cape Hatteras North Carolina. Kai had just won the EASTERNS and is now the ESA's 2019 MEN'S SURFING CHAMPION. That my friends is BIG! As in REALLY BIG! As some of you already know Kainalu recently committed to going Pro. This last amateur contest the EASTERN'S is the granddaddy of them all. This title will serve as a launching pad for the young 20 year old ripper from Hampton, NH.




Kainalu and his dad Lenny after the crowning. Think they look happy?
This is Big News for all of the East Coast but it's major news for all of the New England Surfers. Kai is the FIRST from Northern New England to take this coveted men's Title.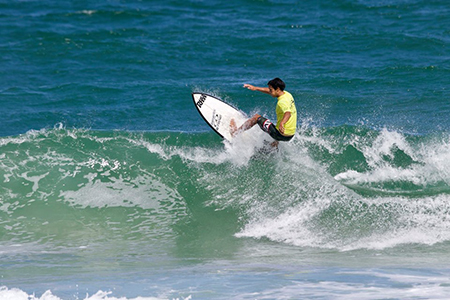 ESA All-Star team mentor, Kainalu Nichols, claimed an ESA-sponsored slot into WSL's QS event in Barbados by claiming the top spot in the Mens Division.




Nichols also took home the ESA Adult Iron Man award for all of the divisions he surfed and the scores obtained. KILLER KAINALU!!! We are all so proud of him and honestly? Most of us are not at all surprised. He has been getting better with each new swell in the last 5 years. We all know that he's the fastest surfer out there and he's got miles of style, plus he's a GREAT human being. I mean they don't make them any better or nicer. I hope he takes it all the way!
Lord knows he has the talent and the attitude to go as far as he wants.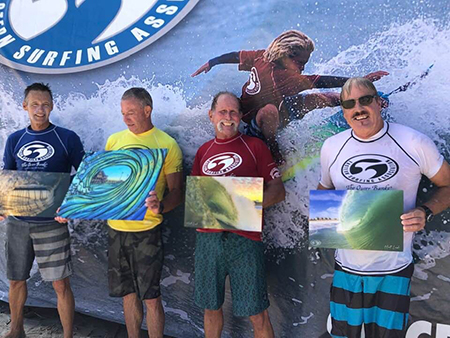 Oh yeah, almost forgot. Lenny placed 3rd in longboard. Is it any wonder where junior gets his competitive edge? I think not.

Meanwhile back home in New England, TS HUMBERTO stopped by for a memorable two day Wave Fest. Friday September 20th, and Saturday September 21st were one for the ages. With warm water and glassy conditions under a hot summer sun the surfers from Northern New England were gifted with waves ranging from head high to double overhead! Yes it was one to remember. And it was all on the heels of Hurricane Dorian the week before. And don't hold your breath, but it appears there's more coming. But let's not get ahead if ourselves here.




This is Kody Grondin sampling a little of HUMBERTO's beach break madness on Friday on September 20th, 2019.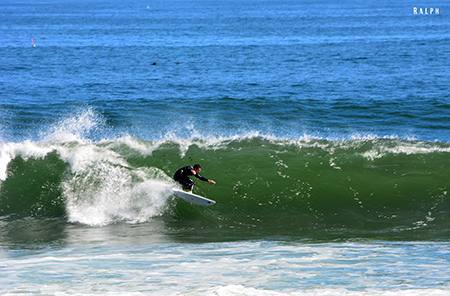 And this is Max Fatello on Friday September 20th, 2019. The swell actually started to fill in when they paddled out. It was pretty cool watching the waves get bigger and bigger under the sunny summer sun. But it happened just like that. The waves went from head high to double overhead. I was shooting mostly video, and while I have not seen any of the clips, I'm guessing I got the goods. (Knock on wood). But it was firing on all cylinders here in NH.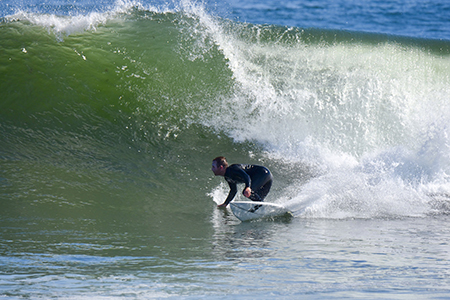 This is Matt Colby driving hard off the bottom of a well overhead grinding right. Martha Lardent took this photo. It's funny, (and not to change the subject) but I am looking at a large print of me in my home office, of me surfing a wave in 1988 that is very similar to this pic. Please excuse me, as I drop that pic under Colby's wave to just to satisfy my curiosity.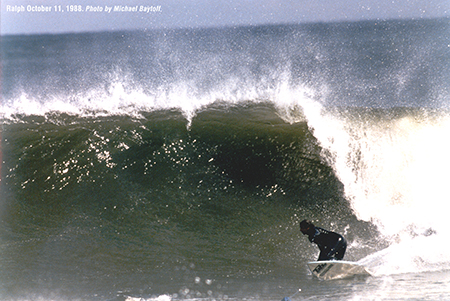 Now that I'm looking at them both together, there are a few minor differences. Colby is more bent over and his hand is seen tracking in the wave face, where as mine is not visible. There are more mirror comparisons than not though.
Any way back to the regularly scheduled Blog post.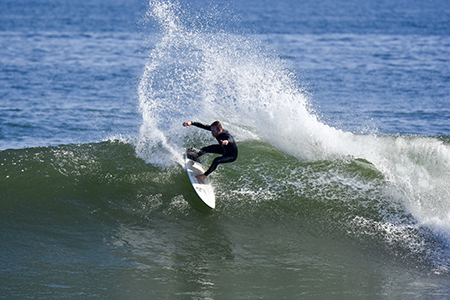 This is the follow up to Colby's bottom turn. Again the photo was taken by Martha Lardent. I love this shot. Very cool and very clean. Good stuff Colby and Martha. Thanks for sending these to me. *Look for Martha's killer Humberto gallery down in the gallery section.

Finally, I attended a service for Ed Lindstrom on Saturday. Ed was a WWII NAVY veteran who was on board the USS Vincennes when she was sunk by the Japanese off of Guadalcanal (Savo Island) in the South Pacific on August 9th, 1942. I used to love to hear Ed tell the story of that battle.




Here's a photo of the late Jerry McConnell (a Marine WWII veteran who fought on Guadalcanal as well) on the left, sitting next to Ed Lindstrom. And the Marine in the camo fatigues is the late George Masten. The three of them were good friends of mine. And I miss them all. They were great men who served our country well. Semper Fi.

"Surfing, Music, and Remembering Our Nation's Heroes Heals All Wounds."


My good friend and fellow warrior from Canada Francois Viau sent me this pic that Ed shot of him. That is a nice wave my friend. I'm so stoked that you have this memory that my dear friend and our fellow warrior Ed shot. Treasure this pic.
Photo by Ed O'Connell
*Click the photo above to see a larger version of Ed's Pic.

Now for Some Local, National and International News
Last Wednesday I had the pleasure of speaking at The EAST REGIMENT BEER COMPANY in Salem MA. Owners Scott and Josh invited me down to have me speak on what else? Surfing. Or to be more specific Surfing In the Northeast. It's ironic that I caught my first wave a mere 2-3 miles south of where I am standing in this photo. The EAST REGIMENT BEER COMPANY (ERBC) is a cool new Brewery in Salem, MA. The layout of the building is perfect for what they are doing. There's plenty of parking in the adjacent lot and the whole atmosphere is just very cool. The Brewery has a great menu and from what I've heard, the beer is excellent. I don't drink, but my wife does and most of my friends do.

I had fun speaking about surfing. It was a great night and I'll be going back for sure. This week the Massachusetts SURFRIDER FOUNDATION is going to do the WED TALK. It's a cool venue.




Here I am fielding questions form other surfers. Like I said, it was fun. The owners are great and the beer is top notch.




The large screen was perfect for showing a couple of my short web edit movies. Drinking beer and listening to me sounds like fun doesn't it? Ha ha! It was, trust me. Thanks to those who came out to hear my babble.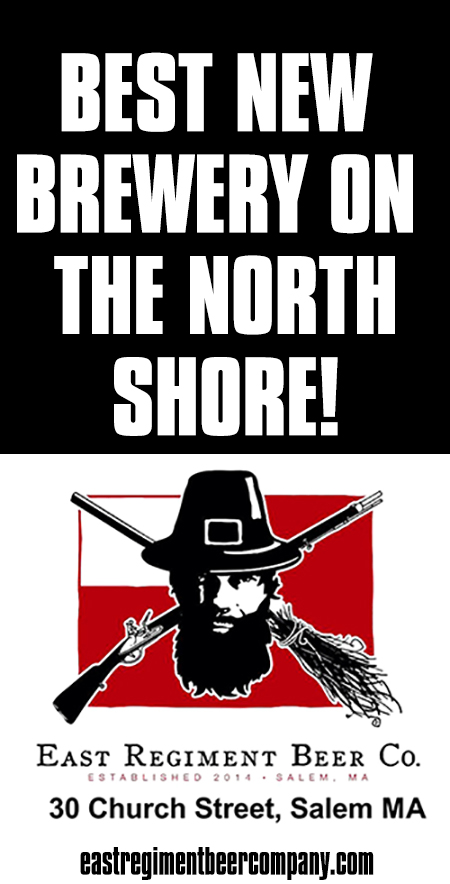 Click on the ad above to visit the ERBC website.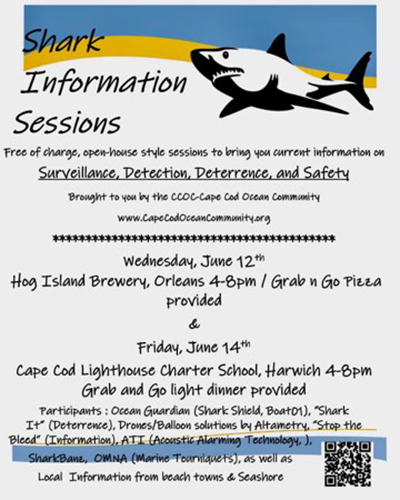 CULL (KILL) THE FRICKING SEALS!! Something MUST Be Done about the Seal Population on the Cape. It's time to cull the Seals. *I came up with I think might be a good solution. Why Not get robotic ORCAS and have them putter around the beaches of the Cape? Great White Sharks are terrified of them. Hell the mechanical shark (Bruce) in JAWS terrified an entire generation. Let's try the motorized ORCA and terrorize the White Sharks!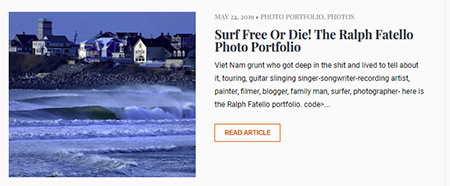 ESM (Eastern Surf Magazine) using a READY MAG format did the Best of Ralph's Pic. And while they couldn't possibly use everything thing I've ever done, they did manage to put up some 50 pics of mine, plus two videos. And I was truly humbled by their intro. Mez said some nice things about me. CLICK ON THE IMAGE ABOVE TO SEE THE WHOLE Spread.

If You Love The Beatles...This show is worth seeing.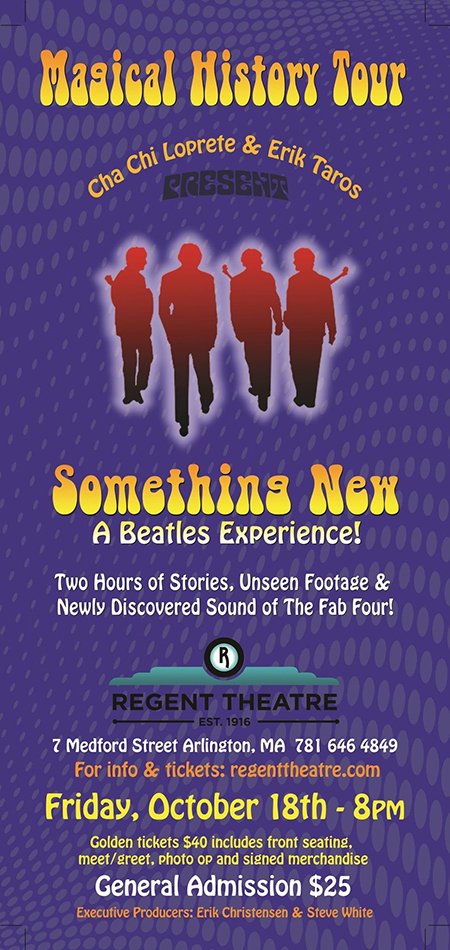 COMING FATHER'S DAY 2020.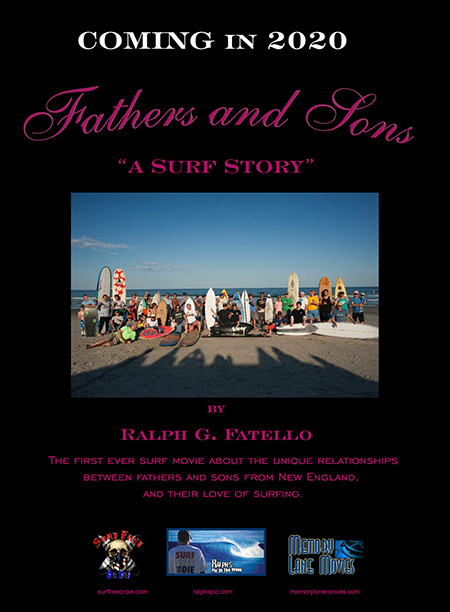 While I was making the GRANITE GIRLS video I came up with this project and concept. It's never been done before. As hard as that seems to be. I'm onto yet another never been done before Surf Movie concept. This will be an overview of Surfer dads and their sons. It's a work in progress and I'm hoping to get as many dads and their sons as possible in this movie.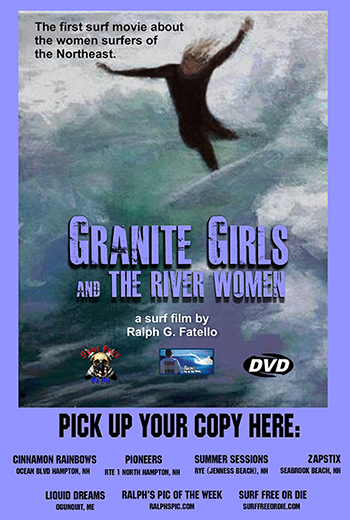 The DVD's are available at all the local surf shops. Or by
sending me an email. ralph@adlantic.com or send a check for $20.00 made out to ADLANTIC and send it here:

ADLANTIC
c/o OC Studio Suites
703 Ocean Blvd Suite C-4
Hampton, NH 03842

Or RENT or BUY it Online. You have spoken and I have listened. You don't have a DVD player so I made it available Online. Watch it on your Smart TV, your computer, or your cellphone! I can't make this any easier my friends.


GRANITE GIRLS and The RIVER WOMEN from Ralph's Pic Of The Week on Vimeo. NOW AVAILABLE on VIMEO ON DEMAND.

KSM Photoshop of the Week
This week was the Antonio Brown story. Can I just say up front, I had my reservations about AB right from the start. And as it turns out, my gut feelings were on point. However, I did not know of the connection with our boy KSM until this morning. Again, I'm not surprised. After all Al Qeada think very little of women and their rights. Hell, they basically don't have any rights in their messed up world. So will AB and KSM partner up? Who the hell knows. This is after all just a weekly joke at the expense of Khaliddy who will never see the light of day. Ever again.




And so my friends, please take advantage of this weekly photo shop of the mastermind who planned 9-11 and resulted in the deaths of 3,000 innocent civilians by KSM (Khalid Sheik Mohammed).

*Note to self -must pick up a case of Antonio Brown Highlight Tapes on VHS at Home Depot this week.

HAPPY BIRTHDAY Max Fatello September 14th, 2019!
HAPPY BIRTHDAY Victor Capozzi September 20th, 2019!
HAPPY BIRTHDAY Jack "Jacko" Keefe September 21, 2019!
HAPPY BIRTHDAY Patch September 23rd, 2019!
HAPPY BIRTHDAY AVERY September 25th, 2019!
GET WELL SOON Brylee "Peanut"!
GET WELL SOON Jody Wiles Goucher!
GET WELL SOON Kim Grondin and Lilly too!
REST IB PEACE Ric Ocasek.
REST IN PEACE Eddie Money.
REST IN PEACE "Yellow" Beloved Cat of Jack and Kate.
REST IN PEACE Francois Viau's Mother.

Lenny Nichols & Colin Madden
Co-Directors, NNE District
Eastern Surfing Association
www.esa-nne.org
@esa.nne.surf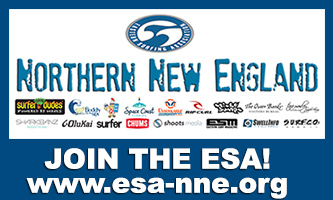 Please Support ALL The photographers who contribute to
Ralph's Pic Of The Week every week for the last 13 years.
** BUY a HIGH RES Photo from any of the weeks on RPOTW.

Remember my friends... Surfing Heals All Wounds.
Pray for Surf. Pray for Peace. Surf For Fun.

Ralph