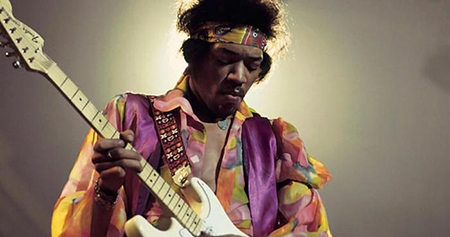 Jimi Hendrix has been dead for 50 years. He died on September 18th, 1970. As some of you know, I was/am a huge fan of his music. Below is my story on how and where I was when I found out about his passing.
SEPTEMBER 18th, 1970. Nighttime Southeast Asia.

Standing on top of a hill in Southeast Asia. Next to my fighting hole. I was on watch when I saw the company "office pogue" (a POG was someone other than a grunt. Usually "back in the rear with the gear" doing administrative duties) struggling up the hill. I wondered what the hell he was doing out here. Those guys never left the safety and comfort of the rear. I heard him ask one of the guys in my squad "Where's Fatello?" I saw them point to me.

He looked up at me and then proceeded to climb up the hill.

A few more steps sliding in the mud, he came to a stop. Catching his breath, he looked up at me with a sinister smile on his face.

"Hey Fatello, your hero died today."

Me: "What hero?"

POG: "Jimi Hendrix is dead. Drugs."

Me: "What?"

POG: "Thought you'd like to know. Ha ha."

Me: You f***ing asshole, get the f*** out of here!"

And I watched him slip and slide in the mud, as he made his way back down the hill, back to the safety of the rear. Laughing all the way. That piece of shit actually went out of his way, and made it up on the line, just to tell me that Hendrix died. He knew how much me and my friends loved Hendrix.

In fact, we had recently come back from our R&R in Hong Kong where I bought a new cassette player and some new bootleg cassettes. One of which was the new Woodstock LP. We played the hell out of that tape. Jimi playing the Star Spangled Banner blew our minds. And now, this.

I hated that POG. I watched him as he disappeared into the night. What a total and complete asshole. I hope he's a miserable old man today.

I remember standing there, staring off into the jungle, feeling completely lost. Missing home, missing Jimi, missing surfing, and just wishing I was anywhere but where I was at that time. Sigh...

James Marshall Hendrix was dead.

50 years ago today. September 18th, 1970 -September 18th, 2020.


This is a pic of me on Friday September 18th, 2020.

I wore this tee shirt that my son Max bought me for my birthday about 10 years ago. If you look closely over my shoulder, you'll see two photos. The black and white one is my father in the south pacific in WWII. The one below it is me in Southeast Asia. Right around the time that Jimi died and the above story was told. *My late father-in-law Jerry was stationed at Fort Campbell Kentucky when Hendrix was stationed there. And my wife Cory was actually born on the base when Jimi was there. Another reason why we were meant to be together. I mean what are the chances? Classic true stories here folks.

And speaking of birthdays, my son Max celebrated his birthday on September 14th, 2020. I am forever telling surfers on their birthday to go ourt and catch their birthday wave or their birthday barrel. Mackey took dad's advice and scored some great little TS Paulette waves that just so happned to fall on his birthday. Here's a couple of video frame grabs from the day.




It's always great to get waves on your birthday. And September babies are pretty blessed when it comes to scoring waves on their birthdays.




He did manage to slip into a few hollow sections too. All in all it was a good day to celebrate your birthday. Happy Birthday Mackey V!

ATTENTION NEW ENGLAND SURFERS! SHIT'S ABOUT TO GET REAL!
Hurricane Teddy is coming to town! And Teddy is no slouch when it comes to Hurricanes. Everything is pointing towards New England being in the perfect window. It is going to get big around these parts. As in real big. This is good news for the locals. Most of the beginners will have nothing to do with surf this big. Just as well. I saw enough mayhem these last two Tropical Storms that still has me wincing when I think about some of the close calls I witnessed.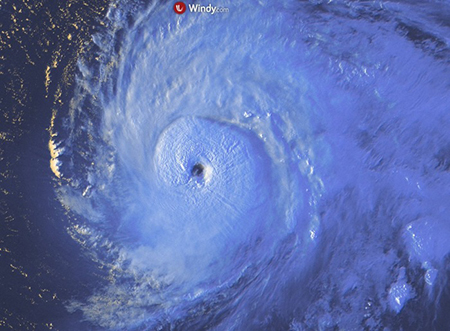 Teddy is one massive storm. Holy Mackerel Batman!




Most of the potential tracking has it going full bore right smack into Novi Scotia. But some modules have it drifting slightly south and west which would put it right into our window. By our I mean New England. maine and New Hampshire to be more specific. It's been a few years since we had one
come this close.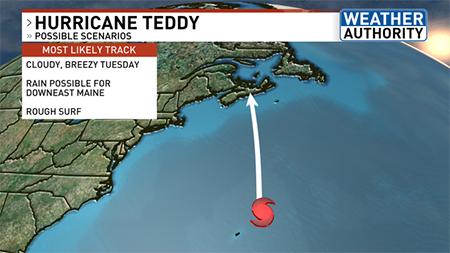 This is the more likely track. Batten down the hatches my NS friends.
Big Bad Teddy is coming to town! And he ain't no Teddy Bear!

"HENDRIX, HURRICANES, and SURFING HEALS ALL WOUNDS!"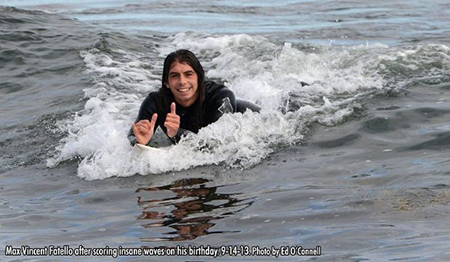 This week's Ed's corner is Mackey V taken on his actual birthday back 7 years ago. Time waits for no one. Seems like yesterday. Photo by Ed O'Connell
*Click the photo above to see a larger version of Ed's Pic.

Now for Some Local and National News

Patriots won last week 21-11. I'm liking Cam Newton. he brings a whole new element to the Patriots Offense. We never had a run and shoot QB before. Or at least not one with the credentials as Cam Newton. It's all going to take some getting used to. Not to mention the NO FANS and the fake pumped in fan noise. I don't think I'll ever warm up to that. As you now know, TB12 lost last week along with his goofy sidekick GRONK. The saviours of Tampa Bay fell to the Saints. Oh well. That's life in the NFL.

Welcome GULLRISING to the Blog!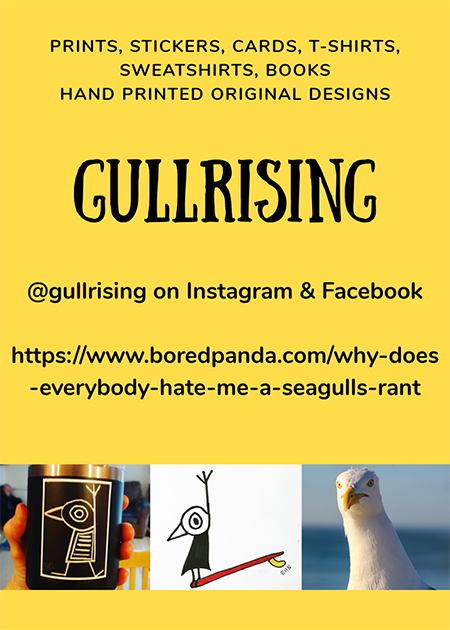 We are happy and proud to have GULLRISING join up with RALPH'S PIC! Brainchild of local surfer Erica Nardone and her genuine love for Gulls (I love them too) and all that is Gull related. Click on the ad above to visit her facebook page. She's got a lot of cool Gull pics, drawings, stickers etc. GO GULL CRAZY!

I worked on this CD (designed the front and back cover), and I recorded one of Asa's songs. Click on this image (below) to read some of the reviews and find out how and where to buy one. There's some great recordings on this record by some of Boston's best musicians.




There will be a live performance of all the artists who played on this record at some point (once the Bloody Covid leaves), and it will be a worthwhile gathering of friends and artists of the super talented Asa Brebner. Stay tuned for more info.

The family of Hayden Moulton has started this trust fund page to help his young daughter Renee in the future, and more importantly, to keep the memory of their son Hayden alive. I've only met Hayden a few times in his life, but I've known Scotty for years. So I want to help him out in any way that I can. If you can help donate to little Renee it would be greatly appreciated by the Mouton family, and the local surf community. Thank You.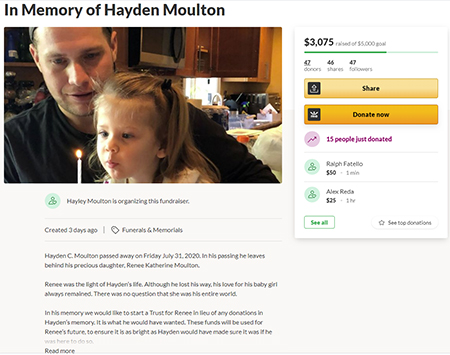 If you can help with a donation that would be great.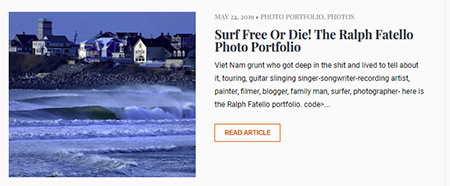 ESM (Eastern Surf Magazine) using a READY MAG format did the Best of Ralph's Pic. And while they couldn't possibly use everything thing I've ever done, they did manage to put up some 50 pics of mine, plus two videos. And I was truly humbled by their intro. Mez said some nice things about me. CLICK ON THE IMAGE ABOVE TO SEE THE WHOLE Spread.

KSM Photoshop of the Week
They must be hurting for reliable weathermen down in GITMO. Whoever though that Khaliddy would make a good weatherman must be on crack. He can't be trusted. I mean come on people.This pic was captured on surveillance camera when the sheik tried to make a run for it. You can't get off the GITMO dumb ass. You's stuck here son. Now go on git!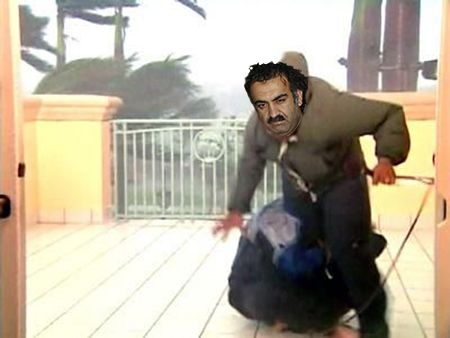 And so my friends, please take advantage of this weekly photo shop of the mastermind who planned 9-11 and resulted in the deaths of 3,000 innocent civilians by KSM (Khalid Sheik Mohammed).

*Note to self -must pick up a case of Foul Weather Gear at Home Depot this week.

REST IN PEACE RBG 87 years old. September 18th, 2020.
HAPPY BIRTHDAY Victor Capozzi September 20th, 2020!
HAPPY BIRTHDAY John "Jacko" Keefe September 21st, 2020!
HAPPY 10th BIRTHDAY Patch September 23rd, 2020!
HAPPY 7th BIRTHDAY Avery September 25th, 2020!
CONGRATS Pete and Noelle Rizzo on your spectular wedding September 12th, 2020!
PLEASE Keep 97 yr old Frank Grondin in your thoughts and prayers, as well as Chuck (Kim's dad) and Mrs Berardini (Tony's 99 yr old mom) in your thoughts and prayers. We'd all love to see her make it to her 100th Birthday in December. She's a fighter, but she could use some help. Your prayers can help. Thank you.
PLEASE Keep longtime NH Surfer Greg Smith in your Prayers.

Please Support ALL The photographers who contribute to
Ralph's Pic Of The Week every week for the last 16 years.
** BUY a HIGH RES Photo from any of the weeks on RPOTW.

Remember my friends... Surfing Heals All Wounds.
Pray for Surf. Pray for Peace. Surf For Fun.

Ralph