FIFTY YEARS AGO. APRIL 1971-SEPTEMBER 2021

Photo above was taken last Friday September 10th, 2021 on the Big Day of Hurricane Larry. That's me and my old friend Jay Gustaferro from Cape Ann. Not many people know this but, Jay and I were arrested for surfing once. It's true. It happened in the Spring of 1971 at Good Harbor Beach, in Gloucester, Massachusetts. I'm afraid to admit it, but, I have a criminal record.
That's right. I was arrested for surfing. Put in handcuffs on the beach, and hauled off to jail. It's true. I'm not proud of it, and I'm certainly not bragging about it. But this actually happened to Jay and I and another close friend.
Though I suppose I should back up a little here, and let you know the whole story. It was the Spring of 1971. I had been a civilian since January of 1971. Prior to that, I was in the United States Marine Corps. I did a tour in Vietnam in the infantry as a grunt from 1969 to 1970 and was just starting to get my shit together again, as both a civilian, and a surfer. Some of you might recall that I started surfing in 1964.
Prior to my leaving for Vietnam, I had surfed at Good Harbor Beach in Gloucester, Massachusetts many times over the years. And ever since I got back, I had been surfing everywhere and anywhere I could find waves. I had not been to Good Harbor since my return. Well, long story short-there was a decent swell running, and Good Harbor looked like the spot to surf that day.
My buddy Larry Crateau and I drove out to GH and proceeded to paddle out at the river-mouth. The surf was fun. Waist to chest high and super clean. We were soon joined by another friend, Jay Gustaferro who lived there in Gloucester. So there we were, the three of us, in the joyous process of sharing some fun waves, when we noticed a police cruiser on the side of the road.
It appeared that a police officer was standing on the side of the road near the beach and was waving at us. None of us could tell what he wanted, so Jay (being the true local) paddled in to find out what was going on.
Now for all intents and purposes, Jay was not exactly a conservative looking type. He had very long hair and was the typical (for these times) hippie/surfer. Jay was being very animated on the beach waving his arms while pointing at us and the surf. Larry and I looked at each other and figured "this can't be good." And it wasn't.
Jay paddled back out and told us the news.
"He says we can't surf here. That surfing is only allowed before 9AM and after 5PM!" I looked at him in disbelief and then at the Police officer on the beach. "What? When did that happen?" I asked. "Last summer. " Jay answered. "You have got to be kidding me?" I yelled. " I surfed here before I went to Nam in the summer! And there were no problems!" Jay was sitting there on his board shaking his head. "Well this sucks. I mean, it's still Spring. No one is even in the water. It's still too cold!" I yelled. "I know " Jay said. I looked at Larry and asked him what he wanted to do. "I'll do whatever you want to do." He said. "Well, I want to surf. I didn't just go off and fight in that war to come home to this bullshit! I'm surfing!" Jay nodded in agreement.
And so began the moment of truth for the surfers in Gloucester vs the city ordinance. We proceeded to surf for the next hour. Sharing waves and helping each other retrieve our boards. This was during the days of no leashes. So when one of us lost our board, the others would get to it before the police could grab it. And by that time, there were many policemen on the beach as well as a growing crowd. There were at least three cruisers and a half a dozen police officers. The crowd was getting pretty vocal as well. It was one of those moments in life, where there was no turning back. We had made our stand, and dammit, we were going to go down fighting, I mean surfing.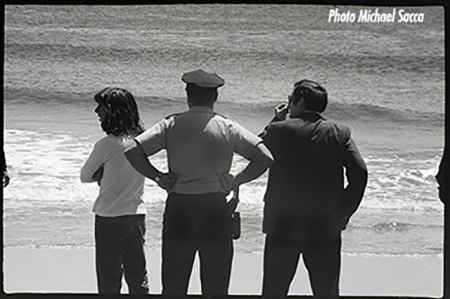 We all knew that when this was over, we would be getting ourselves in trouble. There was no getting out of this mess. It was our Alamo. And I was Davey Crockett swinging my musket Ole Betsy at the Mexicans climbing the walls.
At one point we heard a low rumbling noise behind us, and much to our surprise and horror, they had launched a Marine patrol boat and were trying to get to us via an amphibious assault. They got pretty close, but could not get right to us, because we were all sitting next to the rocks and the breaking surf. They were getting pretty damn frustrated at our arrogance, and refusal to obey their surf laws. In hindsight, I don't blame them for being upset. Disobeying a direct order is not good. I knew that. But as a 19yr old Marine Veteran? I couldn't accept it. Jay paddled north to Rockport but the boat followed him and he was apprehended. It was just Larry and I at the end.
Finally after an hour of surfing, we surrendered.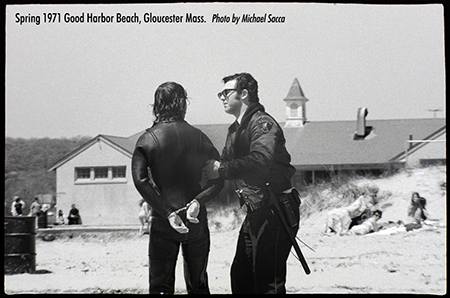 We were all handcuffed on the beach, and hauled off to jail. In our wetsuits.
While in the jail cell in my dripping wet wetsuit, I couldn't help but notice all the writing on the old jail walls. "Joe Ricci Assault and Battery 1968." Richard Smith Drunk Driving 1970." And so on and so forth. My wetsuit had the old metal zippers on the legs and the arms. So I joined in with the other criminals and I carved my name on the wall with my metal zipper from my wetsuit, right along side where the other criminals had scratched their names.
My crime simply read: "Ralph Fatello- Arrested for Surfing May 5th, 1971!"
I wondered later how many real criminals read that and sneered: "Surfing? That's a crime?" Yes it is. So I went to court that following week. My dad went with me and instructed Larry and myself to plead NOLO. (Not Guilty-Guilty) So when the judge called my name and asked how I wanted to plea, I yelled out "I Plead NOT GUILTY YOUR HONOR BY REASON OF INSANITY, because this whole thing is INSANE!" I yelled this in front of a shocked courtroom.
The judge removed his glasses and hung his head down. He looked up and motioned me up to the bench and talked me off the ledge. "Look son, I know you just came back from the war, and all of this is new to you, just plead NOLO, pay the fine, and go home. Suffice it to say, I did just that. I paid the $50 fine. And went home. But I was still pretty pissed off.
My life of crime was short lived.
So I'm not proud of that story. I only shared it with you to let you know that I know and sympathize what the frustration is, for not being able to surf.
It was nice seeing Jay again after so many years. My son Max knew about the story and had always wanted to meet Jay. My friend Johnny Meehan said that Jay was surfing really good during the peak of LARRY. And another cool connection to me and Jay was when my wife Cory wrote a story about Jay and his Lobstering business. But other than that, we drifted apart over the years. I'd see him every now and then, but not like the days of our youth surfing GH and other spots of Cape Ann. It was a nice reunion.
I'm really stoked that he's still surfing, and surfing well.