Below is my toast/speech at my youngest daughter's wedding yesterday.
NOELLE and PETE 9-12-20

Noelle: You are a true miracle. I mean that. You were not supposed to be here. According to your ultrasound, you were supposed to be Gabby and Max's little brother. We were going to name you Joe after my late best friend Joseph Somogyi. But on the night of my father's and uncle Angelo's birthday, there you were! This beautiful little girl with the umbilical cord wrapped tightly around your neck 4 times. You were a miracle baby.

And it's been a wonderful life watching you all grow up together.

You were the baby sister, or as I called you my "Sweetie Boid."
So many wonderful memories. Days on the beach with our friends and surf tribe, going crab hunting with you on my shoulders, from 10th street down to Surf family Robinson beach and back.

Surfing and boogieboarding. Remember my rule that you refused to acknowledge. "If you want to live in this house you have to surf!" To which you used to say, "I'm not a surfer, I'm a Boogieboarder". And I would say "Do you want to live here or not?"

One day when I was walking out the door to "Catch My Wave For Gus" you looked up at me and said "Where you going Big Handsome Daddy?" I thought that was the cutest thing and the coolest name. So I named one of my bands BHD (Big Handsome Daddy).

The Holidays. Virginia, Arizona, Portland. Visiting Grampy and Grammy and Grandma and Grandpa, and of course Nana and Papa. All your aunts, uncles, and cousins. Some are gone now. Grampy, Papa, Nana, Evamarie, and Michael. But their souls and memories live on with those who are still here. We miss them all, but we think of them often and speak their names. Including our departed pets. They are family too.

Going to school. From pre-school to college. Proms, weddings, and funerals. It's all been a blur to me now. All of our traditions. The Fair, The "Vegetable", the games we played in the van on those long trips "Is it Pongo?" When I would sing "Pink and Purple" because it was you and Gabby's favorite colors. While Max screamed "GREEN!" Halloween nights when I'd take you all out. "Nobody quits! Nobody Drops out!" The Night Before Christmas when I read to you all on Christmas Eve. How you used to hit me when I got to the line about "that shook when he laughed like a bowl full of jelly"
Our little inside jokes like "Happy Birthday!"

And through it all, you remained this beautiful little girl, who grew up to be this beautiful young woman. A true friend, and great sister, a wonderful daughter, and the BEST Auntie to our grandchildren. We are so proud of you. And we love you with all our heart and soul. I love you Sweetie Boid.

PETE
Families get bigger and better with marriage. It is to me, one of the best things about life. The marriage of families and friends. It's not just Pete and Noelle. It's Peter and Jenn. It's Sherry and Bob. It's Jeff. It's all of you really.

The Bridesmaids, the Groomsmen. The new friends we've made. It's a gathering of family and friends, that will now become part of our overall tribe.
Meeting Pete and getting to know him has been a joy to us all.

I remember Mom telling me "Noelle is seeing someone from Coastal."
OK let's hear it. "Well he's a surfer. He's Italian. His grandfather was a 1stSgt in the Marine Corps. He's from New England and loves Boston sports." Well, he certainly fits the basic criteria.

Look I know it must be difficult meeting me for the first time. I grew up with 3 sisters. So I know my reputation has already proceeded me. And now with two daughters and three granddaughters, Max and I have our work cut out for us. But since day one, Pete has always been great around the house. He got along with everyone. From Cory and I, to Gabby and Max and he's been a great "soon to be uncle" to the grandkids. He's like a mobile set of monkey bars when he's with them. He loves our pets. Comet, Patch, Linus, Luna, and now little (not so little) Zorro.

I remember the day he came to my home to "pick something up". He was acting a little apprehensive and nervous. For you see, that was the day he asked for Noelle's hand in marriage. I had experienced almost the same with Brent when he came to speak to us about his love and intentions for Gabby.
So here I was going through it again. It's safe to say, that I've been blessed with both Brent and now Pete.

But there is one day that really opened my eyes about Pete that sealed the deal for me. February 5th, 2017. The night the patriots played the Falcons in the Super Bowl. You know the story. But what you don't know is how Pete showed me a side of him, that forever changed my outlook on him. You all remember the Patriots were getting smoked. Nothing was going right. Brady threw a pick six. Goskowski missed two PAT. And they were down 28-3 late in the 3rd qtr. You all remember this.

But Pete, NEVER lost hope. He never gave up. He was the ONLY person on the planet who thought they had a chance. His enthusiasm and faith was something that I'll never forget. Well long story short, they tied the game 28-28 and won the coin toss going into OT. The final score was 34-28. The Patriots scored 25 unanswered points.

And made two 2 pt conversions. But I remember looking at him and thinking "who is this guy? What does he see that nobody else does?" When the game ended I looked at him and said, "No matter where we end up in life, I will never forget this night, and how you were unwavering in your belief and faith." 28-3.

And finally, I want to leave you both with this metaphor. I was the best man at my dear friends Kevin and Kim Grondin's wedding some 32 years ago. And this is what I said, that still holds true today.

Marriage is a lot like surfing. You have those perfect days with flawless waves, and sunny skies. And then you have those days when it's overcast, the surf is terrible, junky conditions. Just not good. The key is, you have to remember the good days. You have to KNOW that it will be good again. Anybody can quit. Anyone can give up. It takes courage, faith, and determination to see something through. It's important to live your lives each day, filled with LOVE and LAUGHTER. And you both have that.

Nobody knows what's coming down the road. When and if things go wrong. REMEMBER 28-3. TWENTY EIGHT TO THREE!

May God Bless you both, and all of our family and friends, gathered here today. I LOVE you all.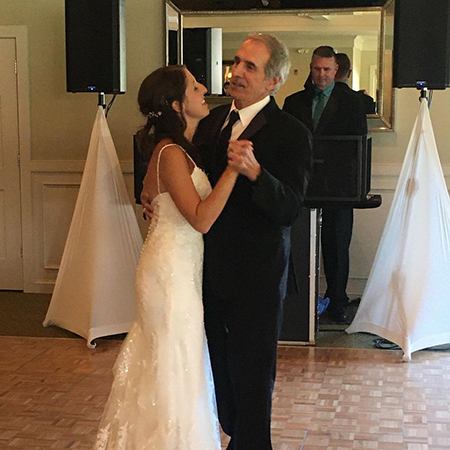 The traditional Father Daughter dance. We pulled the wool over everyone's eyes with our song selection(s). Sorry, you had to be there to know what that was all about.




A NINETEEN YEAR TRADITION.

On September 11th, 2001 most of the surfers in NH were out surfing the amazing waves from Hurricane Erin. The surf was incredible. I shot video from that morning. It's been posted here many times in the last 19 years. We all know what happened on that day. A tragedy that still stings 19 years later. However, what many of you don't know is, a handful of surfers all showed up unannounced, at this exact spot on the first anniversary, September 11th, 2002 at exactly 8:46AM.

It was as if, we were all drawn to this spot, from some unseen spiritual force.

Nobody had called, or spoken to each other prior, we all just showed up. It was incredible. Especially in light of the fact, that there was no surf on that first anniversary. In fact, it was dead flat calm.
Yet, we all just quietly showed up. Pretty powerful moment.
We all made a pact that morning. That we would meet every year on this date, at this exact time. There would be no invites. Just show up each year. It was embedded in our minds, and in our hearts. Some years, we've had a half dozen or more show up.
And some like today, it's just a few of us. But this unwanted tradition, still holds water here. We NH surfers won't forget.
In Loving Memory of Bob Hayes and Tommy Pecorelli.

"MARRIAGE, SURFING, and REMEMBERING HEALS ALL WOUNDS!"


This week's Ed's corner is Little Mikey Evans from September of 2008. Today it's Big Mikey Evans. Classic image of one of our best local surfers. Photo by Ed O'Connell
*Click the photo above to see a larger version of Ed's Pic.

Now for Some Local and National News
The NFL season has started and watching the games is kind of ...oh what's the word? I know. Freaking weird. Empty stadiums and pumped in crowd noise? I'm sorry, that's not working for me. It's just weird. You went from thousands of screaming fans to one guy adjusting the volume in the audio booth? I'm sure he has a batch of different noises, cheers, boos, and all kinds of emotional fan noise. But with an empty stadium? Does the NFL think that the players don't know it's fake? I just watched some big lineman do his showboating to an empty stadium after tackling someone. That was the icing on the cake for me. Weirdness.

On a good note, I like Cam Newton. It's only halftime and the Patriots are up 7-3. But they look good. Of course the next game is with our boy Tom Brady will be something all together weird. TB12 and his boy GRONK. Oy, this is going to be one weird ass year. Better buckle up, 2021 can't get here soon enough. *Patriots win 21-11 So far so good.

Welcome GULLRISING to the Blog!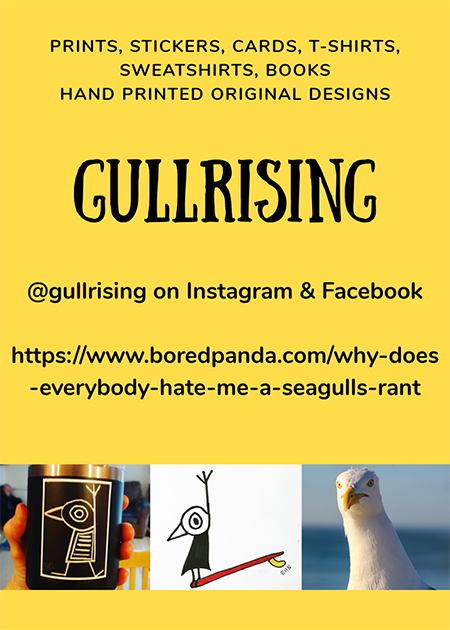 We are happy and proud to have GULLRISING join up with RALPH'S PIC! Brainchild of local surfer Erica Nardone and her genuine love for Gulls (I love them too) and all that is Gull related. Click on the ad above to visit her facebook page. She's got a lot of cool Gull pics, drawings, stickers etc. GO GULL CRAZY!

I worked on this CD (designed the front and back cover), and I recorded one of Asa's songs. Click on this image (below) to read some of the reviews and find out how and where to buy one. There's some great recordings on this record by some of Boston's best musicians.




There will be a live performance of all the artists who played on this record at some point (once the Bloody Covid leaves), and it will be a worthwhile gathering of friends and artists of the super talented Asa Brebner. Stay tuned for more info.

The family of Hayden Moulton has started this trust fund page to help his young daughter Renee in the future, and more importantly, to keep the memory of their son Hayden alive. I've only met Hayden a few times in his life, but I've known Scotty for years. So I want to help him out in any way that I can. If you can help donate to little Renee it would be greatly appreciated by the Mouton family, and the local surf community. Thank You.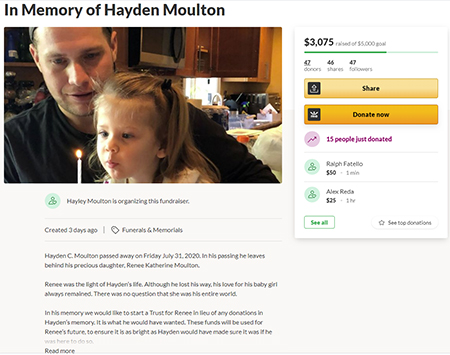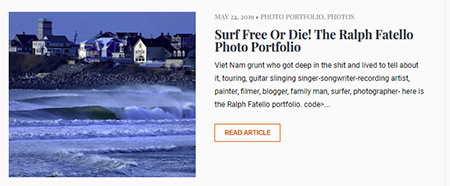 ESM (Eastern Surf Magazine) using a READY MAG format did the Best of Ralph's Pic. And while they couldn't possibly use everything thing I've ever done, they did manage to put up some 50 pics of mine, plus two videos. And I was truly humbled by their intro. Mez said some nice things about me. CLICK ON THE IMAGE ABOVE TO SEE THE WHOLE Spread.

KSM Photoshop of the Week
The marriage of my daughter yesterday and her husband Pete got me remembering when KSM married one of the prison guards down in GITMO a few years ago. The marriage has since been annulled. But I do remember this wedding photo. If I didn't know better, I'd think that KSM's Bridezilla is actually mocking the Sheik. That can't be good. No wonder the marriage didn't last.
Oh well. Khaliddy, you can't seem to do anything right.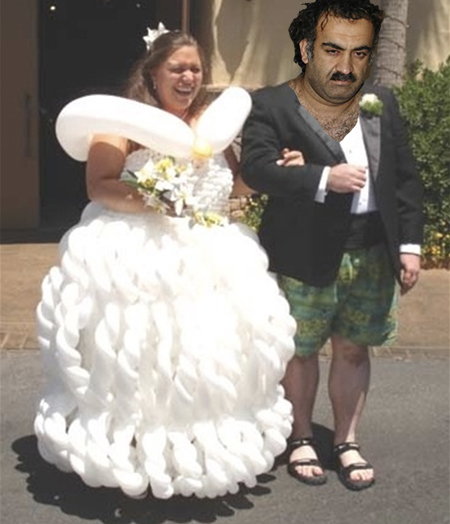 And so my friends, please take advantage of this weekly photo shop of the mastermind who planned 9-11 and resulted in the deaths of 3,000 innocent civilians by KSM (Khalid Sheik Mohammed).

*Note to self -must pick up a case of EMILY POST Wedding Planers at Home Depot this week.

HAPPY BIRTHDAY Hokulani Nichols September 7th, 2020!
REMEMBER September 11th, 2001!
CONGRATS Pete and Noelle Rizzo on your spectular wedding September 12th, 2020!
HAPPY BIRTHDAY "Mackey" Fatello September 14th, 2020!
HAPPY HEAVENLY BIRTHDAY Michael Colby 9-14-20!
PLEASE Keep Mrs Berardini (Tony's 99 yr old mom) in your thoughts and prayers. We'd all love to see her make it to her 100th Birthday in December. She's a fighter, but she could use some help. Your prayers can help. Thank you.
PLEASE Keep longtime NH Surfer Greg Smith in your Prayers.

Please Support ALL The photographers who contribute to
Ralph's Pic Of The Week every week for the last 16 years.
** BUY a HIGH RES Photo from any of the weeks on RPOTW.

Remember my friends... Surfing Heals All Wounds.
Pray for Surf. Pray for Peace. Surf For Fun.

Ralph