LOCAL LEGEND KEVIN F. "DOC" GRONDIN October 2022




When I first started this LOCAL LEGENDS series everyone (and I do mean everyone) thought I'd start the series off with this guy. Well, clearly he would be one of the LOCAL LEGENDS in fact, he's probably the most well known of the entire group of Legends. But what most people don't know is that I met Kevin when he was just a young neighborhood rival gang member. No, not that kind of gang.

When we were kids down on the North Shore of Massachusetts, we had gang wars by throwing crab apples at each other. Kevin hit one of "our gang" (that's right, think Little Rascals) in the eye with a crab apple. He was captured and then released after questioning and some minor torture. Of course Kevin and I did not know each other until years later when we both ended up in Hampton, NH. And we both got a kick out of the "Apple War" story years later when it came up in conversation.

Kevin F. Grondin age 66, first started surfing in 1968 at Briny Breezes in Florida. His older brother Allen surfed, and Kevin followed Allen to the beach. His first surf buddies were Ric & John Aho along with Bill Walberry. He eventually met Lenny Nichols down there in Florida and they became lifelong friends. One of his early influences was Carmen Erving US Champion from Boynton Beach, who insisted that young Kevin "move your feet." To this very day you can hear Kevin give that same advice to other young surfers.

Truth is, the real story of Kevin Grondin started at 10th Street (The Wall) on North Beach in Hampton, NH in the early 70's. His first NH surf was when Greg Smith picked him up hitchhiking and took him to the Cape and then back to NH in the summer of 1971. I personally met Kevin in the summer of 1972. He was (even back then) one of the better surfers in the water. I quickly realized in short order, that Kevin wasn't just a good surfer, he was an amazing Surfer. And there's no question in my mind, that it was Kevin who got me into making surf movies back in the early 70's. Why? Because he was that good. The first surf shop he worked at (and owned) was here in NH was The Rocky Bend in Hampton NH.

Ask any surf photographer or surf videographer who they shoot and they will tell you. They shoot the BEST surfers in the water. Back in the early to late 70's Kevin Grondin was the up and coming best surfer in the water. There were others who could surf really good, but Kevin was that one young surfer that stood out from the crowd. My best friend and fellow Vietnam Vet at the time, was the late Joe Somogyi, and we both instantly recognized Kevin's natural talent and as a result of that talent we let him tag along with us. This was still during the Vietnam war. And both Joe and I kept Kevin focused on his surfing, rather than him entertaining any ideas about joining the armed forces. We needed to Kevin to be a surfer/skateboarder. Period.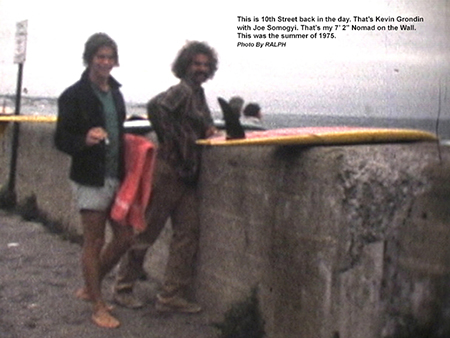 We did everything together back in the day. Surfing and skateboarding. We discovered so many new breaks and skate spots together and had the times of our lives. Surfing was the main focus in our lives and Kevin kept getting better than all of us. Like I said, there were other good surfers of Kevin's age: Greg Smith, Steve Clark, Jay Hammer, Rick Evans, Steve Magliano, Lenny Nichols, JT, Jeff "Berts" Obst, Ric Aho, and the younger crop of surfers that were coming up in the ranks. Stevie O'Hara, Mike Paugh, Duffy McCarthy, and Dave Cropper and a host of others.

But Kevin seemed to be on the fast track to radical contemporary surfing.

And unlike Joe and I, Kevin had a competitive edge to him. And because of that, it was a natural transition to go into the contest scene. And when he did, he got into contest surfing with a vengeance. He was a fierce competitor. He knew his shit when it came to contest surfing. Mostly because he did his homework. He knew how to time sets, how many waves he needed, and he knew the game well enough, to outfox his fellow competitors. I know for a fact that some of his contest peers couldn't believe that this guy was from NH. In the contest world, Kevin Grondin literally put NH on the contest map.

Here are some of his contest results:

1974-6th Jrs. US Championships
9 East Coast Championships in Short Board (SB), Long Board (LB), Knee Board (KB), Body Board (BB), and Iron man
6 US Championships- SB,LB, KB, and all Ironman
1 Pan American Championship as US National Team Head Coach
1 World Championship as Head Coach, National Team he was awarded the first Olympic Surfing Trophy ever given out. He also received the first ever "President's Trophy" from the Olympic committee in 1996.

3 Legends Masters SB & LB in Puerto Rico

Suffice it to say, Kevin earned the respect and admiration from his peers in the contest scene.

But, he really earned the respect of the hardcore surfers from the East Coast, The West Coast, Hawaii, and Puerto Rico because, as good as a contest surfer that he was, he really shined in the free surfing world. I've personally seen (and filmed him) surfing some of the biggest and best waves in the world. He was fearless in big surf. He was (and still is) one of the most stylish surfers anywhere. My movies don't lie. And to this day, I have shot more footage of Kevin than any other surfer from NH. Like I said, you shoot the best guys in the water. And year after year, swell after swell, that would be Kevin.

I've seen him paddle out into the large surf the North Shore of Oahu and just fully charge it. He learned how to surf those big waves by watching those like: Tony Moniz, Martin Potter, and his tube riding style came from watching the master himself, Shaun Tomson. And if I can add this. Doc's local tube riding style back in the day, was second to none. Kevin knew (knows) how to get barreled. I didn't call him a "Barrel Hound" for nothing. *And his son Kody, is following in his dad's footsteps. Like father like son. Kody gets barreled just like his father. And let's not forget that his daughter Leah is an incredible surfer too. I have often said, to be a good surf photographer you have to know surfing. Well Kim has been around surfing for over 50 years.

She can take a pretty damn good surf pic.

The biggest waves he's ever surfed were in Hawaii, Mexico, and Rhode Island during Hurricane Gabrielle. This one photo taken by Richard "MEZ" Messoroll is legendary. Look at that wave.




I've filmed him surfing GIANT storm surf on the North Shore of Massachusetts during the Halloween Swell of October 30th, 1991. They made a movie about that storm. THE PERFECT STORM. I've documented Kevin surfing the biggest waves in NH as well. There was nothing too big or dangerous that he wouldn't surf. We had a thing going on for years when he was faced with big unruly surf and was slightly hesitant. I'd stand there with my cameras and look at him and say, "Pull in for the boys back home! Get your ass out there!" He would shake his head, but he would always go. Because he knew, that the Boys Back Home would be hooting his heroic efforts when we showed my movies in his darkened home. And they did.

When I asked him where was his worse wipeouts, he answered. Hanalei Bay in Kauai, Marias in PR, and once back home in NH. His best Surf Trips were Tavarua in FIJI with his family, and Mexico with the Boys. His favorite waves are back home in NH, his homebreak (Doc's Reef) in PR, and Mexico.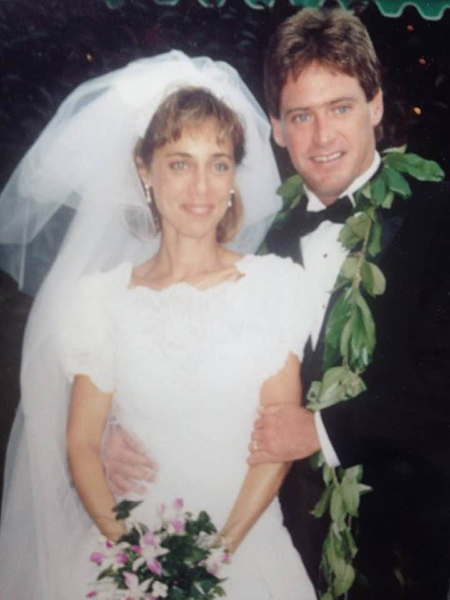 I was the best man at their wedding in 1989.




I would be remiss ed if I didn't include his lifelong partner in all of this. Kim Grondin his wife of 33 years has been by his side forever. She is truly a saint. They have been dating since the early 70's (I met and knew Kim back when I first met Kevin.) They were always together back in the day. Together they have two adult children Leah and Kody, and a son-in-law Rob and three grandchildren. Kevin's own words: "I would not be where I am today without my angelic wife Kim, and my daughter Leah and her husband Rob, and my three grandchildren. My son Kody, and his girlfriend Lili. All my close friends and family. They all mean the world to me. And I hope to be remembered for always trying to help others."

I say to you Kevin "Doc" Grondin, my Best Friend. You will be remembered for all of that and more. There's nobody out there like you. You are loved and admired from coast to coast. And you are clearly a LEGEND among Legends. I am proud to call you my friend and brother. And I hope we all get to grow old together and enjoy these times we have left with our mutual families and friends. We are truly blessed to have what we have.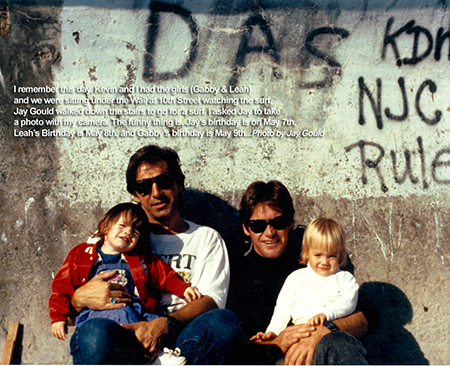 Kevin and I have literally raised our families together. We have both watched our children grow up together and get married and have kids of their own. My wife Cory and Kim are best of friends. My son Max and Kody are like brothers. Leah and Gabby were born just 23 hours apart. Our daughter Noelle is very close to the Grondins. And Kevin and I have lost close friends and family members, and we helped each other get through those hard times. I know his whole family.

And his late father Frank was someone I truly loved and respected. Frank was a WWII US ARMY vet who was seriously wounded in Europe at the end of the war. And the best compliment I can give to Kevin, is to tell him, he is his father's son. I see so many of Frank's honest hard working traits in Kevin. Frank was very special individual. He passed away at 98.




So Kevin "DOC" Grondin is 66 years old. He still rides a shortboard, and he rides it very well. Most surfers who live in Northern New England who are close to his age are either riding longboards, or SUPS. Kevin is not one of them. Oh still he rides a longboard when the surf is small, and he never, ever, uses a leash. Another example of his surfing expertise.




In 2018 Kevin "DOC" Grondin was inducted into the EAST COAST SURFING HALL OF FAME. The man who put New Hampshire on the map. The man who devotes his time and true waterman's knowledge every summer to helping run the SURFING WITH SMILES event at North Beach. The same man who also volunteers to help The WOUNDED WARRIORS in our annual HIT THE BEACH every summer. The man who would give a total stranger the shirt off his back. That man is our very own, Kevin Grondin.

Today Kyle Linseman commented on my Facebook post about Kevin, and called him the "NH GOAT." You won't get any argument from me on that title. Kevin Grondin is a LEGEND AMONG LEGENDS. So yeah, feel free to call him the GOAT of NH surfing. He's earned that title.

"SURFING AND BEING HUMBLE HEALS ALL WOUNDS."




From the Ed O'Connell galleries. This is me out at that fun left point break that everyone seems to like. God I remember this day like it was yesterday. Just me and Tony Berardini out there. And of course Ed O'Connell on the beach capturing memories.
Photo by Ed O'Connell
*Click the photo above to see a larger version of Ed's Pic.

NOW FOR SOME LOCAL AND NATIONAL NEWS
Just when you thought things couldn't get much scarier for Dave Cropper and company this happened last week. Unbelievable.




GET YOUR ARTERIES CHECKED OUT
Dave doesn't eat meat or dairy and is very fit…we had no clue and then almost lost him to a clogged right interior carotid artery.

This is No joke

Everyone should take advantage of this…we almost lost Dave to a clogged carotid that we never knew about and it could have been avoided if our regular medical care included these images!
I'm making an appointment tomorrow!

They send images right to your PCP.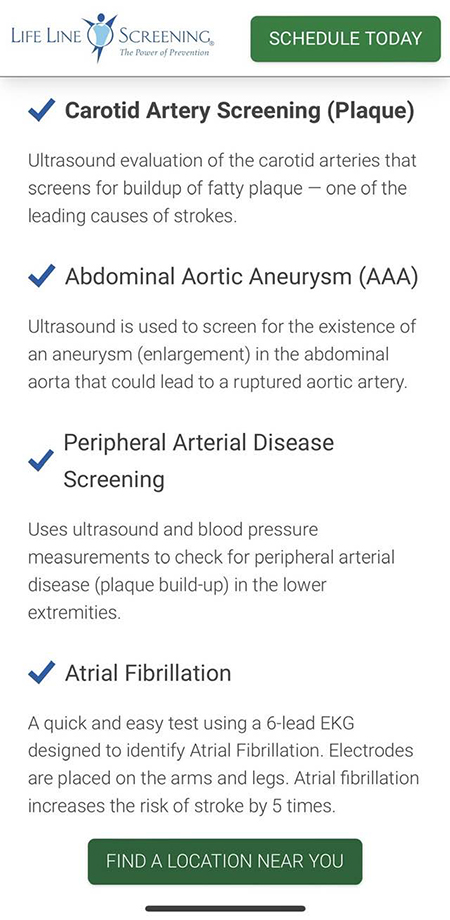 Thank God he's going to be alright. I swear whoever came up with the "when it rains, it pours" saying sure knew what they were talking about.

Meanwhile the GO FUND ME Page is still VERY active. Please if you have not made a donation, there's still time to help out the shop that has helped so many people in the past.
No amount is too small. Thank you all from the bottom of our hearts. We won't forget what you all did.

THANK YOU ALL WHO MADE SUCH GENEROUS DONATIONS. WE ARE KEEPING THE GO FUND ME PAGE OPEN. PLEASE HELP CINNAMON RAINBOWS OUT.


*Click on the photo above to make a donation

THE PATRIOTS are now 4-4 for the season.
They lost that winnable game last week to the BEARS. For those who watched it, you saw a debacle of nonsense. They started MAC10 and then pulled him out when he went south out there on the field. But then again, the back up QB ZAPPE had some kind of reality check. In short, he was not that good. Long story short, the Patriots got their asses kicked by a team who should have been easy to beat. But nothing in the NFL is easy. Nothing.

I found this old pic I shot of Tom Brady beating the snot out of the Chicago Bears in 2014. He threw five TD passes in this game.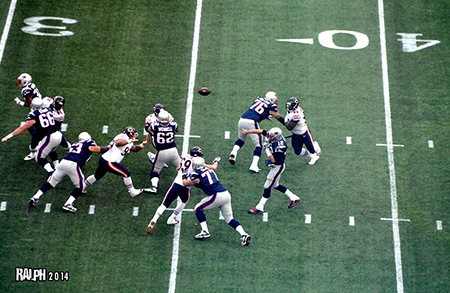 I suppose we should be happy that they beat the 5-2 JETS last Sunday. I am happy about that. And I hope they continue to get better each week. And stop with all the nonsense. Like most Patriots fans, I miss the Good old days. And I know we had 20 good years that nobody can take that away from us. 20 years.

But those days are gone. TB12 is playing for Tampa Bay and Gisele has pulled the plug on their 13 year marriage. So much for the storybook marriage and life. Oh well. I guess we should be happy with what we have. Up in Maine the last two weeks we kept seeing signs all over the place. They simply said, BE KIND. At first I chuckled at them. But the more I thought about it, the more I agree with it. We should all try and be more kind to each other.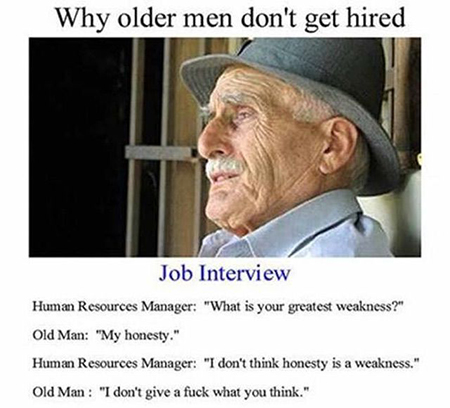 But then I saw this meme on the Internet, and well, it made me laugh. So BE KIND as much as you can, but don't lose your sense of humor.

Especially after November 8th, 2022. GET OUT AND VOTE!




COMING NEXT SUMMER IN 2023. THE HISTORY OF SURFING IN NEW HAMPSHIRE. From the very beginnings to the current crop of rippers. The who, what, and where of NH surfing.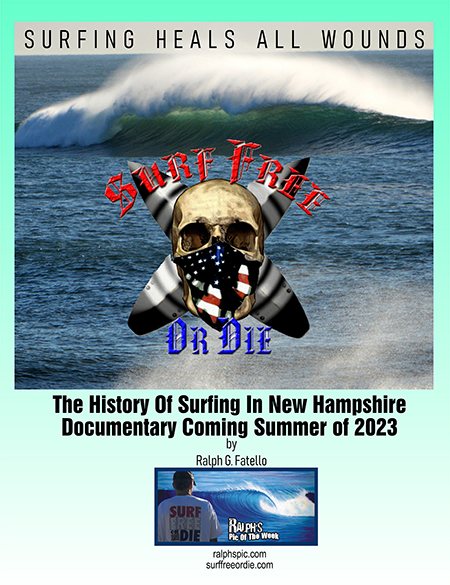 KSM Photoshop of the Week
So the news of Tom Brady and his wife Gisele splitting up was too much for Khaliddy to handle. He sent this Photoshop to Gisele in hopes that she would contact him and perhaps they could start a fresh new relationship. But alas, even Gisele could see through The Sheik's BS. She alerted the authorities at GITMO and the Khaliddy ended up in the camel room. That's right, he had to sleep with the camels this last week or so. I swear it's always something with Ole Khaliddy.

And so my friends,
please take advantage of this weekly photo shop of the mastermind who planned 9-11 and resulted in the deaths of 3,000 innocent civilians by KSM (Khalid Sheik Mohammed).
*Note to self -must pick up a case of Brady and Gisele perfume at Home Depot this week.


GET WELL SOON Dave "CROP" Cropper!

HAPPY HEAVENLY BIRTHDAY Eva Fatello 10-28-22.

HAPPY HEAVENLY BIRTHDAY JoEllen Bunton 10-29-22
HAPPY HALLOWEEN!
REST IN PEACE Jerry Lee Lewis.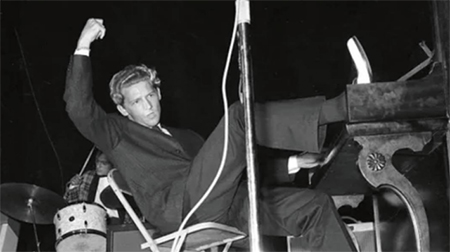 GET WELL SOON Ryan Jackson NH2O!
Please keep local surfer Mike Keefe in your thoughts and prayers in the next few months during his treatments.
Keep fighting Mike!
Please keep local Surfer/Musician Pete Kowalski in your thoughts and prayers. SURFING HEALS ALL WOUNDS!
Please Keep local surfer Bill M. in your thoughts and prayers.

Please Support ALL The photographers who contribute to
Ralph's Pic Of The Week every
week for the last
18
years.
** BUY
a
HIGH RES Photo from any of the weeks on RPOTW.

Remember my friends... Surfing Heals All Wounds
.

Pray for Surf. Pray for Peace. Surf For Fun.


Ralph