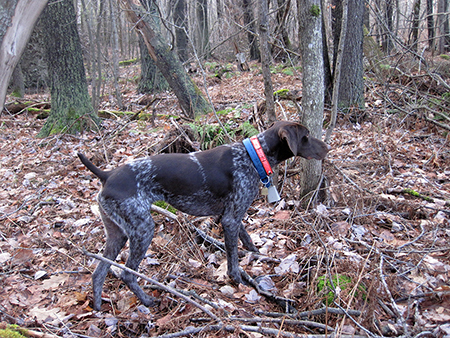 OK. The other day a few friends of mine on Facebook saw a post I made from another Facebook group that I belonged to. I say "Belonged" as in past tense because I no longer belong to the group. The post was about me and my dog Patch (above) bird hunting up near the Canadian border. I want to apologize to my non-hunting friends. And the reason is, I'd prefer to keep that part of my life separate from the Surfing, Rock and Roll, and Military posts. I know that there are a lot of you who find hunting in general upsetting. I quit the group when I found out that other friends could see this post. And when I asked them how could it happen, most of them agreed with me about wanting to keep it separate from other friends who don't hunt. But there were some who had the "F-them attitude". And quite frankly, I'm not like that. In fact, I'll bet anything that most of you people had no idea that I hunt birds.

So I suppose I owe you an apology as well.

But the truth is, I've been hunting birds since I was a kid. My father hunted. My brothers hunted. My father-in-law hunted. It was part of a family tradition. And it's important to know, that I am not ashamed or embarrassed by it, I just prefer to keep that part of my life away from my non-hunting friends. I have in the past gotten into some calm and reasonable debates on the subject. For instance, I am fond of saying that "We are all hunters." And by we, I am strictly talking about those of you/us who eat meat, pork, and poultry. If you eat steak, burgers, chicken, turkey, bacon, etc etc. You are essentially a hunter.

It's true. And the only difference between the two of us is really quite simple.

You see, while I use a shotgun while shooting at a wild bird that my dog has found and pointed, you use a shopping cart in the local market, or meat shoppe. If I fire my gun at a flushing bird and miss, that bird keeps flying. If your bird steps out of line before getting his head lobbed off at the chicken processing factory, he gets right back in line. If you drop the shrink wrapped chicken or turkey into your shopping cart or basket, and miss calculate, and it hits the floor in the meat and poultry aisle, you simply bend over and pick it up. My bird flies to live another day if I miss. Whereas your bird, does not. He or she gets back in line. Or back in the shopping cart. Think about it.

That's Patch below at the end of a day where we hunted for 6 hours and walked up and down mountains covering 10 miles or so. Those are wild birds. Ruffed Grouse and American Woodcock.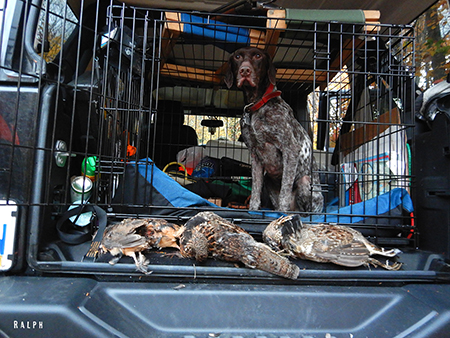 And yes, I've heard the argument of "But I didn't kill the bird." To which I answer. "No, but you are the reason why that bird died." You the consumer are the exact reason why all the birds and beef are slaughtered." Now unless you are a TRUE vegan who doesn't eat meat of chicken, then you have a say in this matter. But if you claim to be a vegan, but you wear leather shoes, belts, purses, have leather furniture, or leather seats in your vehicles, then you my friend are a hypocrite. It's like the catholic priest who hands out confession to the parishioners for missing church, or swearing, or any other number of small sins, and then turns around and rapes some young 10yr old boy. That's a hypocrite. So, back to my original thought on this. I'm sorry if I offended anyone out there. But I'm not sorry for doing something I've done all my life and will continue to do until my dying day.




These are the birds from the photo with Patch. You want to talk about Free range chickens? It doesn't get any fresher or more free range than this. Whatever we harvest, we eat. From my garden to the wild birds we hunt in the mountains. Nothing goes to waste. And yes, it's delicious.

So Happy Hunting to all. Me and my dog in the woods, and you at the market.




We had a great time at the premiere of my movie. Now you can see it again on your own time and dime. The DVD's are out in the shops and Online.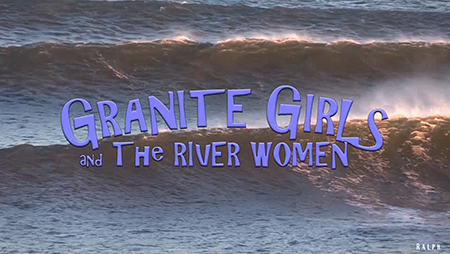 My buddy Rich and i watch it this past weekend while up at Bird camp in the mountains. It was the first time I had seen it on DVD. It still looks and sounds great. Wait that sounds a little self indulgent, my buddy Rich thought it was good and he's not a surfer. And that's a good sign.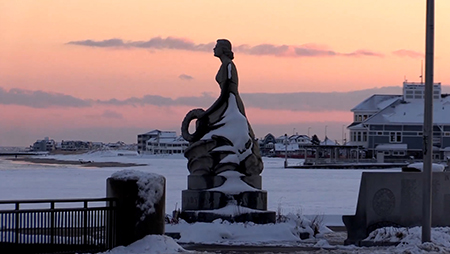 The women and girls who surf up here in the Northeast are a special breed.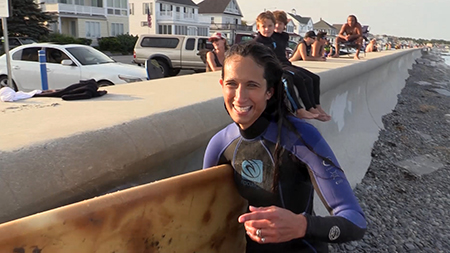 They are all stoked and full of life and passion for our waves. Natasha Rafferty is one of them. Her whole family surfs.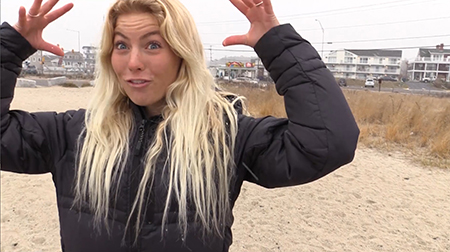 And they all have a great sense of humor. Like Becca Speak (above) and Julie Jakoboski (below). Becca is reacting to my take on how special surfing is to those of us who surf, and Julie is about to get drenched by a wave during her interview. Both of these scenes are in the movie.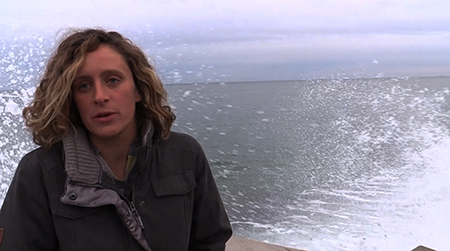 You can see the water behind her. She has no idea that she's about to get drenched. Sorry Julie. I should have said something. But then we wouldn't have this funny outtake.




You can tell that Maureen McNamara from Ogunquit Maine was happy to be part of this story. She has quite a story. As does Erica Nardone (below).




Erica's story is more than just a surf story. It's a story that will inspire you, no matter what you do in life. See the poster in the next column to see where you can pick up your copy.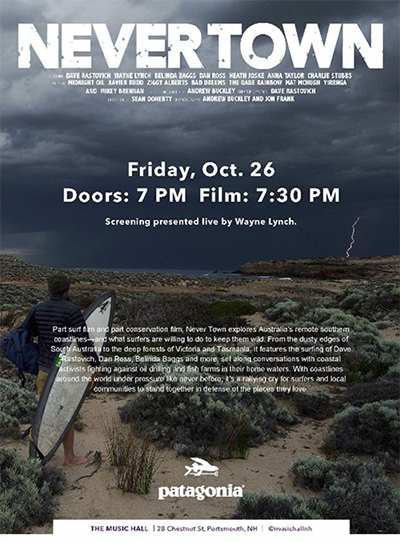 This is looking like a night to remember. Mark it down on your calendars.
Friday October 26th, 2018. NEVER TOWN.
This is Going to be a GREAT NIGHT! Wayne Lynch was a true pioneer in surfing back in the 60's and and the 70's.


" Surfing, and October Heals All Wounds."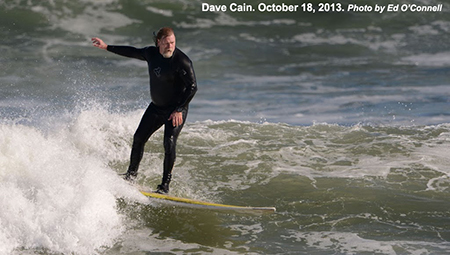 This week's ED's Corner is pic from 5 years ago now. October 18th, 2013. This is Dave Cain a husband, father, and proud grandfather. Dave is one of many grandfathers who surf these cold waters. He's as stoked about surfing as any young grom out there. And I know for a fact that he can't wait to get his grandson out there surfing. Photo by Ed O'Connell
*Click the photo above to see a larger version of Ed's Pic.

Now for Some Local, National and International News
The long awaited arrival of Julia Nichols and Derek Lyons Wolfe baby has happened. On Saturday October 20th, 2018 Julia gave birth to a beautiful baby girl La'a kea (sacred light). The baby weighed in at 7.77lbs and she's 20 and 1/2 inches long. As of press time there is no name to share with you all. But I can say that both baby and momma are doing well as is daddy.




You know, having gone through this 3 times myself now, I can say without question that becoming a grandfather is something special. To watch your own baby become a mother is something that you'll have to experience on your own. I know there are a lot of young parents out there who can't even begin to fathom what being a grandparent is all about. But they will some day. And when they do, they'll know exactly what I'm talking about.

Just take a look at Grandfather Lenny Nichols here. The photo on the left was taken before he was married and had any kids. The photo on the right was taken at the hospital of Lenny holding his granddaughter La'a Kea. This brought a tear to my eye. I am so stoked for him and the whole Nichols Ohana. I love them all.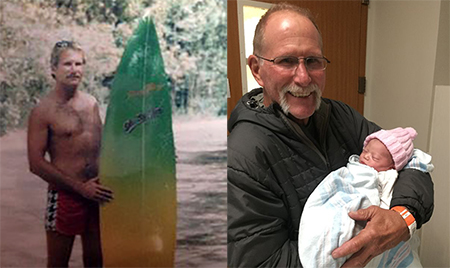 Think Lenny is gonna teach his grandchild how to surf?




How about Lenny and the uncles? Dean Hewitt, Barney Tokujo, and Peter Bermudez! That baby gonna surf for sure!

The BOSTON RED SOX are going to the WORLD SERIES! Damn. That was something. Look, I'm not gonna lie. I am a fair weather fan when it comes to Red Sox Baseball, Celtics Basketball, and Bruins Hockey I can't watch every single game. There's just too many. I will however watch all three of them in the play-offs and I do enjoy it. So while I may not know every player, I get to learn their names and find out more about them in the play-offs. And the WORLD SERIES is a GREAT time to be a fan here in October. So GO SOX!!!




I know we have some clear rivalries with the Yankees. But we put them to bed early. Surely an East Coast vs West Coast SERIES should be fun. I'm looking forward to this.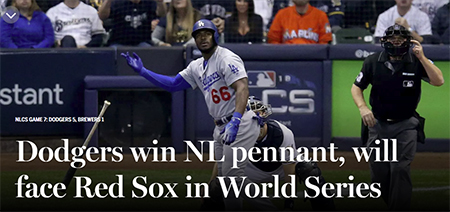 It all starts on Tuesday October 23rd, 2018. Let the games begin!

Speaking of games...what the hell was this guy thinking?




This tat? Really? I'm going to go out on a limb here and claim that this tattoo is not gonna help him with the ladies. Am I right people? Unless of course he meets someone with a similar tat.


KSM Photoshop of the Week
And as always, our boy KSM finds himself in the middle of the weekly absurd news. Now why did he go and get a 45 tat on his forehead? I swear just when you think you've seen it all with this terrorist, he goes and does something stupid like this. What are we gonna do with you Khaliddy?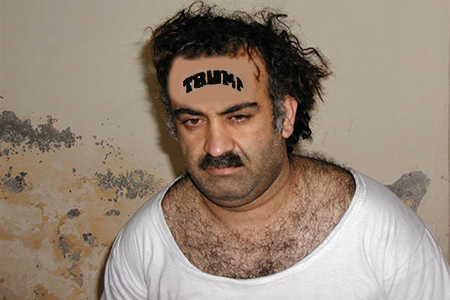 And so my friends, please take advantage of this weekly photo shop of the mastermind who planned 9-11 and resulted in the deaths of 3,000 innocent civilians by KSM (Khalid Sheik Mohammed).

*Note to self -must pick up a case of Tattoo removal at Home Depot this week.




The DVD's ARE IN! We are taking pre-orders via email. The much awaited All Women Surf Movie of the ladies and girls of the Northeast will be available at all the local surf shops this week and Online. To order yours just send me an email. ralph@adlantic.com or send a check for $20.00
made out to ADLANTIC and send it here:

ADLANTIC
c/o OC Studio Suites
703 Ocean Blvd Suite C-4
Hampton, NH 03842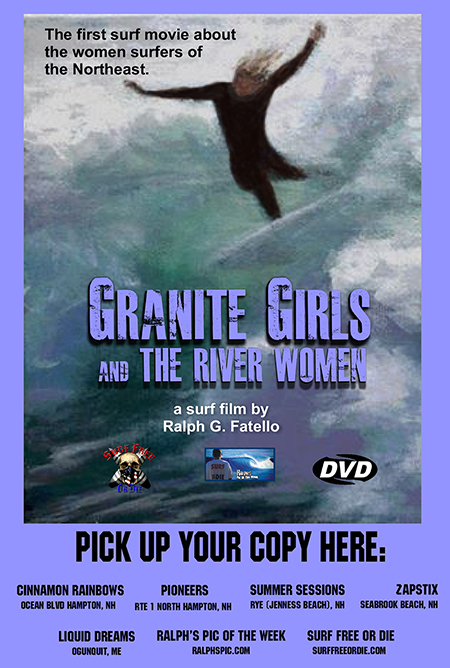 HAPPY October Everyone!!

CONGRATS to Julia Nichols and the whole Nichols Ohana!
New baby Surfer Girl is here! La'a kea (Sacred Light)

FYI Lenny Nichols is looking for someone or someones to take over the ESA-NNE District. Please contact Lenny Nichols by calling his cell (603) 944-2418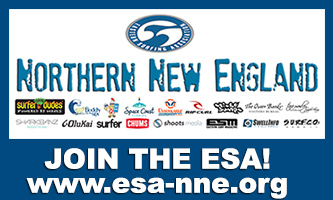 Please Support ALL The photographers who contribute to
Ralph's Pic Of The Week every week for the last 13 years.
** BUY a HIGH RES Photo from any of the weeks on RPOTW.

Remember my friends... Surfing Heals All Wounds.
Pray for Surf. Pray for Peace. Surf For Fun.

Ralph