It's ironic that my last surf video was all about Hurricane TEDDY, and this rain we are currently getting from Hurricane/Tropical Storm DELTA? Well, it must have triggered something deep in my subconscious, because I woke up this morning remembering a time in my life that I'll never forget. 50 years ago this week. I was a Marine in Vietnam and the latter part of my tour was on a Helicopter Assault Ship. The USS OKINAWA LPH 3 (Landing Platform for Helicopters). They would fly us off the ship, and insert us into the jungles and mountains. I was part of a BLT (Battalion Landing Team).




On October 9th, 1970 a Typhoon was formed in the South China Sea.

Typhoon Joan would end up being one of the Super Typhoons in the history books. Unbeknownst to me, ships will go out to sea during Typhoons. Not into any safe ports.

And the Marines were regulated to the bottom of the ship. We would sleep six deep in our racks (cots). Literally stacked like human sardines. The "General Quarters" order was given. That means NOBODY gets out of their rack as we were all strapped into our canvas racks. And for the next few days, we were Rocking and Rolling in the South China Sea. It was insane. But my twisted 19 year old surfer's brain was in overdrive, and I was giddy with the possibility of me pulling off a stunt, that almost cost me my life.

But I need to back up here a bit.

A couple of months prior to my unit boarding the Assault Ship, I took one look at the flight deck of the ship and thought to myself, "Damn! If I had a skateboard I could skate on that flight deck." So, I wrote to my father asking him to buy me a skateboard and send it to me. Of course this was way before email and texting. Talk about snail mail. He got the letter and wrote me back. "A skateboard? I thought you were in the jungle. What the hell do you need a skateboard for?" You can only imagine my frustration. So I wrote him back. "Dad I'm currently on an Assault Ship for Helicopters. They fly us into the jungles for weeks at a time, but we come back to the ship that is sitting off of DaNang. The flight deck has a surface that I might be able to skateboard on. Please dad, as crazy as it sounds, buy me a skateboard, and send it to me."

A few weeks later, the board arrived.

I stuffed the board into my locker, and waited for the right day to come along. My friends all thought I was crazy. But none of them were surfers.

Long story short. The right day was here. TYPHOON JOAN was packing winds of 130mph. Super Typhoon Joan was the first of two super typhoons to strike the Philippines within a week in October 1970, the second being Super Typhoon Kate. Super Typhoon Joan is the strongest typhoon and the ninth deadliest storm ever to affect the Philippines, as of 2002. A United States Coast Guard LORAN station on Catanduanes, 30 miles (50 km) north of where the centre of the storm passed, recorded a windspeed of 90 knots (165 km/h or 105 mph) gusting to 110 knots (205 km/h or 130 mph). In Virac, on the island, the Philippine Weather Bureau station recorded a minimum sea level pressure of 950.7 mb and winds of 150 knots (280 km/h), but was heavily damaged. In the South China Sea, shipping traffic was disrupted and USS Agerholm was reportedly in distress for almost 24 hours.

As I laid there in my rack I said to my buddies "I'm going up topside to the flight deck. I'm gonna skate up and down the flight deck." They all looked at me with eyes wide open. PFC Tony Beltran, a young Puerto Rican Marine from NYC, was going to go up with me to watch.

We unsnapped ourselves from our racks, and climbed up to the flight deck. When I opened the hatch to look out, I was shocked at the spectacle that greeted me. The seas were insane. The one thing from that day that I will never ever forget, was just how big the waves were. I had never seen anything quite like it in my life. If I had to guess, they were easily 100' high. They looked like mountains, just lifting up and spilling over. I remember thinking, a person with a surfboard could easily surf down those mountain like peaks. They would die, but they'd get the ride of their lives. Meanwhile, Tony was terrified. He wouldn't step out from the Hatch. The wind was whipping beyond anything I had ever experienced. And the rain was like tiny BB's hitting me in the face. All of the helicopters were tied down with chains and they would make these eerie grinding like sounds as the ship rocked up and down.

The ship would lift up at an insane angle and then slam down. Looking up to the bow I could see that if I timed it correctly, I could literally skate downhill, do a kick turn, and then skate back to Tony and safety. If Tony was terrified, I was beyond terrified. Standing out there in that driving wind and rain. I knew it was do or die. Or both. I looked at Tony and yelled "I'm going." Tony stared at me and yelled back "You're nuts! Don't do it!" I looked at him and smiled. I gave him the thumbs up and pushed off, heading for the bow. Two things I never compensated for was; the rough surface on the flight deck. With the old clay wheels, it was nearly impossible to control the board. And the wet rain. The surface and the rain was not conducive to this stunt.

As I gained speed, zipping past the same choppers that take me into the jungles, I started laughing out loud. The whole thing was completely absurd and well…insane. But being a 19 year old Marine Grunt in a war? It was all par for the course. As I went past the chained down choppers, I was approaching the tower. I looked up and saw some NAVY guys in the tower looking right at me. They pointed at me and saw them motioning for me to stop. I was in deep trouble. I kept going. I got to the end and did my kick turn, and was heading back down to the fantail when two big Sailors came out and grabbed me.

They hauled me inside looking at me as if they'd seen a ghost. Threw me in a holding cell, and called my CO (Commanding Officer). Capt. Conrad came up and took one look at me and shook his head. "What the hell is the matter with you? What is it with you and Surfing?" I apologized and really had nothing to say in my defense. The NAVY guys were lecturing me on what could have happened, and how much money it would have cost if I went overboard. Truth be told, I was no where near the edge of the ship. I may be crazy, but I'm not stupid. They ended up confiscating my skateboard, and threatened to court martial me. Like I said, I was in trouble.

I felt a little sheepish around Capt Conrad. He was a good guy. I felt bad that I embarrassed him. Then the orders came for the ship to be diverted to the Philippines because of the Typhoon.




With over a 1,000 villagers killed in the storm, and thousands more homeless, I knew what I had to do. It was right then and there, that I made up for my stupidity. I volunteered to be part of the rescue team, and I helped deliver bread and much needed medical supplies alongside the other Marines to those poor people up in the mountains. I went from seeing the biggest waves in my life, to seeing the biggest loss of life in my life. War can be brutal. There's things that I saw in combat that I won't ever forget. But seeing those dead and injured villagers from the Typhoon, well that was right up there with the horrors of war. We worked many tireless hours without a break helping those people out. They were just so desperate. In the end, it was one of the most satisfying endeavors of my life. I can still see those children smiling when we gave them food and supplies.




My unit ended up getting a Presidential Unit Citation from the Philippines.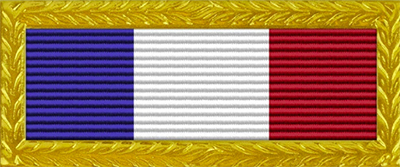 The Philippine military and the U.S. Navy Disaster Task Force (September 1 to December 14, 1970) and Navy and Marine Corps Units of Joint U.S. Military Advisory Group, Philippines Amphibious Ready Group Alpha (October 21–26, 1970) for relief efforts during several natural disasters which occurred in the Philippines during August 1 to December 15, 1970 (a series of typhoons).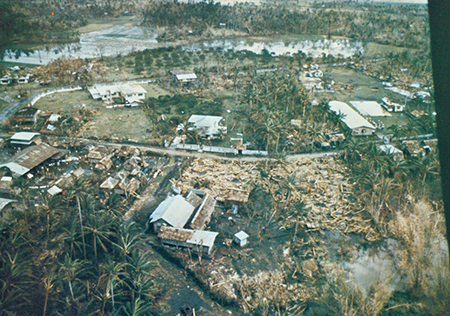 It is one of the ribbons/awards that I am most proud of.
Typhoon Joan October 1970.

Fast forward to December when my unit left Vietnam and we headed back to Okinawa. I was due to rotate back to the World. Captain Conrad called me into his hooch, and said he wanted to talk with me. He thanked me for being a good Squad leader, and wished me well, and then he said he had something for me. He reached behind his chair, and handed me my skateboard! "You crazy bastard, I'll never forget that day. Take this thing back to the world with you." I burst into tears, and then I hugged him. "Thank you sir. I'm going to miss you, and my friends."




I then went out and had all the guys in my squad sign my board.

About 20 years ago, my late mother called me and asked me if I still wanted my skateboard. I asked her "What skateboard?" "The one you had in Vietnam." She said. "Wait, you still have that?" "Yes Ralph, I kept it for you." I couldn't believe it. I may have cried on the phone with her. I know I got emotional. How could I not? I still have it sitting here in my office.




Every now and then, I pick it up and read the signatures and comments from my old squad. I like to take it out and show it to the young skateboarders when they are out skating in the adjacent parking lot next to my house. They all love hearing that crazy skateboard story. How could they not? That old Marine and his Skateboard story.

That was 50 years ago this week.
"TYPHOON RELIEF OPERATIONS HEALS ALL WOUNDS!"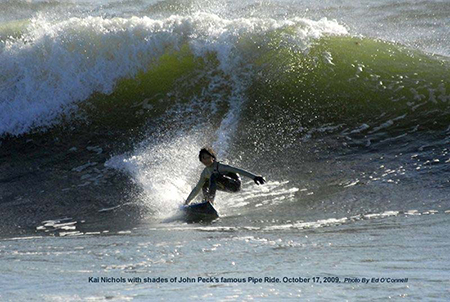 This week's Ed's corner is Kainalu Nichols. This particular photo was taken on October 17th, 2009. Young Kai was only 10 years old in this pic. Kai just left town yesterday.

He's now 21 yrs old and surfing like a man possessed.

It's truly amazing to have followed Kainalu's surfing career from his early Grom Days to where he's at today. Hell, it's mind boggling. He's hands down one of the best surfers I know. He's one of the best barrel riders I've ever filmed, and his overall surfing is just a pleasure to watch.

And, as I have said many times before. He's such a nice mild mannered respectful individual. He's going places in life. It may not be a professional surfing career, though he certainly could give the current pros a run for their money, but just knowing Kai like I do, I feel pretty confident that whatever career path he chooses, he will do well.

Meanwhile, it's safe to say that he's a surfer for life. And Thank God for that. Photo by Ed O'Connell
*Click the photo above to see a larger version of Ed's Pic.

Now for Some Local and National News

This is a photo copy of the STARS and STRIPES Newspaper from October 1970. This story is all about the PHILIPPINE RELIEF OPERATIONS that I helped take part in 50 years ago this week.
My unit recieved the PHILIPPINE PRESIDENTIAL UNIT CITATION for this operation.




I'll never forget boarding those choppers and helping those poor villagers every day. War is hell, but then again, so are TYPHOONS. Those poor kids and villagers suffered so much during JOAN.



Most of these photos are from that operation. They are from a US NAVY/MARINES photo album. I flew in these choppers and skateboarded on the flight deck of this ship. (But only once).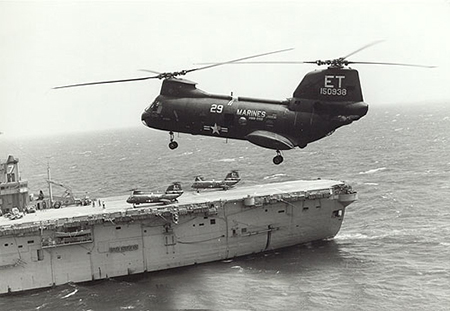 One of the strangest senations on the planet is being in one of these Choppers as they try and land on the flight deck of a moving ship. You really have to know what you're doing to pull those moves off. The pilots we had were amazing.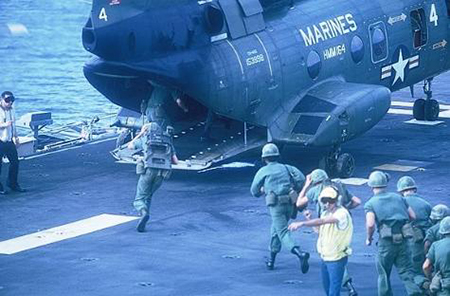 The 9th Marines of the 3rd Marine Divsion and the 7th Fleet earned their stripes that week. SEMPER FI boys!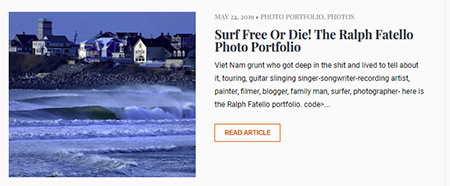 ESM (Eastern Surf Magazine) using a READY MAG format did the Best of Ralph's Pic. And while they couldn't possibly use everything thing I've ever done, they did manage to put up some 50 pics of mine, plus two videos. And I was truly humbled by their intro. Mez said some nice things about me. CLICK ON THE IMAGE ABOVE TO SEE THE WHOLE Spread.

KSM Photoshop of the Week
Meanwhile back in GITMO land , KSM was recently granted a 3 day pass so he could go and pay his respects at the last known grave site of his main peep Osama Bin Laden. This sandal floating by is supposed to be OBL's actual sandal. Damn You Khaliddy, why do you always have to be so damn hurtful? Eating snacks while paying respect to that devil eating piece of shit?

That's not cool, even if Ole Khaliddy think's it is. It aint.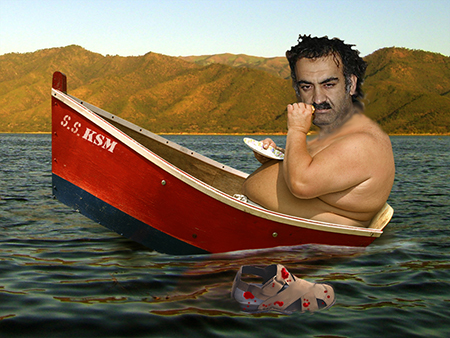 And so my friends, please take advantage of this weekly photo shop of the mastermind who planned 9-11 and resulted in the deaths of 3,000 innocent civilians by KSM (Khalid Sheik Mohammed).

*Note to self -must pick up a case of USED BEACH SANDALS at Home Depot this week.

Remembering Jerry Bunton. Gone 15 years yesterday October 17th, 2020. That's so hard to believe. We all LOVE and MISS YOU Jerry. You've missed so much since you've been gone.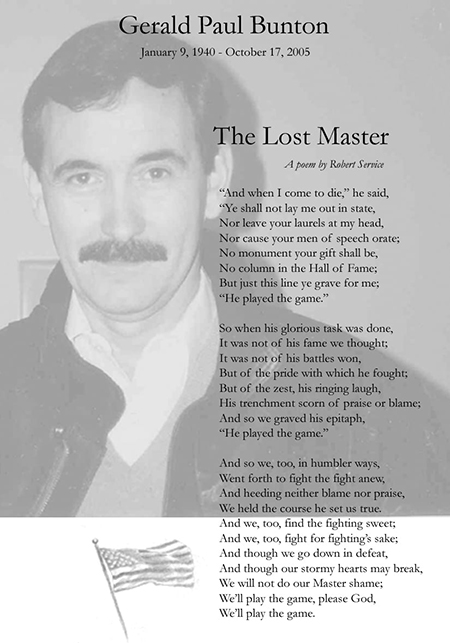 Remembering Eva Fatello RIP October 9th, 2007.
Remembering Jerry Bunton RIP October 17th, 2005
HAPPY HEAVENLY BIRTHDAY Evamarie October 19th, 2020.
PLEASE Keep 97 yr old Frank Grondin in your thoughts and prayers, as well as Chuck (Kim's dad) and Mrs Berardini (Tony's 99 yr old mom) in your thoughts and prayers. We'd all love to see her make it to her 100th Birthday in December. She's a fighter, but she could use some help. Your prayers can help. Thank you.
PLEASE Keep longtime NH Surfer Greg Smith in your Prayers.

GET OUT AND VOTE NOVEMBER 3rd, 2020! THE WORLD WILL BE WATCHING. PICK YOUR POISON. BIDEN OR TRUMP. JUST GET OUT AND VOTE!!

Please Support ALL The photographers who contribute to
Ralph's Pic Of The Week every week for the last 16 years.
** BUY a HIGH RES Photo from any of the weeks on RPOTW.

Remember my friends... Surfing Heals All Wounds.
Pray for Surf. Pray for Peace. Surf For Fun.

Ralph