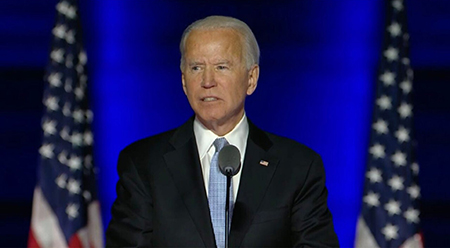 Congratulations to President-elect Joe Biden. Biden will be our 46th President when he is sworn in this coming January. The long political campaign is over. And I don't know about you, but I am glad it's over. Damn that seemed to go on forever. And I'm talking about the last two years, let alone the last 5 days leading up to his victory. It's been a grueling time for all of us. And it's time to stop the fighting, and bickering, and name calling and conspiracy theories, and get on with our lives. It's over. Respect the office of the presidency and lets start with the healing.
Lord knows we need it.

I posted this (below) the day of the election and I meant every word of it.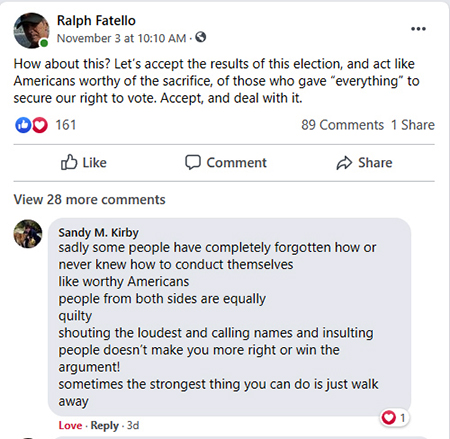 Yet it was met with vile, vulgar, and violent responses from (believe it or not) the left side of the aisle. I have to say, I was more than surprised by the negative reactions from some of my friends. And these friends were actually people I know. There's a lot of hate out there. Hate breeds more hate. But it wasn't all hate filled. There were plenty of positive reactions to my post.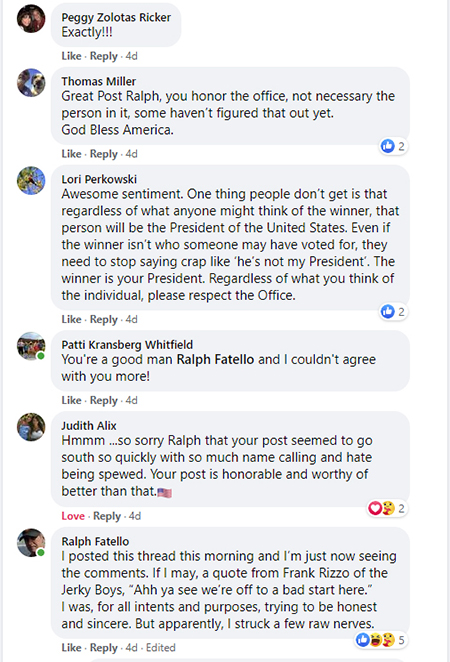 I'm not gonna lie here friends, I know people (good people) who are consumed with hate for the opposing parties. I know friends who have stopped talking to friends they've known for most of their adult lives, because of their political views. I have family members who claim to be decent loving, God fearing Christians, who are consumed with hate. Just consumed with it.

Hate breeds more hate. Hate will eat away at your very soul.
It needs to stop.

Look, I never voted for Obama. I voted for John McCain and Mitt Romney. But I've always had respect for the office of the presidency. Even this last guy. I lost my respect for him (as an individual) when he said those things about John McCain, but always respected the office. Nobody is perfect. Nobody. They all have had sordid pasts. Politicians are that kind of breed. Biden is no angel. But he's our president, and no matter how you feel about him, we should all try very hard to respect the office, that he now holds. I know I will.

I worked on both of McCain's campaigns. I loved him and believed in him.




He was an honest and caring man, who believed in the good that is still the main fabric of our country. McCain loved this country. I believe Joe Biden loves our country too. But to those who still seethe with hate? You need to stop. Get over your differences, and try to move forward in a positive direction. When I saw this part of Biden's speech on Saturday November 7th, 2020, I felt good about our future.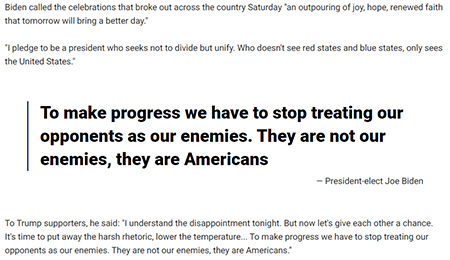 This right here was what I was referring to on Tuesday morning.

The message to you Democrats: REPUBLICANS are NOT the Enemy.
The message to you Republicans: The DEMOCRATS are NOT the Enemy. The sooner we all agree on that basic principle the faster we will heal.

FORGIVENESS IS THE FIRST PART OF HEALING.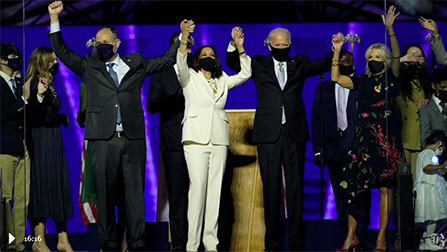 Let's try and give them a chance. Masks or no masks. Give them a chance.

Wednesday November 11th, 2020 is VETERANS DAY. Thank the Veterans in your life. Give them a call, stop by and say hello, email them, text them, PM them, whatever you need to do just do it. As a Veteran who never got thanked until 15 years after the war I fought in, I can tell you first hand, it means a lot.




I did this photoshop of me and my dad years ago. I post it on Veterans Day every year because I love the similarities of the two of us. He's on the island of Guam in this pic. And I'm in Nam. Guam and Nam. Miss and love you dad. Happy Veterans Day.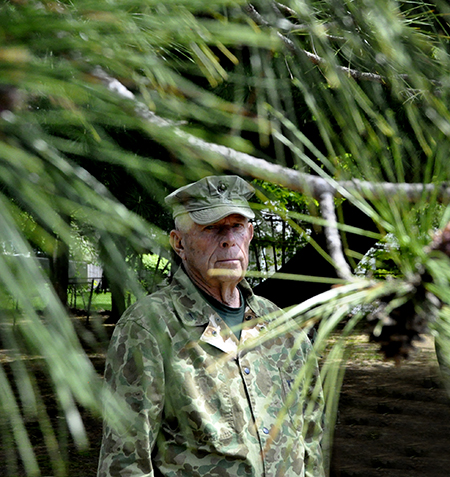 Boy do I miss this salty old Marine. George Masten. George fought in Korea and Vietnam. He was wounded in action in November 1967 in Vietnam. I'm thankful that I got to know him for as long as I did. The last words I spoke to him were "I love you George." And he replied "I love you too Ralph."
Tomorrow is George's birthday. Followed by the Marine Corps Birthday, and then Veterans Day. I used to kid with him having the "Trifecta" each year. Semper Fidelis George.




The late Jim Stellmach. He passed away from cancer in 2017. Jim was a Marine in Vietnam who was wounded on Memorial Day in 1967. Talk about irony. Jim was a good man and I miss talking with him at the Wall when he would be on one of his Wall Walks. Semper Fi Jim.

Happy Veterans Day to my late father-in-law Jerry, and our kids and grandkids Grandpa John Rastl.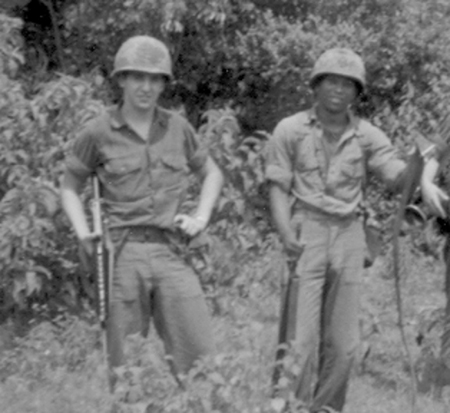 Me and my Marine brother Cpl Lee Carter 1970 Southeast Asia.
I think of him all the time, and wonder if he's still alive, and if he is,
how he's doing. I remember everything Lee. Semper Fi.

"GIVE THIS COUNTRY A CHANCE TO HEAL. MEANWHILE,
SURFING HEALS ALL WOUNDS!"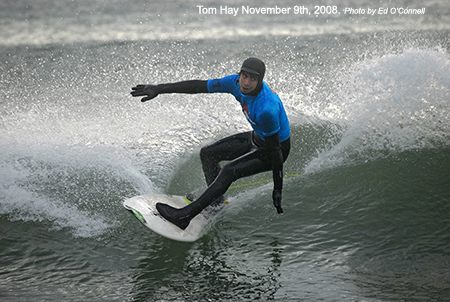 This week's Ed's corner is Tom Hay taken during a local ESA contest on November 9th, 2008. It's funny to think of Tom being a contestant today with him being a Boston attorney today. It's been a while since I've seen Tom, should one of his friends see this, please let him know about it. I think he'd get a kick out of seeing it. Photos by Ed O'Connell
*Click the photo above to see a larger version of Ed's Pic.

Now for Some Local and National News

The 245th MARINE CORPS BIRTHDAY will be held at function halls, restaurants, and other locations wherever Marines are stationed or where they live. I usually end up reading the famous RIFLEMAN'S CREED because I was a Grunt and the High Shooter in Parris Island. It's a Marine thing. We all chow down on SOS (Shit on a shingle). It is Chipped beef on toast. I actually like it. Which is funny because I hated it when I was in the Corps.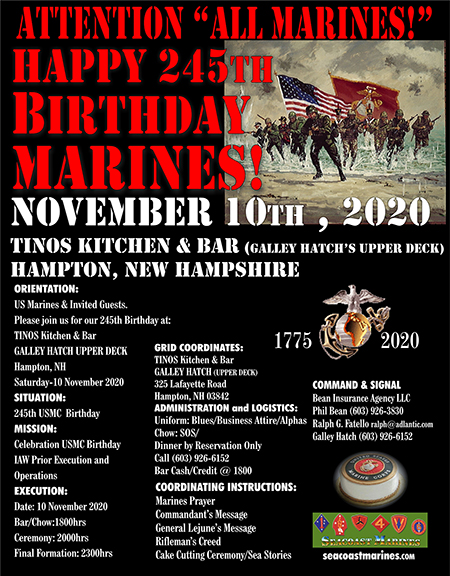 If you know any local Seacoast Marines let them know.




Speaking of local Marines. Only me and Donnie Walker are
the last two standing from this photo. Warren WWII RIP,
Donnie Walker Korea. George Masten Korea/Vietnam RIP,
Me Vietnam, and Paul Lessard Korea/Vietnam RIP.
Hope to see all you local Seacoast Marines on 11-10-20.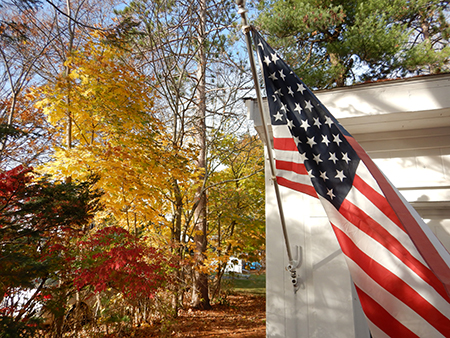 I took this photo today. I loved the colors and the way the flag was flying in the gentle breeze. Looks more like October than November. But even more stranger is it feels more like September.

This is Robin Rowell from 1974. Setting up for a nice barrel ride at Salt Creek in California. I've known Robin for well over 47 years. We have surfed together all over new England back in the day. Surfing and Skateboarding. We had some amazing times. We've stayed in touch during the long years apart and always try and get together whenever we are visiting on each other's coast. Robin was a great surfer back in his day. His nephews Corey and Kyle still surf.

And last summer when Kyle came out for a friend's funeral, he and my son Max got together and went for a surf. It reminded me so much of when Robin and I were younger doing the same thing. Sharing waves and talking story. It warmed my heart to see it and shoot it. It was like life repeating itself in front of my very eyes.

Anyway, Robin stopped by this weekend and some of the old gang got together again. Here's a few pics from his visit.




There's some NH history in this pic. From left to right:
Kevin Grondin, Ralph Fatello, Robin Rowell, and Lenny Nichols.
Photo by Cory Fatello.




There's even MORE NH history in this pic. From left to right:
Kim Grondin, Kevin Grondin, Ralph Fatello, Robin Rowell, and Lenny Nichols. Photo by Cory Fatello.

While Robin may not be as svelte as he was back in the 70's and 80's, his mind is crystal clear, and sharp. I don't know any surfer on the planet that has more surf knowledge of both the East Coast and The West Coast as Robin does. Seriously. I know some pretty prolific surf historians. From Sam George and Jeff Chamberlain and Kevin Grondin, but Robin has a deeper sense of the surf culture on both coasts. He started surfing in 1963 and he pioneered some of the best waves in California and Mexico.

It was great to see him. We all love him and wish him the best.

KSM Photoshop of the Week
Come on. This section is for laughs only. I mean if we can't laugh at KSM who the hell can we laugh at? So please try and see the humor in this pic. I'm not worried about anyone in this pic. Joe will be fine, KSM will never see the light of day, and the 45th President will still be a billionaire. WIN, WIN, WIN situation.




And so my friends, please take advantage of this weekly photo shop of the mastermind who planned 9-11 and resulted in the deaths of 3,000 innocent civilians by KSM (Khalid Sheik Mohammed).

*Note to self -must pick up a case of HAIR COLOR FOR MEN at Home Depot this week.




GREAT NEWS! Skylar Rosa is back home safe and sound. This pic was taken yesterday morning at his home. On behalf of the Rosa family and the friends of Sky we thank you all from the bottom of our hearts for the positive thoughts and prayers that helped Sky get out of ICU, and back home where he belongs. Looking forward to seeing Sky at one of the many NH surf breaks as he hoots and hollers at the surfers as they get good waves, and eat shit. Nobody is immune to Sky's colorful commentary. Life is Good. Welcome Home Sky!

HAPPY HEAVENLY BIRTHDAY George Masten 11-9-2020!
HAPPY 245th Marine Corps BIRTHDAY November 10th, 2020!
HAPPY VETERANS DAY November 11th, 2020!
HAPPY BIRTHDAY Tim Bailey November 12th, 2020!
REST IN PEACE Dave McInnis.
PLEASE Keep 97 yr old Frank Grondin in your thoughts and prayers, as well as Chuck (Kim's dad) and Mrs Berardini (Tony's 99 yr old mom) in your thoughts and prayers. We'd all love to see her make it to her 100th Birthday in December. She's a fighter, but she could use some help. Your prayers can help. Thank you.
PLEASE Keep longtime NH Surfer Greg Smith in your Prayers.

Please Support ALL The photographers who contribute to
Ralph's Pic Of The Week every week for the last 16 years.
** BUY a HIGH RES Photo from any of the weeks on RPOTW.

Remember my friends... Surfing Heals All Wounds.
Pray for Surf. Pray for Peace. Surf For Fun.

Ralph



Yesterday- Ralph, October 11th, 1988.
(Below) I apologize but, this is yet another pic of me. This was shot at one of the local point-breaks by Michael Baytoff. This same wave was also shot by Robin Rowell on Super 8mm movie film. The behind the scenes story of this wave is, Dave McInnis (who passed away this week) was on the shoulder paddling out, when I pulled in and under this pitching lip. I wasn't sure if I was "tubed" or not, but when I kicked out next to David, I remember excitingly asking him, "Dave was I just inside the tube?" He looked at me smiling, and said "It sure looked like that to me." And I remember jokingly telling him that he was now on the witness protection plan. It's funny, because for years after this, I would see him, I would bring up this wave, and he always said "Yes you were in the tube." I hope he's riding some tube right now in heaven. Rest easy Dave. Photo by Michael Baytoff