November 7th, 2021 The RUN is 12 out of 12 Weeks.
Waist high or better at least once a week.
There were overhead waves on October 31st -November 1st, 2021.
And waist to chest high on Saturday November 6th, 2021
THE RECORD FOR THE MOST CONSECUTIVE WEEKS IN A ROW FOR WAIST HIGH OR BETTER. August 8th, 2021 was 53 WEEKS! TOPPING THE 43 CONSECUTIVE WEEKS SET IN 2009!
Send your SURF Pics to me directly to ralph@adlantic.com.
Need photos by 10 AM on Saturdays. Seriously.
By 10AM. Make sure they are 1300 pixels wide.
If you have more than 10 pics please use wetransfer.com it's free up to 2 gig. Please DO NOT send me over 50 pics without first contacting and communicating with me.
Thank you.

Click on Archives link to see all the past Blogs
and pics.


THE PADDLE FOR GREG SMITH Video Sunday October 24th, 2021.
Photo by Martha Lardent

The video above is close to 50 minutes long. Now I realize for many of you younger surfers/non-surfers that might be a tad too long. I fully understand. However, I did this edit for Greg's family and close friends. Especially for Gary (Greg's brother) and Sofia (Greg's daughter). This video is something they can watch and share with their own family and friends. And as much as it is for them, it's also for those of you who have never experienced a SURFER'S PADDLE. They are unique to say the least.

I mention in the video that I did my first ever SURFERS PADDLE back in 1978. It was for Joe Somogyi. He was a Vietnam veteran who died of exposure to AGENT ORANGE. Ironically, Greg Smith and John "JT" Taylor were both present at Joe's Paddle. I bring this up because JT and now Greg had their paddles at this same location.

And not for nothing, but this location is one of the best for having a Paddle.

*Though it's important for my family and close friends to be reminded, that when the time comes (and all of us are eventually leaving this earth. Unless you know something that I don't), that I insist that my paddle be held at 10th Street at The WALL at North Beach. It can be during warmer months, but if at all possible, anytime between July-October would suit me just fine. Thank you in advance for that simple request.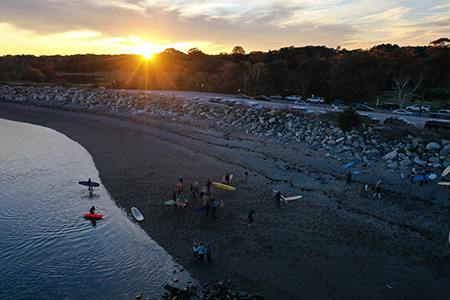 So take your time and watch the video. Listen to some of the amazing true stories of Greg Smith. Lord knows there were some mind boggling stories that will have you shaking your head. Just remember that they are all true.
The music is by my super talented nephew Jesse "QWILL" Ciarmataro.
His music is so soulful and beautiful. It's almost as if he wrote these songs about the paddle. The video was shot by myself, my wife Cory, and Martha Lardent. Martha's drone footage is breath taking. To see this Paddle from that unique vantage point is worth hitting "Play" alone. Trust me. It's worth your time. A HUI HOU Greg (Until We Meet Again).

Photo by Martha Lardent

If you can afford to donate a few dollars to help Greg's daughter Sofia out please click on the image below to lend a hand. Thank you and Mahalo.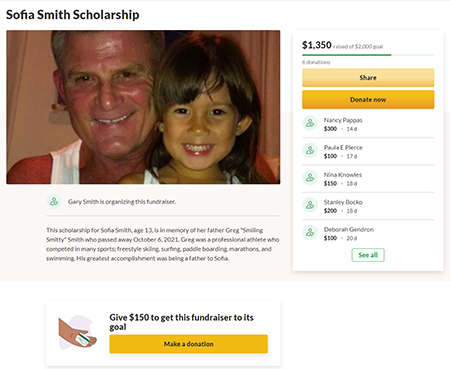 To those of you who I promised that I'd have the HALLOWEEN 2021 NOR'EASTER video posted, I sincerely apologize. The Greg Smith Paddle took precedent over that one. However, I do promise to have it posted by the next Blog. Meanwhile, there's 5 Great Galleries from four different photographer's down in the photo section that should keep you all busy.




Like this one from last Sunday October 31st, 2021.
The HALLOWEEN MONSTER. Five Days Of Insanity.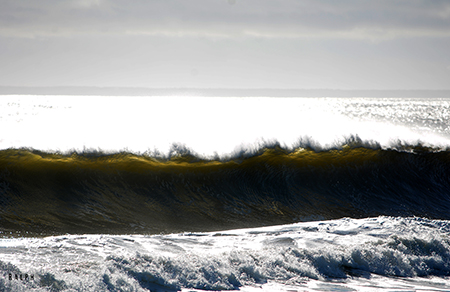 I think this pic sums it up pretty well. Overhead, pounding, and scary.




This Thursday, November 11th, 2021 is Veterans Day.

This is Frank Grondin's old home. Frank was a US ARMY WWII vet who passed away last December 2020. He was a purple heart recipient having been wounded in Europe fighting the Nazis. Frank was a remarkable man. I mean that's an understatement. His story is on the Memory Lane Movies Vimeo page. *Just click on the pic above to watch his story. Kevin and Kim still keep the Flag on the house out of respect and honor for not only Frank, but all veterans. Kim's father Chuck is an Air Force veteran.

This is the actual day when you say "THANK YOU" to a Veteran. NOT on Memorial Day. On Veterans Day we acknowledge the living Veterans and those who have since passed away. On Memorial Day we ACKNOWLEDGE those who died fighting in the wars. It's pretty simple. If you know a veteran, either in your family, or a friend, give them a call, drop them an email, or shoot them a text, and simply say Thank You.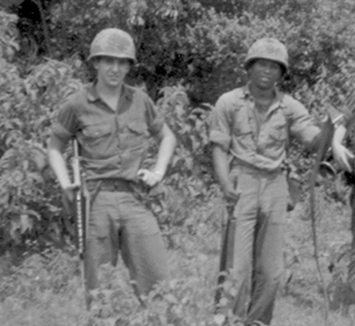 This is me and my dear brother Marine Cpl. Lee Carter in 1969 in Southeast Asia. I often wondered what became of Lee. I tried looking him up years later but never found him. I hope you are well Lee, and that you lived a good life.
Semper Fi brother. I think of you and our friends "DC" and Tony often.

I Hope ALL the Veterans in my life, Have a Happy Veteran's Day. Especially our beloved Grandpa John Rastl. And all my Marine Brothers and Sisters.
I LOVE and RESPECT YOU ALL!

"SERVING OUR COUNTRY AND SURFING HEALS ALL WOUNDS."


This is Perry Reynolds in a ESA surf contest at the Wall on November 9th, 2008. I just saw Perry last week and he's surfing really good. Ed, as most of you know, was a Vietnam Veteran. If he were alive today I'd be calling him on V-Day. Ed saved a lot of lives in Vietnam. Photo by Ed O'Connell
*Click the photo above to see a larger version of Ed's Pic.

Now for Some Local and National News

Journey Surf Company was formed because
of a love of surfing and family
As parents of a young adult with moderately involved autism, my wife and I knew that the future for adults with intellectual disabilities isn't always the brightest. Diagnosed with autism at 2 years old, Noah's Journey began very early. Numerous doctors, therapists, behaviorists, educators, medications, you name it, we did it and we are still advocating constantly.
One thing that kept me relatively sane during the really rough times was surfing. For the time out in the water was the only release from the reality on land. I think all of us surfers can relate.
As Noah ends his school career the vocational system for adults with intellectual disabilities is limited to say the least. There is an 85% unemployment rate among adults with intellectual and developmental disabilities.
So, we thought how can we empower Noah with that sense of purpose, value, accomplishment and responsibility that comes with having a job, while increasing awareness, inclusion and acceptance for adults with intellectual disabilities. Journey Surf Company was formed.
Our goal is to give Noah the opportunity to reach his full potential while leading a full and enriched life. Hopefully in the future, Journey Surf Company can employ other adults with intellectual disabilities to help them with their journey as well.
We Hope You Will Enjoy Your Box and Enjoy the Journey!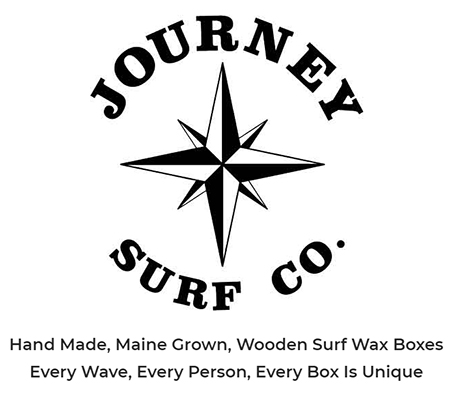 Click the image above to learn more about JOURNEY SURF CO.

GO PATRIOTS! ANOTHER BIG GAME TODAY PLAYING THE CAROLINA PANTHERS! They looked great last week. Let's hope they keep that positive momentum going.

KSM Photoshop of the Week
Now would you look at this. Please don't tell me that's Nancy Pelosi texting KSM? What in Sam Hill is going on here? Are they a thing? Is Khaliddy secretly seeing Nancy? Or is this just another ridiculous Photoshop by yours truly? I think we all know the answer to that. By now you all know that nobody is safe from this particular section of the Blog. If you can't smile at this? You really have issues. Khaliddy just can't seem to get a fair deal with me.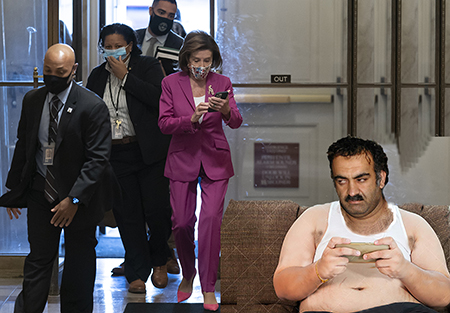 And so my friends, please take advantage of this weekly photo shop of the mastermind who planned 9-11 and resulted in the deaths of 3,000 innocent civilians by KSM (Khalid Sheik Mohammed).

*Note to self -must pick up a case of used i-Phone 2's
at Home Depot this week.




HAPPY HEAVENLY BIRTHDAY George Masten 11-9-21!
HAPPY 246th BIRTHDAY USMC 11-10-21!
HAPPY 60th BIRTHDAY ANNIE KELLY 11-10-21!
HAPPY VETERANS DAY 11-11-21!




Congrats to Noelle Rizzo GRADUATING FROM SNHU
Today 11-7-21! We're so proud of you. Not to mention that she and her husband Pete are expecting a child in April 2022. Grandchild number 4! Yay!
PLEASE Keep local Surfer/Musician Pete Kowalski in your thoughts and prayers throughout the year.
Finally PLEASE keep Kim Grondin in your thoughts and prayers.

Please Support ALL The photographers who contribute to
Ralph's Pic Of The Week every week for the last 16 years.
** BUY a HIGH RES Photo from any of the weeks on RPOTW.

Remember my friends... Surfing Heals All Wounds.
Pray for Surf. Pray for Peace. Surf For Fun.

Ralph






Yesterday- TWO VETERANS FROM HAMPTON. Circa 1974.
(Below) This is Jay Hammer and Joe Somogyi. Both US ARMY Veterans. Joe was a Vietnam vet and Jay was an Iraqi Vet. Both were/are surfers. Joe passed away in 1978. We had a paddle for Joe in 1978 that Jay was present for. Jay was at Greg Smith's paddle on 10-24-21. Joe never lived long enough to hear that words "THANK YOU FOR YOUR SERVICE." I'm not sure how he would have reacted to that. I so wish he was around so we could continue where we left off. I'm thankful for the time we had together, and I'm really
thankful to still have Jason in my life. We are part of the Old Guard and there ain't many of us left. Happy Veterans Day to you both. I love you guys.
Photo courtesy of Jason (JRAT) Hammer
*Click on the pic to see a larger version.



I kept a daily Blog on my CATCH A WAVE FOR MOLLY surf campaign, when I surfed every single day for 365 consecutive days. Click on the Banner above to read entries of my daily journey. There's some really interesting and true experiences
that happened during that year. Some of which are to this day, unexplainable. Some are just mind blowing. But all true.

I started on July 26th, 2010 and ended on July 26th, 2011.

Some rainy Sunday, pour yourself a cup and go through the journal. Pay close attention to the month of May in 2011. Read that month and let me know what you think of that. Be forewarned it will change you forever.