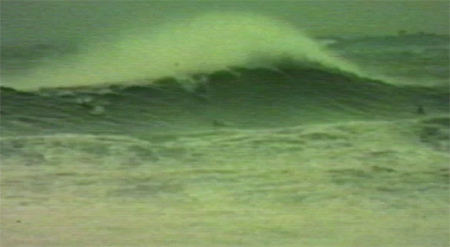 Let me start this Blog by saying. There's no way the surf from the Halloween storm of 2019 was as big or as intense as the Halloween Storm of 91. Not even close. The Halloween Storm of 91 was a week long swell with the waves capping off on October 30th, 1991. The same night they had Halloween here in Hampton. This grainy image above is from the Super 8mm movie footage I shot that day of this beast of a storm. It was also the day that the ANDREA GAIL out of Gloucester, MA was lost at sea with all hands. Six men from Cape Ann lost their lives in what was to be called "The Perfect Storm."

It was the first time in (my memory) that a Hurricane virtually mated with a large "Nor'easter" . Huuricane Grace, a high pressure system, and a large Nor'easter became the trilogy of terror for the fishermen on the Andrea Gail and it almost became a trilogy of terror for some of the local surfers.

The waves that week were nothing short of breathtaking. It was overhead and firing on all pistons. There's a surf break that shall remain unnamed out of respect for those who still call her home. But the surfing that week at that break will go down in surf lore as one of the longest, most consistent swells in the history of Northeast surfing.

We were all enjoying those large peaks all week long. And on the big day?

I can remember it all like it was yesterday. I met my friend Kevin down at the Wall that morning to gaze out to sea at what was (and this is 100% true) the biggest surf I have ever seen in New Hampshire. I looked at Kevin and said "I've never seen anything like this up here. This is without question the biggest surf I've ever seen in New England." And trust me, I've seen a lot of big days. But this day? It was creepy kind of big. You could not see out beyond where the waves were breaking. There was no end to them. Imagine standing at the Wall on North Beach and looking out beyond where you would normally see big waves rolling in on the outside sand bars and only seeing white water out to infinity. That my friends is big. I knew that this day I would be filming.

And I did. I surfed every day up to this day. And every day after. But the Big Day? I captured it all on movie film and video. I knew this was one for the ages. One that needed to be documented. Of course none of us were aware of the ANDREA GAIL being out to sea for almost a month. And that week was a struggle for her and her crew. They were all lost on Halloween 10-30-91.




I even did a NO NO by keeping the date on the video for some of the footage. I knew this was going to be special. This is Kevin Grondin and Mike "Zappy" Paugh carrying their long "Guns" in that whipping wind.




If you look closely you can see the Boston skyline in the background. This wave was easily over 10'. This day the wind was stronger than any of the previous days or the days that followed. Bigger swell and bigger winds was a recipe for dramatic footage. If you want to see the video from this day, you can find it on my Vimeo page. I've run it plenty of times in the past. Or click on the pic in the yesterday's section on this Blog. You can see it all in that edit.

This is Kevin after his wild and crazy session. He, Zappy, and Dave Eon caught some bombs out there. There were others as well. But those guys set the bar as far as getting the most out of that day. Take a bow Doc.


It's funny looking at this image the surf dosen't seem that big. Trust me it was. And it kept getting bigger throughout the day. This would be the only surfing to be had on this day. The surf got too big and to unruly to surf anywhere else.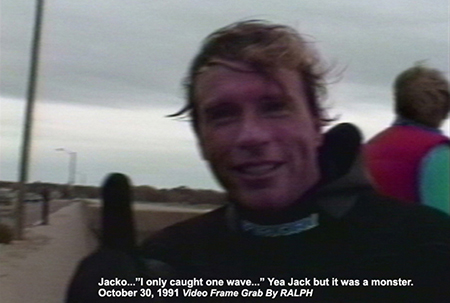 This is a young Jack "Jacko" Keefe. He was one of a handful who paddled out that morning. He only caught one. But one was enough. It really was next to impossible to paddle into those big beastly peaks. When we all returned to NH the surf was way too big and messy to surf anywhere. I did manage to shoot some of the most dramatic footage of that swell back in NH. I actually footage of motor vehicles being hit by waves and being pushed across the road. I remember shooting that and thinking "Holy crap I'm getting the goods here!" And I was . To this day, that footage remains some of the most intesnse footage I have ever shot.

Later that night, I had one of the most harrowing experiences of my life. But you'll have to wait until my book comes out to read about that night.




I said the comparing of both storms was not really a comparison. Yes it was halloween and yes there were high winds. In fact that night I let the dog out and there were wind gusts that shook me. Easily 60mph wind gusts maybe bigger. I do have one small complaint thoiugh. "Magic Seaweed" the surf Forecaster only had it at 1-2' the next morning. They were slightly off in their forecasting.
It was clearly 4-6' the next morning. And if there were any similarities in both storms it was the dramatic off shore winds.




This pic was shot the next morning. You can see the similar look. Off shore winds against the rough seas. The after taste of Halloween candy stuck in my teeth. We always buy too much candy thinking that maybe this year, kids will discover our home. No such luck. We only had 5 trick or treaters. Not counting the parents. So I end up eating the remaining pieces of that crap. Ugh.

But like the Halloween Storm of 91, the Halloween Storm of 19 had those perfect moments. Like this pic below. Head high and grinding all the way
from the outside sandbars into the inside.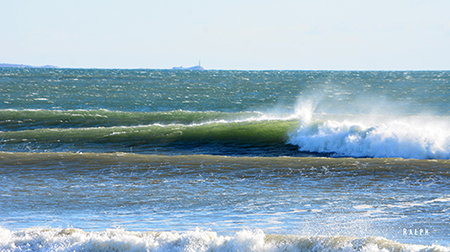 Another video frame grab from the Halloween 91 storm (below).
Perfect peak but a tad on the gusty side. .




And all of the surfing that day was pretty basic. There were no high flying manuvers being displayed by anyone. It was all by the book big wave riding. Whereas the storm of 19 was more forgiving. But then again, we're talking about a 28 year gap. Surfing has always progessed throughout the years. So the surfing during the 2019 Halloween swell was way more contemporary.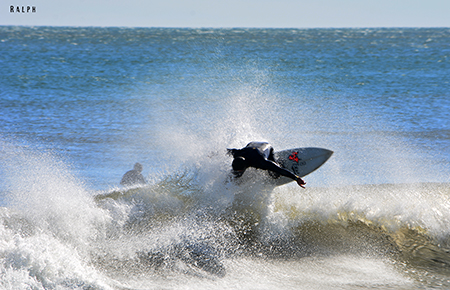 And the swell was dropping by the minute. The Halloween Swell of 91 lasted a full week. There were waves before the Big Day and waves after the Big Day. The Halloween swell of 2019 only had the one day. And it was dropping all day. This is Chris Stelman late in the afternoon. Clearly pushing the envelope.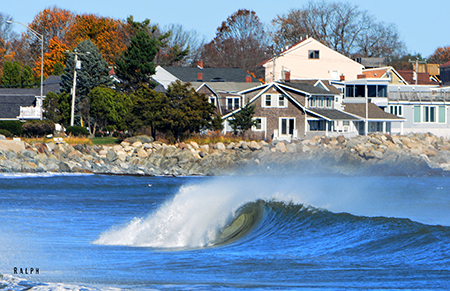 And unlike the storm of 91, this 2019 storm was way more forgiving. And I might add, prettier. And the best thing about this year's Halloween storm? That's easy. Nobody lost their lives.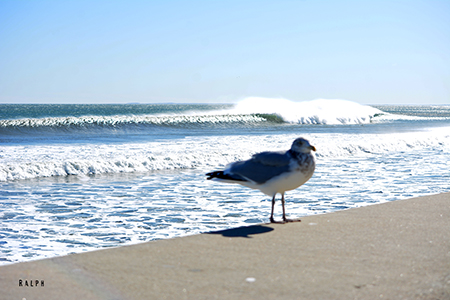 Just ask Erica's friend here. Though I suppose a few crabs might have succumbed to the ocean and Hunting Gulls. But no human loss of life.

"Surfing Heals Wounds."


During this Halloween Swell of 2019 I shot a woman surfer who's name is I believe Emily Sterns. She was surfing with Ian Dreher and I was impressed with her obvious conviction to jump into those conditions and paddle into a few good waves. I have pics and video of her. If anyone knows here please let her know. But this woman is Katherine Smith. And I believe her birthday was right around the time of this last swell.

But she's here because this is Ed's Corner, and Ed took this pic. October of 2013. In hindsight both of these women should have been in GRANITE GIRLS. Even thoiugh Katherine lives out west, she was a New England Surfer. And Emily just slipped under the radar. But I'm acknowledging both women here and now.
Photo by Ed O'Connell
*Click the photo above to see a larger version of Ed's Pic.

Now for Some Local, National and International News

45 attended one of the World Series games last week and was "booed." That can't feel good. But, "Ye Reap What Ye Sow."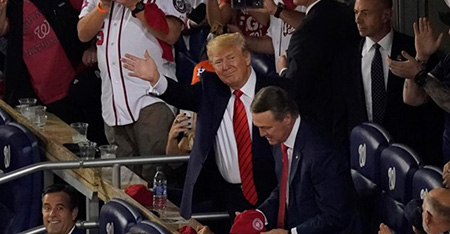 Regardless congrats to the Washington Senators. Coming from behind to beat the Houston Astros was something. Game 7 in any sport is worth watching. So congrats again Washington.

The 244th Marine Corps Birthday is SUNDAY NOVEMBER 10th. As always, we celebrate the Birthday wih all the local Seacoast Marines. This year we will be remembering two of our local Hampton marines we lost in the last year. Warren White a WWII vet and Joe Collins a IRAQ vet. If you know of any local Marines let them know about this gathering. Semper Fi Marines!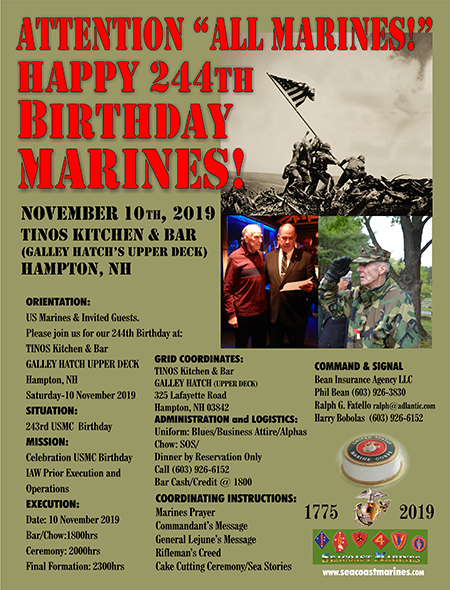 Click on the image above to see a larger version of it.

This was some good news last week. The killing of this piece of human garbage. Abū Bakr al-Baghdadi the ex leader of ISIS was killed last weekend in a US Forces Raid on his compound. Like most cowards he Ole Baghdadi actually killed himself when he tried to escape. And like most pieces of human feces he killed two of his own children when he pulled the cord to his suicide vest. Though in hindsight, I suppose his kids were already too far brainwashed and were going to follow the ISIS doctrine of life. In which case good riddance kids. This celebration is short lived because there's already a replacement turd.




Back when I was Commander of the American Legion Post 35 in Hampton I was asked several times about when would the Global War On Terrorism end. My answer was and still is today. NEVER. There are baies not yet born that we will be fighting in the future.

So, we're in this fight for the long haul. But today? There's one less piece of shit on the planet. Thanks to the brave men and women leading the fight against Terrorism.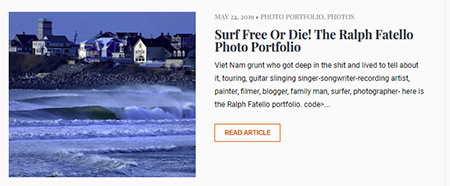 ESM (Eastern Surf Magazine) using a READY MAG format did the Best of Ralph's Pic. And while they couldn't possibly use everything thing I've ever done, they did manage to put up some 50 pics of mine, plus two videos. And I was truly humbled by their intro. Mez said some nice things about me. CLICK ON THE IMAGE ABOVE TO SEE THE WHOLE Spread.

COMING FATHER'S DAY 2020.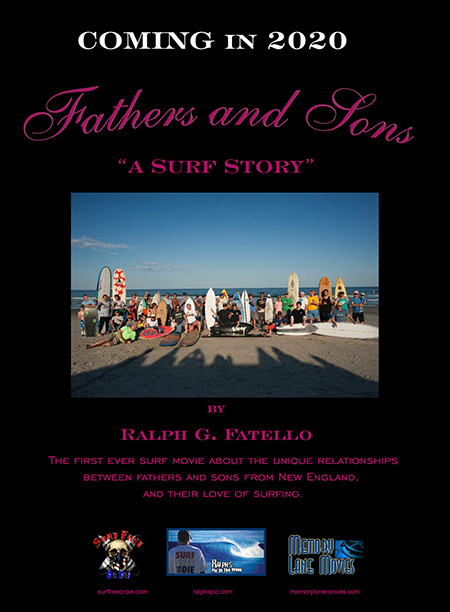 While I was making the GRANITE GIRLS video I came up with this project and concept. It's never been done before. As hard as that seems to be. I'm onto yet another never been done before Surf Movie concept. This will be an overview of Surfer dads and their sons. It's a work in progress and I'm hoping to get as many dads and their sons as possible in this movie.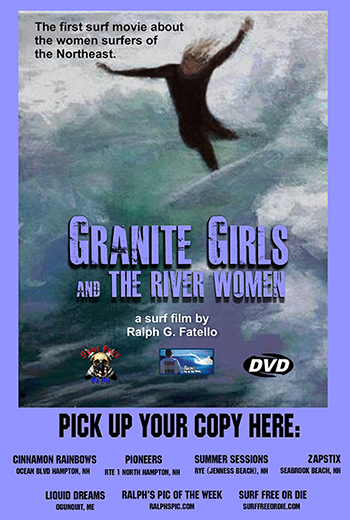 The DVD's are available at all the local surf shops. Or by
sending me an email. ralph@adlantic.com or send a check for $20.00 made out to ADLANTIC and send it here:

ADLANTIC
c/o OC Studio Suites
703 Ocean Blvd Suite C-4
Hampton, NH 03842

Or RENT or BUY it Online. You have spoken and I have listened. You don't have a DVD player so I made it available Online. Watch it on your Smart TV, your computer, or your cellphone! I can't make this any easier my friends.


GRANITE GIRLS and The RIVER WOMEN from Ralph's Pic Of The Week on Vimeo. NOW AVAILABLE on VIMEO ON DEMAND.

KSM Photoshop of the Week
This was another opportunity to put two assholes in the same image. Ole Khaliddy and Ole Baghdadi. One dead. One wishes he was dead. It's amusing to me, to think that Al Qeada and ISIS don't get along. You'd think that these terroist organizations would join forces and you know, break bread with each other. Nope. They don't get along. Sad to think that scumbags like these two don't see eye to eye. Oh well.




And so my friends, please take advantage of this weekly photo shop of the mastermind who planned 9-11 and resulted in the deaths of 3,000 innocent civilians by KSM (Khalid Sheik Mohammed).

*Note to self -must pick up a case of "WHO'S YOUR DADDY?" Tee shirts at Home Depot this week.

HAPPY BIRTHDAY George Masten November 9th, 2019.
HAPPY 244th BIRTHDAY to The USMC November 10th, 2019!
HAPPY VETERANS DAY November 11th, 2019!
HAPPY (belated) 60th BIRTHDAY Johnny Meehan October 12th!
PLEASE Keep longtime NH Surfer Greg Smith in your Prayers.

Lenny Nichols & Colin Madden
Co-Directors, NNE District
Eastern Surfing Association
www.esa-nne.org
@esa.nne.surf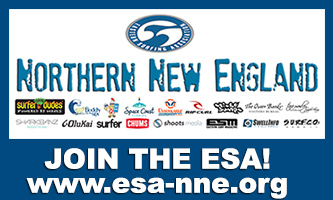 Please Support ALL The photographers who contribute to
Ralph's Pic Of The Week every week for the last 13 years.
** BUY a HIGH RES Photo from any of the weeks on RPOTW.

Remember my friends... Surfing Heals All Wounds.
Pray for Surf. Pray for Peace. Surf For Fun.

Ralph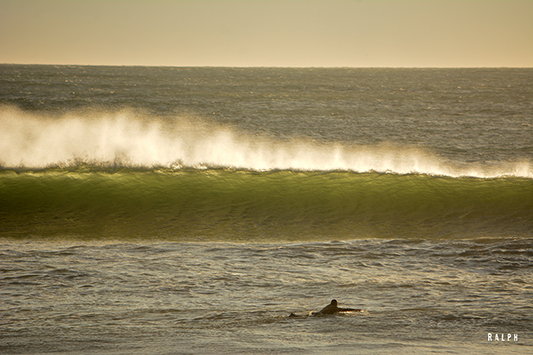 (Above) Trick or Treat. Max was the only one out at 8:00AM.
Friday November 1st, 2019. Photo by RALPH
*Click on the photo above to see the whole gallery




(Above) In this pic you can see the similarities in both storms.
Friday November 1st, 2019. Photo by RALPH
*Click on the photo above to see the whole gallery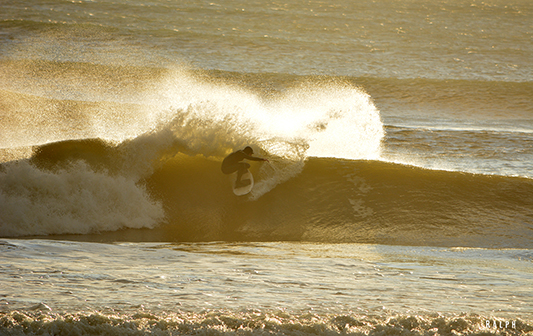 (Above) Mackey V cutting back on the Halloween 2019 swell.
Friday November 1st, 2019. Photo by RALPH
*Click on the photo above to see the whole gallery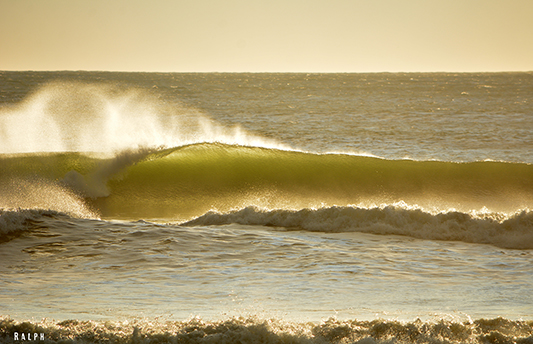 (Above) The waves were actually really pretty in spite of all that wind.
Friday November 1st, 2019. Photo by RALPH
*Click on the photo above to see the whole gallery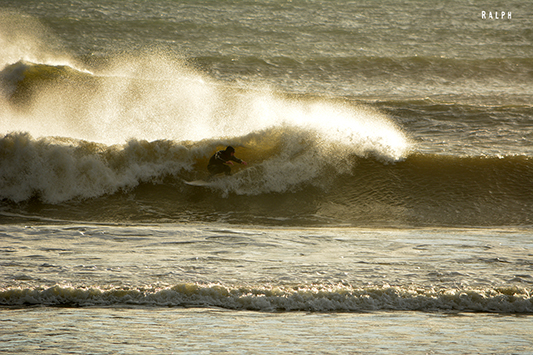 (Above) Imagine my surprise to not see a single vehicle parked on that long stretch of cement. Max was picking off the better ones without any concern
of others. Because he was alone. Friday November 1st, 2019.
Photo by RALPH *Click on the photo above to see the whole gallery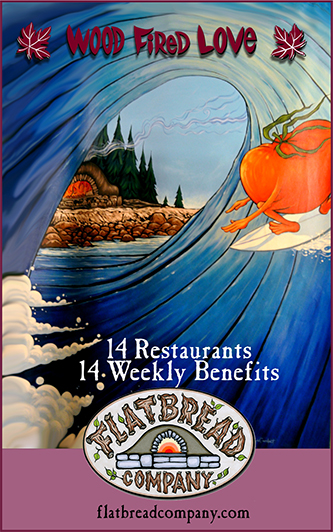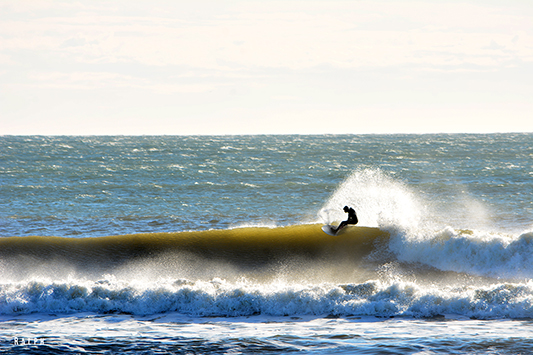 (Above) Steve O'Hara was the second one out this morning. He got a few nice rights and a few long lefts. We both saw the set of the day that nobody got though. Friday November 1st, 2019. Photo by RALPH
*Click on the photo above to see the whole gallery
(Above) Ian Dreher was the third person out. I was shooting mostly video at
this point. I have not seen any of clips yet. But I think I got a few good ones.
Friday November 1st, 2019. Photo by RALPH
*Click on the photo above to see the whole gallery




(Above) This is one of the few waves I shot of Emily. If any of you know her, please let her know that she's in this gallery along with Ian, Stevie, and Max.
Friday November 1st, 2019. Photo by RALPH
*Click on the photo above to see the whole gallery


(Above) This man walking along the beach helps show the true scale of the surf. Friday November 1st, 2019. Photo by RALPH
*Click on the photo above to see the whole gallery




(Above) Emily Sterns the morning of Friday November 1st, 2019.
Photo by RALPH *Click on the photo above to see the whole gallery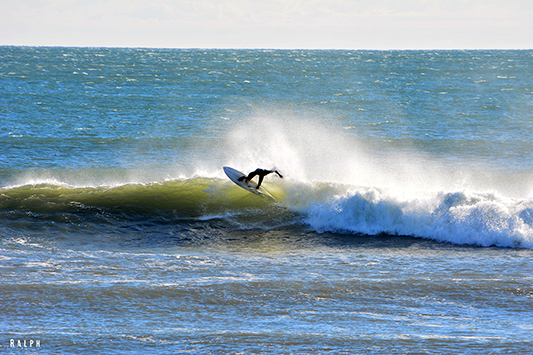 (Above) Ian Dreher is a good surfer with a nice style. I like shooting him.
Friday November 1st, 2019. Photo by RALPH
*Click on the photo above to see the whole gallery




(Above) Emily caught this one on the outside sandbar and drove it it all the way into the dredging shorebreak. Friday November 1st, 2019. Photo by RALPH
*Click on the photo above to see the whole gallery





(Above) This is the afternoon session. The waves dropped in size and
so did the wind. Friday November 1st, 2019. Photo by RALPH
*Click on the photo above to see the whole gallery