May 9th, 2021 The RUN is 40 out of 40 Weeks.
Waist high or better at least once a week.
There were waist high waves on Thursday May 6th, 2021
And Saturday night May 8th, 2021. However, I did not take
any photos of either day. But there were waist high waves
on both days. This week I'm re-posting pics from May 7th,
8th, and May 9th, 2019. The PRE-COVID Era.
Why the hell not? Enjoy my friends.




Send your SURF Pics to me directly to ralph@adlantic.com.
Need photos by 10 AM on Saturdays. Seriously.
By 10AM. Make sure they are 1300 pixels wide.
If you have more than 10 pics please use wetransfer.com it's free up to 2 gig. Please DO NOT send me over 50 pics without first contacting and communicating with me.
Thank you.

Click on Archives link to see all the past Blogs
and pics.


HAPPY MOTHER'S DAY GRANITE GIRLS!
Leah, Julia, Gabby, and Nohea before they were moms. Today they have 8 little girls of their own. Leah has two, Julia has two, Gabby has three, and Nohea has 1. It's hard to believe that these former "Rainbow Fish" all have little girls of their own. God Bless them all.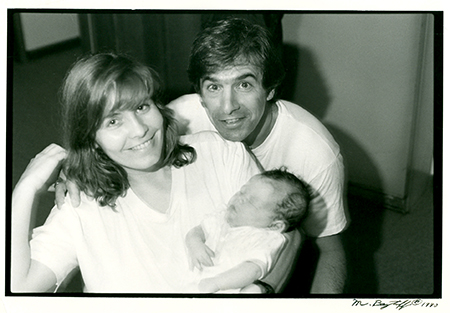 Back when Cory first became mom. 31 years ago today. May 9th, 1990.
In fact, that little baby Cory is holding is Gabby. Cory is mother to three children and three grandchildren.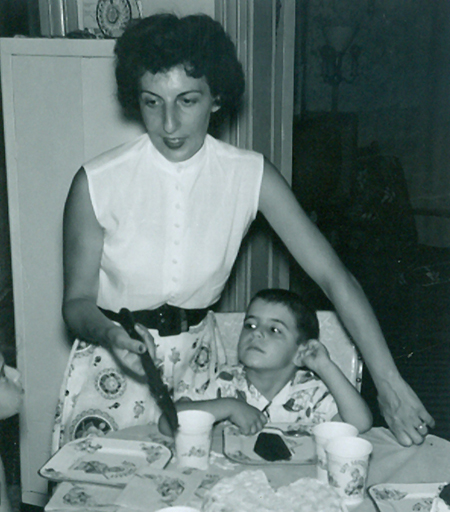 My mother Eva in the early 50's with me watching that knife she's holding.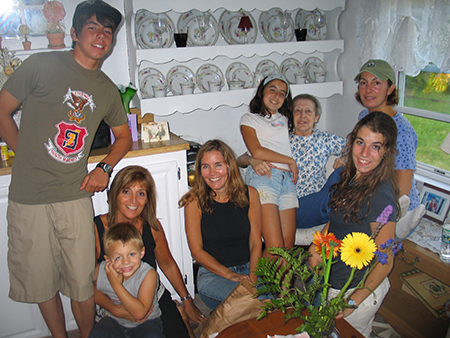 My mother's last Mother's Day back in 2006, she passed in 2007.
From left to right: Max, Jaiden (nephew), my sister Donna (mother of two) Cory, Noelle sitting on my mother's lap, Gabby, and my sister Gale who lost her only child in 2014. She's still a mother, and will always be a mother.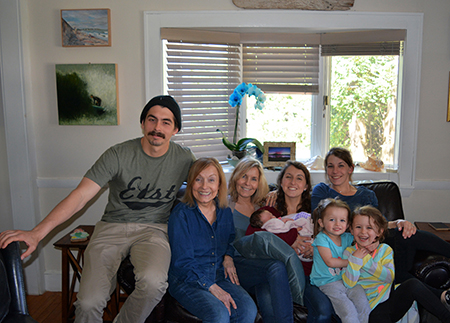 The last time Cory's Mom was here. Mother's Day 2018.
Pictured here with Cory and the kids and the Grandkids.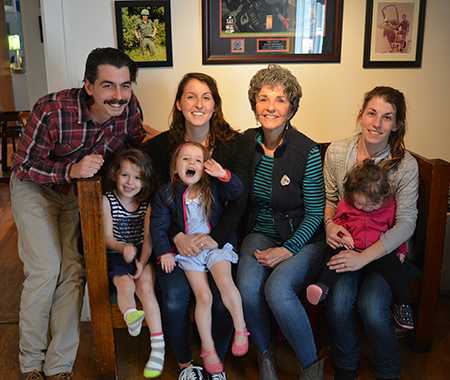 Mother's Day 2019. The last time Grammy was here. With the kids and Grandkids. JoEllen is currently battling cancer. Please keep her in your thoughts and prayers. Thank you.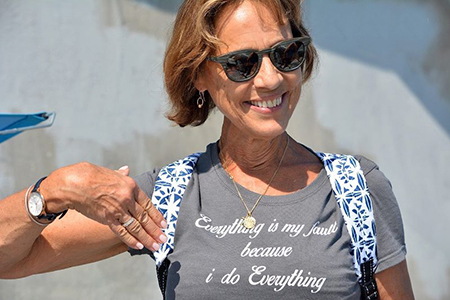 Super Mom Kim Grondin. That tee shirt says it all. Love you Kim!


Another Super Mom. Karen Evans and her tribe. We Love you Karen!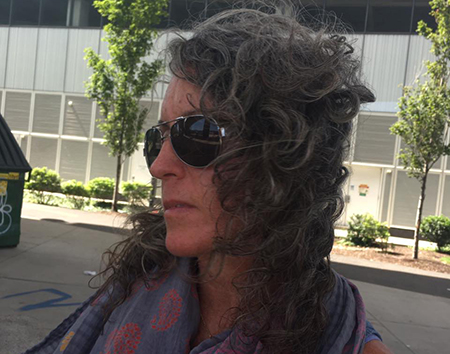 And speaking of SUPER Moms. Meighan Rowlee is one of my favorite
moms of all. Mother of Three. Well, four if you count Buck.




The REAL DEAL Surfer Mom Erica Nardone. Mother of three and a hardcore surfer and photographer. Check Erica out and her amazing story in the GRANITE GIRLS Movie at the top of the Blog.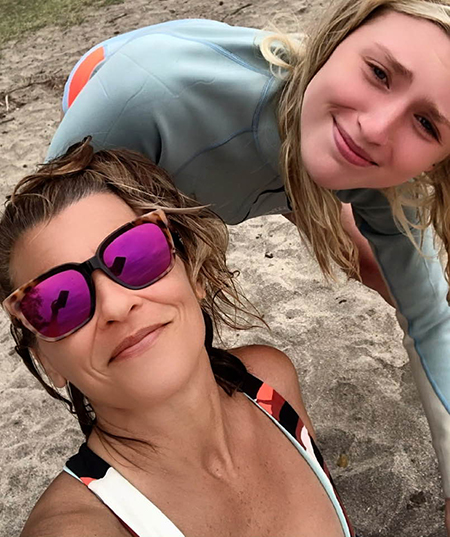 Another Bona Fide surf Mom is Heather Day Cropper. Pictured here with her daughter Veda in Maui Hawaii this past week. I love it that they went on a surf trip together. And the fact that they went to Maui is so cool.




The Quinn Girls and the Ryan Girls. Mother and daughter surfers.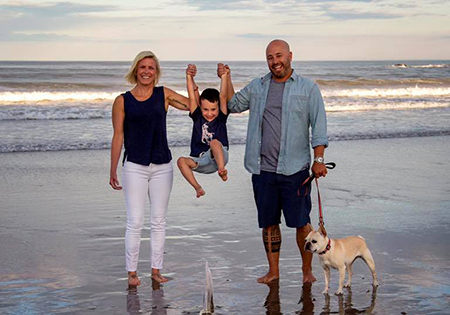 Melinda with son Finn and husband Chris. Another Surf Family.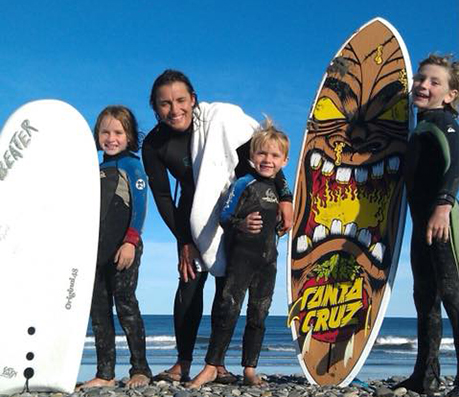 Surf Family Kirby. These kids are growing up fast!




Welcome baby Noa and Mom Alex. Born this year on January 31st, 2021
to hardcore surfers Alexandra and Ryan McGill.

I wish I had photos and space for all the Surf Moms but I don't. I do want to thank you all for being great mothers, and for being such inspirational individuals for so many young girls out there. There's a reason why the ocean we all love and spend so much time is called MOTHER OCEAN. Because Mother's are the most powerful beings on the Planet. Thank you all. I truly hope you all have a wonderful Day. You've all earned it.

"SURFING, MOMS, and BABIES HEALS ALL WOUNDS!"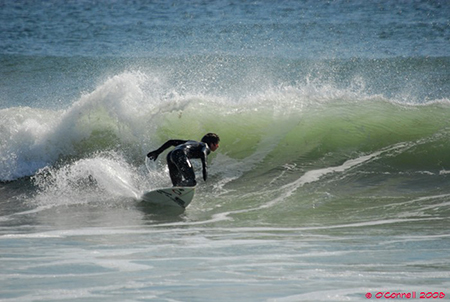 This week's Ed's corner pic is from May of 2008. The surfer is Max Fatello. The back story behind this photo is Hannah Vokey used this as a subject for one of her paintings. I met Hannah for the first time when I saw the painting and recognized the surfer as my son Max. A friendship was born from this photo. Ed and I became friends with Hannah and her talented husband Sam. All because of this photo and her beautiful painting. Photo by Ed O'Connell
*Click the photo above to see a larger version of Ed's Pic.

Now for Some Local and National News

This is encouraging news. A Chinese rocket that is 10 stories high, and weighs 2700 tons is hurtling toward's earth at 18,000 mph. And nobody knows where it's going to land. Well there goes that Mother's day Weekend Stroll you all had planned. From the same country that gave us COVID-19, we now have to deal with Space Debris that could really ruin your day if it hits in your neighbordhood. By the time you read this, the Rocket will have made landfall. Hope it didn't fall on your house. It's always something my friends.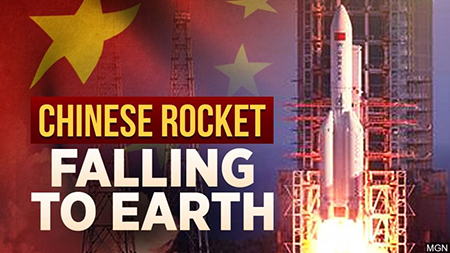 And what better time to run this meme below than now?




I'm not saying that the Chinese are the most dangerous, I'm saying that MAN is the most dangerous. Can I get an amen?

Who doesn't like a good mystery? I think we all do. Well, last week I found a plastic bag in my rain soaked driveway. In the
bag was a tee shirt and this note. At first glance it looked like a ransom note.




And seeing the name JIM we all just assumed it was our friend and fellow surfer Johnny "JIM" Meehan. So I sent him a text saying that we almost threw the bag away because we thought it was somebody's dog poop bag. If I didn't look closely in the bag, it would have ended up in the trash bin.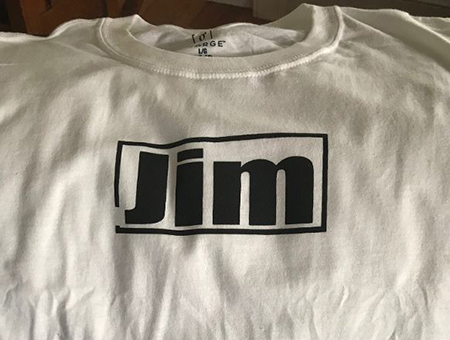 And seeing the "JIM" tee shirt we just assumed it was Johnny.

Besides, he had a bunch of JIM shirts made about 10 years ago. But Johnny wrote back saying it wasn't him. And, that he had recieved a shirt as well. But hold on a minute now. Not only did Johnny and myself get one, but so did many others. Like Tyler Moore, Kevin and Kody Grondin, Mike Stanek, Dave Cropper, Phil Carey, and my own son Max.

And some of them got a little something extra to keep the stoke burning (literally). I'm not sure who else got them but I'm guessing there are more. Now it's important to know that not everyone got one, and some of those who didn't get one are not too pleased. I won't name any names (Markey J) but I know they are not happy about it.

And then I saw this logo on my tee shirt. NH 2-0.




And I have to say, as someone who knows a little bit about marketing, this is pretty clever. I like this name, and I like the design. And the fact that they went total GUERILLA style in the branding and marketing campaign is pretty damn good.
I salute you boys (or girls). Kudos to you. And to show my true appreciation for your efforts, I'm going to offer you a FREE month of advertising here on the Blog. Once you reveal yourselves.

Thanks for creating the buzz in the Surf Hood. Good stuff.

More GOOD NEWS. In our post Covid World we are all starting to slowly work our way back to normalcy. That means being able to go to sporting events, rock concerts, and comedy shows. It's been a long long year. Hopefully, you all have gotten vaccinated and you didn't lose anyone to COVID-19. We're still not out of the woods completely, but we're getting there. Can't wait to see my Rock and Roll friends again and my very funny Comic friends again. Life will be good again my friends. .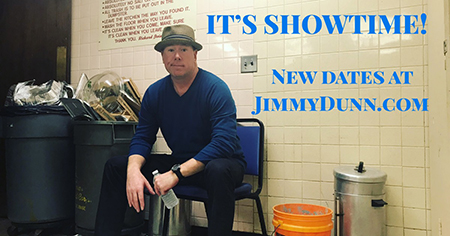 Missed you Jimmy. Hoping that the HBCF will make a triumphant return this summer. Click on the image above to see Jimmy's schedule. It's time to laugh!

KSM Photoshop of the Week
Now here's something you don't see every day. KSM's mother. Man you can really see the resemblance here in this photo. And not for nothing, but it seems that Ole Khaliddy's mom is quite the knife wielder. Is that even a word, or a title? Who knows? Or better yet, who cares? Though none of us should be surprised. No wonder the the Sheik was a little wild as an adult. I mean if your mom was whipping a blade this size around the house like this, you'd probably end up a terrorist too. Just saying.




And so my friends, please take advantage of this weekly photo shop of the mastermind who planned 9-11 and resulted in the deaths of 3,000 innocent civilians by KSM (Khalid Sheik Mohammed).

*Note to self -must pick up a case of Mother's Day Knives
at Home Depot this week.

Last month I Blogged about DIPG. A local surf family is dealing with this disease and there is a Fund raiser at COMMUNITY OVEN on May 17th, 2021 from 5PM to 9PM. Click on the poster below to learn more about Evan Austin and DIPG. Lets find a Cure for DIPG. GO EVAN!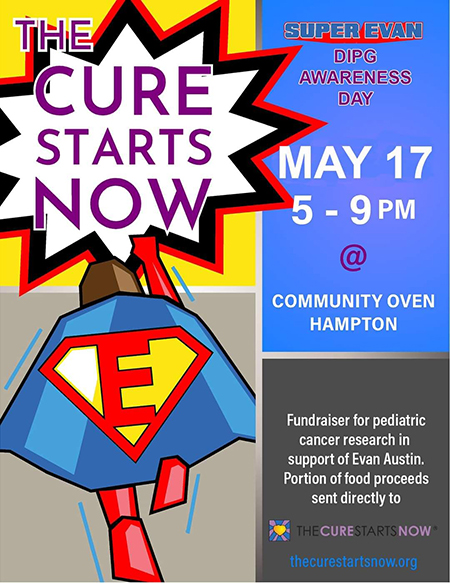 Let's all go out and support the Austin Family on May 17th at the Community Oven. THE CURE STARTS NOW!

This Just In. Local Surfer Glenn Randall age 71, passed away this winter from COVID-19. There will be a SURFER'S PADDLE for Glenn this summer. One of two requests that Glenn made to his wife Darlene was to have Military Honors at his funeral and to have a Surfer's Paddle.

I knew Glenn from High School. In fact, I saw Glenn play Football for Beverly High School in 1968. And I saw him catch the only TD pass of his short career. I even remember his number. He was a wide reciever for the Beverly Panthers and his number was 14.

Glenn served honorably in the US COAST GUARD.

Semper Paratus Glenn


Glenn Randall surfing in NH. Rest In Peace Glenn.

HAPPY MOTHER'S DAY TO ALL THE MOMS. PAST, PRESENT, AND FUTURE!
HAPPY BIRTHDAY Stan Bocko May 8th, 2021!
HAPPY BIRTHDAY Leah Piersiak May 8th, 2021!




HAPPY BIRTHDAY Gabby LaBreck May 9th, 2021!
HAPPY MOTHER'S DAY May 9th, 2021!
HEAL QUICKLY Tony Berardini after his Hip Surgery!
PLEASE Keep 90 yr old Chuck Dreyer (Kim Grondin's dad)
in your thoughts and prayers as he recovers from surgery.
PLEASE Keep JoEllen Bunton in your thoughts and prayers too.
PLEASE Keep Bob Crawford in your thoughts and prayers.
PLEASE Keep longtime NH Surfer Greg Smith in your Prayers.
PLEASE Keep local Surfer/Musician Pete Kowalski in your thoughts and prayers throughout the year.

Please Support ALL The photographers who contribute to
Ralph's Pic Of The Week every week for the last 16 years.
** BUY a HIGH RES Photo from any of the weeks on RPOTW.

Remember my friends... Surfing Heals All Wounds.
Pray for Surf. Pray for Peace. Surf For Fun.

Ralph





Yesterday- IN LOVING MEMORY OF JANICE MARIE
(Below) This was the second Surfer's Paddle I was ever involved with for a woman surfer. It's hard to believe that this was 17 years ago. I can remember surfing with Janice back in the 90's and the early 2000's. She could surf. And she was such a nice person in and out of the water. I hope she is at peace and that she visits her two children as often as she can in dreams and other signs. There are signs, you just have to open your eyes and ears and look and listen for them. Keep Paddling Janice, keep paddling.
Photo/Poster by RALPH

*Click on the pic to see a larger version.



I kept a daily Blog on my CATCH A WAVE FOR MOLLY surf campaign, when I surfed every single day for 365 consecutive days. Click on the Banner above to read entries of my daily journey. There's some really interesting and true experiences
that happened during that year. Some of which are to this day, unexplainable. Some are just mind blowing. But all true.

I started on July 26th, 2010 and ended on July 26th, 2011.

Some rainy Sunday, pour yourself a cup and go through the journal. Pay close attention to the month of May in 2011. Read that month and let me know what you think of that. Be forewarned it will change you forever.