THE GOVERNOR OF NEW HAMPSHIRE REFUSES TO OPEN THE BEACHES BEFORE JUNE 1st, 2020.

If I may quote his *excellency GOVERNOR SUNUNU. "It snowed a few days ago, so there isn't a mad rush to the beaches right now." Are you shitting me?

(*When I was Commander at the AMERICAN LEGION Post 35 in Hampton for 13 years I had to address each of the Governors that we served under as "His/Her Excellency" I kid you not. It's part of the protocol.)

Isn't that the typical NON-SURFER reaction to year round seasonal surfing in New Hampshire? You bet your ass it is. They just don't get it. They can live here their entire lives, and STILL NOT GET IT. With all due respect your excellency, but there's been a major breakthrough in surfing that happened, oh I'm guessing, a little over 50 years ago now.

It's called The WETSUIT. Seriously, GOOGLE IT. It'll Blow Your Mind.

I know this sounds hard to believe but...human beings are actually able to enter the ocean here in New England YEAR ROUND because of this incredible 50 year old invention called NEOPRENE. Can you believe it? The WETSUIT allows the surfer to actually be able to surf YEAR ROUND here in New England. And here's the killer thing. There are surf shops all over New England who sell these things. It's true your excellency. All you have to do is pick up the telephone and call any surf shop in the FREAKING WORLD and they will tell you what I just told you.

With the invention of the winter/spring/summer/fall wetsuit lines you can surf year round. And do it comfortably. In fact I know of one man who surfed every single day for ONE YEAR here in NH. And he did it twice. Once when he turned 50 and the other when he turned 60.
How did he do it?

He did it with wetsuits! He had a wetsuit for each of the four seasons.




How do I know this? I know this because it was me! I was that guy.

Look Governor, I don't mean to be sarcastic. But your quote last week about the snow warranted this kind of "snarkyisms." The fact is, that every single state beach on the entire East Coast, besides New Hampshire and Maryland are open. Go back and read that again. That also includes all the beaches in New York, New Jersey, Massachusetts, Maine, the Carolinas, Virgina, and Florida. But you sir, have decided to keep our beaches closed because you believe that COVID-19 will be spread on our beaches?

When there has been NO SCIENTIFIC PROOF that any beach in any state in the union has documented case studies of the virus being spread on the beaches, and MORE SPECIFICALLY out in the line-up where the surfers are.

Ahhh so that's my motivation huh? YES, that's my motivation. SURFING.

Again, do not be offended but, YOU DON'T SURF. You have NO idea what it is. You just don't get it. Your thinking is backwards at best. It's a stereotype of an image that took decades to dispel. SURFERS ARE NOT CRIMINALS. SURFING IS NOT A CRIME. And I'll add this to that equation. Every single Surfer wants to see this Virus go away, and every single surfer would do anything to keep everyone else safe. Within reason.

In fact "SAFETY FIRST-SURFING LAST" is one of my new mantras.

And these same surfers want to see the economy get back on track. The local seacoast businesses are suffering greatly. From restaurants, hotels, to the entertainment establishments. Everyone has taken a hit. But even with that, the actual act of surfing has no bearing on the economy, or the spreading of the virus. And the STAY HOME orders vs the GET OUT in the sunshine suggestions, are another case of immense contradiction. Which is it?

Surfers just want to have access to the beaches. Period. We don't care about parking. We just want to be able to get into the ocean and to exit the ocean. We would gladly continue to practice social distancing. We would gladly wear masks in the supermarkets, and wherever else they were required. We just want to be able to enter and exit the water. NOW! Not wait until summer hits. We want it now! Look we all went along with the plans. We all KNOW that the Virus is real. But we also know that the risk of spreading the virus while surfing is SLIM TO NIL.

The scientific models prove that theory. It's all based on science sir.

We respect and are forever grateful to those who are on the front-lines battling this thing. Just like we respect the police and firefighters and the Military. But the front-lines are NOT out in the line-up. They never were and never will be.

Please Governor Sununu OPEN THE BEACHES.

This past Wednesday there was a CALL IN Meeting for anyone wanting to chime in on the current situation. I didn't need much prodding.




So I was able to call in and speak on behalf of all the NH surfers.
I was surprised that I got on when I did. There were 82 people on the
phones waiting to speak.




This is me last week when I called into the selectman's meeting. My friend Brian Sullivan actually recorded my phone call and took a video of his phone when I spoke . Classic. I basically said what I just wrote here, except I added a few more details. But the bottom line message was still the same. JUST LET US RUN ACROSS THE SAND so we can catch a few waves, and get on with our day. Nobody will gather on the beach. We just want to able surf, not work on our tans. Thanks Brian.

And who among us doesn't like Puppies? Everyone does.




On Friday night we brought home the latest member of our family. My friends please welcome ZORRO OLIVER PATCH OF BLUE. We will call him Zorro or "Z". He is a purebred German Shorthair Pointer. My current male German Shorthair Pointer "Patch" was bred to an all liver female GSP in January. Patch is going to be 10 in September and we wanted one of his puppies while he was still healthy enough to breed. I'm happy to say that Patch (sire) and Daisy (dam) had 7 puppies. 5 males and 2 females. We had the pick of the litter and chose this all liver male. He is in a word "awesome" .

We all love him. It's only been less than 24 hours but so far so good.




This is Noelle cradling the little guy on the way home.

The breeder lives in Western Mass. It's about an hour and a half from here. I made at least a half dozen trips out there trying to decide which one to pick. It was very difficult. We all said we wished we could have taken them all. But that wasn't about to happen. So the process of elimination was a slow and deliberate undertaking.

In the end we all think we made the right call. Z is our fourth German Shorthair. We love the breed for many reasons, and we all knew what they were like going into this. Still, with 7 puppies to choose from, it was a daunting task at times. Little 8 week old Zorro is home with us now.




He joins his daddy Patch and our Tiger Kitty Linus. We can't wait for the grandkids to meet him.




Zorro and Max. I know that Mackey is excited about having this little guy with him out in the woods this fall. And I'm personally looking forward to the upcoming autumn when things will really come alive.




I guess I'm about to find out if I really do have another dog in me.
*Note the Goatee and the long hair. I'm turning into Rip Van Winkle.

I'm leaving this petition up until further notice. There's strength in numbers so please sign your name so the Governor can see for himself that we're serious.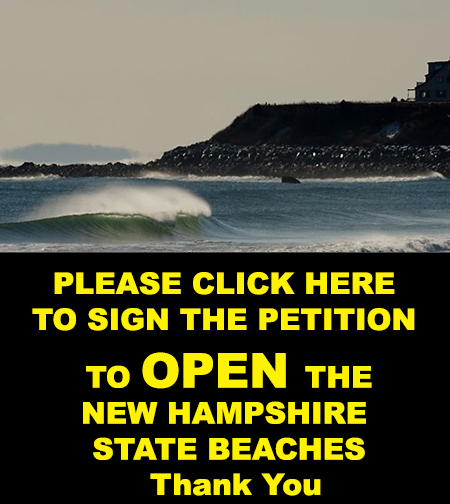 PLEASE click on the graphic above and SIGN THE PETITION. Let Governor Sununu know that your voice must be heard and more importantly, YOUR VOTE counts. Because if we can't get them to work for the people (and I mean ALL The People, including those who Surf), then we will VOTE THEM OUT OF OFFICE! Because at the end of the day, they are all politicians, and they all love being politicians. And they know, that you can vote them out.

PLEASE ALL SURFERS AND NON-SURFERS SIGN THE PETITION.

Thank you.

Is this really the NEW Normal? No, but it's funny. And we all need a laugh.




"Common Sense and Surfing Heals All Wounds."


This week's Ed's corner is a surfer I've known since the day he was born. Kody Grondin at the Wall on May 10th, 2012. Kody
and my son Max are more like brothers than friends. They have been surfing together forever. They are both featured in my latest edit called MAY DAY. Check it out down in the video section. Meanwhile enjoy this week's Ed's Corner.
Photo by Ed O'Connell
*Click the photo above to see a larger version of Ed's Pic.

Now for Some Local, National and International News
We all lost a comic genius when Jerry Stiller passed away. I'm old enough to remember him when he was part of a comic duo with his wife Anne Meara. STILLER and MEARA were great. Anne passed away in 2015. Today's generation will more than likely remember him from his role on SEINFELD. He was hilarious. But don't take my word for it, GOOGLE him and then sit back and laugh your ass off. Jerry Stiller was hilarious. A unique individual who never failed to get a laugh out of me.




The whole Stiller family. All of them had/have that fire burning in their bellies. You all know his son Ben Stiller.

Local comic/actor Jimmy Dunn fondly remembers Jerry Stiller in his own words.




"Sad news this morning. This pic is from the Nantucket Comedy Festival. It was quite a kick to perform and watch Jerry Stiller laughing at my nonsense. After the show he hung out with all the comics and was wonderful. Then the next morning, I went for an early walk and who's sitting on a bench by the beach, all by himself? He invites me to sit and we talk for what felt like hours about comedy and life. Incredibly gracious of him. When I eventually returned to the hotel with a big grin on my face, Mrs Dunn thought l had to have snuck off for pancakes.

Every time I visit Nantucket, I walk by that bench, hoping to find Jerry. I probably still will. Thanks for the chat. And thanks for the years of comedy. He was an absolute comedy heavyweight! RIP Jerry Stiller. Thanks for the laughs."
Jimmy Dunn.

Wow that was a very cool story. Thanks Jimmy.




Here's a recent pic of Jimmy "Hunting Bugs" while waiting for the COVID-19 plague to clear so he can get back on the laugh track along with his fellow comics.

Without ASTRID KIRCHHERR There would be NO BEATLES.




It was Astrid who took the first black and white photos of the Beatles back in the early 60's and it was Astrid who convinced them to comb their hair down in what would become the most iconic hairstyle of modern man. The Beatle haircut.




Astrid's dark contrast photos was the inspiration of this famous LP cover MEET THE BEATLES. Astrid was 81 years old.

This just came in. Another comic genius has left the stage.
FRED WILLARD who I first became a fan of when he was with Martin Mull in FERNWOOD TONIGHT. I instantly fell in love with his routine. He was one of the best in my opinion. From his hit movies "THIS IS SPINAL TAP and BEST IN SHOW" Jimmy Kimmel said of Willard "No man sweeter or funnier."




Fred Willard was 86yrs old. Rest In Peace Fred.


PLEASE HELP THESE GO FUND ME Posts (Below).
Click on the image below to MAKE A DONATION. Greg Smith was one of the BEST surfers to ever come out of NH. If you can afford it, please make a donation. Thank you.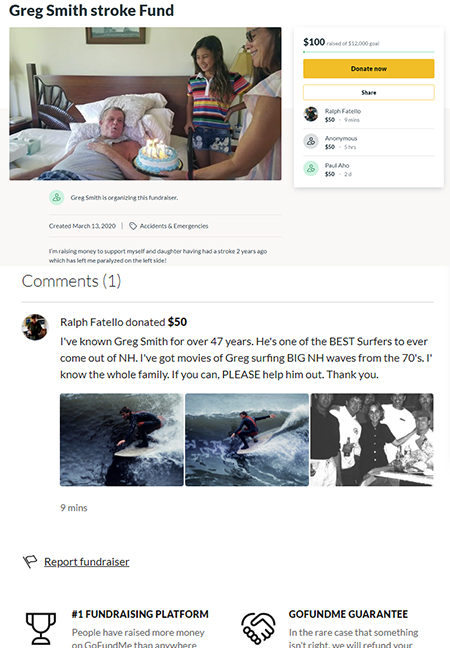 The ASA BREBNER GoFundMe page is also asking for Donations. If you donate $25 or more you get a CD of the artists who are recorded some of Asa's songs. Yeah, I'm one of them. If you can afford it, please donate to this fund raiser. Thank You.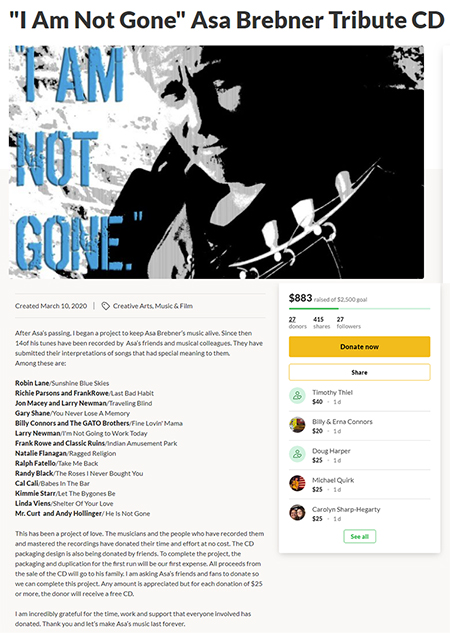 Click on the image above to make a Donation. Thank you.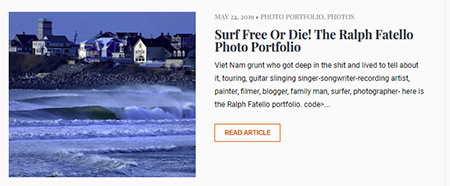 ESM (Eastern Surf Magazine) using a READY MAG format did the Best of Ralph's Pic. And while they couldn't possibly use everything thing I've ever done, they did manage to put up some 50 pics of mine, plus two videos. And I was truly humbled by their intro. Mez said some nice things about me. CLICK ON THE IMAGE ABOVE TO SEE THE WHOLE Spread.


GRANITE GIRLS and The RIVER WOMEN from Ralph's Pic Of The Week on Vimeo. NOW AVAILABLE on VIMEO ON DEMAND. You have spoken and I have listened. You don't have a DVD player so I made it available Online. Watch it on your Smart TV, your computer, or your cellphone! I can't make this any easier my friends. Unless of course I hand deliver to each and every
one of you.

KSM Photoshop of the Week
Wait the beaches are OPEN in GITMO? Now that ain't right.
How the hell can KSM get to hang out at the beach but we can't? This might just be the last straw for us. Khaliddy is on the Beach? WTF? Lord help us all.




And so my friends, please take advantage of this weekly photo shop of the mastermind who planned 9-11 and resulted in the deaths of 3,000 innocent civilians by KSM (Khalid Sheik Mohammed).

*Note to self -must pick up a case of See Thru Rash Guards
at Home Depot this week.

HAPPY 2nd WEDDING ANNIVERSARY Gabby and Brent LeBreck May 17th, 2020!
REMEMBERING Stephen McCarthy on this day 5-17-20
REST IN PEACE Jerry Stiller.
REST IN PEACE Astrid Kirchherr.
REST IN PEACE Fred Willard .
HAPPY MEMORIAL DAY May 25th, 2020!
PLEASE Keep longtime NH Surfer Greg Smith in your Prayers.

Lenny Nichols & Colin Madden
Co-Directors, NNE District
Eastern Surfing Association
@esa.nne.surf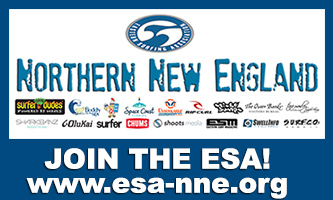 Please Support ALL The photographers who contribute to
Ralph's Pic Of The Week every week for the last 16 years.
** BUY a HIGH RES Photo from any of the weeks on RPOTW.

Remember my friends... Surfing Heals All Wounds.
Pray for Surf. Pray for Peace. Surf For Fun.

Ralph