Last Sunday the Grandkids stopped by for a quick visit. We had been waiting for the right conditions to go out and do our annual snowman or snow-woman. This year we got creative and built a "Snow Creature." It's always a fun time with them no matter what time of the year. But building Snowmen and Snow women is something we all look forward to. The new Snow Creature was just using our imagination.

After all, according to Albert Einstein:

"Imagination is more important than knowledge."

And the grandkids and I are never at a lost for imagination. As we were making the snow creature, I looked over at the high snowbank at the end of our driveway, and thought back to when I was a young boy. No older than Avery here. Somewhere between the age of 8-10yrs old.
And I remembered a true story that happened to me as a young boy. Remembered? How could I forget? And after reading this, some of you
might never forget.

SNOW FORTS

And speaking of snow storms. It seems that we got more than a few Big Storms in the late 50's and early 60's. Or maybe they seemed bigger because I was just a kid. But I can clearly remember the snow banks at the ends of our driveway being huge. Like over 6' high. And we never had snow shovels back then. We had what our dad had around the house and cellar. Big metal heavy shovels, and his favorite "pointed" shovels (spade).

We would dig at the bottom of those big snow banks and make snow forts.

We'd would shovel out enough room for 3 or 4 of us to fit in. When you're
small kid you would use your imagination. And that's what we did. One day
we were all taking turns going in and out of this giant opening at the base of a large snow bank. I'm guessing the roof alone of this snow bank, was a solid 4-5' high and thick.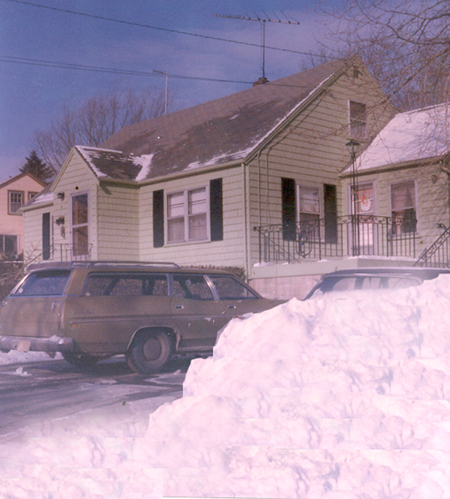 This is NOT the snow bank in this story. This is only for reference.

The snow fort that I'm writing about was about this big, maybe bigger. And it was on the other side of the driveway.

On this particular day it was me, my brother Johnny, Victor, and Kevin.
Johnny and Victor were setting up a "machine-gun nest" on top of the fort and Kevin was out in front standing on the street. I crawled into the opening and was lying flat on my stomach inside clearing out the floor of our fort, when suddenly, and without warning, or any kind of defining sound, the roof collapsed with a dull thud on top of me. Lying face down, the snow and ice compressed me to the bottom, and I couldn't breathe.

I tried yelling but my voice was not there! There was this frightening dead silence. Everything was muffled. I could not move my arms or my torso. But the ends of my feet were sticking out of the entrance.

My black "galoshes" with the metal snaps. I could move them and I did frantically. Seconds were ticking away, and I was in full panic. I could not breathe. And I could not move, except my feet. I wiggled them as hard and as fast as I could. I wiggled and turned them in every conceivable way. But I knew I was in trouble. With Victor and Johnny up on the roof, and Kevin out in the street, I don't think any of them knew that I was inside at that moment. And I was pretty sure they had no idea of the horror I was going through.

I was panic stricken. And I couldn't breathe.

And then just when I thought I was going to pass out. I felt two hands grab my boots and start pulling. Whoever it was had my boots in a firm grip and kept pulling. Inch by inch, foot by foot, I could feel myself being pulled out. I was still in a panic but I knew that help was here. Suddenly, I was out in the driveway. Still face first, I gasped for air as I was dragged out and across the pavement.

I let out a big gasp,. and rolled over to see who was pulling me. It was Kevin! Kevin was always about 6" taller than the rest of us. He was bigger too. My big friend had just saved my life. Now I'm not sure how long it takes for a kid to perish under that much snow, and I'm sure the time limit varies between kids, but at that moment, I knew what Kevin had just done. Meanwhile Victor and Johnny were scrambling down off the roof of the fort. We all just kind of freaked out by what had just happened. I'm pretty sure I thanked him over and over again. (I know I did for years after).

And I probably got mad at Victor and Johnny but I couldn't really blame them, because we were all taking turns working on the fort. Once my father found out what had happened, we were not allowed to make forts under the snow. Only on top of the snow. No arguments came from me. I was done with snow forts.

That day, and that experience never left me. That panicked stricken terror of being trapped under all that snow and ice stays with you. Each year when I hear about hikers and skiers being trapped in an avalanche I am right back to those terrifying moments in my driveway. I know how helpless you feel when trapped under all that snow. It's a feeling that you never forget.

And my heart goes out to all of them and their families.

I recently saw Kevin at his father's funeral, and as always I brought this story up. Victor was there too. We all talked about it. Childhood memories are not all it's cracked up to be.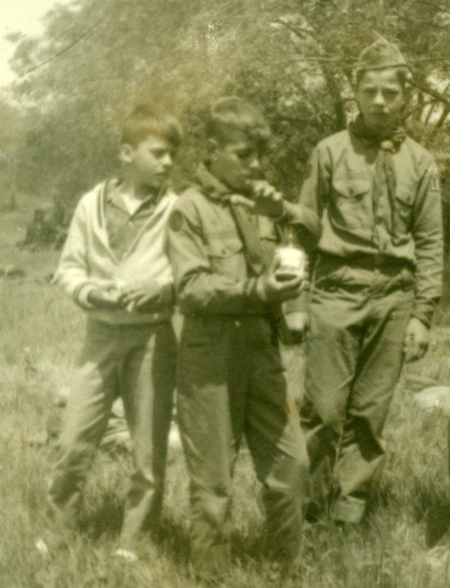 This is a photo of us at our Boy Scout Camporee in 1960 in Beverly.
We were Boy Scouts and our troop was Troop 18. Our patrol was The Apache Patrol. I made the flag for our patrol. You can see how tall Kevin is compared to me and Victor. It's funny, we're all pretty much the same height these days.

This was a year or two after the Snow Fort incident.

From left to right" Victor Capozzi, me, and Kevin Bochynski.
My father Gus took this photo.

Kids do crazy thing things, and we were no different.


"SNOW MEN, SNOW FORTS, and SURFING HEALS ALL WOUNDS!"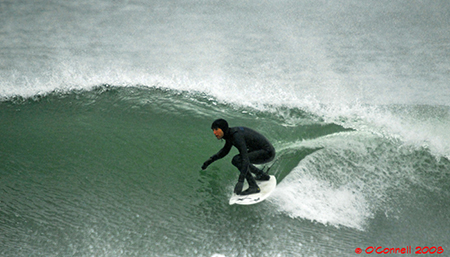 This week's Ed's corner pic is from March of 2008. It's a photo of Erik Cannon neatly slotted at the Wall. That's a nice looking wave. Photo by Ed O'Connell
*Click the photo above to see a larger version of Ed's Pic.

Now for Some Local and National News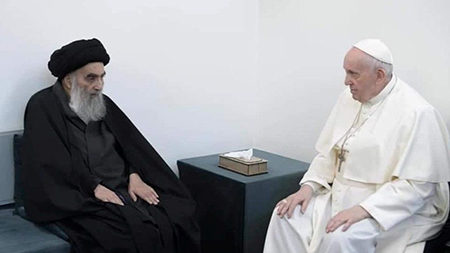 This is a photo for the ages. Pope Francis meeting with the Grand Ayatollah Ali al Sistani in Iraq. This is the Pope's first ever visit to Iraq. The stunning thing about this visit is the pope denounced EXTREMISM. That's pretty heavy stuff there. Say what you want about organized religion, but this is pretty significant. Pope Francis talks the talk and walks the walk.

Hopefully the Grand Ayatollah heard him loud and clear.




The Senate passed the 1.9 Trillion dollar relief package over the weekend. In a record breaking 25 hour session. Relief from COVID-19 is on the way folks. Hang in there.

There seems to be no end to the amount of politicians and celebrities who have been accused of sexual misconduct and outright sexual abuse. We have been watching the Woody Allen vs Mia Farrow series on HBO and it is sickening. But so too is the list of these privileged predators. Some of whom were and are President of the United States. Look you are either in the corner of the women and children who made these claims or you're not.




Click on this image to get a closer look at these politicians and celebrities who have been accused by reputable women and children. You can't turn a blind eye to these allegations. Nobody
is above the law. Nobody. Not Woody. Not the President(s).

These six Dr Seuss books have been banned by the Dr Seuss Enterprises. The reason they are being banned is because there's racist and insensitive imagery. I always thought that the Seuss characters were non representational. In other words, who the hell knows but Seuss himself what these characters are? That was the beauty of his art. Anyway, these six books were not in our library, so no loss here.




I'm just glad they're not the more popular ones. Though I wouldn't hold my breath. There is some truth to this alleged CANCEL CULTURE. Watch out Mickey and Daffy! They could be coming for you.

KSM Photoshop of the Week
Once the word got out about the Dr Seuss books being banned, Ole Kahliddy was quick to make sure his book did not meet the same fate. Though this particular book was not that popular. In fact, I don't believe a single copy exists. Let me know if you find one. It could be worth a small fortune.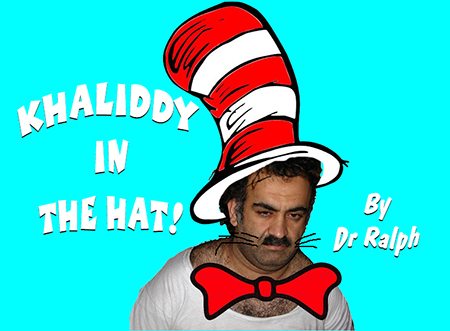 And so my friends, please take advantage of this weekly photo shop of the mastermind who planned 9-11 and resulted in the deaths of 3,000 innocent civilians by KSM (Khalid Sheik Mohammed).

*Note to self -must pick up a case of Dr Seuss CAT IN THE HAT BOOKS at Home Depot this week.




(Above) Ralph and Richie. PLEASE VOTE ON MARCH 9th!
I'm voting for this guy RICHIE SAWYER for Selectmen and
JIM WADDELL! GET OUT AND VOTE!

HAPPY 1st BIRTHDAY Zorro March 18th, 2021!
HAPPY BIRTHDAY Gale Brunault March 20th, 2021!
HAPPY BIRTHDAY Noelle Rizzo March 27th, 2021!
HAPPY HEAVENLY BIRTHDAY Gus and Angelo Fatello
Both Born on March 27th. Gus in 1924 and Angelo 1929.
HEAL QUICKLY Tony Berardini on the new Hip Surgery!
PLEASE Keep 90 yr old Chuck Dreyer (Kim Grondin's dad)
in your thoughts and prayers as he recovers from surgery.
PLEASE Keep longtime NH Surfer Greg Smith in your Prayers.
PLEASE Keep local Surfer/Musician Pete Kowalski in your thoughts and prayers throughout the year.

Please Support ALL The photographers who contribute to
Ralph's Pic Of The Week every week for the last 16 years.
** BUY a HIGH RES Photo from any of the weeks on RPOTW.

Remember my friends... Surfing Heals All Wounds.
Pray for Surf. Pray for Peace. Surf For Fun.

Ralph



Yesterday- TERRY FITZGERALD and WAYNE LYNCH Ogunquit, Maine. Labor Day Weekend 1978.

(Below) I recently got another hand written classic letter from my Maine counterpart Jerry Law. I love getting his cool hand written letters and original photos from back in the day. The whole southern Maine and NH connection was real back then and is real today. It's New England. So when i got the latest letter from Jerry I knew he'd have something good. And I was not disappointed. It's hard to deny the significance of this incredible duo coming to your local surf shop in town in 1978. Terry "The Sultan Of Speed" and Wayne Lynch were at their prime when Jerry Law and his friends got to hang out with them and watch some insane footage of them both. Then the owner of Wheels & Waves Lance Jenson invited Jerry, Ron Freeman, Kevin Canton, Tom Wiley, and the late Dave McInnis to a Chinese Restaurant for a little dinner. Wayne Lynch was and still is a living legend. And Terry Fitzgerald was every bit as cool and stylish as he looks in these photos. Thank you again Jerry for sending me these cool pics. Keep 'em coming brother!
Photos by Jerry Law, Ron Freeman, and Dr George.

*Click on the pic to see a larger version.