I did something this week that I've never done before. I edited three surf videos in under a week. Two of them were in 4K. Now that might not sound like anything special to some of you, but coming from a time in my life when it would take weeks, sometimes months, to edit one surf movie, it is quite remarkable. We are truly living in the new age of video editing. The ease and speed of using the new Adobe software in the Adobe Creative Cloud has opened so many doors for those of us who are in this kind of work. I mean it's mind boggling the leaps and bounds we have made in the last 10 years.

For starters we are no longing using tape. It's all digital. And when i mentioned that back in the day it would take weeks I am of course talking about film. Movie film that would need to get developed and processed before you began to edit. And the editing? Hello Mr Flintstone. It was prehistoric at best. And it was all hands on editing. Physical handling of movie film on two reels and using clear tape to hold the film together. I'm chuckling at the thought of some of these younger filmmakers trying to edit actual movie film. It's a lost art. But I have fond memories as well as the old equipment that I used to edit all my movies here in my studio.

I literally have stacks of old movies that I've edited. Waiting to be transferred.

But that's a project that will actually take some time and effort. But clearly something I am looking forward to. As are my family who would love to see moments of our past on a digital format that I can post on the Internet. And I will make that happen in the coming months and years. Yes it will take that long. My father documented every single moment of our lives on movie film and I have done the same with video. So patience my little Grasshoppers.

Yesterday, Saturday March 2nd was the Birthday of a dear departed friend of mine. Joe Somogyi. He would have turned 69. He passed away from exposure to Agent Orange back in 1978. He was obviously a Vietnam Veteran. But more importantly, he was a Surfer who helped name a lot of the spots around here in NH. I knew his birthday was coming up and was all set to post something of him, when out of the blue came an email from a woman I've never heard of. Susan Merritt was friends with Joe back in the early 70's. Turns out her sister Holly had dated Joe. She wrote me this very sweet letter and sent along four photos of Joe. I was stunned to see them.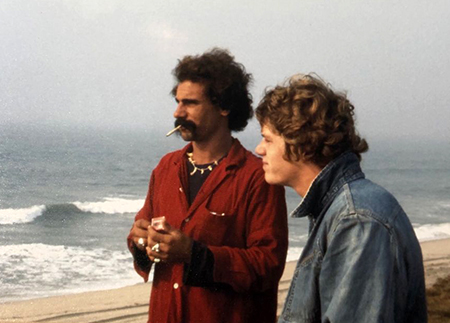 That's Joe on the left with a cigarette hanging out of his mouth. I don't know who the guy on the right is but I suspect he's a surfer. The photo was taken on Nantucket Island in Massachusetts in 1974. You can clearly see his bear claw necklace. I wrote a story about Joe back in 2001. If you click on the image above the link will take you to the story. I cover most of his life including his Vietnam heroics. He was a bona fide war hero.

There's only a handful of us here in Hampton, NH who remember Joe.

Kevin and Kim Grondin were very close to Joe. In fact, Kim was going through cancer treatments the same time as Joe. And she recently told me she feels survivors remorse. Why did she live and Joe not? Truth is Kim has gone through hell when it comes to cancer. I'm not alone in saying that Thank God she did make it. This world would be a hell of lot less beautiful without Kim being in it. It's sad to think that Joe missed out on so much in life. He did however live the most out of his 27 years that he was with us.

Speaking of Vietnam. Private Bone Spurs was in Vietnam last week.




Here he is walking through the jungles of Vietnam with his buddy Kim Jung Un. Actually it's not the jungle, but that's as close as he will ever get to a jungle. He was there of course to meet with Kim to discuss the denuclearizing of all of North Korea's Nuclear weapons. But I think they were there to talk about their hair new club. What? You haven't heard? Here check this out.




Looked good on paper, but Kim was having none of it and the meeting was abruptly over before it got started. Does this make 45 a war Hero? After all he was "Shot down in Vietnam?" Oh that's right, 45 himself said "I prefer those who were not shot down. OK?" He was talking about the late John McCain. So is this the same? 45 shot down in Vietnam. Yes? No? What a joke.

Meanwhile back in the US 45's old lawyer was singing like a songbird.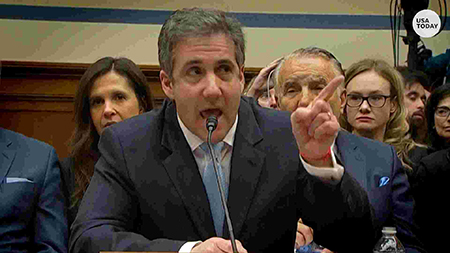 Michael Cohen testified in front of Congress and basically threw 45 under the bus. He spilled the beans. He let the cat out of bag. He left 45 holding the bag. He basically told the truth for once in his lawyer's life. Is he saying all of this to get a reduced sentence? Perhaps. He is going to jail for 3 years. But after watching him, I can say with some degree of certainty that he was telling the truth. And one of the things he did say about 45 was, the US president had no medical reason for his military deferment during the Vietnam War, telling the lawyer: "You think I'm stupid? I wasn't going to Vietnam." 45, who was in Hanoi for a summit with North Korean leader Kim Jong Un, received a medical deferment from serving in the Vietnam War in 1968 because of bone spurs in his heels. Hence the nickname Private Bone Spurs.
Cohen said Mr Trump told his former attorney, and right hand man for more than a decade that there was no real medical excuse behind his deferral."Mr. Trump tasked me to handle the negative press surrounding his medical deferment from the Vietnam draft," Cohen said. "Mr Trump claimed it was because of a bone spur, but when I asked for medical records, he gave me none and said there was no surgery... He told me not to answer the specific questions by reporters but rather offer simply the fact that he received a medical deferment."

45 received 5 draft deferments. Joe Somogyi enlisted in the ARMY and volunteered for Vietnam. You see the difference right? One a hero one a zero.
I watched in complete disbelief as 45 claimed that Kim Jung Un "Was a great guy. He's really quite the character." What" Great guy? Quite the Character? ARE FREAKING KIDDING ME!?!?!???? This ruthless dictator is responsible for millions of his own people dying. He is EVIL! And yet 45 makes those ridiculous claims. I swear just when you think he can't say something more stupid than the last stupid thing he said he proves us all wrong.

Someone posted this on Facebook. I had to share it. says it all.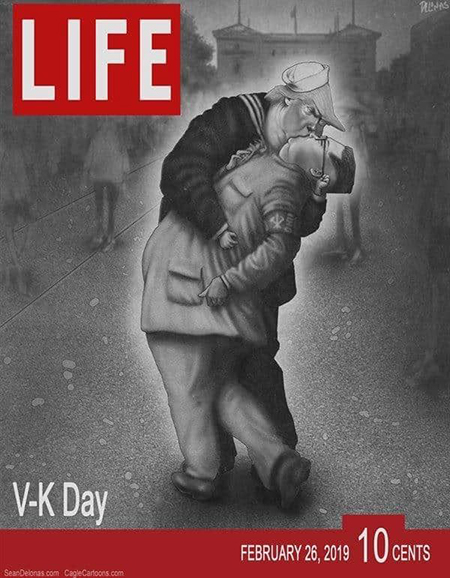 "Surfing, Remembering Good Friends, and Kissing Dictators
Heals All Wounds."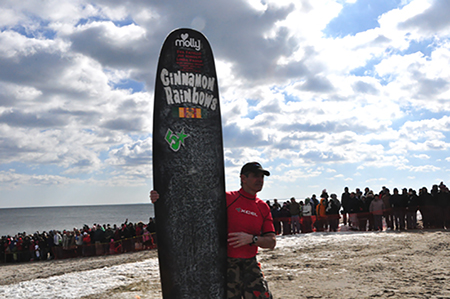 I found this pic in one of the folders that I was able to retrieve off of my old computer. This is me right before I went into the ocean in just my trunks and rash guard in February of 2011. It was during the annual Penguin Plunge. I was in the midst of my year long campaign surfing every day "Catch A Wave For Molly" when I thought I could kill two birds with one stone. Catch my wave of the day and help raise awareness to Molly and cancer and to also help raise awareness to the kids in The Special Olympics.

Not gonna lie. I have never been that cold in my life. I actually had to paddle out and wait for a wave and then catch it and surf it in towards the shore. All the other plungers just run and jump into the water. They are in and out. Though I should point out that after I caught and rode my wave. I jumped off my board and then dove into the water. And Ed was there on the beach capturing every moment. February 3, 2011. Photo by Ed O'Connell
*Click the photo above to see a larger version of Ed's Pic.

Now for Some Local, National and International News
Marine Corps veteran and beloved character actor R. Lee Ermey was missing from the "In Memoriam" segment of the 2019 Academy Awards telecast.
Ermey, who passed away in April 2018, is best remembered for his role as Gunny Hartman in Stanley Kubrick's classic movie "Full Metal Jacket," a legendary performance that should have made him a lock to be included in the video segment.

Ermey also played memorable roles in "Se7en," "Mississippi Burning," "The X-Files," "Toy Story 2" and that 2003 remake of "The Texas Chainsaw Massacre." He also hosted the TV shows "Mail Call" and "Lock 'N Load With R. Lee Ermey."

I will never forget the first time I saw him on the big screen.

My then girlfriend Cory and I were in the theater to see FULL METAL JACKET. When Ermey busted onto the screen and started his torrent of verbal abuse on the unsuspecting young recruits, I leaned over to say to Cory "This guy is NOT an actor! He's the Real Deal Drill Instructor!" Turns out I was right. I found out later that he was in fact a Marine Vietnam Vet ex Drill Instructor. Though I didn't need any confirmation. I knew.

Rest In Peace Gunny. Semper fi. Although The Academy didn't remember, those of us who were fans surely did.




The QWILL show is going to be great. We can't wait. Hope to see some of you there. Friday March 8th, 2019 a the PRESS ROOM
in Portsmouth. This is a MUST SEE Show!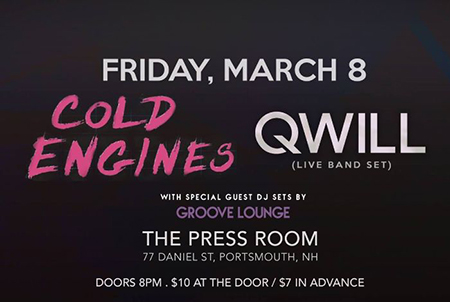 This is the same QWILL who you have heard before in my surf videos. If you are within an hour's drive of the Press Room in Portsmouth on Friday March 8th I strongly urge you to catch this show. Trust me, it will be worth every mile and cent you pay.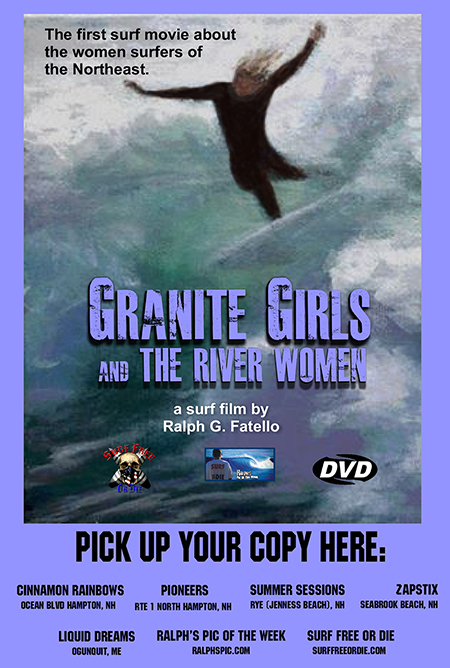 The DVD's are available at all the local surf shops. Or by
sending me an email. ralph@adlantic.com or send a check for $20.00 made out to ADLANTIC and send it here:

ADLANTIC
c/o OC Studio Suites
703 Ocean Blvd Suite C-4
Hampton, NH 03842

Or RENT or BUY it Online. You have spoken and I have listened. You don't have a DVD player so I made it available Online. Watch it on your Smart TV, your computer, or your cellphone! I can't make this any easier my friends.


GRANITE GIRLS and The RIVER WOMEN from Ralph's Pic Of The Week on Vimeo. NOW AVAILABLE on VIMEO ON DEMAND.


KSM Photoshop of the Week
Here's another sad photo of KSM somehow finding his way to Hanoi Vietnam to pose with 45. How the hell...? And he's holding an American Flag? Oh the horror. The horror. What would John McCain think? Disgraceful display of buffoonery.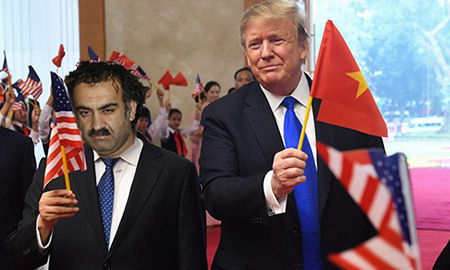 And so my friends, please take advantage of this weekly photo shop of the mastermind who planned 9-11 and resulted in the deaths of 3,000 innocent civilians by KSM (Khalid Sheik Mohammed).

*Note to self -must pick up a case of Beetle Nut (Google it),
at Home Depot this week.

HAPPY 69th BIRTHDAY Joe Somogyi March 2nd, 2019!

FYI Lenny Nichols is looking for someone or someones to take over the ESA-NNE District. Please contact Lenny Nichols by calling his cell (603) 944-2418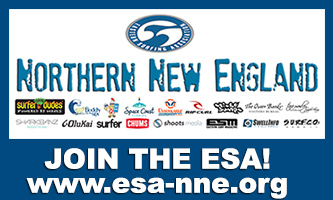 Please Support ALL The photographers who contribute to
Ralph's Pic Of The Week every week for the last 13 years.
** BUY a HIGH RES Photo from any of the weeks on RPOTW.

Remember my friends... Surfing Heals All Wounds.
Pray for Surf. Pray for Peace. Surf For Fun.

Ralph