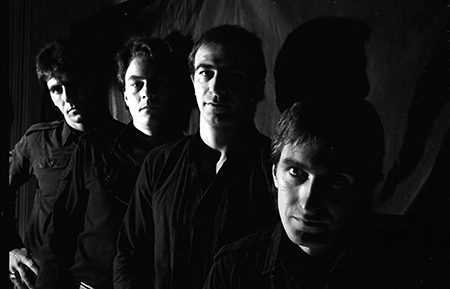 So I was working on the Blog on Thursday March 25th when I got a text from my brother Johnny. "Don't know if you heard. They found Lester Eldridge dead in his house. Been dead for at least two weeks. Took him to Boston for an autopsy." That hit me hard. I stopped what I was doing and just sat up in my chair. I really liked Lester. Even though I had not seen him in years, he was a good friend and a great band mate. I know that most of you know that I am also a musician and have played in bands since the early 70's. Lester was our bass player in VINNY from 1978 to 1981.

That's Lester in the foreground in the pic above.

From left to right: Me, Howard, Johnny and Lester. To make things worse on Thursday, I was scheduled to drive into Boston to do a live taping of me playing a acoustic set. I was going to cover a handful of songs from all three of my bands. VINNY, SEMPER FI, and THE NOR'EASTERS. In fact, I had just mentioned Lester in the podcast that's posted above. And ironically, the first thing you hear in the podcast above is Lester's killer bass line in the song WHY CAN'T YOU SAY LOVE? Lester is dead.




This is going to take some getting used to. In all the years I've been playing I never lost a band mate before. I did lose a friend who toured with VINNY in South America in 1983 playing percussion. Neil Buckley, but he was just a musician on tour. Lester was an integral member of VINNY from 78-81. His bass line alone in WHY CAN'T YOU SAY LOVE is testament to that statement. Listen to the song.




Lester playing bass at the PARADISE Theater in Boston 1979.

We spent hours upon hours together recording, rehearsing, and the hundreds and hundreds of live shows we played together. He was like family. Lester and I were close during that period of time. In fact, last year we were going to have a VINNY reunion and Lester was going to play bass in the first half of the show. But COVID hit and put an end to that dream.




VINNY at CANTONES in Boston 1978. Left to right: Lester, Howard, and Ralph. I'm actually playing Lester's guitar. Which brings up an interesting point. Lester was and foremost a guitar player. A GREAT guitar player. He only ended up playing bass because I begged him to join the band with Johnny and I after our bass player quit the band. Lester had never played the bass before, but he was a killer guitarist. I knew that if he applied himself to the task he would be not only good but phenomenal.

And I was right. Listen to the songs he played bass on. He was unlike any other bass player that we ever played with. why? Because he approached the bass like a guitar with just 4 strings instead of 6.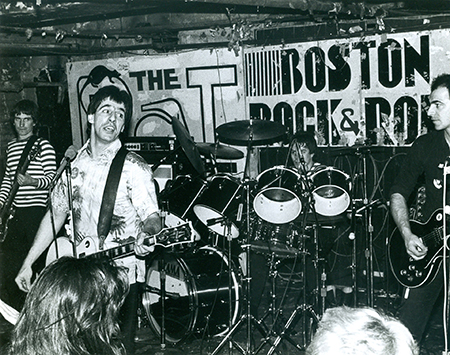 The VINNY BAND at the RAT 1978. Left to right: Lester, Ralph, Howard, and Johnny. Lester played bass on the infamous RAVIOLI




Left to right: Howard, Ralph, Johnny, and Lester




As a compromise I asked Lester to play the guitar solo at the end of I WON'T BOTHER YOU NO MORE. Listen to that song on the PODCAST posted at the top of the BLOG. His solo is killer. Lester was a great guitar player.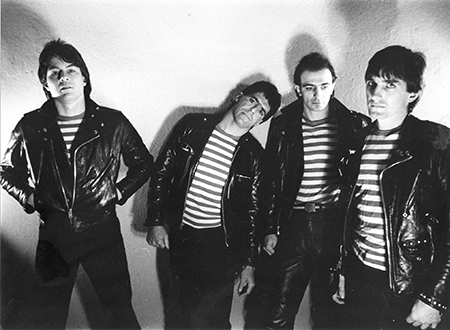 Left to right: Howard, Ralph, Johnny, and Lester. Yeah we were exactly what we look like here. Hard ass Italian Rock and Roll Punks. Nobody was doing what we were doing. Nobody. We could have been the house band on the HBO show The Sopranos. playing in that club the "Bada Bing."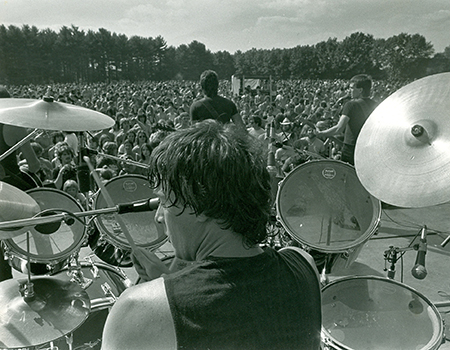 VINNY at FOOTESTOCK summer of 1979. Left to right: Johnny, Howard, Ralph, and Lester. We played this outdoor concert in front of a large crowd.
It was pretty cool. I think we did this twice. Once in 78 and again in 79.




Backstage at the PARADISE with WBCN DJ Randi Kirschbaum in 1979. Don't even bother asking my why Johnny is doing what he's doing.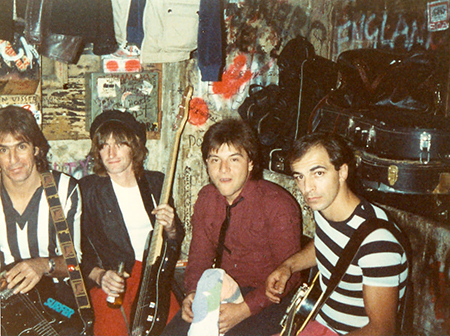 Backstage at the RAT in 1980. Left to right: Ralph, Lester, Peter, and Johnny. At this point in our career Howard had left the band and Peter took up the drums. This was the end of the Lester era. He left at the end of 1981. The VINNY Band would go on playing until November 11th, 1984. Our last show was at The RAT. That night we opened for the RED HOT CHILLI PEPPERS. It was their first show in Boston. It's funny, we opened for the POLICE in 1978. It was their first show in Boston too. From the Police to the Peppers. We had a pretty exciting run as VINNY. And Lester was there during a big part of it. He played on both singles and was featured on our LP.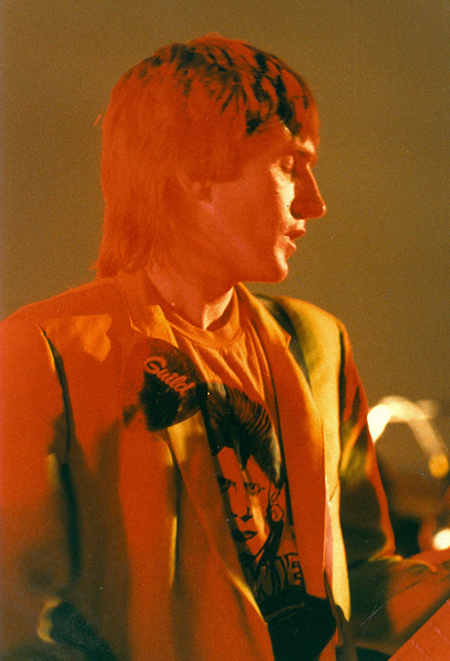 Lester, I am going to miss you. You were a great guitar player, a fantastic bass player, and more importantly, you were a true friend. I hope I see you again on the other side. And when we do, we have a lot of catching up to do. Rest easy my friend, play your guitar and turn up the volume.
"ROCK AND ROLL, and SURFING HEALS ALL WOUNDS!"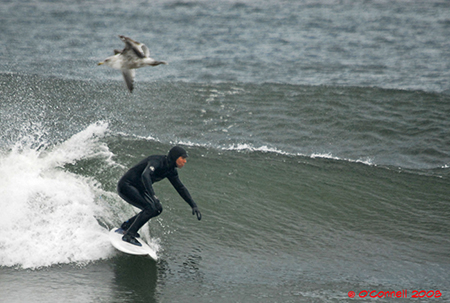 This week's Ed's corner pic is from April 5th, 2008. I'm not exactly sure who the surfer is, nor am I sure who the gull is. But I do know that this is a very cool photo. It's tough to time these flying gulls and flying surfers to get in the right frame for the ultimate shot. But Ed did just that. Photo by Ed O'Connell
*Click the photo above to see a larger version of Ed's Pic.

Now for Some Local and National News

Well I suppose this too was bound to happen. A ship getting stuck in the SUEZ Canal. The logistical night mare this is causing is off the charts. Millions and millions of dollars are flying out the door because of this. I tried to see if there was a sticker that read STUDENT DRIVER on the stern but couldn't spot one. I do know that who ever was Captain of this ship is no doubt in some serious trouble. I mean how the hell does something like this happen? You can't make this shit up.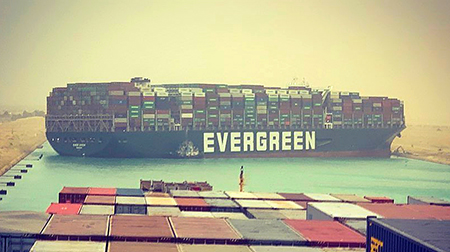 Can you imagine being the ship that next in line? Man somebody is gonna lost their license once this is over. The real question is when will this be over? They are talking weeks. Weeks? I bet by the time this thing is freed and straightened out it will cost billions. Yeah, that's not good. But this below? This is good.




This is a dated photo of Duke Kahanamoku on a Steamship headed to California in the 1920's to introduce them to surfing. The photographer is unknown. But this is a great photo. Ironically, it's not that much of a stretch to look deep into his face and eyes and see Kainalu Nichols in his face. It's not that far of a stretch especially when you find out that both Kai and the Duke share the same birthday. Maybe my active imagination is off the charts. Or maybe there's something to this. What do you think?




Congrats to these newlyweds. Steve and Jody Magliano. They got married on March 14th, 2021 in Florida. They are planning on a larger full on party in Nicaragua at Rancho Santana on May 1st, 2021 with a full band. Then later in the states this summer. They have been together for 11 years, and have fought through some serious hurdles that life threw at them. And they both weathered the storms. When the smoke cleared they realized they were meant for each other. We wish them the best going forward.

WELCOME COMMUNITY OVEN TO RALPH'S PIC!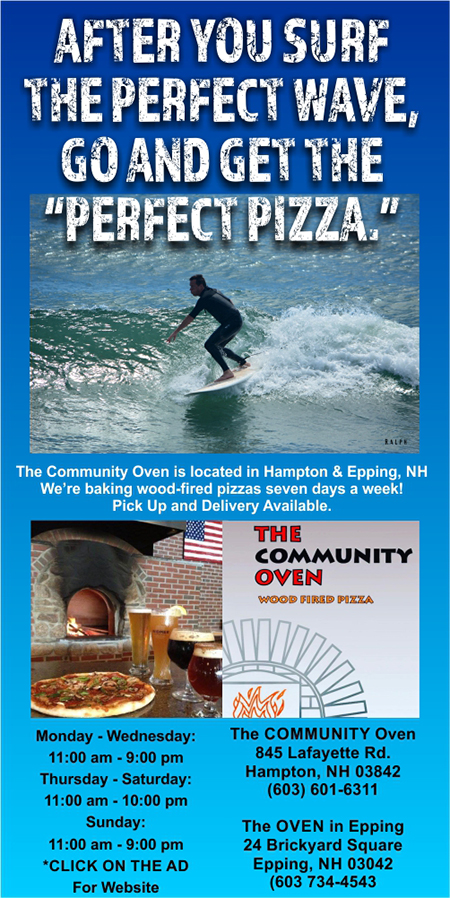 We welcome the COMMUNITY OVEN from Hampton and Epping, NH this week as our latest advertiser to our Blog.
Owner Shane Pine has been a fixture here on the NH seacoast for many years. His involvement with local community fund raisers is legendary. With two restaurants locally, one in Hampton, and the other in Epping, it's the Perfect Spot to get the "PERFECT PIZZA AFTER SURFING THE PERFECT WAVE.

That surfer in the ad? Yeah that's local surfer Curt Hanig.

Curt works at the Community Oven and I've personally known Curt and Shane for years. We've been getting our fill of COMMUNITY OVEN pizza for years. And I'm here to tell you that their pizza is really good. I mean it's good. Otherwise I wouldn't get it.

Shane also owns SHANE'S BBQ TEX MEX. Clearly the Best rib joint in town. So if you've got a hankering for Ribs instead of pizza? Stop by on your way out of town. You have to drive right by it on your way home. You can't lose either way. Pizza or ribs.
We're stoked to have them on board. The COMMUNITY OVEN.

I saw this the other day and thought it was pretty cool.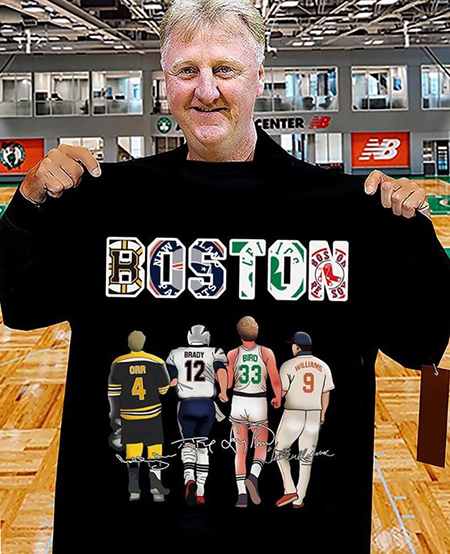 Can't really argue with these facts. The four legends of Boston.




These two are my own personal legends and heroes. My late father and uncle. They both share the same birthday. March 27th. My uncle Angelo on the left and my father Gus on the right. My dad passed in 2000, and my uncle passed in 2005. Both combat veterans. One in WWII (father) and one in Korea (uncle).

Two brothers from the same family sharing the same birthday 5 years apart is unusual. How about a third member of the family sharing the same birthday? My daughter Noelle was born on the same day March 27th, 1995. Talk about coincidences. For five years we had three birthdays to celebrate on March 27th.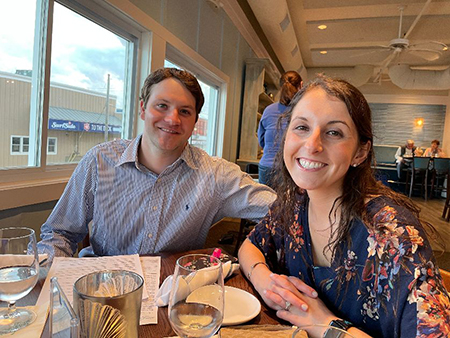 Noelle and her husband Pete on her birthday dinner. Happy Birthday Sweetie Boid. I love you!

KSM Photoshop of the Week
Ah ha! Now we know how that damn ship got stuck in the canal.
I guess Ole KSM had something to do with it. Look at him hiding in the sand along the bank of the canal. Oh Khaliddy you little bastard. I guess we shouldn't be surprised. Or maybe we should. Nah, it's all just good fun with photoshop. Enjoy.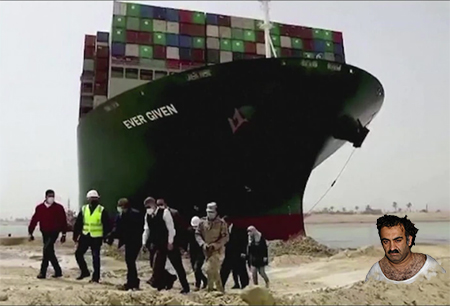 And so my friends, please take advantage of this weekly photo shop of the mastermind who planned 9-11 and resulted in the deaths of 3,000 innocent civilians by KSM (Khalid Sheik Mohammed).

*Note to self -must pick up a case of ORIGINAL SUEZ SAND
at Home Depot this week.

CONGRATS to Perry and Sarah Reynolds expecting their first child at the end of August, 2021!
HAPPY 1st BIRTHDAY Zorro March 18th, 2021!
HAPPY BIRTHDAY Gale Brunault March 20th, 2021!
HAPPY BIRTHDAY Noelle Rizzo March 27th, 2021!
HAPPY HEAVENLY BIRTHDAY Gus and Angelo Fatello
Both Born on March 27th. Gus in 1924 and Angelo 1929.
HEAL QUICKLY Tony Berardini on the new Hip Surgery!
PLEASE Keep 90 yr old Chuck Dreyer (Kim Grondin's dad)
in your thoughts and prayers as he recovers from surgery.
PLEASE Keep longtime NH Surfer Greg Smith in your Prayers.
PLEASE Keep local Surfer/Musician Pete Kowalski in your thoughts and prayers throughout the year.

Please Support ALL The photographers who contribute to
Ralph's Pic Of The Week every week for the last 16 years.
** BUY a HIGH RES Photo from any of the weeks on RPOTW.

Remember my friends... Surfing Heals All Wounds.
Pray for Surf. Pray for Peace. Surf For Fun.

Ralph