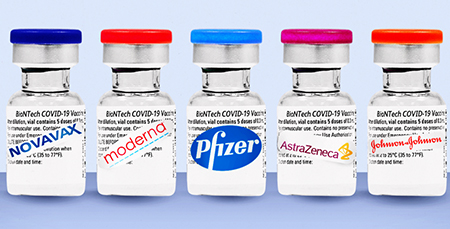 So how many of you have gotten your vaccines? Surely most of you over the age of 65 have gotten at least one shot. And probably you've already gotten the second shot. I'm going to hold off until my 90 day immunity period is up. I spoke with my Doctor on Friday and he and I both agree that I should at least wait until I have reached my 90 day grace period and then get some lab work done to see if I have the antibodies. If the vaccine is to inject the antibodies in me, and I already have them? Why get the vaccine.

Don't get me wrong, I was all set to go out and get the vaccine.

But after hearing from a medical professional (besides Dr Fauci), I'm going to wait and see. It just seems to make the most sense. Plus I've heard from a few COVID patients who got the vaccine, after they had Covid, and they got violently ill. In fact, one was hospitalized. Having already had Covid? I don't want to go through that again. No thank you. Once was enough.

The simple truth is, nobody really knows the long lasting affects of the virus.

And to me, that's reason enough to at least wait out the 90 days. The rest of you who have not gotten COVID? You should clearly get the vaccine. With all the new variants popping up all over the world we are in this for the long haul. And ideally, I'd love to get the Johnson and Johnson ONE AND DONE Vaccine. I used Johnson and Johnson baby powder when I was a kid, and I'll use them again on the other side of that big picture. So I'm gonna play the mask game and still do the social distancing and just wait and see how it plays out for me. But for the rest of you? GO GET VACCINATED!

My love affair with water photography started in 1971. I have had so many different water cameras since that time. As well as a couple of water housings for my video cameras. They were custom built by various different water housing companies and individuals. After a reasonable length of time using these water housings for my video cameras I decided to give the Go Pro Hero a shot. I got my first Go Pro Hero back in 2012. It was the HERO II.

I instantly fell in love with that little camera.

It was basically everything I ever wanted in a water camera. It was small and compact and it took great video. Getting the extended handle allowed me to get deeper in the pocket and the barrel where all the action takes place. Yes it has it's limitations, but the over all quality was hard to beat. Not to mention the price of the camera. You could buy these cameras for under $300. That's pretty cheap compared to what you have to pay for a pro rig.

You will notice that I never use the nose mount on the nose of your surfboard. Nor will you ever see that POV (point of view) from me. I don't need to see someone's crotch when watching surf footage. And the bizarre angle and motion of a mounted camera on the nose, makes me seasick. Nope. Uncle Ralphie will not use that feature. And I probably never will.




The majority of my GoPro footage is either shooting into the tube, or
being in the tube, and shooting out.

I can get some decent action shots too, but you need to be tight on your subject. There's just no getting around that fact. You need to be tight with a GoPro to get the right perspective.




This is Kainalu Nichols during the TS DORIAN Swell in 2019.
He was closer in real life perspective but the Wide Angle on the GoPro makes him look further away. Still it makes for an interesting shot.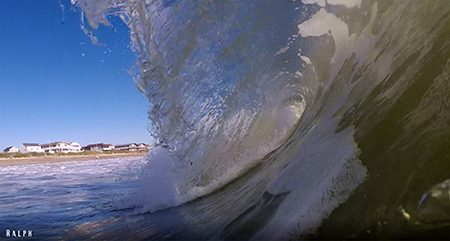 There's not much else I'd rather be doing when out in the water on a sunny offshore day, with a solid head high swell running, than getting wide open barrel shots. I mean, I am not re-inventing the wheel here. This has been done a million times over. But it still has that passionate allure for me. I want to get intimate with the wave, and getting these kinds of shots is the only way. I don't feel that closeness when shooting on land. I only feel it out in the water.

And speaking of closeness and intimacy...




This particular frame grab was from the John "JT" Taylor paddle in July of 2014. I think this was shot with my HERO III. This was at the moment when we tossed our flowers and started hooting. You just can't get this perspective from land. Or a drone shot for that matter.

And speaking of paddles. This pic was from the paddle for Ed O'Connell.




That's the Ed's Lei that I tossed into the middle of the circle.
These cool little cameras are easy enough to use when paddling out with an armful of flowers. I have taken video of so many surfer paddles over the years. In fact, I may one day use footage and stills of all the paddles I've ever done and make a video called SURFER'S PADDLES.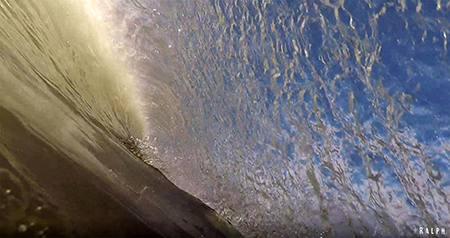 Another looking into the barrel pic. These images are all video frame grabs. And the only real way to show these video clips is in slow motion. Everything happens too quickly to use regular motion. 24-29 frames per second or 30 frames per second is just too fast. I grew up watching slow motion barrel shots from the water. Starting with the 1977 movie FREE RIDE. That movie turned a few heads. Watching Shaun Tomson go flying by you in super slow motion while in the barrel, was ground breaking stuff. It changed my life watching that footage. I wanted to be both Shaun Tomson and the water photographer, Dan Merkel. To this day, that footage still stands as some of the best ever water footage in the history of surfing.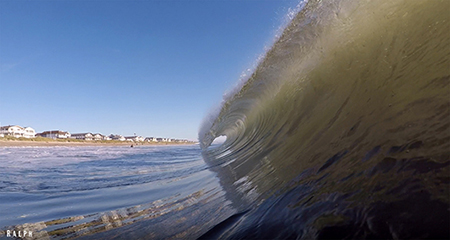 Truth is the GO PRO can take some pretty breathtaking footage too.

One of the other cool things about shooting in the water is you are on the same level with the surfers. Unless they are on an SUP, they have to paddle by you. I can't tell you how many times since 1971 that I've stopped surfers from paddling by to say hello and just chat about the waves and the conditions. It's as close and intimate as it gets. And it puts you on that same level with the riders.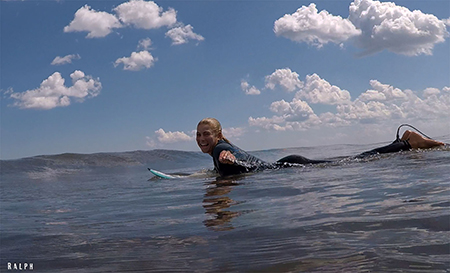 I remember Becca paddling by me on this day. It was such a beautiful and warm August day. The water was warm and the surf was firing. It was a great day for all of us. I shot this with the HERO 5.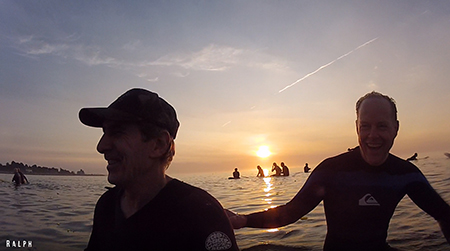 And this pic of me and Johnny Meehan after the paddle for JT. It was
another one of those days that none of us will forget. And thanks to the
Go Pro I have it all on video. This was shot with the HERO III.




This was the last official day of summer back in 2012. Lenny was paddling by and I stopped him to shake hands and say hello. This was also during the time when I was not using swim fins. I was just treading water on my own.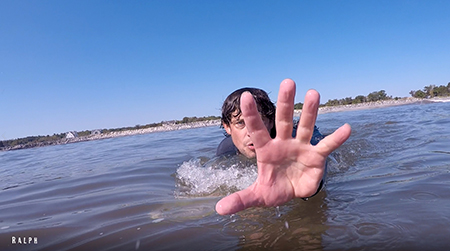 This is Toby Parke doing a paddle by. I believe this was shot with the
HERO III too. By the time they started going full on HD and higher all the footage started to look insane.




I love this clip. That's Toby and Mike Stanek paddling by me while out the back is Kevin Grondin dropping into a ledging lowtide RR wave. Be sure and check out the Go Pro Hero gallery down in the photo section. I'll be posting somewhere between 150-200 video frame grabs. It will be worth it.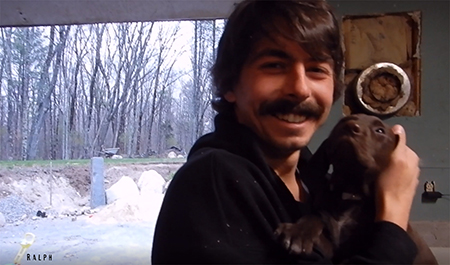 Max and Zorro a few days before we brought him home.
Zorro turned 1 last week.

My other sanctuary besides the ocean is the woods and forests of New England. Every now and then I come across something that speaks to me. Like this. These two tree trunks are in a deep embrace. It reminded me of my love for my wife. One tree being older and the other is obviously younger. But that embrace? That's true love.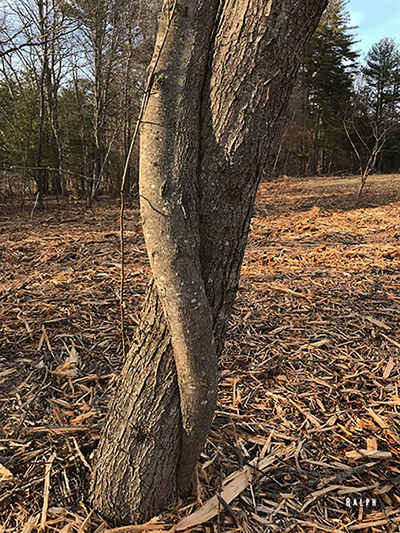 "VACCINES, WATER SHOTS, LOVE, and SURFING HEALS
ALL WOUNDS!"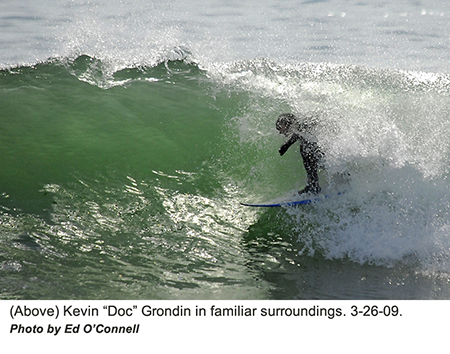 This week's Ed's corner pic is from March 26th, 2009. The surfer is Kevin "Doc" Grondin. And not surprisingly, Doc is in the barrel. To this day, Kevin has gotten more barrels in his life than most surfers I know combined. Photo by Ed O'Connell
*Click the photo above to see a larger version of Ed's Pic.

Now for Some Local and National News

Well it was bound to happen. President Biden was caught on camera stumbling while ascending the flight of stairs to board AIR FORCE ONE. He fell not once, not twice, but three times. Three times! Why? I'll tell you why. He was going too damn fast up that flight. Hell, I would have fallen. Why he felt the need to be some Olympian gymnast is beyond me. Mr President the media is watching your every move. You don't have to run up those stairs like Tarzan. Use the hand rail and take your time. '




Its not a good look for anyone. Damn, that one frame looks painful. They all look embarrassing. I'm not complaining mind you, I'm all for the minor slip ups that the political leaders make. They all make for some great memes. I mean who among us could forget 45's dangerous descent down that treacherous ramp? Ha! That was one for the record books.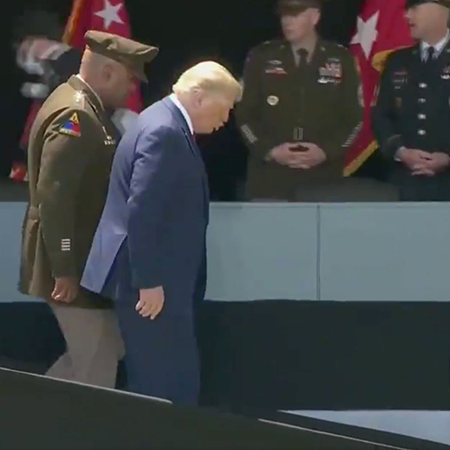 The face he made while struggling down that vertical ramp? Now that is funny. And didn't they run that one into the ground. So all is fair in love and war. So when Joe fell on his face it's only right that he suffer the same comedy bits. Speaking of funny.

This might be a better way for future ascents up the staircase to AIRF FORCE ONE. Nobody getting hurt doing this.




You have to love the Internet. This meme was made within a day of his stumbling and bumbling fall. It's all good.

Well just when you thought the media wasn't paying attention.

BAM! Governor Cuomo was captured on his cellphone working on some serious damage control while draped in what looked like a blanket out of a nursing home. I'm not sure what he's thinking, but clearly he "wasn't thinking," when he stumbled outside recently looking like a homeless mental patient. I will say that he's got some balls with his outright refusal to resign.

You know what? 45 refused to accept the word of 26 women who accused him of sexual assault, and Biden himself refused to acknowledge the four women who accused him of sexual harassment. And lets not forget that Biden has hours of video tape of him touching young girls and women inappropriately. And 45 has all those women testifying that he did what they said he did. So who the hell knows? Not me. And Not Andrew here.




It all boils down to this. Either the women who have accused these three men were lying, or, the men themselves, were lying.

The only real way to prove anyone's innocence is, to have a trial in a court of law, and let a jury of their peers decide their fate. Otherwise, shit like this will continue to happen. This kind of thing has been happening in the nasty political arena since JFK. Maybe even before. Go to court, and let a jury decide.

Finally the authorities have charged and arrested two individuals who were directly responsible for spraying some kind of unknown chemical bear spray in the face of Officer Sicknick. The Grand jury has indited two men who were caught on film spraying officer Sicknick on January 6th, 2021 riot.




This has been a long process and I hope they find out for sure what caused Sicknick's death and that justice will be served, if it was determined that the spray they used caused his death. His family has suffered long enough. Time to face the truth.

Uh oh...just when you thought the Cancel Culture was done...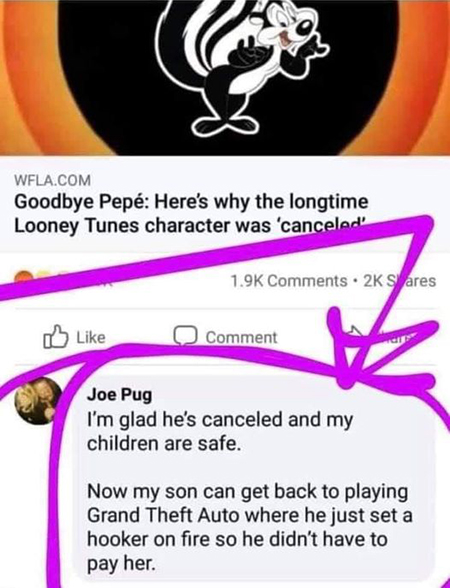 Pepe is the latest in the long arm of the CANCEL CULTURE. My fear is that these guys will be next. If that's the case, I will have to stand up and speak up. I mean if they Cancel the Stooges? That's war. That's when we must all stand together. Never take the Stooges from us. They are part of our very fabric of life.





Shemp, Curley, Larry, and Moe. The THREE STOOGES.

The BASH FOR NASH is this coming Saturday, March 27th, 2021. They moved the venue to the NE Dragways.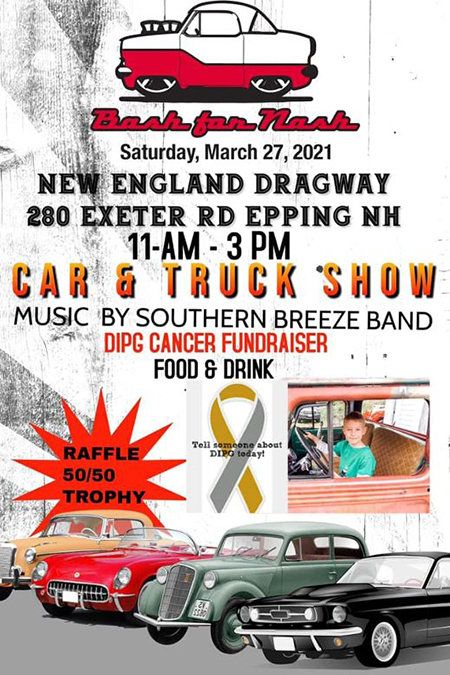 This is a worthy fund raiser for a friend of mine who's son is battling with a rare form of cancer (DIPG). We're calling it a BASH FOR NASH.

If you can help out in any way, it will be greatly appreciated.

KSM Photoshop of the Week
Oh brother where art thou? KSM is down south on Spring Break and no doubt he is spreading the virus like there's no tomorrow. Oh Khaliddy you simpleminded juvenile. You can't be interacting with college age kids during a Pandemic you half wit. . .




And so my friends, please take advantage of this weekly photo shop of the mastermind who planned 9-11 and resulted in the deaths of 3,000 innocent civilians by KSM (Khalid Sheik Mohammed).

*Note to self -must pick up a case of Pabst Blue Ribbon beer
at Home Depot this week.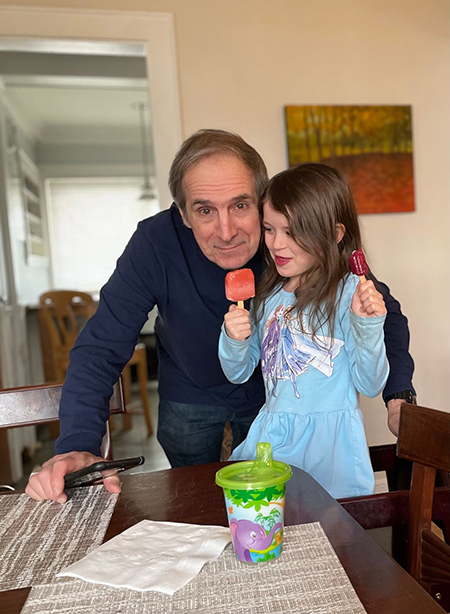 My eldest granddaughter Avery and I last weekend. She was eating my favorite Popsicle. DOH!

CONGRATULATIONS to Steve and Jody Magliano. The couple are Getting Married Today March 14th, 2021!
HAPPY St PATRICK'S DAY March 17th, 2021!
HAPPY 1st BIRTHDAY Zorro March 18th, 2021!
HAPPY BIRTHDAY Gale Brunault March 20th, 2021!
HAPPY BIRTHDAY Noelle Rizzo March 27th, 2021!
HAPPY HEAVENLY BIRTHDAY Gus and Angelo Fatello
Both Born on March 27th. Gus in 1924 and Angelo 1929.
HEAL QUICKLY Tony Berardini on the new Hip Surgery!
PLEASE Keep 90 yr old Chuck Dreyer (Kim Grondin's dad)
in your thoughts and prayers as he recovers from surgery.
PLEASE Keep longtime NH Surfer Greg Smith in your Prayers.
PLEASE Keep local Surfer/Musician Pete Kowalski in your thoughts and prayers throughout the year.

Please Support ALL The photographers who contribute to
Ralph's Pic Of The Week every week for the last 16 years.
** BUY a HIGH RES Photo from any of the weeks on RPOTW.

Remember my friends... Surfing Heals All Wounds.
Pray for Surf. Pray for Peace. Surf For Fun.

Ralph