This is for my baby, and my three kids, along with my three grandkids.
Who all have Irish Blood running through their veins. Happy Saint Patty's Day! It's weird being the only non Irish member of my family. Though I did get to have a fun lunch with two of my favorite Irish friends "Jacko and Johnny" on Friday. We had the traditional Irish dish of Corned Beef and Cabbage. It was great. Heck it's always fun being with those guys. Thanks guys I had a great time being in your company. Even though I'm not Irish, I felt welcomed.

ERIN GO BRAGH to All My Irish Friends!

The photo above was taken on the beach on Monday March 11th. And photoshopped later that day in my studio. Looks like a heart don't you think?

This Blog is going to be a sad one. Which is too bad because we had some great surf on Monday. And you know the old saying "When it rains it pours." Well that has been certainly true for me this winter. I've lost seven friends/relatives since December 22nd. I know I'm at the age where I'll be losing more old friends than I will be making any new ones.

On Saturday March 9th, 2019 I lost an old Rock and Roll Friend. Asa Brebner was 65 years old and had two young sons. He was known for his time spent in two popular bands. The MODERN LOVERS and ROBIN LANE and The CHARTBUSTERS.


That's Asa on the far left. He was an equally talented musician as he was a prolific writer. I've known Asa since 1978. He was a fan of my early art work promoting my band The VINNY Band. He actually got my humor back then. I've only seen him a few times in recent years. At the RAT Reunion a couple of years ago, and unfortunately at some R&R funerals for local musicians.




I shot this pic of Asa and fanzine writer Miss Lyn from the 'Boston Groupie News' at our friend Allen Paulino's memorial service a few years back. Asa had a sharp wit and a unique way of looking at life. In recent years I had been in touch with him via social media. To which I can honestly say, that I thoroughly enjoyed commenting on his posts and vice a versa. We got along like the two old Rockers that we are. I'm really going to miss reading his funny adventures taking care of his two young sons. I hope they can make some sense of this loss.




Asa loved those boys and they loved him. The outpouring of heartfelt comments on social media has been overwhelming. He touched a lot of lives and he will be missed. There's going to be a big void out there in our common social media world. I just hope he is truly at peace, and he's now standing in the light. The darkness is gone. The pain is gone. Rest easy Asa, maybe we will cross paths again.

Then the very next day, I received a note informing me that Curtis McGadden has passed away. Wait what? How? When? Are you sure? Oh my God.




I can honestly say that I have never heard a single negative word come out of the mouth of Curtis McGadden. He was soft spoken, and always in a good positive mood. I've surfed with him many times over the years, and have spoken with him countless of times at the wall here in Hampton. Curtis was just 47 years old. He loved surfing, snowboarding, along with playing music and creating art.




I must have a few pics of him surfing. I just can't think of any off the top of my head right now. He was with me the day I tore my Meniscus and my quad tendon. I believe it was the same day he told me that his apartment got ripped off and that they stole everything. And he was smiling as he told me. I remember saying to him "Why are you smiling about this?" He answered with a laugh, "I don't know, maybe they needed it more than I did." I looked at him and raised my voice (as I am wont to do at times) "That's the wrong attitude Curtis!! You should be pissed off and going door to door trying to find out who did this to you." He just shrugged his shoulders and smiled. That was Curtis. This Gentle soul of a human being.




It's hard to believe that someone as kind and bighearted as Curtis is gone from this world. After losing seven people in my life in the last few months, this was one of the passings that caught me off guard.

Curtis had mouth cancer. It started as a small sore in his mouth and then, well it just spread. Like cancer always seems to do. Yes, he was a smoker. Yes he was addicted to Nicotine. And so once again, we are made aware of the all to real dangers of Nicotine, at the expense of his friends and family. Please if any of you are smokers or chew tobacco, please stop. It's not healthy. And it can kill you. Please, stop smoking.




I offered to help put together a SURFER'S PADDLE in the upcoming weeks or months. Once the weather turns for good. I spoke with Dave Cropper at Cinnamon Rainbows and he's going to get involved as well. I hope all the surfers from New England can be there.

"Keep paddling Curtis... keep paddling brother...don't look back, just keep paddling. You got this. We are all there with you."

Meanwhile In lieu of flowers, donations may be made to the Surfing with Smiles organization, a local non-profit organization that provides surfing opportunities for children with disabilities: https://www.surfingwithsmiles.com/.

On March 15th, 2019 the East Coast Lost a TRUE Legend of East Coast Surfing. Gary Propper was 72 years old. *I told you this Blog was going to be sad. Gary Propper helped put East Coast Surfing On The Map.




Like most young surfers back in the early 60's Gary rode for Hobie. And he could do it all. Long boarding and short boarding. These photos are a couple of old photos that I can recall just staring at them for hours on end.




Now that is one hell of a bottom turn. It seems like yesterday that I saw this pic for the first time. He's got that little board up on a rail.




And this pic? Classic hair whip. Talk about head dips. So, Gary Propper is now with the other East Coast Legends who have passed on before him.
Mike Tabeling, Bruce Valuzzi, Dick Catri, Yancy Spencer, and all the others.
May they all rest in eternal peace.




And finally last, but certainly not least. Local Surfer Dan Leahy lost his beloved companion Rondo "Ronnie" Lahey last week. 2009-2019. I love dogs, so when I heard about Rondo's passing my heart went out to Dan.
I'd love to believe that when dogs pass, they go to the same place that we
go when we pass. Wouldn't it be wonderful to see our pets again?
It sure as hell would.

To those of you who were friends with these individuals I just blogged about, it's time to reflect on your friendship with them. But more importantly, it's time to reach out and connect with all your other friends. Re-connect with old family members and friends. Pet your dog and your cat. Put aside your grudges and misgivings. Reach out. Because my friends, Life is short, and getting shorter.

"Surfing, Music, Family, Pets, and Friends Heals All Wounds."






I know this is not a surf pic per se, though two of us in this photo are in fact surfers. Bill Trafidlo on the bass and myself. But after writing about Asa and Curtis both musicians, I wanted to post this pic that Ed shot. One of these days I'm going to get back into playing more music. My son wants to learn how to play and I'm patient enough these days to teach him. Besides, it would be fun to be actually playing music with a member of my family again.

I played with my brother Johnny since 1971 and still play with him from time to time. But playing with my son? That could be something really cool. He just better not get better than me (like he has in surfing), I'm not sure I could handle that.
Photo by Ed O'Connell
*Click the photo above to see a larger version of Ed's Pic.

Now for Some Local, National and International News
How is it that Jan Michael Vincent passed away last month and we barely heard a peep about it? Before you you roll your eyes you need to know that Jan Michael Vincent (JMV) was a real good surfer in his day. seriously, the man could surf. And any surfer who is in their 40's to late 70's better remember BIG WEDNESDAY. That was and still is a CLASSIC surf film.




This is now considered to be a surf cult classic. I've seen it a few times and thought it was great. If you haven't seen it and you're a surfer, you really should get a copy and watch it. In fact, I'm going to write myself a note to watch it sooner rather than later.




I'm sure there are many jaded surfers who scoff at this movie and JMV. Look, I know he's had his problems. Hell we've all had our struggles and stumbles in life. But before all of that, JMV was a force to be reckoned with. I'm not that familiar with his other roles, nor am I interested in his fall from grace. I'm just saying he was a REAL surfer who made a Real surf movie. For that alone he earns my respect, and he should earn yours as well.




My longtime friend and fellow BEATLES fan Cha-Chi Loprette (above at the recent RAIN Show Tribute to the Beatles) is having this unique gathering for all BEATLES fans on this date. If you are any kind of Beatles fan, whether you are a novice or a true dedicated fan (like me) you will want to attend this event. All the pertinent information is here on this flyer. My advice is to BUY your tickets RIGHT NOW, because this will be sold out. It's a small venue, so don't hedge on this. Get on it like a hornet!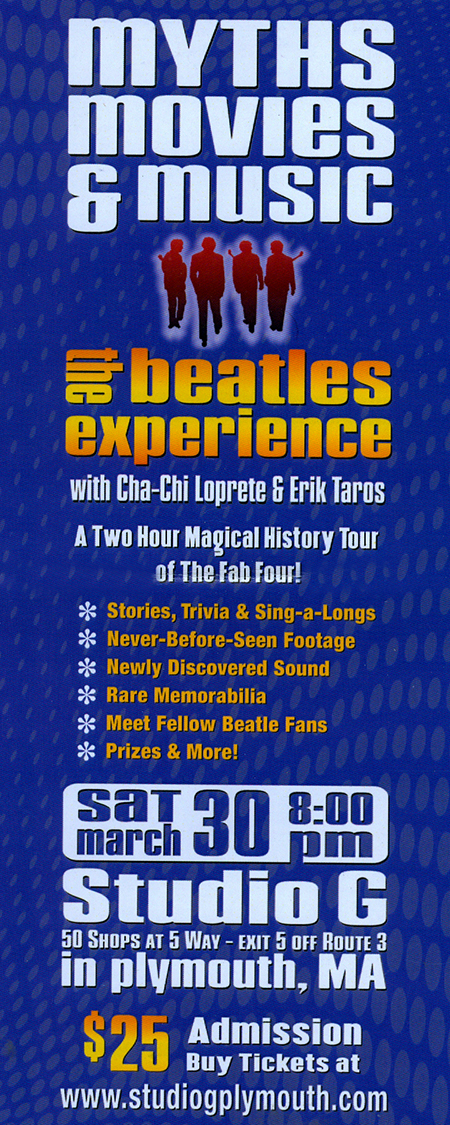 This will be a GREAT time for all BEATLES fans! DON'T MISS IT! I'm personally flying in from Puerto Rico that late afternoon, and I'm still going to try and make it. With my new tan and all!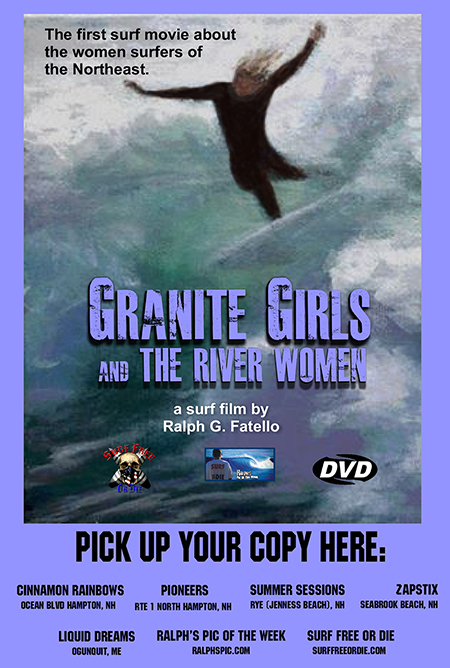 The DVD's are available at all the local surf shops. Or by
sending me an email. ralph@adlantic.com or send a check for $20.00 made out to ADLANTIC and send it here:

ADLANTIC
c/o OC Studio Suites
703 Ocean Blvd Suite C-4
Hampton, NH 03842

Or RENT or BUY it Online. You have spoken and I have listened. You don't have a DVD player so I made it available Online. Watch it on your Smart TV, your computer, or your cellphone! I can't make this any easier my friends.


GRANITE GIRLS and The RIVER WOMEN from Ralph's Pic Of The Week on Vimeo. NOW AVAILABLE on VIMEO ON DEMAND.

Well would you Look at this. Is the BLOG really turning 15? It most certainly is. Can you believe it? I mean honestly, can you believe it? FIFTEEN YEARS without missing a single week. Who does that? I'll tell you who. NOBODY does that. I'm the only fool who has committed to writing, shooting, and filming every single week for 15 straight years. I'm not comfortable praising myself like this, but if I don't say something, you'd never know any of this.

Besides, who knows Ralph's Pic better than Ralph? Anybody? Hello? Damn straight. Only RALPH knows RALPH.




Truth be told my friends, it blows my mind that this Blog is still steaming full speed ahead. And if you remember me saying in the beginning of this week's Blog that "When it rains it pours" Well out of the Blue I had six photographers send me their pics this week. SIX!!! It's almost like it was meant to be.

I'm going to be gone next week so this Blog is going to have to hold you over until I get back. And with SIX photographers along with my massive content, there will be more than enough material to hold you over while I am away having fun surfing in the tropics with my beautiful wife and close friends. So enjoy this BIG BLOG cause when I get back I'm gonna have all NEW tropical material to share with you. Ciao babies!


KSM Photoshop of the Week
Here's something that you may have seen on TV last week. The Whale who almost swallowed that diver? Well it turns out the diver was actually our Gitmo Boy himself. Ole Khaliddy got his ass stuck inside the mouth of a whale. But the whale spit KSM out of his mouth the second he tasted him. Don't even ask. You know the deal. Or you should by now.




And so my friends, please take advantage of this weekly photo shop of the mastermind who planned 9-11 and resulted in the deaths of 3,000 innocent civilians by KSM (Khalid Sheik Mohammed).

*Note to self -must pick up a case of Plankton
at Home Depot this week.

HAPPY ST. PATRICK'S DAY!
HAPPY BIRTHDAY Gale Brunault March 16th, 2019!
REST IN PEACE Jan Michael Vincent (BIG WEDNESDAY)
REST IN PEACE Gary Propper.
REST IN PEACE Asa Brebner
REST IN PEACE Curtis McGadden
REST IN PEACE "Ronnie" Dan Lahey's dog.

FYI Lenny Nichols is looking for someone or someones to take over the ESA-NNE District. Please contact Lenny Nichols by calling his cell (603) 944-2418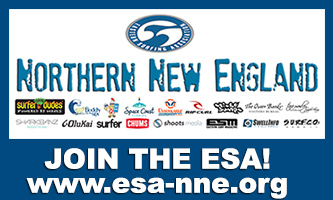 Please Support ALL The photographers who contribute to
Ralph's Pic Of The Week every week for the last 13 years.
** BUY a HIGH RES Photo from any of the weeks on RPOTW.

Remember my friends... Surfing Heals All Wounds.
Pray for Surf. Pray for Peace. Surf For Fun.

Ralph