June 5th, 2022 The RUN is 0 out of 0 Weeks.
Waist high or better at least once a week.
Still NO waist high or better waves this week. Few thigh high days, but nothing in the waist high plus. Though there is activity in the tropics. Fingers crossed people, fingers are crossed.

THE RECORD FOR THE MOST CONSECUTIVE WEEKS IN A ROW FOR WAIST HIGH OR BETTER. August 8th, 2021 was 53 WEEKS! TOPPING THE 43 CONSECUTIVE WEEKS SET IN 2009!
Send your SURF Pics to me directly to ralph@adlantic.com.
Need photos by 10 AM on Saturdays. Seriously.
By 10AM. Make sure they are 1300 to 1555 pixels wide.
If you have more than 10 pics please use wetransfer.com it's free up to 2 gig. Please DO NOT send me over 10 pics without first contacting and communicating with me.
Thank you.

Click on Archives link to see all the past Blogs
and pics.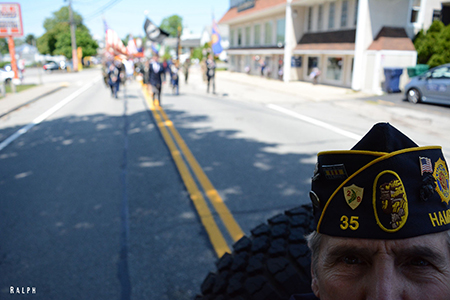 MY REFLECTIONS OF MEMORIAL DAY. MAY 30th, 2022.

This was our first parade since the pandemic two years ago. Seems like a lifetime ago. Some of you are probably wondering just what the hell you're looking at here? Well, for starters, that's my head. Secondly, I'm sitting in the back of a JEEP driven by US NAVY Vet Jimmy Cushman. I am one of three living POST 35 PAST COMMANDERS. Jimmy Djerf a USAF Korean war Vet, Joe Kutt USN Vietnam Vet, and myself a USMC Vietnam vet. This was all Jimmy Cushman's idea. Putting three Past Commanders in his JEEP and driving us through two parades. One in North Hampton and one here in Hampton. I have to tell you, it was tight in that back seat. That's why I stood up a few times. I kept cramping up.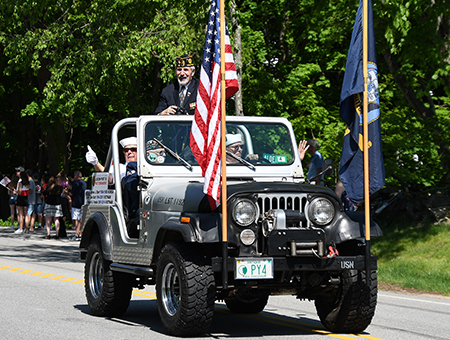 That's Jimmy Cushman driving and 91 yr old Korean War vet Jimmy Djerf in the passenger seat, with Joe and I in the back seat. Photo Martha Lardent




We had fun in spite of the day being all about Remembering those who paid the ultimate price. Still, with this being the first parade in two years, it felt good to be back out in the public. Photo Martha Lardent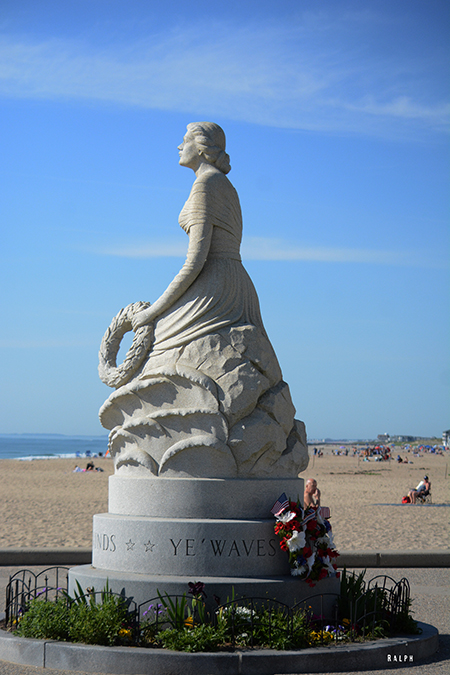 The Lady of the Sea Memorial is one of the most iconic War memorials in New Hampshire. We do four services each Memorial day starting with the beach service at 8:00AM and then Hampton Falls at 9:00AM, then over to North Hampton for a parade and service at 10:00AM. Finally ending back in Hampton for a 11:30AM parade and service. Sound hectic? It is. But we do this every single Memorial Day and every Veterans Day. Four services.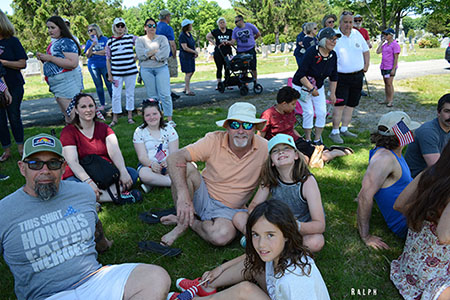 The surf families were enjoying the warm weather and listening to the speakers of the day. We had a decent turnout at all four services. I have to say, I really do love this seacoast community. They understand what this day
is all about. Well, most of them do. There's still the occasional "Thank you for your service." comment. But for the most part, they get it. Memorial Day is for those who were killed in all of our nation's wars, and Veterans Day is for the living Veterans. Meanwhile, there's a large photo gallery down in the photo section of all four services. So be sure to check that out.

Johnny and Tony came to my THE ART OF SURFING Exhibit at the Lane Memorial Library is Hampton on Saturday, June 4th, 2022. I had never done
a show of my photos, paintings, and graphic design work before. It's all surf related. My empty wave paintings and my surf photos (no surprise there). Though I have to admit, I could not believe how many photos I have shot and documented over the last 58 years. I have literally hundreds of thousands of pics that I have shot. And I have hundreds, perhaps thousands, of paintings and drawings of surfing as well. Damn.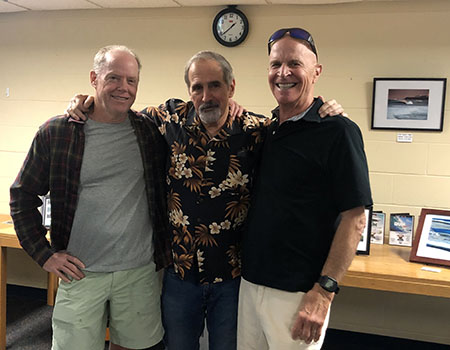 I even brought in my 18 full feature SURF FREE OR DIE DVD set. That doesn't count all the old Reel to Reel movies I have, and the hundreds of Vimeo and YouTube edits I have on line. The exhibit runs through the entire month of June. There's a gallery of pics that I shot from Saturday down in the photo section. Photo by Wendy Rega.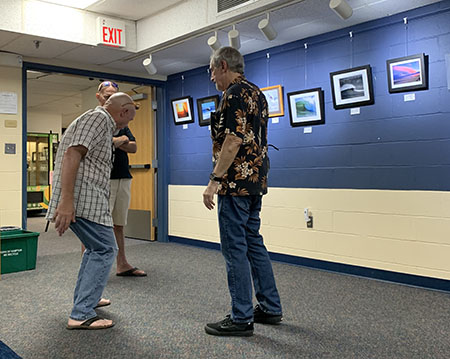 This is Stan Chew demonstrating how the new contemporary surfers drop in at places like Chopes. Not that I would be dropping in a Chopes anytime too soon. Those waves are way beyond my grasp. Hell even back in the day, when I was a young and in shape surfer, I would never think about paddling out at a spot like Chopes. Why? That's simple. "Homey don't play that shit!" Besides, I have something that most of those Chope riders don't have. It's called "COMMON SENSE!" And I plan on keeping that common sense up front and out in the open. Photo by Anne Marie Foley

After the RECEPTION and OPENING we went to see Cliff & Nancy Pappas with their son Josh. Their other son Kai, had just enlisted in the ARMY. Here's a bunch of local surfers posing with Cliffy at the Grondin home.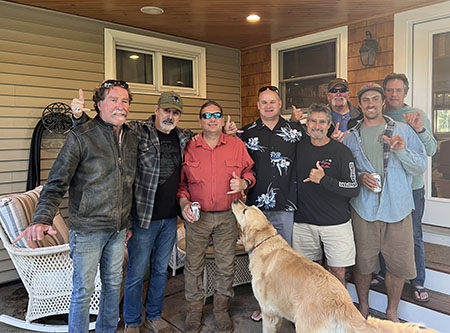 From left to right: Allen Bigbee, me, Harry Manzi, Tyler Moore, Cliff Pappas, Lenny Nichols, Kody Grondin, and Kevin Grondin.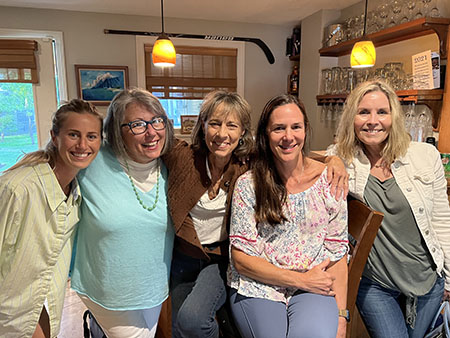 And of course the girls. Lili, Debbie, Kim, Nancy, and Cory.
"MEMORIAL DAY & SURF ART SHOWS HEALS ALL WOUNDS."


This is young Kainalu Nichols back in May of 2008 . To see him surf today would Blow all of your minds. I mean it. He has leaped heads and shoulders above most surfers in this area. But this pic says it all, we all start off as beginners. Photo by Ed O'Connell
*Click the photo above to see a larger version of Ed's Pic.

NOW FOR SOME LOCAL AND NATIONAL NEWS
The Celtics ended up beating the BUCKS in game 7 last week and then they turned around and Beat The Warriors in Game 1 of the NBA Finals. However, the Warriors turned things around tonight in a big way. The series is now tied 1-1. Game 3 is on Wednesday night here in Boston.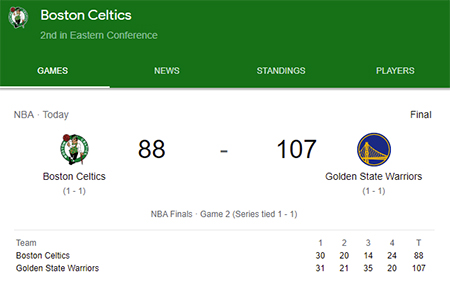 I'm hoping this is not going to be one of those BACK and FORTH SERIES. I'm not kidding when I say, that at my age? These games can get pretty damn stressful. Ugh.

Here's something that's completely stress free. The annual JIMMY DUNN HBCF. Woo hoo! Click on the ad to purchase tickets. Trust me, these tickets will be going fast.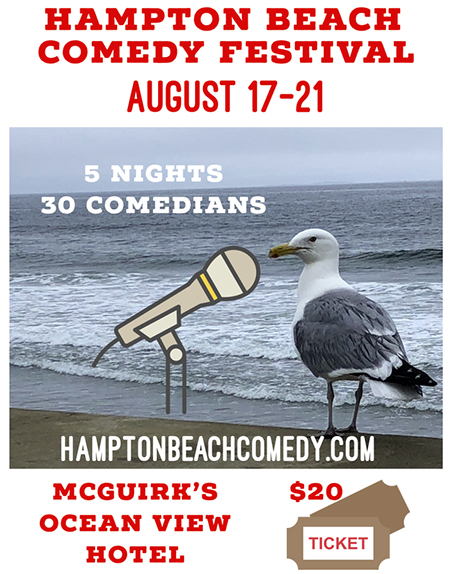 I agreed to do a photo/art/graphic design exhibit at the local Hampton LANE MEMORIAL Library this entire month of June. I'm calling it The Art Of Surfing. I've never had my own art/photo exhibit before. So if you're in the area drop by the WESTON GALLERY in Hampton, NH to see some of my work.

CLICK ON THE IMAGE BELOW TO SEE A LARGER VERSION.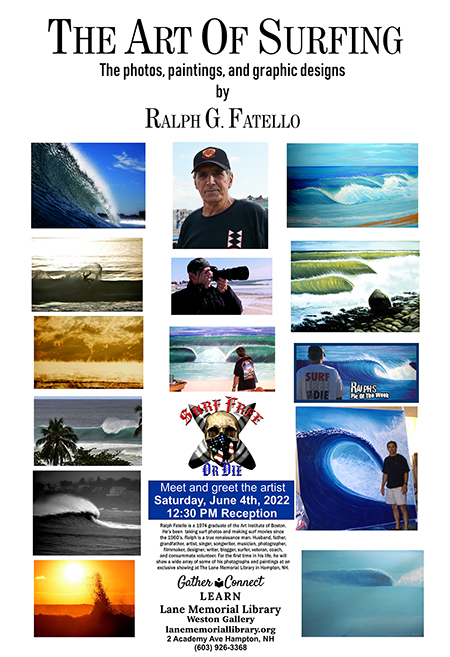 KSM Photoshop of the Week
The verdict came in for the JOHNNY DEPP vs AMBER HEARD trial at the end of last week. And it was not good for Amber. GUILTY AS CHARGED. Now apparently KSM was somehow able to get out of GITMO, and he got to fly out to where Amber was staying, and offer her advice. I think his advice was something like this "ALLAH ARKBAR!" Or something to that effect. One thing is for sure, Khaliddy has still not been able to find his own Mrs Wright. So once again, fingers crossed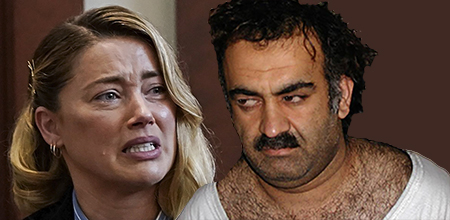 And so my friends,
please take advantage of this weekly photo shop of the mastermind who planned 9-11 and resulted in the deaths of 3,000 innocent civilians by KSM (Khalid Sheik Mohammed).
*Note to self -must pick up a case of CROCODILE TEARS at
Home Depot This Week.


REST IN PEACE William "Bill" Ritchie
June 23,1937-June 4th, 2022
Bill was the father of local surfers Gary and Billy Ritchie.
He was also an ex Hampton Police officer. Our most sincere
condolences to Gary and Billy and their extended families.

REST IN PEACE Karen Moore 1950-2022
Karen was the mother of local surfer Tyler Moore. I know that he was very close to his mother. Our most sincere condolences to Tyler and his family. May your mother rest in everlasting peace.

REST IN PEACE Ray Liotta 1954-2022
I always liked Ray Liotta. He was a good actor.

REST IN PEACE Dick Brewer Hawaiian Shaper

GET WELL SOON to local surfer Mike Keefe! You'll be back in the water before you know it Mike. Just rest up and get stronger brother. We Love you!
PLEASE Keep local Surfer/Musician Pete Kowalski in your thoughts and prayers throughout the year.
And Please Keep local surfer Bill M. In your thoughts and prayers.


Please Support ALL The photographers who contribute to
Ralph's Pic Of The Week every
week for the last
18
years.
** BUY
a
HIGH RES Photo from any of the weeks on RPOTW.

Remember my friends... Surfing Heals All Wounds
.

Pray for Surf. Pray for Peace. Surf For Fun.


Ralph




Yesterday- NH SURF COLLAGE 1960's-1970's

(Below) Once upon a time, we were all young and healthy. But that was once upon a time. This collage is on display at the THE ART OF SURFING Exhibit at the lane Memorial Library. Photos By RALPH G. FATELLO





I kept a daily Blog on my CATCH A WAVE FOR MOLLY surf campaign, when I surfed every single day for 365 consecutive days. Click on the Banner above to read entries of my daily journey. There's some really interesting and true experiences
that happened during that year. Some of which are to this day, unexplainable. Some are just mind blowing. But all true.

I started on July 26th, 2010 and ended on July 26th, 2011.

Some rainy Sunday, pour yourself a cup and go through the journal. Pay close attention to the month of May in 2011. Read that month and let me know what you think of that. Be forewarned it will change you forever.


Today- MEMORIAL DAY Monday May 30th, 2022.
Photos by RALPH





(Above) HPD at the Beach. Memorial Day Monday May 30th, 2022.
Photo by RALPH *Click on the photo above to see the whole gallery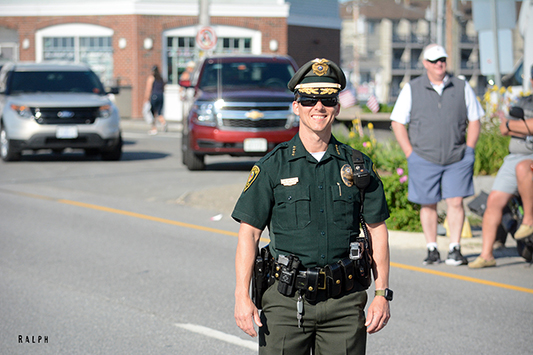 (Above) My brother Marine and HPD Police Chief David Hobbs.
Memorial Day Monday May 30th, 2022. Photo by RALPH
*Click on the photo above to see the whole gallery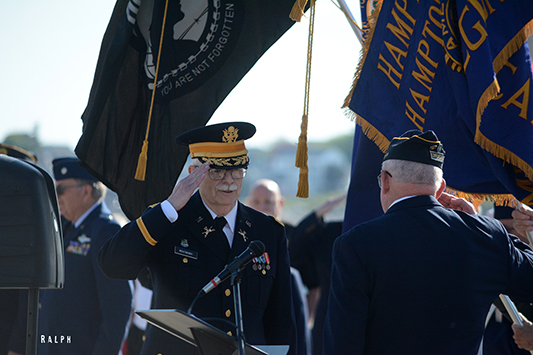 (Above) David Weatherby and Commander Berk Bennett
Memorial Day Monday May 30th, 2022. Photo by RALPH
*Click on the photo above to see the whole gallery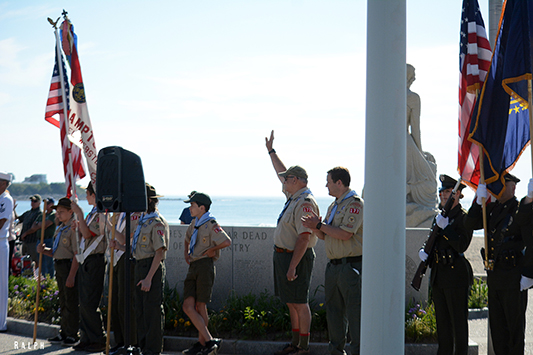 (Above) BSA Troop 177 Memorial Day Monday May 30th, 2022.
Photo by RALPH *Click on the photo above to see the whole gallery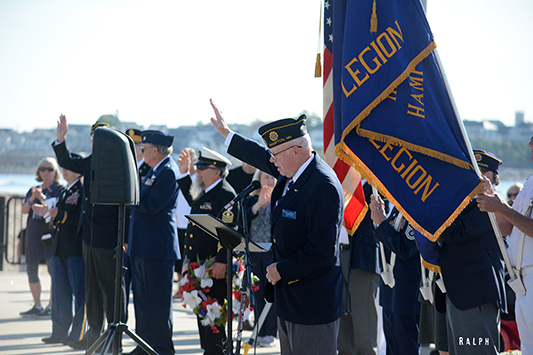 (Above) Calling out and recognizing each branch of the service.
Memorial Day Monday May 30th, 2022. Photo by RALPH
*Click on the photo above to see the whole gallery


(Above) HFD Color Guard at the Beach for our first of four services.
Memorial Day Monday May 30th, 2022. Photo by RALPH
*Click on the photo above to see the whole gallery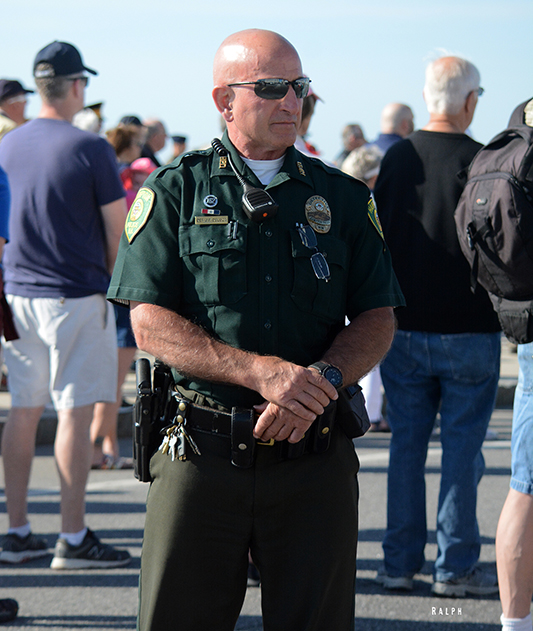 (Above) James "Jimmy" Deluca. Memorial Day Monday May 30th, 2022.
Photo by RALPH *Click on the photo above to see the whole gallery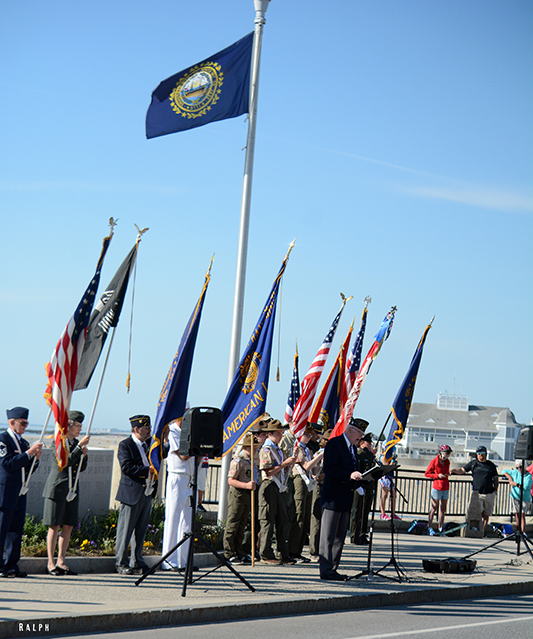 (Above) American Legion POST 35 at the beach.
Memorial Day Monday May 30th, 2022. Photo by RALPH
*Click on the photo above to see the whole gallery