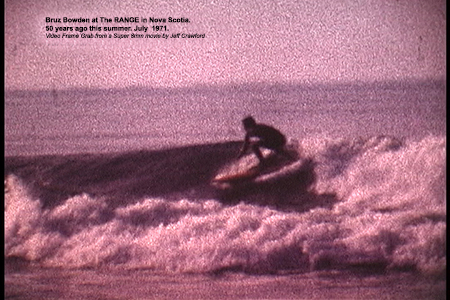 NOVA SCOTIA The Last Frontier
Summer of 1971

50 years ago this summer, three New England surfers crossed the border into Canada, and drove straight to Nova Scotia. It was a 15 hour drive in an old 1965 Ford Van. What we found there that summer, would end up being the stuff of surf folklore. And unbeknown to us at the time, it would ultimately set the bar for all future travelers to this place, that I so aptly named, "The Last Frontier." And it was all of that and more.

The three surfers were: Jeff Crawford, Don "Bruz" Bowden, and myself.

I suppose I need to back up a few years to 1967-68 to set the tone for how this all came about in the first place. The place was the Beverly Public Library. We were there on a school assignment and I have no recollection as to what that might have been. But that fact is unimportant. For you see it was at that moment in time when Jeff found this hidden gem.

He was thumbing through a geography book (which may very well have been our assignment). Geography. When I heard him yell "Holy crap look at this!" What he was looking at was a black and white photo of a big bluff somewhere along an ocean. But that ocean? Yeah, that ocean had perfect waves peeling along this cobblestone point with this big beautiful bluff in the background.

"Where is this?" I asked.

"Nova Scotia!" Jeff answered.

"Where's Nova Scotia?" I asked.

We quickly looked at a map and saw exactly where it was. As the crow flies, it looked pretty damn close. But as the van drives? Not so much. It would be a long drive. They (Jeff and Bruz) wanted to go that summer of 1968.

But there was a problem. It was me.

I had enlisted in the Marines and would ultimately end up going to Vietnam right after High School. And the real bummer was, I wouldn't be back until December of 1970. I pleaded with them to wait for me.

"Please don't go without me you guys. PLEASE!" Reluctantly they waited.

I never forgot that. They actually waited for me. In hindsight, I suppose the wait gave Jeff more time to study the lay of the land and to make contacts.

At that time, there were only two surfers in all of Nova Scotia .Think about that.

And keep in mind, this was back in the day when we actually looked forward to meeting other surfers. In fact, we used to wave at surfers all the time. Can you imagine waving at total strangers today? People would think you were weird or worse. Like you were gonna set them up to rob them or something. Times sure have changed. The two surfers lived in Halifax. And we would end up hooking up with them once we found our way to the capital.

Driving into the unknown country that is Nova Scotia was something that we'd never forget.

It was obvious that were not in Kansas anymore. Though geographically speaking it wasn't much different than Northern New England. In fact, it looked a lot like Northern Maine. Jeff had a thing for Maine. He was raised there and we had been surfing in Maine quite a bit before I left for the Marines. From Wells Beach to Small Point Beach. We had our share of Maine surf. But going surfing in a different country? None of us had ever done that before. Well, besides me that is. But I wasn't on a surfing trip. I went off to war. And being home a year after Vietnam? I wasn't fully adjusted to civilian life just yet. I'm sure I had an edge to me. But I still had a sense of humor. And if I recall, we laughed a lot on that first trip.

I can remember pulling into Halifax. It was cold and foggy. (Like I said it reminded us of home).

The city of Halifax was pretty big and modern. It reminded us of Boston. So nothing out of the unusual there for us. But we were not there to visit the old city of Halifax. We were there to see the perfect point breaks that we had seen in the Library three years prior. Hooking up with "Joe" we found our way out of the city and headed for Lawrencetown. This neat little seacoast community was established at the beginning of the French and Indian War. And it would be the focal point of all of our surf adventures those first few years.

From Lawrencetown we could hit any number of the premiere point breaks up there. In fact, one of the best breaks in all of Nova Scotia was right there on Lawrencetown Beach. But because of the respect of the local surfers and those Americans who have since moved up there and bought beach front property I will refrain from naming any of the other spots. But suffice it to say, L-Town was the mecca for NS Surfing. There are two surf shops in L-Town today and I'm sure they would welcome any new surfers to the area. Because, that's what surf shops are all about.

Back in 1971 we had never surfed a point break like the L-town point. In fact, we used to bypass the exceptional points and reef breaks in Mass, and NH and go straight to Maine. It's safe to say, we were mostly beach break surfers back then. It was mostly because Jeff didn't want to surf anywhere else but Cape Ann and Maine. He had the van, so we went where he wanted to go. To this very day Jeff stays true to those early days. I'm not saying he never surfed anywhere else, he most certainly did. But back then? It was Cape Ann and Maine.

But our first time surfing L-town was an eye opener. We had never surfed a perfect wave that broke as long as that place did. We were getting 300 yard rides and we were freaking out. Young 19 year old surfers out surfing a perfect pointbreak? We were living Bruce Brown's ENDLESS SUMMER. And it was true. We had found the Perfect Wave in L-town. Or did we?

Turns out our Cape St Francis wave was slightly north of L-town. At a spot that resembled the Ranch in Central California. It was called The RANGE. It was called "the Range" because it was active bombing range for the Canadian Air Force. I kid you not. The Canadian Air Force would make bombing runs on this big bluff of land that sat in front of this perfect wave. For me just being home six months after the war? I felt this strange allure to this spot. And to make it even more alluring was…it was OFF LIMITS.

DANGER Unexploded ordinance in big giant letters on the sign at the Gate.

What to do? Hell, this was a piece of cake for me. We crawled under that gate, and made our way down the road to the big bluff. We stepped off the road to get to the cobblestone beach, and with me walking point, I was able to point out the unexploded bombs and ordinance on the beach. And to be quite honest with you? There was quite a few. How ironic that I went from a war zone to a live unexploded ordinance beach. Ha! I was laughing my head off inside my mind. This kind of shit you just can't make up. Oh and did I mention how foggy it was that first day? Adding eeriness to a dangerous situation was pretty classic.

But the Range itself? Oh it was just like the Ranch. Judging by the Ron Stoner photos we had seen of the Ranch.

Truth be told none of us had ever surfed the Ranch in California. (I would eventually get to surf there in 2002.) But in 1971? Nope. But honestly? We didn't need The RANCH…we had The RANGE! That first session was special. But the next morning? That was the session that we will always remember. 3-5' and super Glassy. We all took turns taking movies with the GAF Super 8mm movie camera. In fact, we took movies of the whole trip. It was like I said, our ENDLESS SUMMER.

Riding perfect waves in a foreign country was absolutely amazing.

What was interesting was how none of us knew how to properly surf a perfect point break wave. There's a lot of cutting back and speeding up to make certain sections. And with me always trying to get tubed, I was always looking for that hollow section. I managed to slip into a few tubes that first trip. As did the others. I think Bruzzie was one who shined the most during that trip. He has such a classic surf style, and being from California, he was better than Jeff and I.

All in all we all had some great memorable waves.

And yes, one morning I heard Fighter JETS off in the distance screaming onto the Bluff. They made a few passes while we tried to hide, but for whatever reasons, they didn't bomb that morning. We did hear them bombing at other times, just not while we were surfing. That would have been one for the history books if they had. Especially if one of us got wounded or killed. Though I suppose that would have put us in one of those "History Of Surfing" Books.
As it was, we were making history, by being some of the first Americans to ever surf there.

We went back year after year and it was always the same. We kept it a secret for many years.

But like all good surf locations, the word finally got out. SURFER Magazine actually came to my house when my close friend Kevin Grondin told them about it. They wanted to see my footage. I refused to show it to them. SURFER sent a few pros and a photographer up there and they basically let the cat out of the bag.

They were the ones who blew the cover of NOVA SCOTIA.

We kept it a secret for like 12 years. It's no longer a secret. But then again, there are so many undiscovered spots on the planet, that I'm almost positive that there could be a break that nobody has ever surfed before. I made a couple of movies about Nova Scotia. The last time I was there was in the 80's. I'd like to go back again. Maybe with Jeff and Bruz.

At one point Jeff's son Everest wanted to do a documentary of the original crew. 50 years later. Problem is nobody can find Don "Bruz" Bowden. But boy, would I love to go back and relive that first trip. The three of us now in our 70's surfing The RANGE again and just recreating that spark that inspired us to have our own ENDLESS SUMMER.

50 years ago this summer.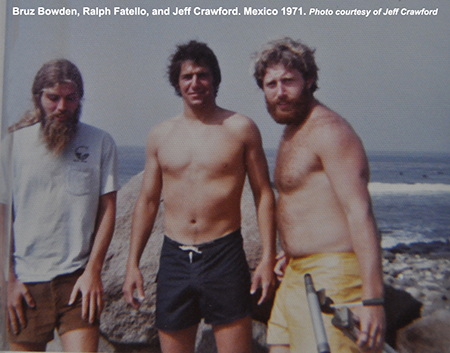 Here we are in Mexico that same year...50 years ago in 1971.



" SURFING HEALS ALL WOUNDS!"


This week's Ed's corner is from one of Ed's old super 8mm movies. This was shot at The WALL in 1975 and it features one of the BEST ever surfers to ever come out of NH. Greg Smith. Of all the surfers I have met in my life, Greg is one of the most unique individuals I have ever had the pleasure of meeting and calling my friend. His fearless sessions in macking NH and in Hawaii are legendary. He is currently dealing with the after affects of a stroke and heart attack. Please keep Greg in your thoughts and prayers. He's a true NH legend. Photo by Ed O'Connell
*Click the photo above to see a larger version of Ed's Pic.

Now for Some Local and National News

The Long awaited REPORT on UAP/UFO was presented on June 25th, 2021. Here's a few excerpts from the national news sources from around the Globe.

Watershed U.S. UFO report does not rule out extraterrestrial origin
June 25 (Reuters) - A U.S. government report on UFOs issued on Friday said defense and intelligence analysts lack sufficient data to determine the nature of mysterious flying objects observed by American military pilots including whether they are advanced earthly technologies, atmospherics or of an extraterrestrial origin.

The unclassified nine-page report, released to Congress and the public, encompasses 144 observations - mostly from U.S. Navy personnel - of what the government officially calls "unidentified aerial phenomenon," or UAP, dating back to 2004.
Labeled a preliminary assessment, it was compiled by the Office of the Director of National Intelligence in conjunction with a Navy-led task force created by the Pentagon last year.

"UAP clearly pose a safety of flight issue and may pose a challenge to U.S. national security," the report stated, adding that the phenomena "probably lack a single explanation."


The bottom line? This is just the beginning of these reports and investigations. Never in a million years did I ever think we'd be acknowledging these sightings in our lifetime. But we are.

Truth is, they exist. But the real truth is yet to come. Buckle up.

I've been hearing some things about Jimmy Dunn's shows! Check out his schedule below or click on the image below to go to his website for any additional shows. Look if there's one thing we can all use these days it's a good laugh. It's time to Laugh Again!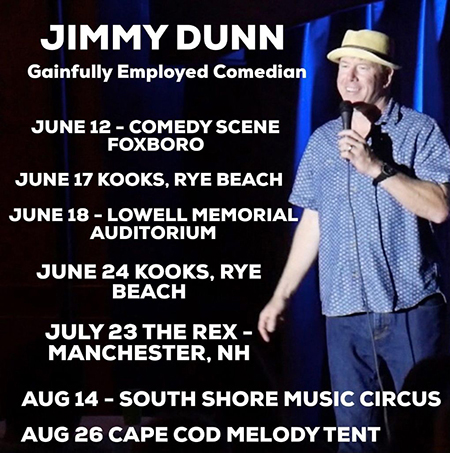 KSM Photoshop of the Week
I'm not surprised that KSM is entering the Olympics as a heavy weight weightlifter. He's also trying to get in under the new transgender category. Though, I don't think he will pass the rigid hormone test. Some of the women are complaining. Can't really blame them. But, the rules are the rules. If they allow biological men to compete in women sports, this is what we can expect going forward. Sorry girls.

You do have to admit, he's not one for not trying.




And so my friends, please take advantage of this weekly photo shop of the mastermind who planned 9-11 and resulted in the deaths of 3,000 innocent civilians by KSM (Khalid Sheik Mohammed).

*Note to self -must pick up a case of Ladies Singlets at Home Depot this week.

This is Cory and I on stage at Bruce Sprinsteen's 2003 concert
at Fenway Park. I'm not a big Bruce fan, but it was a good show.
Happy BIRTHDAY Baby! I love You!




HAPPY BIRTHDAY Cory Fatello! June 30th, 2021!
HAPPY BIRTHDAY Dave Crop Cropper June 30th, 2021!
HAPPY BIRTHDAY Kyle Linseman June 30th, 2021!
HAPPY 65th BIRTHDAY Kevin "DOC" Grondin June 23rd, 2021!
PLEASE Keep 90 yr old Chuck Dreyer (Kim Grondin's dad)
in your thoughts and prayers.



PLEASE Keep JoEllen Bunton in your thoughts and prayers too.
PLEASE Keep longtime NH Surfer Greg Smith in your Prayers.
PLEASE Keep local Surfer/Musician Pete Kowalski in your thoughts and prayers throughout the year.

PLEASE SUPPORT THE DIPG AWARNESS TEAM!




Please Support ALL The photographers who contribute to
Ralph's Pic Of The Week every week for the last 16 years.
** BUY a HIGH RES Photo from any of the weeks on RPOTW.

Remember my friends... Surfing Heals All Wounds.
Pray for Surf. Pray for Peace. Surf For Fun.

Ralph






Yesterday- RALPH BACKING INTO OUR SECOND CONSECUTIVE TRIP TO NS. Circa 1972
(Below) This photo was taken 49 years ago at Lawrencetwon Beachbreak. This was our second trip to Nova Scotia and it wouldn't be our last trip that's for sure. We all ended up going back many times over the years. Jeff Crawford went back the most times out of the three of us. Wonderful Surf Memories for the three of us. Photo by Jeff Crawford

*Click on the pic to see a larger version.



I kept a daily Blog on my CATCH A WAVE FOR MOLLY surf campaign, when I surfed every single day for 365 consecutive days. Click on the Banner above to read entries of my daily journey. There's some really interesting and true experiences
that happened during that year. Some of which are to this day, unexplainable. Some are just mind blowing. But all true.

I started on July 26th, 2010 and ended on July 26th, 2011.

Some rainy Sunday, pour yourself a cup and go through the journal. Pay close attention to the month of May in 2011. Read that month and let me know what you think of that. Be forewarned it will change you forever.