DADDY WENT SURFING ON THURSDAY JUNE 17th, 2021.
by Ralph G. Fatello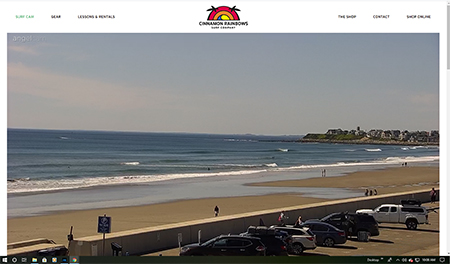 I STARTED SURFING 57 YEARS AGO THIS SUMMER.

On Thursday June 17th, 2021 at 10:00AM while working on the current Blog, I checked the CR wave cam and saw what looked like some really fun leftovers from TS BILL. The last two days had been really good, and I had shot more than enough video and stills to cover this week's Blog. Today was all about me getting wet. So without any fanfare, and not a single photo, I slipped into my 3/2 and grabbed Big Black (my longboard) and drove down to 10th Street. I didn't tell anyone I was going surfing. When I would typically let them know where I am, and what I'm doing. This was going to be a 100% covert mission.

To be even more covert, I parked at my son's place. My recognizable JEEP would not be in plain sight. Not today. I left my cameras at home.

I walked across the street and found a spot to leave my towel, hat, tee shirt, and keys in the dry sand. The tide was still going out with low being at 11:19 AM. I walked down to the water's edge and attached the leash to my board and then I did a few stretches. I always stretch. And at my age it becomes more and more crucial to stretch.

I was going to surf "Ralph's Right's" right off the south jetty at 10th Street. My friends back in the day named that right after me in the early 70's. As I stood at the water's edge I watched a few perfect sets roll in and hit the outside sandbar. And for a moment, I felt almost giddy. I looked over my shoulder to see if there was anyone else paddling over to where I planned on surfing. And much to my delight, there was no one. This had the makings of a really special session.

I hit the water paddling like I never stopped. All the weekly push-ups I do really paid off as I paddled like Johnny Weissmuller through the inside section and straight out to the outside sandbar. I pulled up and came to a stop, and much to my surprise a solid waist to stomach high wave came right to me. I swung my board around paddled a few strokes and just like that I was into my first wave of the session. A nice tapered, right-hander. I rode it all the way to the inside, kicking out before it unloaded in the shallows.

To say that I was stoked would be a massive understatement.
I was beyond stoked.

My second wave was a perfectly lined up left. I caught it mid paddle as I was paddling back out. I stopped and swung my board slightly angling it facing south when it popped up on the bar.
It was a late take-off and I instinctively grabbed the outside rail and crouched forward pulling up and into the pocket. I raced across this long section perfectly slotted as I dragged my backhand along the smooth wave face. As I got to the inside section I noticed a young kid paddling out. I went zipping by him and kicked out another 30 to 40 yards past him.

I kicked out and paddled back out like a man on a mission. Because that's exactly what I was.

I paddled right past the kid who was struggling in the whitewater. I made it out past him and went back to my line-up spot and sat up on my board. The kid finally made it out there when he asked me a question. I wear ear plugs so it was difficult hearing what he was saying. Plus he was soft spoken. I told him to speak up due to the fact that I'm wearing ear plugs.

"How are the waves? " he asked.
"Did you see my last wave?" I replied.
"Yes that was a great wave." He answered.
"Well, there's your answer." I said with a smile.
He smiled back and then paddled out to where I was sitting.

I asked him his name. He said he was Daniel. Then I asked him how long has he been surfing, and he told me, "About a year and a half." I asked him how old he was, and he told me he was 15yrs old. I of course told him that I have been surfing since 1964. His eyes bugged out of his head. "That's a long time." He said. "Ya think?" I replied.

Then I proceeded to give him a few pointers. I told him about picking a spot on the beach and lining up on that focal point. Most surfers don't realize how much you can drift and move around out there. Always make a mental note as to where the waves are breaking the best, and then line-up with something on the beach, so you know where to go each time you paddle back out.
He thanked me for that. Then I pointed out that he needed to keep his feet together when paddling. He was doing the typical beginner feet spread out and causing drag when he paddled.

He thanked me for that as well. Then a nice wave came right at me.

I told him if he can catch it to go for it and not to worry about stuffing me. We both paddled for the wave and we both caught it. I got to my feet first and he fell as he tried to stand up. I was able to go a few yards before I had to straighten out and to also dodge his flailing body in the whitewater. He popped up smiling.

I told him he could now tell his friends that he "Dropped in on Ralph" and he didn't yell at me.

My how times have changed. Truth be told, I wasn't always this mellow. Far from it.

But age has a way of softening the brain and the body. And I'm doing all I can with staying in good physical shape, while allowing the new improved friendly, and approachable Ralph to be my new norm. And if that isn't proof enough for you. There were three others who joined us out there. One older looking fella, and two younger surfers. Or rather one other surfer, and a Kook on a soft-top. Now before you get all bent out of shape by my use of the derogatory word "Kook" it's important to know, that we all start out as Kooks, and we all end up as Kooks. So yes, that means that I too will be heading back to "Kookland." I'm not quite there yet, but I know it's coming. And honestly? I don't have a problem with it.

Kooks are the foundation of surfing.

Anyway, the three other surfers besides Daniel including an older looking man who said he's been surfing since 1964 and that he was 70. BAM! We had two things in common. I too started surfing in 1964 and I am turning 70 next month. We connected immediately out there. His name was Ray and he was in town with David Matusak. David has written a book on the history of San Onofre Surfing and they are on a cross country tour promoting the book. Ray and I hit it off while surfing out there on the outer sandbars. And then something magical happened.

A solid shoulder high set popped up and came right at me.

Ray and the others were too far out so I swung Big Black around stroked into this perfect semi wedging peak. I pulled in behind the pitching lip and then hit the brakes. I had done what I have done for the last five and a half decades. I was stalling for the tube. The barrel. Daniel and another surfer were inside of me, and they saw the whole thing unfold while Ray and the other two were sitting outside, watching from behind the wave. But Ray being a longtime surfer knew exactly what was happening. He knew that I was perfectly slotted in the barrel. And I was. *Ray told me later that he watched me from behind as I took off and started my run for the barrel. "I couldn't see you, but I could see your track. And then you kicked out way down the line. I figured you must have gotten barreled."

It would end up being the first of three barrels I would get out there.

I caught 15 waves in all. One for each year Daniel has been living on the planet. I only fell once (though it was on what would have been my best wave of the day). But that's fitting. It keeps me honest (lest I let myself suddenly think I'm back to being my younger self). The best thing about this surf session was, nobody knew who I was. When I'm shooting pics and video on the beach, wearing my Marine cover (hat) everyone knows me. Out there today? I was just another old guy on a longboard. Just another surfer. Or, just another Kook, who just so happened to be the best surfer in the water. How's that?

To quote the great Phil Edwards…
"The Best Surfer in the water, is the guy having the most fun."
Today? That was me.




Happy Heavenly Father's Day to Jerry and Gus. Our late fathers.

I'm not sure how many of you know that my late father had such a huge impact on my life. He turned me onto music, art, surfing, service to our country, being a loyal and faithful husband and father, and now grandfather. In short, I am the man I am today because of him. And on this day? We miss them both. I could write a book on them both.

Cory and I lost our father's at a young age. My dad was 75 and Cory's dad was 65. We miss them both so much. My late mother Eva pictured here is also missed. And JoEllen on the far left could really use some positive thoughts and prayers. She's currently battling cancer and she really could use the help from the masses. There is power in prayer. If you could spare a moment and send out a prayer to her we would greatly appreciate it.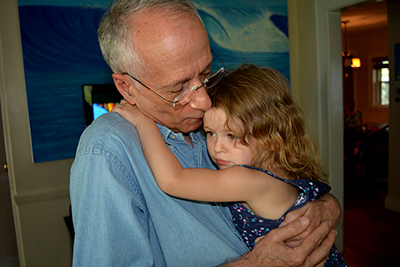 Happy Father's Day to "Grandpa" John! Seen here with Avery.
We Love you and miss you Grandpa!




My wife and kids. From Noelle and Pete's wedding last September.




My family keeps growing! Three kids, three grandkids, and two son-in-laws.
Yes I'm a very lucky man. And I am forever grateful and thankful for everything that I have. My family and my friends mean the world to me, and I love them all.

"FATHERHOOD and SURFING HEALS ALL WOUNDS!"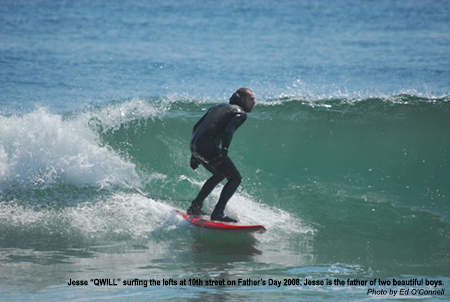 This week's Ed's corner is from Father's Day June 15th, 2008. The surfer is my nephew Jesse. i told you last week I'd post a photo of him from the same session that I posted last week. A man is only as good as his word. Photo by Ed O'Connell
*Click the photo above to see a larger version of Ed's Pic.

Now for Some Local and National News

The latest Westminster BEST OF SPORTING BREED went to this beautiful female GERMAN SHORTHAIR POINTER. Her name is Jade and she's a beautiful looking female GSP. As some of you may or may not know, I have had and trained German Shorthairs for the last 30 years.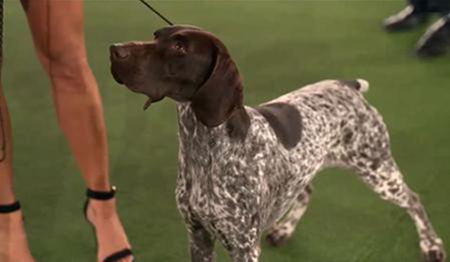 I've had pointing breeds since 1974. I am currently on my 5th pointing dog. Zorro is the first male born from my 10 year old male PATCH. In fact, I have bred Patch the last two January's. And to date, he has 9 males and 9 females. All going to families who plan on hunting them, as well as using them to hunt for sheds in the woods. Sheds are deer antlers. The bucks shed their antlers every winter. And it's a great way to extend the season of these pointing dogs by having them hunt for sheds.




Here's Patch and Zorro from Father's Day 2020. Zorro is now bigger than Patch. And I love running them both in the woods when it's cooler out and the wild birds are not nesting.

Speaking of birds, or rather Blackbirds, or should I say the man who wrote and sang Blackbird. James "Paul" McCartney turned
79 on June 18th, 2021. Hard to believe he will be 80 next year.
He's still writing and performing and well being the coolest former Beatle on the Planet. I am not ashamed to say that Paul was, and will always be, my favorite Beatle. And the Beatles will ALWAYS be my favorite Band. Bar none. My favorite band.
Long Live Sir Paul McCartney. Happy Birthday Macca!

I've been hearing some things about Jimmy Dunn's shows! Check out his schedule below or click on the image below to go to his website for any additional shows. Look if there's one thing we can all use these days it's a good laugh. It's time to Laugh Again!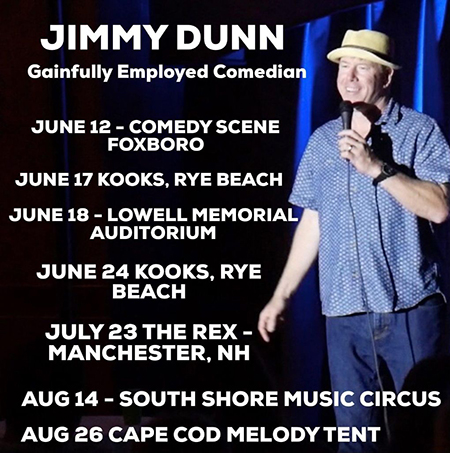 KSM Photoshop of the Week
I'm a week behind in getting this one out, but better late than never. You are all aware of the WHALE SWALLOWING The Lobsta guy last week right? Well, he wasn't actually swallowed. He was scooped up in it's mouth and spat out. Nobody got swallowed. Except Jonah and Pinocchio.

But wouldn't you know it, Ole Khaliddy had to chime in about he himself being swallowed by a damn whale too! He even provided this illustration from his Tell All Book that he's been working on. I tell ya, I don't know what to believe these days. Do you believe KSM's story about being swallowed by a whale? Or is it just another Fish Story? Oh no I didn't just write that? Oh hell yes I did.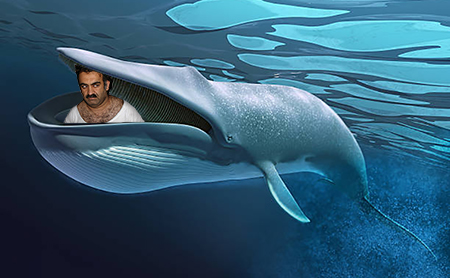 And so my friends, please take advantage of this weekly photo shop of the mastermind who planned 9-11 and resulted in the deaths of 3,000 innocent civilians by KSM (Khalid Sheik Mohammed).

*Note to self -must pick up a case of Whale Blubber at Home Depot this week.


Please keep Robin Rowell in your thoughts and prayers. This is a photo and a note that Robin sent me in 1974. He's a good friend and one of the best surfers to ever surf these parts. We Love You Robin. Stay strong brother, we're all pulling for you.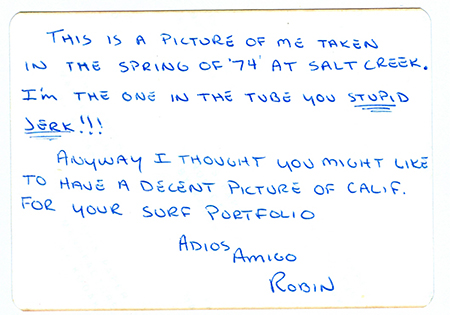 HAPPY FATHERS DAY Sunday June 20th, 2021!
HAAPY SUMMER SOLSTICE June 21st, 2021!
HAPPY 65th BIRTHDAY Kevin "DOC" Grondin June 23rd, 2021! REST IN PEACE John Emery 89yr old Korean war Vet
PLEASE Keep 90 yr old Chuck Dreyer (Kim Grondin's dad)
in your thoughts and prayers as he recovers from surgery.
PLEASE Keep JoEllen Bunton in your thoughts and prayers too.
PLEASE Keep longtime NH Surfer Greg Smith in your Prayers.
PLEASE Keep local Surfer/Musician Pete Kowalski in your thoughts and prayers throughout the year.

PLEASE SUPPORT THE DIPG AWARNESS TEAM!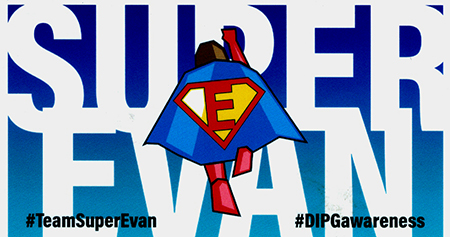 Please Support ALL The photographers who contribute to
Ralph's Pic Of The Week every week for the last 16 years.
** BUY a HIGH RES Photo from any of the weeks on RPOTW.

Remember my friends... Surfing Heals All Wounds.
Pray for Surf. Pray for Peace. Surf For Fun.

Ralph





Yesterday- FATHER'S DAY AT THE BEACH. Circa 1953
(Below) This photo was taken at the beach by my late Uncle Ralph. That's my father Gus with me, my sister Donna, and my brother Johnny. My parents would go on to have three more kids. Three boys and three girls. They would have 8 grandchildren and one great grandchild. We were always at the beach when we were kids. And apparently that trend stuck with me because we did the same with our kids. I can remember body surfing here when we were kids.
Photo by Uncle Ralph

*Click on the pic to see a larger version.



I kept a daily Blog on my CATCH A WAVE FOR MOLLY surf campaign, when I surfed every single day for 365 consecutive days. Click on the Banner above to read entries of my daily journey. There's some really interesting and true experiences
that happened during that year. Some of which are to this day, unexplainable. Some are just mind blowing. But all true.

I started on July 26th, 2010 and ended on July 26th, 2011.

Some rainy Sunday, pour yourself a cup and go through the journal. Pay close attention to the month of May in 2011. Read that month and let me know what you think of that. Be forewarned it will change you forever.