"YOU HAVE TO WAKE UP"

This photo above was taken in early September of 1996. That's my 4 year old son Max. His 5th birthday is in a few days from this photo. The family birthday party was to be on 9-16-96. He shared the same birthday with his late cousin Michael and we were all scheduled to attend the joint birthday party. But earlier on that day, September 16th, 1996 I was out surfing the waves at a spot called "Freak's" from Hurricane Hortense here in NH. I was with two friends of mine. Tony Berardini and Terence Kirby. The waves were not as big as we had hoped for, but still, a fun 4-6' glassy summer hurricane surf is nothing to sneer at. I can remember calling the storm "NOT SO INTENSE" instead of HORTENSE. That snide comment would come back to bite me in the ass. I paddled out all amped and immediately caught two waves within 5 minutes. I was feeling pretty damn good. I was in a word "pumped."

I saw a nice peaky bowl head my way, but I was slightly behind the peak.

Long story short, I took off behind the peak on this nice 6' foot peak when my board caught an edge, at the same time, I was launched forward in front of my board, and somehow the board shot backwards, and then the leash snapped it back, causing the nose of my board to hit me in the face. The impact was so intense, it knocked me out cold. It felt like Mike Tyson hit me.

I was completely unconscious underwater.

I woke up when I heard a voice in my head saying "You have to wake up".
I heard that voice three times, and each time it got louder and louder in my head. I finally opened my eyes. For a split second, I thought I was home in bed. Then I could see bubbles floating around me, with the sun filtering through the clear water. What the hell? I thought to myself, all dazed and confused as I tried to make sense of what was going on around me.

That's when it all came rushing back to me.

I swam to the surface as fast as I could, and as I did, I could feel with my tongue, that there was a large hole in the corner of my mouth. There was
blood everywhere, and my head was spinning. The *nose of the board had gone through my face and into my mouth. I managed to somehow get control of my senses and surroundings, and made my way to the beach. I knew enough to apply direct pressure to my face. I tried waving to Tony and Terence, but they couldn't see me. I yelled at them and tried waving my board to get their attention. But they had no reaction. To this day, I still can't believe they didn't hear me or see me. Nor did they ever question why I would be leaving after surfing only 5-10minutes. But they're surfers. And surfers only have one thought on their minds when there's waves. To catch and ride waves. Period. In hind sight, I might have done the same thing if the roles were reversed.

In any event, I was losing too much blood, and needed to act quickly. So I ran back up the beach to where my vehicle was parked. I drove myself (using a 5-speed stick shift from my Isuzu Trooper-yeah that was pretty difficult) to my home, and had Cory drive me to the ER in Exeter, NH.

Cory has always had a problem with blood, and we had to stop several times on the way to hospital because she felt sick to her stomach. Once we got to the ER, poor Cory fainted, and they ended up rushing her into the ER while I waited out in the waiting area. Go figure. I ended up getting 36 stitches in my face. *Thank God I had a nose guard on the tip. Had I not? It could have been way worse. I mean way worse.

At the time, I was still very active in my band The NOR'EASTERS, so when I was told by the surgeon that I couldn't shave until the stitches came out,
I grew this goatee. We were after all, a hard rocking Blues/Rock band.
And let's face it. This was a cool Rocking Blues look.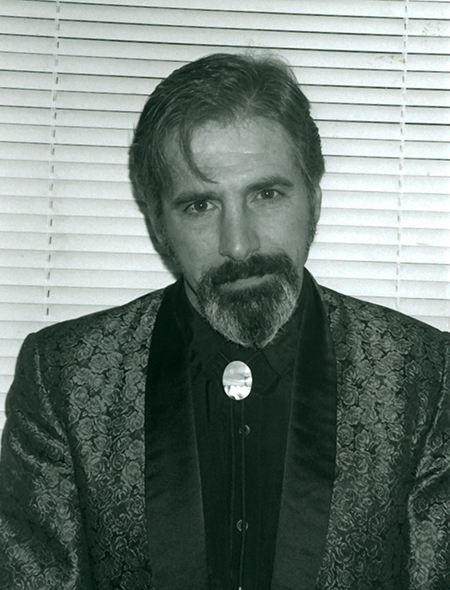 I called myself PRINCE VINCE. Come on, that's a cool name.

It's funny because, I have a goatee today, and my hair is as long, if not longer than this pic. The only difference is, everything is white and gray.




Gray Lives Matter.

I posted this same story on Facebook earlier this week and I'm sure there were a few people out there in Social Media World who winced at that last line. "Gray Hairs Matter." As if I were somehow mocking the BLM (Black Lives Matter) mantra. Nothing could be further from the truth with me.

Unless you ate, drank, slept, laughed, cried, bled, fought in the mud, and rice paddies, alongside black lives, don't you ever question my feelings about Black lives. Some of my best friends in Nam were black.

They were my true blood brothers.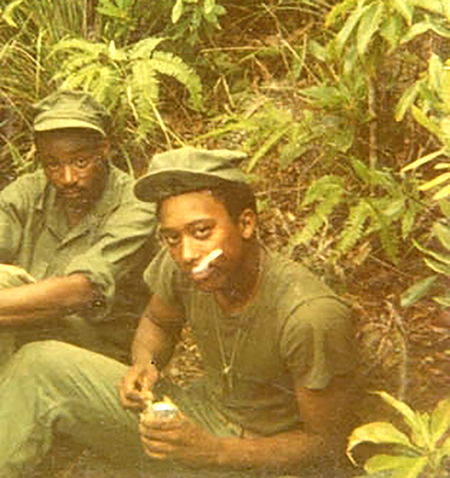 I took this photo over 50 years ago of my brothers eating C-rats (C-rations made in WWII) in the jungle. That's Cpl. Lee Carter from Atlanta GA on the right. We were best friends. Here we are together (below).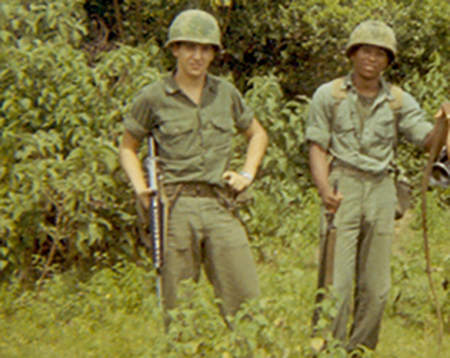 This is Lee and I standing next to each other with our M-16's after a very long and hot hump (patrol) in the bush. There were four of us who were really tight. Me, Lee, DC ( this white hippie from Washington DC), and Tony Beltran a 16 yr old Puerto Rican from NYC. Yes I said 16. He lied about his age to volunteer for the Marines. He was 16 in Vietnam. Yet we were all brothers.

I also played in my bands with black players. We toured, recorded, and we
played everywhere together. So yeah, I know all about Black Lives Matter.
I lived with them. I get it.

And I also believe that ALL LIVES MATTER. I've been hearing people say that ALL LIVES MATTER is a cop out. Really? All Lives Matter is a Cop Out? Tell that to the Hispanics, the Asians, the Arabs, the Jews, and the Native Americans. And I'll say this. BLUE LIVES MATTER.
Like this Blue Life.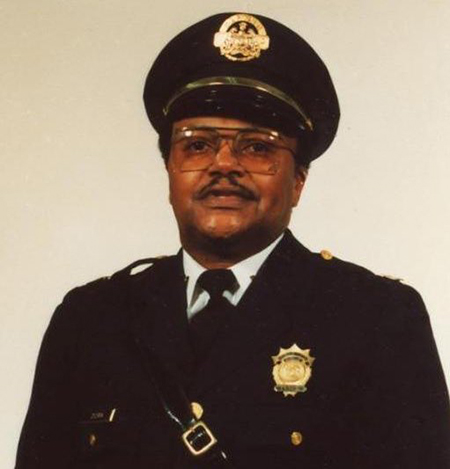 This is Captain David Dorn. He was killed by a Black Looter on June 2nd, 2020 on "Martin Luther King Blvd" in St Louis as he was trying to protect his friend's pawn shop. Talk about irony. Where was the 24-7 media coverage on his death? Where was the Reverend Al Sharpton? Where were the hundreds of white protesters? Is he not worthy of the coverage? Is it because he was a retired Police Captain?

Hypocrites! Every last one of them.

Peaceful organized protests? I'm all for it. All day long. That other shit? No.

Stop and think about how much damage, the looters and arsonists did, to the innocent blacks who lost jobs, and businesses during the whole George Floyd uprising. Make no mistake about it, the men responsible for the death of George Floyd should be prosecuted to the fullest extent of the law. But don't turn a blind eye to what's really happened here. Black lives were destroyed during the fires and looting. These latest protests are now on the war path against ALL THE POLICE. All because of a few bad apples. You can't paint all Law enforcement with that same brush stroke. People are talking about defunding the police all across the nation? That's completely insane!

Do you have any idea how many Black cops with families there are out there?

People are taking down statues. Canceling movies and TV shows. We're basically ignoring our own history, and the arts by this mass movement.

Look, I get the Confederate Flags. They should be in Museums. Period.

But to cancel GONE WITH THE WIND? This is crazy. Hundreds of thousands of white soldiers died in the Civil War to stop slavery. That's our history. You can't change history. Changing the names of Military bases? What? There are many Proud Black Veterans who are proud of serving at some of those bases. Has anyone bothered to talk to them to get their opinions? I truly believe that the Politically Correct Brigade have lost a few marbles as of late.

It's gotten so bad that I've actually stopped watching the news. I'm now one of those people. I can't stand to watch any of it anymore. And I was a news junkie. No more. It sickens me. All of it. CNN, FOX, CBS, NBC, and ABC.

I wrote this last week. But it's worth repeating again this week.

Stop The Hate- Black Lives Matter-Blue Lives Matter-White Lives Matter-Yellow Lives Matter- ALL LIVES MATTER! PLEASE STOP THE HATE!

"Social Distancing, Surfing, and Love Heals All Wounds."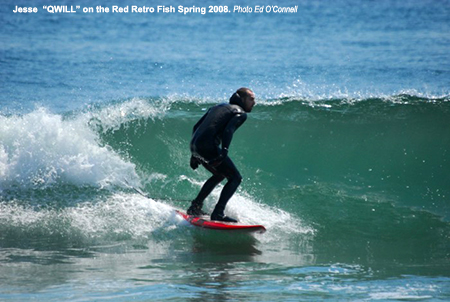 This week's Ed's corner is my nephew Jesse "QWILL". He's riding a thick Red Retro Fish. That is the board that I caught the longest ride ever in NH on. It's true. I have eye witnesses. That board can just magically float over flat sections. Anyway, I'm not sure if he still has that board or not. I know he loved it back then. People love the whole retro thing.

This photo was taken in the Spring of 2008 at the Wall.
Photo by Ed O'Connell
*Click the photo above to see a larger version of Ed's Pic.

Now for Some Local, National and International News
Today is FLAG DAY. It's the day when we're supposed to display our flags everywhere. I remember Flag Day being a big deal from my youth. I'm pretty sure it's not that big of a deal these days in school. But I could be wrong.

This day is also the day where Veterans all across the country take old battered, torn, frayed flags and respectfully burn them. Stop me if you heard this from me before, but when I first became commander and I was told that we would be burning thousands of flags on Flag day I thought they were all joking. They were not.

That's what we do every Flag day. We burn Flags.




This is photo was taken the last time I was commander in 2014 and ran this annual somber ceremony. The local Boy Scout Troop 177 helps us every year.

This just in. Who knew that 45's Birthday is June 14th? No wonder he hugs and kisses the flag at every opportunity. He's actually hugging and kissing himself.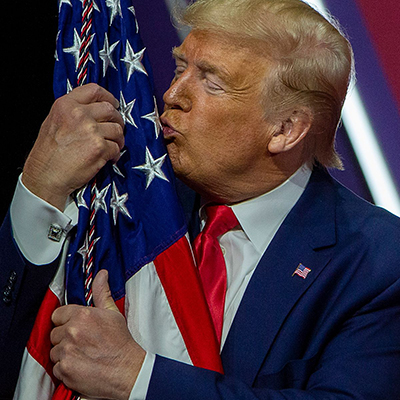 Seriously? Who does this? The same guy that posed with a Bible last week. The same guy who was a Reality TV Star. The same guy who thinks of nothing and nobody but himself. There has never been anyone like him to sit in that coveted office. Nobody. The BIGGEST NARCISSISS On the Planet. Cadet Bone Spurs.
Fake News? Nope. Fake President.

PLEASE HELP THESE GO FUND ME Posts (Below).
Click on the image below to MAKE A DONATION. Greg Smith was one of the BEST surfers to ever come out of NH. If you can afford it, please make a donation. Thank you.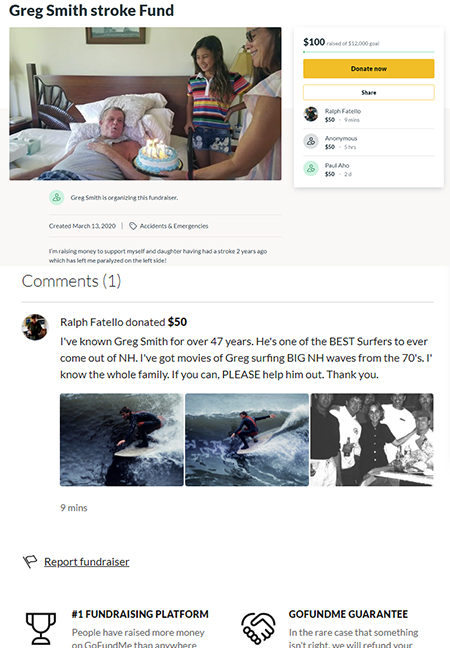 The ASA BREBNER GoFundMe page is also asking for Donations. If you donate $25 or more you get a CD of the artists who are recorded some of Asa's songs. Yeah, I'm one of them. If you can afford it, please donate to this fund raiser. Thank You.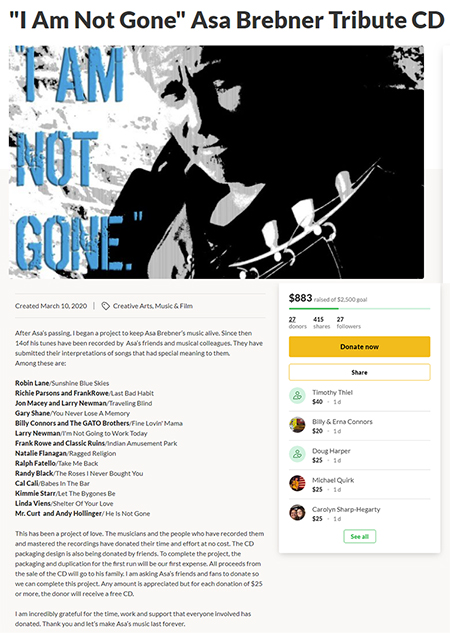 Click on the image above to make a Donation. Thank you.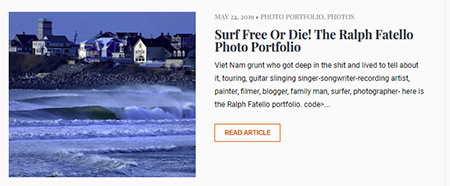 ESM (Eastern Surf Magazine) using a READY MAG format did the Best of Ralph's Pic. And while they couldn't possibly use everything thing I've ever done, they did manage to put up some 50 pics of mine, plus two videos. And I was truly humbled by their intro. Mez said some nice things about me. CLICK ON THE IMAGE ABOVE TO SEE THE WHOLE Spread.


GRANITE GIRLS and The RIVER WOMEN from Ralph's Pic Of The Week on Vimeo. NOW AVAILABLE on VIMEO ON DEMAND. You have spoken and I have listened. You don't have a DVD player so I made it available Online. Watch it on your Smart TV, your computer, or your cellphone! I can't make this any easier my friends. Unless of course I hand deliver to each and every
one of you.

KSM Photoshop of the Week
With the beaches open everywhere it was only a matter of time before the beaches at GITMO opened up too. Well, it turns out that this little cove near KSM's cell block opened up this past week, and apparently our boy Khaliddy had a few too many sandwiches and went back in the water, before he should have. He ended up getting some cramps and someone spotted him struggling and calling for help. Thankfully they got to him and they pulled him out of the water. They did however refuse to do mouth to mouth CPR. Hey unless you have acquired a taste for goat meat you wouldn't be putting your lips and mouth on KSM's.




And so my friends, please take advantage of this weekly photo shop of the mastermind who planned 9-11 and resulted in the deaths of 3,000 innocent civilians by KSM (Khalid Sheik Mohammed).

*Note to self -must pick up a case of HAWAIIAN TROPIC Tanning Oil at Home Depot this week.

REMEMBER Flag Day June 14th, 2020.
REST IN PEACE Jared Gillis 1990-2020.
HAPPY 70th BIRTHDAY Jeff Crawford June 15th, 2020!
HAPPY FATHER'S DAY June 21st, 2020!
PLEASE Keep Mrs Berardini (Tony's 99 yr old mom) in your thoughts and prayers. We'd all love to see her make it to her 100th Birthday in December. She's a fighter, but she could use some help. Your prayers can help. Thank you.
PLEASE Keep longtime NH Surfer Greg Smith in your Prayers.

Lenny Nichols & Colin Madden
Co-Directors, NNE District
Eastern Surfing Association
@esa.nne.surf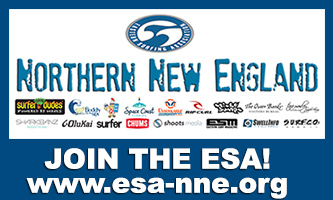 Please Support ALL The photographers who contribute to
Ralph's Pic Of The Week every week for the last 16 years.
** BUY a HIGH RES Photo from any of the weeks on RPOTW.

Remember my friends... Surfing Heals All Wounds.
Pray for Surf. Pray for Peace. Surf For Fun.

Ralph