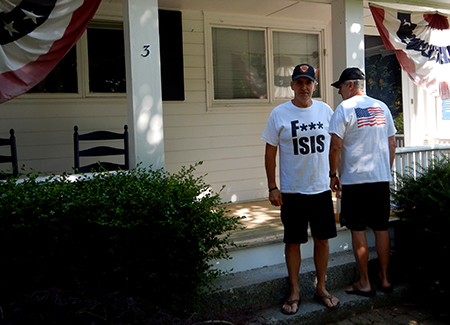 OK I wear this tee shirt once a year. Every July 4th. It's the ONLY tee shirt I have with an American Flag on it. Granted it's on the back of this very offensive front image. Offensive if you're in the F**king Taliban, Al Qeada, or ISIS! And if this shirt offends you? I don't give a f**k! (am I turning into a cranky old man who yells at kids to get off his lawn?) I actually did yell at someone recently about that very subject. Only it was a young adult who was literally parked on my lawn with his motor vehicle. Yes I was upset. Like I said, I'm turning into that crusty old guy who gets mad about everything. But come on! Parking on my lawn? I'm sorry but that's unacceptable. I don't care who you are or how well I know you. You want to park your vehicle on my lawn? You better ask permission. And I can pretty much tell you up front.

Permission will be denied.

So Cory and I spent our 4th of July on the beach. It was a relaxing day sitting in the sun and swimming in the warm water of the North Atlantic. Seriously, it was warm. There was no surf to be had. Though I did see a few knee high waves roll in. But nothing really surfable. I did shoot over a 100 pics of just empty glassy waves and other beach scenes. Oh and I did manage to shoot a few pics of Pev on his SUP. Pev is a "WAVE WALKER" who has a great longboard style that translates wonderfully onto the SUP.

Now I'm sure a few of my SUP friends just spit their coffee through their noses. "Say what? Ralph is actually taking pics of guys on SUP's?" Yes he was and has in the past. Pay attention haters. You'd be surprised at how many pics I've taken of those who stand upright on the large craft known as the SUP. And shooting Pev was both fun and enjoyable for both of us.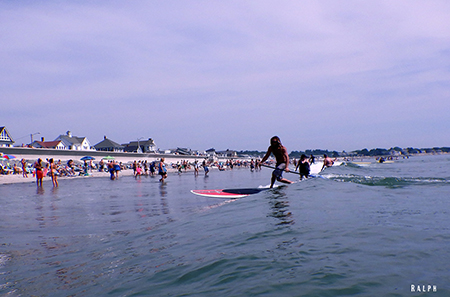 Like I said, he's a true WAVE WALKER. And he's got a very cool style
on the SUP. Would I ever ride a SUP? Probably not, but that doesn't mean I won't shoot people on them. "Whatever Floats Your Boat."

After spending a long day on the beach, we went home and got some Lobster Rolls and steak tips, and then we watched the Boston Pops on our large screen 65" 4K SONY TV and we enjoyed ourselves. Our dog is not happy about loud Fireworks and thunder. So we stayed in to keep an eye on him and quite frankly, we're over the Fireworks. Not saying we won't ever go see them, but with no young kids around, there's just no joy in getting stuck in traffic and being in crowds. We both shared our BEST ever fireworks night back in the 80's when we watched Arthur Fiedler's last ever Boston pops on the esplanade in Boston. We watched from a friend's apartment that faced the Charles River. We were head level with the Fireworks. And had a great view of Fiedler. We've not come close to anything quite like it ever since.

So our 4th of July's are spent indoors, in the comfort of our home.

Speaking of July 4th, our current POTUS should have stayed in with his family to watch the nation's festivities on TV. Instead, he put on a 4th of July Parade of pomp and circumstance and as usual gave a speech that was one for the record books. In his "Salute To The Military" he gave a speech about the Revolutionary War. Which as most of you know (I hope) was during the 1700's. The Birth of Our Nation was July 4th 1776 when we defeated the British. It was a big deal (as you can imagine).

Before I get to his latest snafu, I want to point out that I am completely aware that most presidents all have had speech writers. And they all have been reading from TelePrompTers since they were invented. I've never used one so I don't know the exact technology that goes with them. But I'm guessing they are pretty easy to use. Otherwise, why would they bother? But what I do know is the Revolutionary War was fought on the ground. Not in the air. And I am quite certain, in fact I am 100% clear, that there were NO AIRPORTS during the time we fought the British. And I'm pretty sure you agree with me.

But if you don't? You're an idiot. Plain and simple. You're stupid. A dumb ass.

Any way, you get where I'm going with this. So having said this, why did 45 decide to ad-lib the following statement? I want you to read this and try and imagine what he was thinking as he was babbling off this most ridiculous statement of all time. Read it. This is word for word exactly what he said.




Manned the air? Rammed the ramparts? Took over the airports?

He later said that there was rain on the teleprompter. OK I get that. But was there also rain on his freaking brain? Good lord 45! You couldn't ad lib over that simple hurdle? You had rain running down the teleprompter so you come up with this? The only thing missing was Superman showing up to help out George Washington and the Continental Army. Suffice it to say that the Memes were fast and furious. It was hard to keep up with the good ones.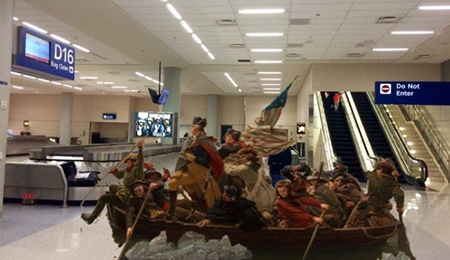 And once again, 45 opens mouth and inserts foot. And as always he brushes it off and his followers do the same. They blame the media and the liberals for getting down on him? Well, I am neither (though I suppose I'm some kind of media when it comes to writing this weekly blog) but I'm not a liberal. I'm a registered INDEPENDENT. And a former member of the military, and speaking of which, can I just say that I can pretty much guarantee that there was NOT a single member of the military who had to endure that heat and tropical rain on July 4th, and wanted to be there. None of them.

They all would rather to have the DAY OFF to spend time with their families and loved ones. Instead they had to put up with some North Korean like Military parade. It was a waste of time and more importantly MONEY!!! Maybe next year instead of putting on some fantasy parade for your oversized ego, why not spend that money on something more meaningful and helpful to the veterans? That would make them more happy and appreciative. Not some circus setting parade and having to listen to 45 stumble his way through another speech. Any way, I do hope you all had a nice 4th.

We lost a longtime local surfer last week. John Grady passed away from complications of dealing with cancer. We all hate cancer.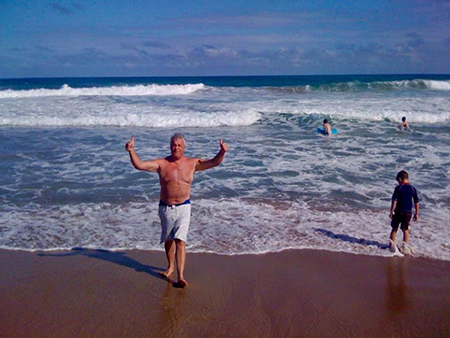 This is a photo of John at the beach. It was taken by John Carden.




This is a photo of John and his wife and a good friend.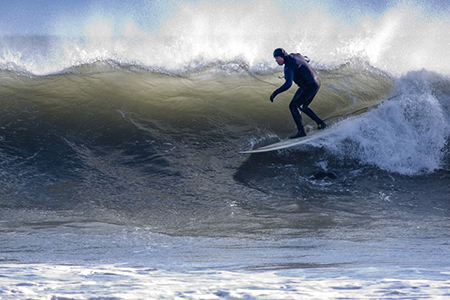 And this photo is of John surfing one of our local pointbreaks. It was taken by John Carden. I knew John for a very longtime. I could write something here about him, but I'm going to give up this space and allow another dear friend of ours to express his thoughts. Stan Chew is a good friend of mine, and a great friend of John Grady. They have a rich history together. These are Stan's words. I think he sums it all up quite nicely.

John Grady has passed away and his spirit is now into the ether.

My heart is so heavy with loss, but also filled with memories of a such a unique person, creative and most of all, dedicated to the values of being a free spirit. John and I go back to my earliest time here in NH, 44 years ago. He was supportive of my music career through various articles he wrote. His critique's were insightful and balanced...he knew his craft well. Our friendship came about through the relationship his wife Carole enjoyed with her close friend Sally. When we first met, I recognized that he was "that reporter/music critique guy" and in talking, recognized how much we had in common, especially our love of surfing.

Instantly, we became close friends and surfing buddies.

John was getting back into surfing and I was the instigator, pushing him into big winter conditions and the cold water here in NH. Sincerely, he was the most stoked person I have ever known, part trepidation, part "let's do this" all mixed with a deep, full body laugh ending with an "Awww Right!!!!". He lifted everybody's spirits both in and out of the water. John was a big guy, bigger than most who surf. When the surf got heavy I'd call him into set waves with a "Go Go Go!"...John calling back "I'm not gonna make it" mixed with his deep laugh. Most times, he made the wave and rode with surprising grace for a guy his size. No one could argue that in his day, John could surf!

In fact, one of the deepest tube rides I ever saw in NH was John, his XXL frame stuffed deep in the barrel at a secret spot wave only he and I surfed years back. Again - John Could Surf! John and I had the fortune of traveling to Puerto Rico together as well as Tortola. We also connected in Puerto Viejo to surf Salsa Brava. The stories from Puerto Rico and Tortola are extremely funny and too long for this post...but I cherish the memories of this time with John. Surfing aside, what stood out about John was his positive energy, love for all people and progressive, alternate outlook on almost all things. He didn't just think that way, he lived the virtues of an alternative life, being a true free spirit and a creative force.

He was observant and a powerful writer and poet.

John PUT HIMSELF OUT THERE, no holds barred, take him for who he was even if it seemed quirky or outlandish. John was also kind, a big, sweet super intelligent guy filled with love. I believe that in mourning, there are lessons left by the departed as gifts to the living. Those lessons ease some of the pain of loss as the departed live on through their lessons. John's lesson to us all is simple, yet elusive to capture and abide by. We are all bestowed with unique characteristics and elements that define us, so be true to those attributes. Anchor yourself to yourself! Don't get distracted by money, popularity or material things which pull you off your course.

To me, this defines my dear friend John. His lesson to us takes insight, courage, conviction and most of all, a sense of purpose in your life. Thank you brother John, you lived your life unwavering on your own terms.

My respect and love for you will always live on, I'll always think of you when the surf gets big and your laugh will always be in the wind.

Speaking with Stan Chew we are going to plan a SURFER'S PADDLE for John. He's earned that right and we (local surfers) are going to get him one. So stay tuned to this Blog and we will let you know where and when. In the meantime our most sincere condolences go out to John's family and friends.

As I mentioned earlier we lost two surfers this past two weeks.

There will be a paddle for Tim Sheridan on July 14th, 2019. That's one week from today. If you've never been to a surfer's paddle you should come and check it out. It's one of the nicest celebrations of life on the planet. Surfers are special people, so when we lose a member of the tribe we get together and do it up right. Tim's paddle will be followed by John's paddle at a later date.




Keep paddling Tim...Keep paddling.

It's that time of year again when we have to start thinking about our annual HIT THE BEACH. This is our 12th year and we are looking forward to this day.
So mark your calendars. There will be more on this as the summer winds down. HIT THE BEACH XII on August 30th, 2019.





"Surfing, Community, and Love Heals All Wounds."


This is Markey J's girlfriend Melissa. I was happy to stumble across this image and find this pic of her. It's too bad I didn't find it last year when I was making Granite Girls. I would have added it to the movie. Markey called the other day complaining that he didn't know about a few passings here on the seacoast. When I told him it was on the Blog he said "I never read the Blog." Now why ya gotta be so hurtful Markey?" Someone better tell him about this pic, cause I'm not gonna tell him. If you want to know what's going on here in our small little section of planet earth, READ The BLOG! Nice pic Melissa. Photo by Ed O'Connell
*Click the photo above to see a larger version of Ed's Pic.

Now for Some Local, National and International News
Tedy Bruschi suffered a stroke last week. This is his second Stroke in a few years. I guess I had forgotten that he had a previous stroke. I really hope he makes it. Tedy is such a huge part of the New England Patriots and the millions of fans who follow them. Send your prayers and positive thoughts to Tedy
and his family.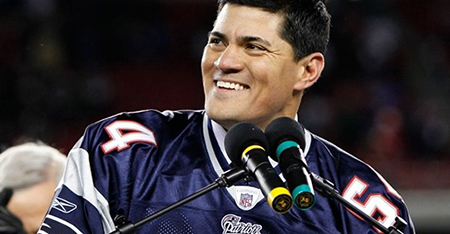 Three time Super Bowl Champion. GET WELL Tedy Bruschi.

On a more lighter note. It wouldn't be summer without Jimmy Dunn and his annual HAMPTON BEACH COMEDY FESTIVAL!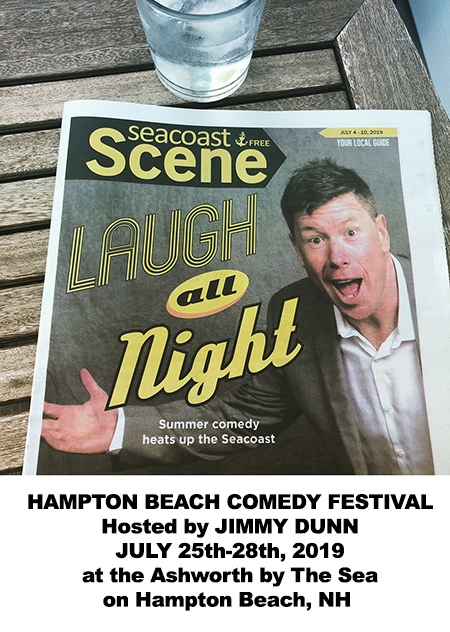 These are some of the BEST times of the summer here in Hampton. I go every year and laugh my ass off. Get your tix soon, they will be going fast!




I don't know about you guys but I am so over Colin Kapernick.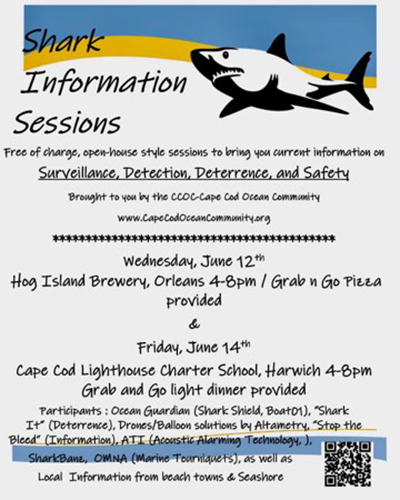 This is no joke. Something MUST Be Done about the Seal Population on the Cape. It's time to cull the Seals.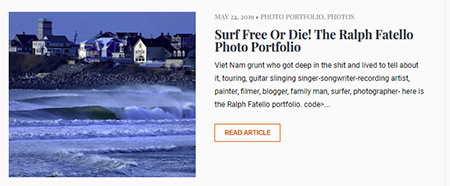 ESM (Eastern Surf Magazine) using a READY MAG format did the Best of Ralph's Pic. And while they couldn't possibly use everything thing I've ever done, they did manage to put up some 50 pics of mine, plus two videos. And I was truly humbled by their intro. Mez said some nice things about me.

The videos are down in the video section. If you haven't seen them you really should. One is called THIS HAPPENED it's a short 4 minute edit of the Best Of the Best from the last 5 years. I used my nephew QWILL's music as a soundtrack. And the other video is the GRANITE GIRL'S Trailer. And once again, I used QWILL's soundtrack in that trailer.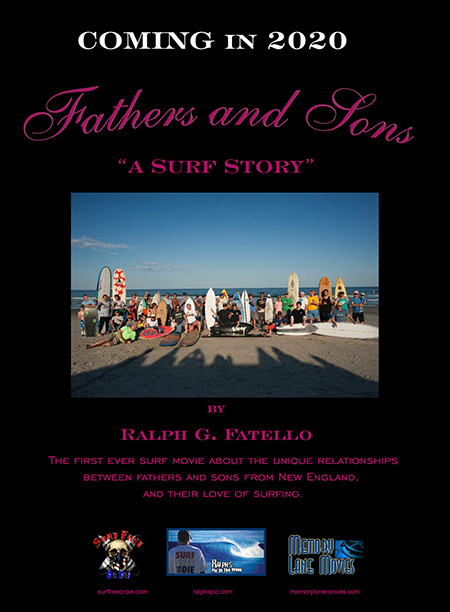 So while I was making the GRANITE GIRLS video I came up with this project and concept. It's never been done before. As hard as that seems to be. I'm onto yet another groundbreaking Surf Movie concept. This will be an overview of Surfer dads and their sons. It's a work in progress and I'm hoping to get as many dads and their sons as possible in this movie.




SOLD OUT SHOW! NO MORE TIX! SOLD OUT!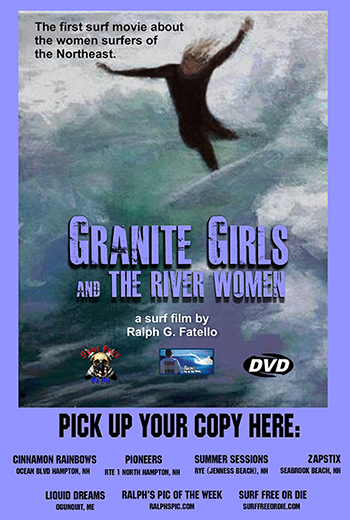 The DVD's are available at all the local surf shops. Or by
sending me an email. ralph@adlantic.com or send a check for $20.00 made out to ADLANTIC and send it here:

ADLANTIC
c/o OC Studio Suites
703 Ocean Blvd Suite C-4
Hampton, NH 03842

Or RENT or BUY it Online. You have spoken and I have listened. You don't have a DVD player so I made it available Online. Watch it on your Smart TV, your computer, or your cellphone! I can't make this any easier my friends.


GRANITE GIRLS and The RIVER WOMEN from Ralph's Pic Of The Week on Vimeo. NOW AVAILABLE on VIMEO ON DEMAND.

KSM Photoshop of the Week
How did we miss KSM in this famous photo of 45 crossing over the DMZ into North Korea last week? Who remembers this? I mean look at him scurrying around to get the best angle and shot of this historic happening. Say what you want about Khaliddy, but he's always going for it. No matter what situation he's in every week, he's making the best of it. Too bad it's all just made up photoshop bullshit.




And so my friends, please take advantage of this weekly photo shop of the mastermind who planned 9-11 and resulted in the deaths of 3,000 innocent civilians by KSM (Khalid Sheik Mohammed).

*Note to self -must pick up a case of camera cards at
Home Depot this week.

HAPPY BIRTHDAY John Rastl July 12th, 2019!
HAPPY BIRTHDAY America July 4th, 2019!
GET WELL SOON Kim Grondin!

RIP Warren White USMC WWII
RIP John Grady NH surfer
RIP to the Seven Marines who died in that tragic Motorcycle accident. SEMPER FI

FYI Lenny Nichols is looking for someone or someones to take over the ESA-NNE District. Please contact Lenny Nichols by calling his cell (603) 944-2418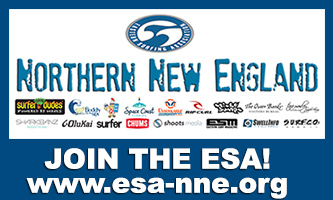 Please Support ALL The photographers who contribute to
Ralph's Pic Of The Week every week for the last 13 years.
** BUY a HIGH RES Photo from any of the weeks on RPOTW.

Remember my friends... Surfing Heals All Wounds.
Pray for Surf. Pray for Peace. Surf For Fun.

Ralph