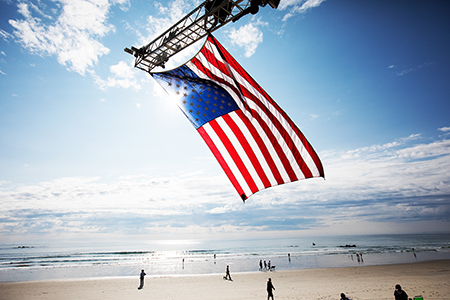 We knew this was coming. And yet it still hit with a numbing sting.

From the Offices of NH Parks and Recreation: Via Governor Sununu.

"As you know, NH State Parks has been monitoring the COVID-19 pandemic and the Stay-at-Home order that Governor Sununu put in place. Now that the Governor has lifted the Stay-at-Home order, we are opening parks up as we can, however they are at a reduced capacity.
As mentioned in our last email on June 8, 2020, the pandemic has resulted in our parks and campgrounds having a significant delay in opening this season. We are several months behind on hiring staff and we need to ensure that we have personal protective gear, cleaning supplies, and new processes in place to protect our visitors and staff.

We are working diligently to be able to open our parks, but first and foremost we must ensure the safety of our staff and visitors.
As a result, NH State Parks has made the difficult decision to NOT permit
ANY events, including special use permits, for the months of July and August. This decision has been a very difficult decision to make and we recognize that events such as yours are important and that they offer recreational opportunities to participants as well as fund-raisers for meaningful causes while showcasing our beautiful parks.

However, the safety of our staff and general park visitors must remain our number one priority. We recognize that the uncertainty of the Special Use Permit program has delayed your planning and we appreciate your patience and understanding during this unprecedented time.
If your event is scheduled for September 1 and beyond, we will reassess the situation towards the end of July to determine if, at that time, we are able to reopen the Special Use Permit program and allow events after the Labor Day holiday. If your event requires that the State determine now if the Special Use Permit program will reopen after Labor Day, at this time the answer will be NO."

So what does this all mean? It means exactly what you just read.

NO WOUNDED WARRIORS HIT THE BEACH. NO SURFING WITH SMILES. For the months of July and August in 2020. And as of right now the same goes for September. This is a bitter pill to swallow. I'm pretty sure that if it were left up to the Wounded Veterans at our HIT THE BEACH Day, and the kids at all the SURFING WITH SMILES they would say to RUN IT!. But it's not their call. It's in the hands of our government.

We (POST 35) need a special permit to run the HIT THE BEACH event every year. And I'm assuming the same is true for SWS. There's insurance and liability involved.

And both of these events are a "hands on" activity. There's no way to even practice Social Distancing. Masks and gloves will not suffice. It's all or nothing at these events. We've been running the HIT THE BEACH for 13 years. And SURFING WITH SMILES has been here for 11 years. The kids, the veterans, and the volunteers will (are) heartbroken over this. But it's all par for the course that is 2020. The Year of COVID-19. It all sucks.

The photo above and the two photos below are from previous years. They were taken by Brian Nevins. And they speak for themselves. Look at the faces of the veterans and the volunteers. It's one of those events that will be missed. I hope and pray that 2021 is better than 2020.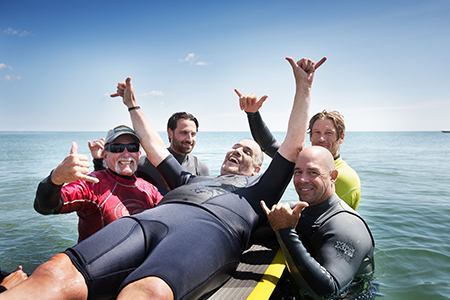 Hard to believe we've been doing this for 13 years. It's a shame that it
won't be here this summer. So many of us look forward to this amazing day.




This pic above is from our first year. Wounded Iraq Veteran Mark Mix
riding a wave the summer of 2008. I remember this day like it was yesterday.




Angel and Staff Sgt Thomas Green two wounded ARMY vets who served in IRAQ. It was their first time surfing.




SSGT Thomas Greene "SURFING HEALS ALL WOUNDS."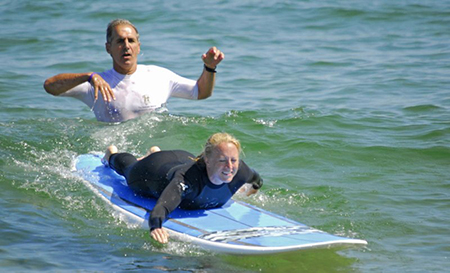 Me pushing Nicolette Maroulis into a wave. August 2008.

She was a Dog handler in Iraq when she was wounded. Her dog was killed in the IED blast that wounded her in the legs. The doctors told her she would never walk again.




I guess she needed a second opinion. Not only does she walk today,
but she also surfs. We all chipped in and got her a surfboard that we all signed for her. One of these days she is going to come back and surf
with her whole family.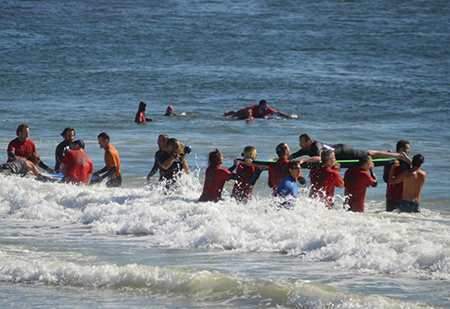 This pic is from last year. The Volunteers are the BEST people I know.
I know that so many volunteers have told me that the HIT THE BEACH Day is their favorite day of the year. Think about that for a minute or two. The BEST day of the year.




The simple joy of riding a wave. They will all have to wait until next summer.




This photo is a framed reminder of these days and it hangs in my office.
It is me and my friend (brother) and fellow Vietnam Veteran Jerry. This photo was taken after many failed attempts to catch and ride a wave. At the end of the day Jerry wanted one more try and whenever he got to his feet and rode that wave to the beach, there was not a dry eye in the group. It was one of those special moments in Life that you never forget.

Jerry and I will never forget this moment for as long as we both I shall live.

Be patient my friends. This is not the end of the line. We will all see you again, and we will all spend a great day at the beach, with your friends and family. You have my word. We will be back. Until We Meet Again-STAY STRONG!.




I'm really going to miss this event too. SURFING WITH SMILES. This is Gracie. She's one of the participants that I look forward to seeing every year. She typically works with Tony Berardini's team. They have been friends for years. I know I speak on behalf of the whole SURFING WITH SMILES when I say there's going to be an empty void in all of our hearts this summer not seeing these kids. This photo was taken by Martha Lardent




11 years is a long time and not having this event this summer is really going to hurt. I hope the kids understand what is going on in the world, and how it's out of our hands.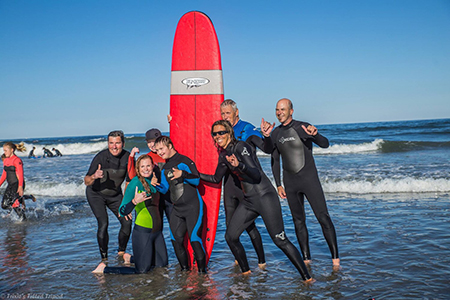 I am only posting these pics as a reminder of years past. Such wonderful
memories for the kids and the volunteers.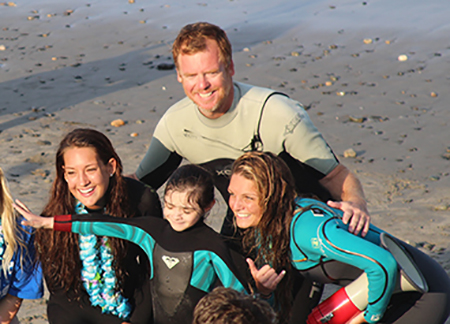 The heart and soul of SURFING WITH SMILES.

And speaking of surfing with smiles. I had the pleasure of once again being able to surf with some very close friends, and my son Max on July 2nd, 2020. The LITTLE ROUND TOP SWELL (157 years ago was the Battle of Little Round Top at Gettysburg). Yes I gave a short history lesson to the lineup.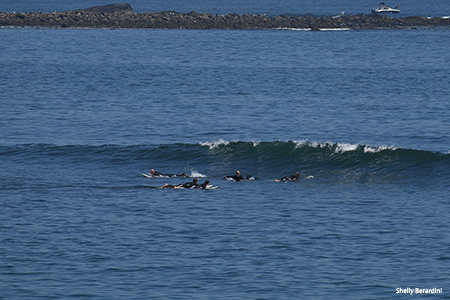 Anyway, it was great. Me, Tony, Markey J, Mike Rosa, BMO, and Max.



photos by Shelly Berardini
"Surfing and Love Heals All Wounds."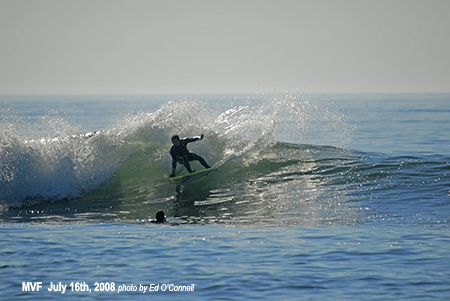 This week's Ed's corner is my son Max doing a nice cutback, and in the water shooting video is yours truly. I remember how warm the water was this day. So incredibly warm. I have a nice photo framed from this session that Ed took of max getting barreled. I remember this day Ed. How could I forget? I remember them all.
Photo by Ed O'Connell
*Click the photo above to see a larger version of Ed's Pic.

Now for Some Local, National and International News
What's the saying? "You can judge the character of a person by the company he keeps." Well, I'd be pretty embarrassed if I were 45. But then again knowing him, he could care less what anyone thinks. I'm posting this pic because the woman on the arm of Jeffrey Epstein is Ghislaine Maxwell who was arrested by the FBI for helping that sick f**k get underage girls into his web. Knowing what you know, how does this make you feel?




There's a special place in hell for child abusers. And the two on the right have front row seats down in Satan's workshop.

This year has been one lopsided upside down, topsy turvy, roller-coaster ride, that never seems to let up. Case in point.
Brady and Gronk are now playing for the Tamp Bay Buccaneers.




And...Cam Newton (below) is playing for New England?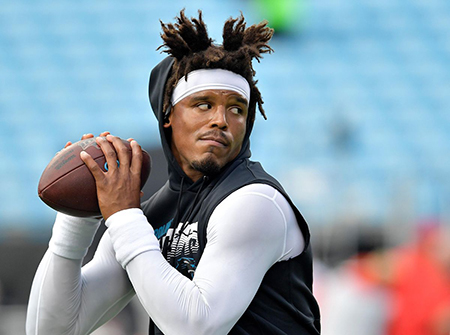 I don't know about you, but I did not see any of this coming. I know a lot of my friends and family are excited about both scenarios. I'm still on the proverbial fence. I'll watch Tampa Bay games (how could I not?) and I'll clearly be watching the Patriots regardless of who the QB is. I just hope that if Cam Newton fumbles the ball he knows enough NOW to jump on the sucker! Cam?

You hearing this? We are a fickle bunch of fans and we will turn on you like a cornered viper. Don't mess with us. Come to play football not to play with our patience.

And speaking of Football.

The latest "Politically Correct White Crusader" is trying to change the mascot of the Winnacunnet Warriors here in Hampton. Corina Chao has taken up the baton to save the plight of the local Native American Indians by having this longstanding mascot removed.

In the name of God and COMMON FREAKING SENSE can you just get a grip of yourselves? I guess she has over a 1,000 signatures in a petition that she and her alumni classmate from 2014, Mary Casey have put together. I'm going to take a wild guess and say that the COMMON SENSE CITIZENS of WINNACUNNET could easily quadruple those signatures to LEAVE THIS SACRED MASCOT ALONE!




DON'T MESS WITH TRADITION!

The athletes and coaches who have played sports in this school have nothing but the HIGHEST Respect for the Abenaki and Pennacook tribes and the name Winnacunnet which means "The Beautiful Place Of Pines" NOTHING BUT RESPECT and HONOR. And as a MARINE WARRIOR I can tell you first hand, that to be called a Warrior is to be held in the highest esteem of all titles. WARRIOR PRIDE is something to be proud of.

NOBODY is looking at this as a racist sign.

I read that this all came about because of the recent Black Lives Matter Movement (well there's a big surprise). The getting rid of Confederate flags, statues, and other Confederate memorials. And you need to do your part up here in racist Hampton?

"Crusader Corina Chao" this is NOT the same. Not even close.

The warrior symbols are an image of honor and respect. The Washington Red Skins? Yes, that's offensive. The Winnacunnet Warriors? One hundred thousand percent RESPECTFUL.
Might I suggest you take your Crusader costume and try and change something else. Head down to Washington DC and get rid of the REDSKINS! But PLEASE LEAVE OUR PROUD WINNACUNNET WARRIORS alone!

My Grand nephew Eli turned 4 on the 4th of July!




PLEASE HELP THESE GO FUND ME Post (Below).
Click on the image below to MAKE A DONATION. Greg Smith was one of the BEST surfers to ever come out of NH. If you can afford it, please make a donation. Thank you.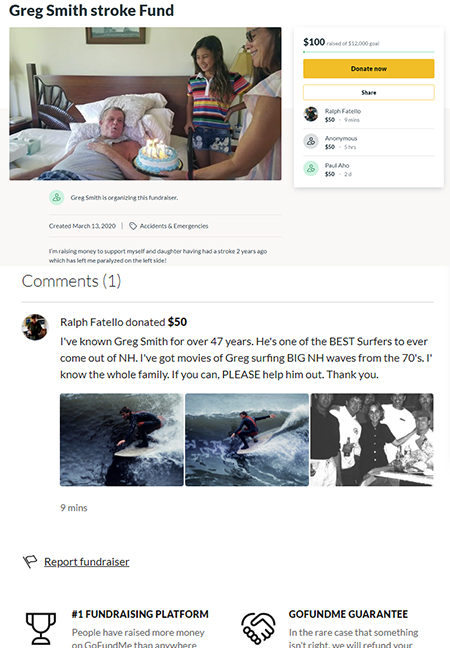 The ANNUAL RALPH'S PIC SURF ART BLOG is coming at the end of next month. Please help spread the word to all your surf artist friends. I can't wait to see what you all created over the last year. Read the poster for detailed instructions. CREATE ART!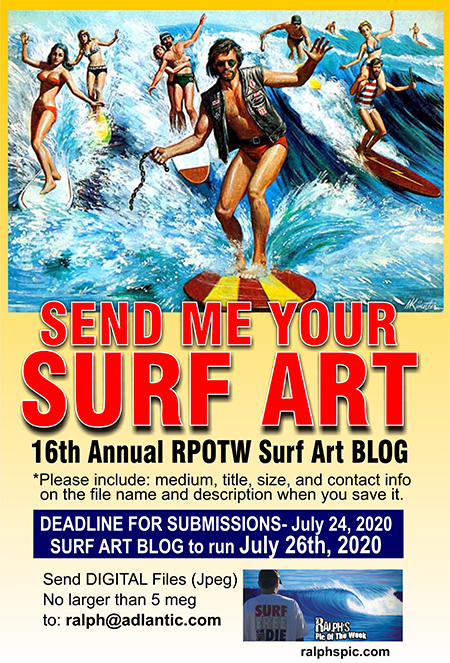 Click on the image above to see a larger version.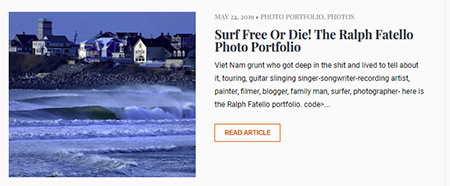 ESM (Eastern Surf Magazine) using a READY MAG format did the Best of Ralph's Pic. And while they couldn't possibly use everything thing I've ever done, they did manage to put up some 50 pics of mine, plus two videos. And I was truly humbled by their intro. Mez said some nice things about me. CLICK ON THE IMAGE ABOVE TO SEE THE WHOLE Spread.


GRANITE GIRLS and The RIVER WOMEN from Ralph's Pic Of The Week on Vimeo. NOW AVAILABLE on VIMEO ON DEMAND. You have spoken and I have listened. You don't have a DVD player so I made it available Online. Watch it on your Smart TV, your computer, or your cellphone! I can't make this any easier my friends. Unless of course I hand deliver to each and every
one of you.

KSM Photoshop of the Week
Here's a PSA (Public Service Announcement) from our boy KSM.
I guess there's a NEW virus that is being spread through Mosquitoes called the Jamestown Canyon Virus (JCV). And Khaliddy wants to remind you all to use bug spray. Spray the snot out of yourselves with DEET.




And so my friends, please take advantage of this weekly photo shop of the mastermind who planned 9-11 and resulted in the deaths of 3,000 innocent civilians by KSM (Khalid Sheik Mohammed).

*Note to self -must pick up a case of HEAVY DUTY DEET SPRAY at Home Depot this week.

REST IN PEACE Arnie "Woo Woo" Ginsberg 1927-2020.
HAPPY 71st BIRTHDAY to Jerry Law June 13th, 2020!
HAPPY BIRTHDAY Kevin "Doc' Grondin June 23rd, 2020!
HAPPY BIRTHDAY Cory Fatello June 30th, 2020!
HAPPY BIRTHDAY Dave "Crop" Cropper June 30th, 2020!
HAPPT BIRTHDAY Kyle Linseman June 30th, 2020!
HAPPY BIRTHDAY Mike Sidebottom June 30th, 2020!
HAPPY BIRTHDAY Mike Tyson June 30th, 2020!
HAPPY BIRTHDAY Todd Davidson July 4th, 2020!
HAPPY BIRTHDAY Eli Ciarmataro July 4th, 2020!
PLEASE Keep Mrs Berardini (Tony's 99 yr old mom) in your thoughts and prayers. We'd all love to see her make it to her 100th Birthday in December. She's a fighter, but she could use some help. Your prayers can help. Thank you.
PLEASE Keep longtime NH Surfer Greg Smith in your Prayers.

Lenny Nichols & Colin Madden
Co-Directors, NNE District
Eastern Surfing Association
@esa.nne.surf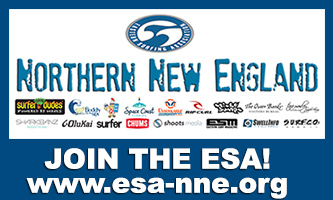 Please Support ALL The photographers who contribute to
Ralph's Pic Of The Week every week for the last 16 years.
** BUY a HIGH RES Photo from any of the weeks on RPOTW.

Remember my friends... Surfing Heals All Wounds.
Pray for Surf. Pray for Peace. Surf For Fun.

Ralph