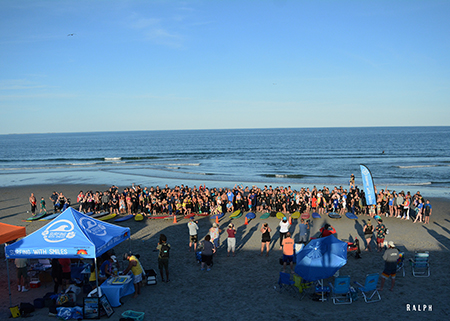 SURFING WITH SMILES. June 30th, 2022 North Beach (THE WALL).
Living here on the seacoast, and being a lifelong surfer who loves the beach, and the whole seacoast community, I look forward to each summer. And there are two events that really speak of the summer here in NH. SURFING WITH SMILES and HIT THE BEACH (Benefiting the Wounded Warrior Project). The latter comes at the end of the summer, while SWS hits in June, July, and August. Both of these events have much to do with Surfing.

But because the HIT THE BEACH event comes at the end of the summer, I want to write specifically about Surfing With Smiles. For the record, Surfing With Smiles is a non-profit organization that was started by two friends Lindsey and Taylor. Now in their 12th year, the SWS event is one of the most incredibly uplifting experiences for both the participants and the volunteers. And for the passer byes who just so happen to be out for a walk on a hot summer evening.

The SURFING WITH SMILES events are held at Hampton's North Beach (12th Street)and is offered to children and young adults with special needs. And the best thing about SWS? It is completely FREE of Charge. With CINNAMON RAINBOWS (headed up by Dave Cropper) being the main sponsor who provide the surfboards and wetsuits to all the participants. While hundreds of adults and teens volunteer their time and expertise. Most of the volunteers are surfers. In other words, men and women who know and understand the ocean, and more importantly, the waves. Kevin Grondin is one of the SWS leaders. And nobody knows more about Surfing than Kevin. His reputation speaks for itself. Tony Berardini is another SWS leader. Between the two of them and their Team Captains these special events are run as smooth as possible.

There's an old saying "ONLY A SURFER KNOWS THE FEELING."

Lord knows I've spouted off and on over the last 18 years on this Blog about that special feeling that only surfers can relate to. And if you've ever tried surfing, you know exactly what I'm talking about. There's nothing quite like riding a wave. Ask any surfer. They'll tell you how true that is. Now imagine being a child or a young adult with special needs trying surfing for the first time. It's exactly the same feeling. The same feeling that those of us who surf on a regular basis get, these kids and young adults are now experiencing that same special feeling. Look, all you have to do is look at the pictures.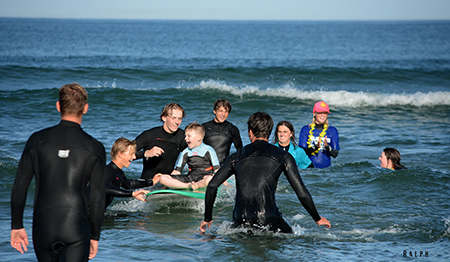 The volunteers and the participants are expressing joy and happiness.

There's a reason why it's called SMILING WITH SMILES. Everyone is smiling. The participants, the volunteers, the tourists who just so happened to be out for a beach walk. The police, the Lifeguards, even the photographers. When I first started shooting these annual summer events, I think I was the only photographer on the beach. And as the program grew, so did the media attention and the influx of other photographers. These days it has become such a big and wonderful event that people want to be part of it. They want to document what they see and share it with the world.

I was saying to Max Sullivan (Reporter for the Hampton Union) the other night, how there's so much negative news in our faces on a daily basis, that events like this seem to fly under the radar. He agreed with me. There's nothing but positive energy happening at these SWS nights.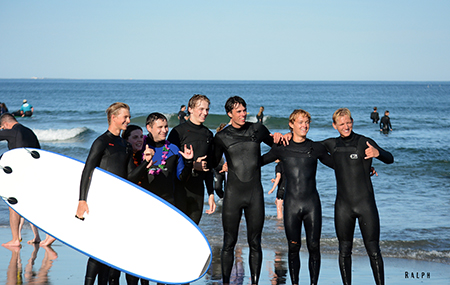 One of the things that I must speak up about is the young teens/adults who volunteer their time. I know some of their parents personally and I just want to say, that you've done a great job raising your kids. You should feel so proud of them. The mere fact, that they would come down to the beach at night, and volunteer their time to put a smile on these kids faces, speak volumes of what kind of a family background they have come from. You've done well by raising such good kids. I'm proud of them and I'm proud of you parents too.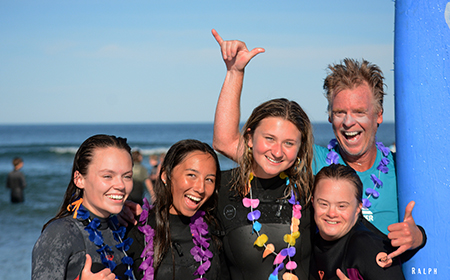 If this photo doesn't tell the story of SWS then none of them will. That right there, is a sea of love. A SEA OF LOVE. *FYI if the first night of SWS wasn't already enough of a reason to smile and celebrate, it was also Dave Cropper's Birthday. Yes the whole beach sang HAPPY BIRTHDAY to him at the end of the night. Look at those smiles!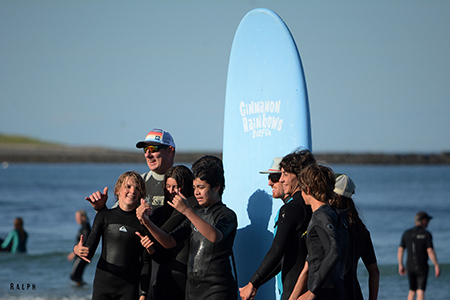 The volunteers and the participants sharing the LOVE OF SURFING.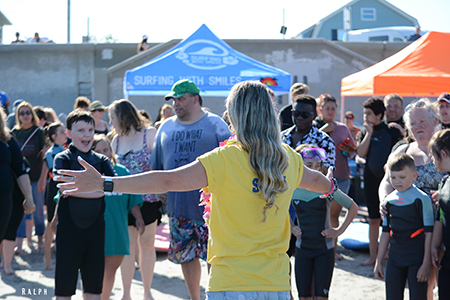 This is Lindsey welcoming the 2022 participants to the first of three events.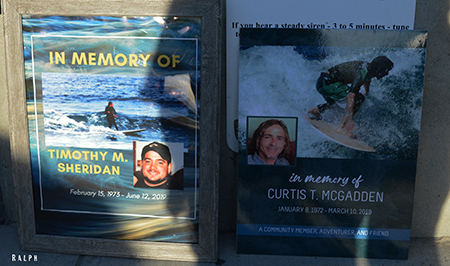 These two departed souls were a big part of SURFING WITH SMILES.
I knew Curtis McGadden well enough to know, that he was a gentle soul who loved surfing and life. He is missed every single day by those who knew and loved him. And Timmy Sheridan was another wonderful person. Timmy left us way too soon. Through their passings, I got to know the parents and family of of both Timmy and Curtis. Lovely, caring people, who continue to give back to SWS. On June 12th, 2022 the anniversary of Timmy's passing his family presented SURFING WITH SMILES a check for $12,000 to the organization in memory of Timmy. Just an incredible outpouring of love and support.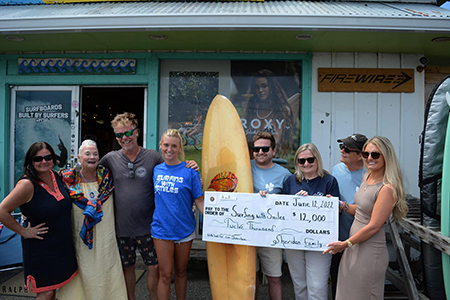 Both Timmy and Curtis will NEVER BE FORGOTTEN.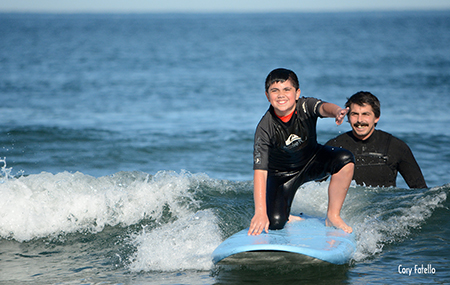 With scenes like this? How can we ever forget those who went before us.
Each time a child with special needs catches a wave, each time a young adult feels that incredible rush of adrenaline from riding a wave, we will remember Timmy and Curtis.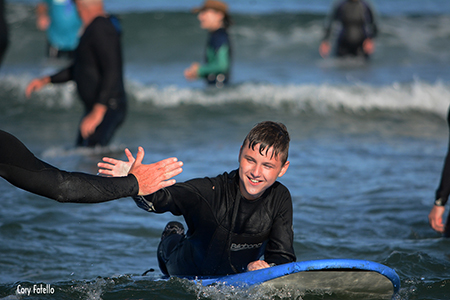 This is what SURFING WITH SMILES is all about.
*Be sure and check out the SWS galleries down in the photo section.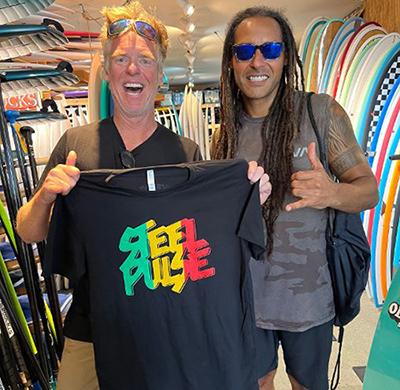 Later that night, Dave went and saw Dave of STEEL PULSE!
It was a great day all around.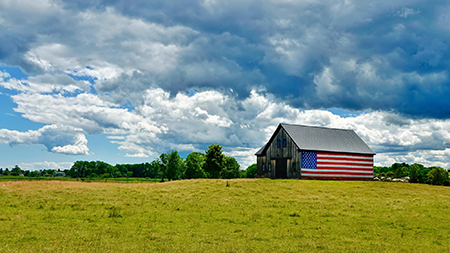 Have a SAFE AND HAPPY FOURTH OF JULY.
Photo by Martha lardent.
"SURFING WITH SMILES HEALS ALL WOUNDS."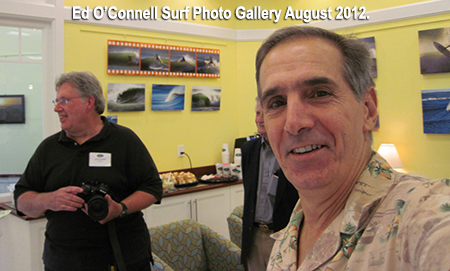 This is a pic of Ed and myself from August of 2012. This last July 1st, 2022 was the 8th anniversary of Ed's passing. This pic is from the exhibit that Ed put together of all the surf photographers in the NH seacoast. That was a great night. Those are all Ed's pics on the wall. Photo by RALPH
*Click the photo above to see a larger version of Ed's Pic.

NOW FOR SOME LOCAL AND NATIONAL NEWS
The 28th of June was the 17th anniversary of OPERATION RED WINGS. Local Exeter NAVY SEAL Dan Healy was one of those lost in that mission. The movie LONE SURVIVOR was based on this mission. NEVER FORGET.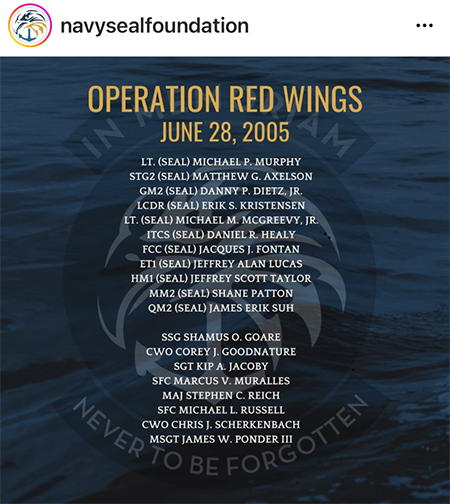 Thank you to all who went to the LANE MEMORIAL LIBRARY
on 2 Academy Ave in Hampton, NH to see my Photo, Art,
and Graphic Design work.

I called it THE ART OF SURFING exhibit. It was on display during the month of June. I appreciate those of you who took the time to see it. I really do. And I realize that you can never get back the 15 minutes it would have taken you to see the whole exhibit. So for that alone, I am forever grateful that you went.

159 Years ago on JULY 2nd, 1863.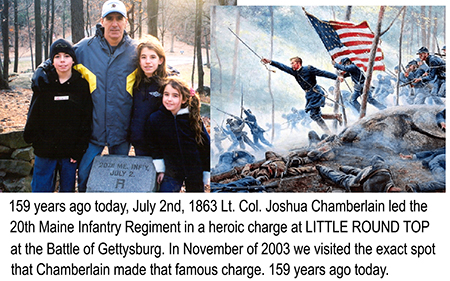 The annual JIMMY DUNN HBCF. Click on the ad to purchase tickets. Act now. Tickets will be going fast.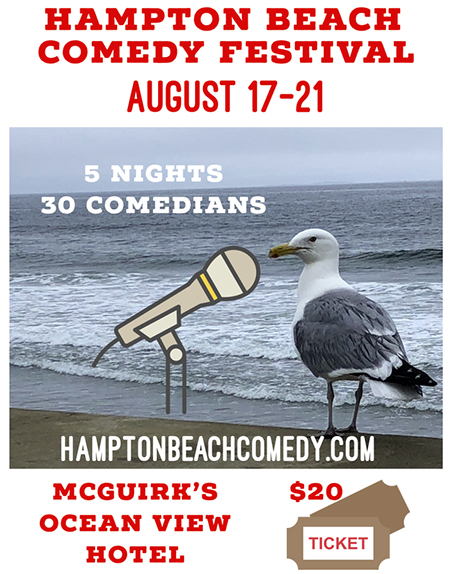 The 14th Annual HIT THE BEACH EVENT is on schedule this year for Friday August 26th, 2022. So mark your calendars.
CLICK ON THE IMAGE BELOW TO SEE A LARGER VERSION.


Dan Lanio Memorial Scholarship Fund
IN LOVING MEMORY OF EVAN AUSTIN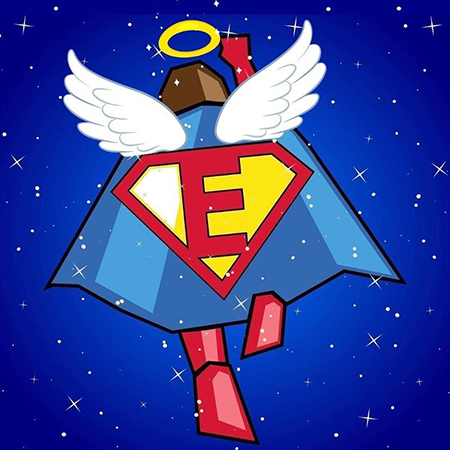 DIPG THE CURE STARTS NOW
To learn more about Evan and his journey visit https://thecurestartsnow.org/sup.../view-heroes/evan-austin/
KSM Photoshop of the Week
This is R KELLY after his 30 year sentencing was announced. Some of you remember his hit song "I BELIEVE I CAN FLY." Turns out KSM remembered it, and added a new chorus that might be more popular in prison. I don't believe Khaliddy was a big fan of R Kelly. Oh well.
Ya can't please them all.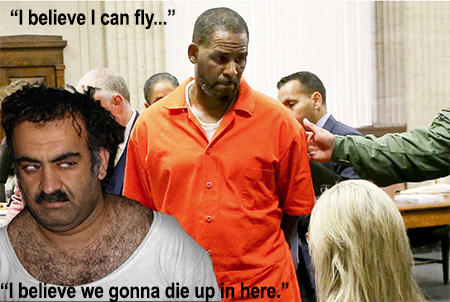 And so my friends,
please take advantage of this weekly photo shop of the mastermind who planned 9-11 and resulted in the deaths of 3,000 innocent civilians by KSM (Khalid Sheik Mohammed).
*Note to self -must pick up a case of Orange jump suits at
Home Depot This Week.

HAPPY BIRTHDAY Cory Fatello June 30th, 2022!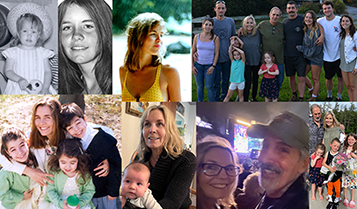 My wife Cory does so much for me and this weekly Blog that I have to give her a special shout Out! Happy Birthday Baby!


GREAT NEWS local surfer Mike Keefe actually got to surf this week. He told me he was out in the water for 3 hours! He's still going to need our thoughts and prayers in the next few months
when he starts treatments. So hang in there Mike!
More GREAT NEWS local Surfer/Musician Pete Kowalski also got to surf last week. And again, Pete is not out of the woods just yet, but these are all encouraging signs. What's my mantra boys? SURFING HEALS ALL WOUNDS!
Please Keep local surfer Bill M. in your thoughts and prayers.
HAPPY BIRTHDAY Mike Stanek June 27th, 2022!
HAPPY BIRTHDAY Dave "CROP" Cropper June 30th, 2022!
HAPPY BIRTHDAY Kyle Linseman June 30th, 2022!
HAPPY BIRTHDAY Mike Sidebottom June 30th, 2022!
HAPPY BIRTHDAY Mike Tyson June 30th, 2022!
HAPPY BIRTHDAY AMERICA July 4th, 2022!
HAPPY BIRTHDAY John Rastl July 12th, 2022!
PLEASE keep Kim Grondin in your thoughts and prayers this week. She's doing fine, but she could use a few extra prayers.

Please Support ALL The photographers who contribute to
Ralph's Pic Of The Week every
week for the last
18
years.
** BUY
a
HIGH RES Photo from any of the weeks on RPOTW.

Remember my friends... Surfing Heals All Wounds
.

Pray for Surf. Pray for Peace. Surf For Fun.


Ralph




Yesterday- Ralph Fatello at the bottom of a good sized wave on SUPER BOWL SUNDAY January 1979 Tortola BVI.

(Below) I'm not a BIG WAVE Surfer. Never have been. Never will. Just not my thing. having said that, I believe this is the biggest wave of me ever captured on film. I have ridden bigger waves, just never on film. My late friend John "JT" Taylor took the footage of me using my Super 8mm movie camera.
Video frame grab from a Super 8mm movie by John "JT" Taylor





I kept a daily Blog on my CATCH A WAVE FOR MOLLY surf campaign, when I surfed every single day for 365 consecutive days. Click on the Banner above to read entries of my daily journey. There's some really interesting and true experiences
that happened during that year. Some of which are to this day, unexplainable. Some are just mind blowing. But all true.

I started on July 26th, 2010 and ended on July 26th, 2011.

Some rainy Sunday, pour yourself a cup and go through the journal. Pay close attention to the month of May in 2011. Read that month and let me know what you think of that. Be forewarned it will change you forever.



(Above) This? This is surfing. Pure and clean surfing.
Sunday June 26th, 2022. Photo by RALPH
*Click on the photo above to see the whole gallery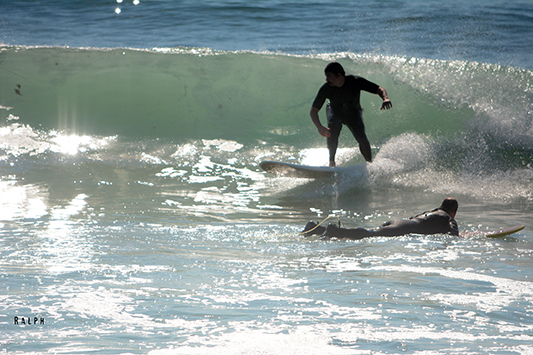 (Above) Mackey V discovered a busted fin on his shortboard so he opted
for some length. Sunday June 26th, 2022. Photo by RALPH
*Click on the photo above to see the whole gallery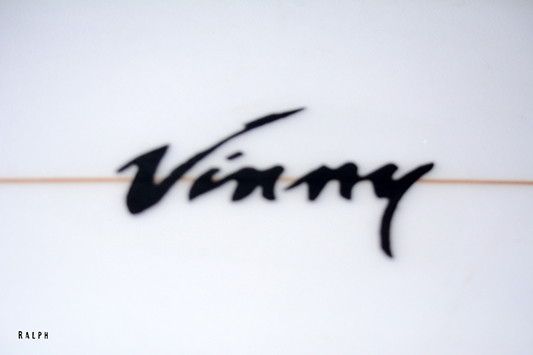 (Above) The original VINNY logo that I designed in 1978.
Sunday June 26th, 2022. Photo by RALPH
*Click on the photo above to see the whole gallery

Today- More of The FIRST SUMMER SWELL OF 2022.
June 25th, 2022. Photos by Dina Crawford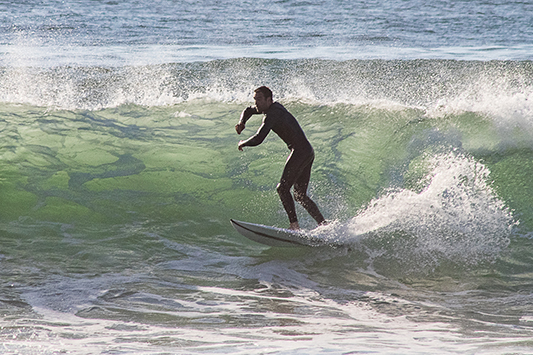 (Above) This is what a summer swell looks like.
Saturday June 25th, 2022. Photo by Dina Crawford
*Click on the photo above to see the whole gallery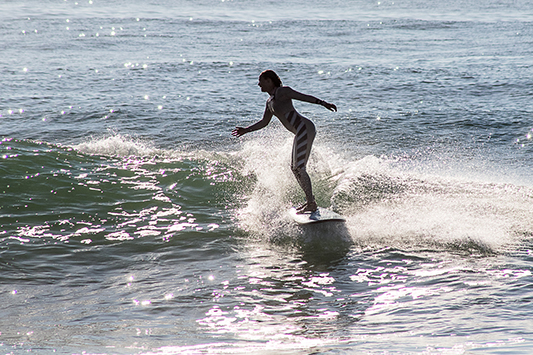 (Above) This is what a cool woman's wetsuit looks like.
Saturday June 25th, 2022. Photo by Dina Crawford
*Click on the photo above to see the whole gallery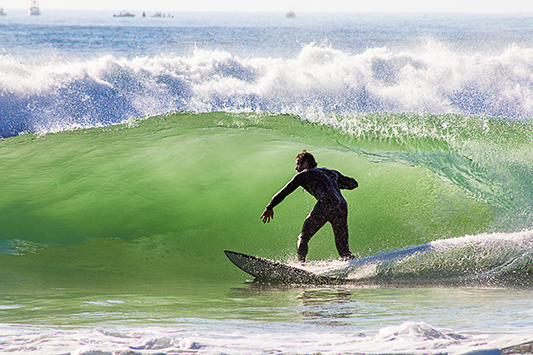 (Above) This wave looks like KIRRA. So pretty. Unknown.
Saturday June 25th, 2022. Photo by Dina Crawford
*Click on the photo above to see the whole gallery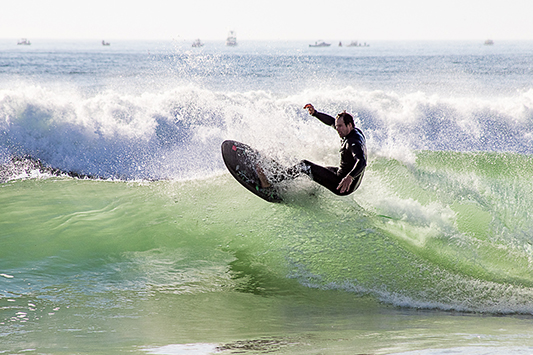 (Above) This guy was popping up in front of Dina's lens all morning long.
Saturday June 25th, 2022. Photo by Dina Crawford
*Click on the photo above to see the whole gallery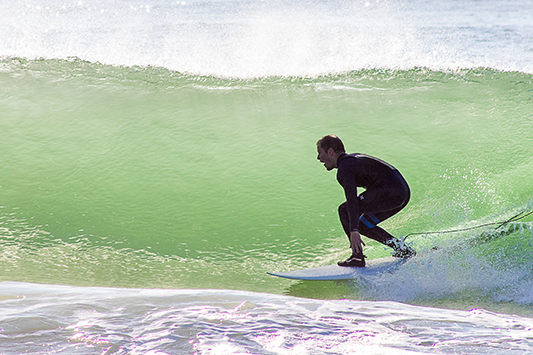 (Above) The grass is always greener... it sure seems like that.
Saturday June 25th, 2022. Photo by Dina Crawford
*Click on the photo above to see the whole gallery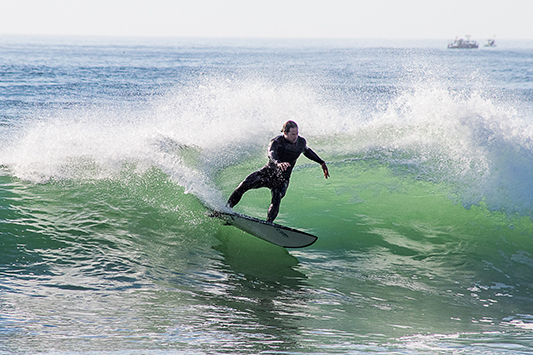 (Above) That's a legit carve. Regular foot in DINALAND
Saturday June 25th, 2022. Photo by Dina Crawford
*Click on the photo above to see the whole gallery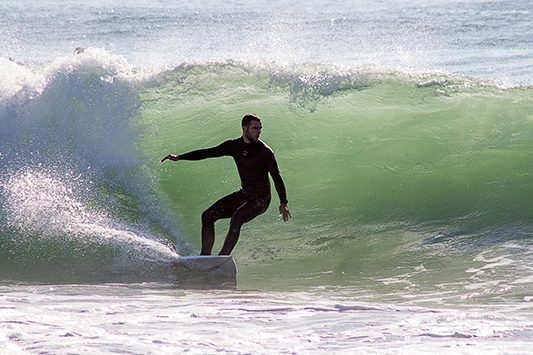 (Above) I called it head high this day. Was I lying?
Saturday June 25th, 2022. Photo by Dina Crawford
*Click on the photo above to see the whole gallery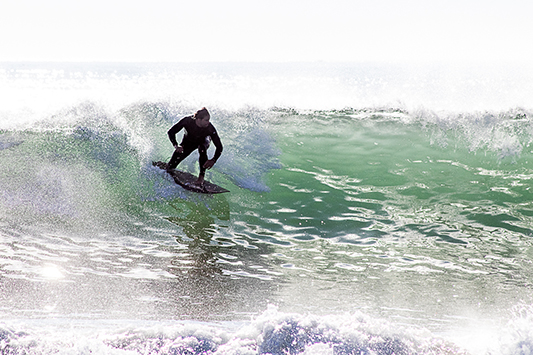 (Above) The truth is we need more waves like this all summer long.
Saturday June 25th, 2022. Photo by Dina Crawford
*Click on the photo above to see the whole gallery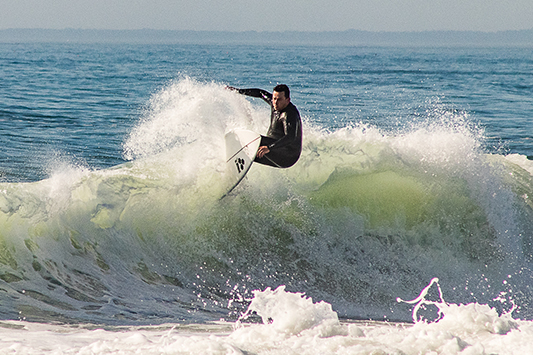 (Above) That's the shorebreak bounce for you. Power on power.
Saturday June 25th, 2022. Photo by Dina Crawford
*Click on the photo above to see the whole gallery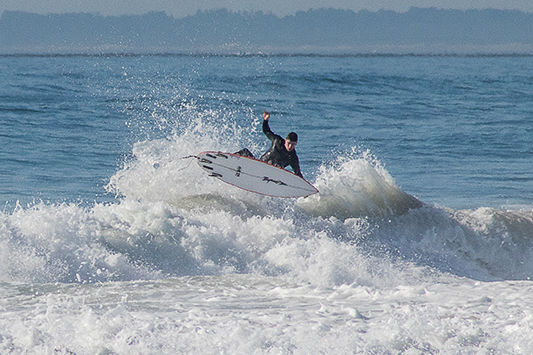 (Above) Fins out. That's a legit AIR. Regular foot in DINALAND
Saturday June 25th, 2022. Photo by Dina Crawford
*Click on the photo above to see the whole gallery


Today- The FIRST SURFING WITH SMILES of 2022.
Thursday June 30th, 2022. Photos by RALPH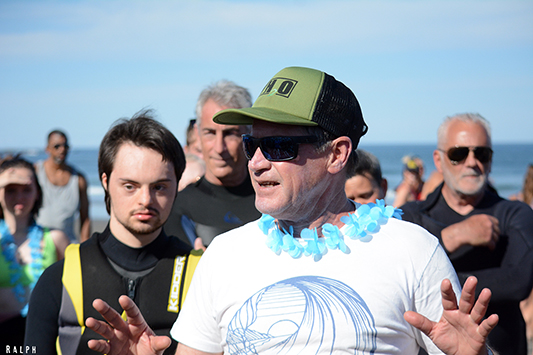 (Above) One of the MOST knowledgeable Surfers on the planet.
Kevin "DOC" Grondin briefing the volunteers.
The FIRST SWS Thursday June 30th, 2022. Photo by RALPH
*Click on the photo above to see the whole gallery