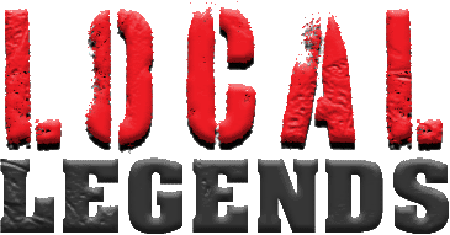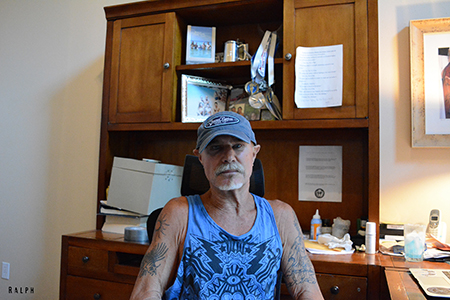 Meet Surfer MICHAEL ROSA. 71yrs old From Hampton, NH
Looking at Mike Rosa today, you would be hard pressed to guess his age to be 71. He has the physique of someone closer to twenty plus years younger. I'm not kidding. But, having said that, Mike's highly tuned up, and finely toned physical health, comes at a price. Both mentally, and physically. A solid, regimented, and highly disciplined workout schedule is what Mike is all about. And anyone who knows him, will attest to his daily strengthening commitment.
Hard core Surfer, Black Belt in Karate, and Yoga competitor.




Like I said, he's not your typical 71 yr old.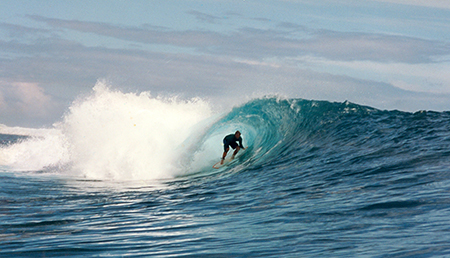 Michael Rosa is 100% committed to his physical being, as well as his calm and reserved demeanor. He has an aura about him, that exudes confidence, and a sense of relaxed calmness.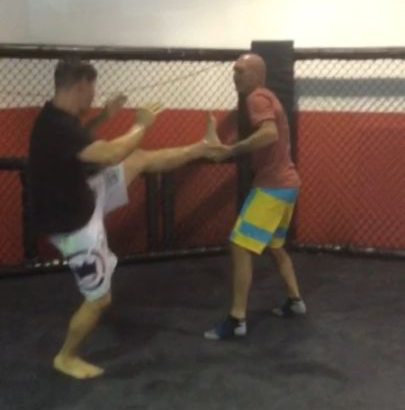 He laughed when I said to him during my interview, "You're the kind of individual, I warned my son about when he was growing up, and venturing out into the world." But it's the truth. You just don't know what some people are capable of. Mike Rosa may be soft spoken, quiet, and unassuming on the outside, but he's a force to be reckoned with on the inside, if pushed in the wrong direction. In other words, he could unleash a holy hell on you if he needed to.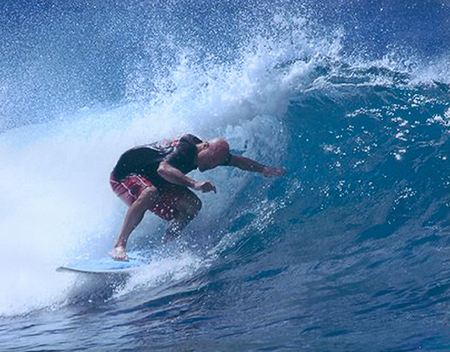 When I asked him what size boards he's riding today, he mentioned a handful of shortboards and one in particular, a 5'4" shortboard. "Are you kidding me? A 5' 4"!!! How many 71 yr old's do you know riding a 5' 4" surfboard? I bet not many. Especially round these parts. Well, now you know one. Mike Rosa. Though, he wasn't always riding those super short boards. In fact, his first ride on a surfboard, was twice that length. A 10' Hansen 50/50.

The summer of 1959, a young 8yr old boy from Arlington, Massachusetts saw surfing for the very first time on Seabrook Beach, NH. Mike was the oldest of 9 children. There were 5 girls and four boys. Yup, he's from that generation where parents would pump out as many kids as they could possibly handle. And most times, it was 6 plus kids. Mike's parents had rented a house on Seabrook Beach in the summers. His dad Dominic Rosa, was a hard working and hard fighting WWII and Korean War vet. He boxed in the NAVY. And he taught young Michael how to box. "I remember him getting down on his knees and teaching me how to box. Though it was more like how to take a punch." Those WWII vets were tough men. Damn were they tough.

But that summer of 1959, on Seabrook Beach? That summer changed Michael's life forever.

He saw people surfing for the first time. This one guy riding along on a big board and it just looked like so much fun. He offered to carry the long 10' log, a very heavy Hansen 50/50 home for the guy who owned it. And in return, he let young Michael try the board. And Michael told me that he was up and riding right away on that old longboard (though at the time, it wasn't very old). His first day surfing, he was absolutely hooked. Typically, it takes a few times of trying to surf, before you're actually catching waves and standing up and riding them on your own. Well, it is for most beginners. But Mike is not one of them. He was up and riding from day one. I'm not the least bit surprised. Good on you Mike.

Suffice it to say, Mike took to surfing that summer of '59 and he was completely hooked on surfing. There was no looking back. He was all in.

From Seabrook Beach, to the Wall, and beyond, Mike surfed wherever and whenever he could. Mike is a Goofyfoot, and well, it wasn't long before he found the region's Goofyfoot's paradise. His favorite local break is that infamous left point. The Rocks. In fact, he first surfed there, sometime between 67-69. Long before the crowds showed up. And he has shared many sessions there over the years with John "JT" Taylor, Johnny "JIM" Meehan, and the many others who surfed there back in the day. The "Rocks" is his favorite local break. Hey, he's a Goofyfoot. And all of us regular foots can only imagine what it's like to face that wave like the Goofyfoots can.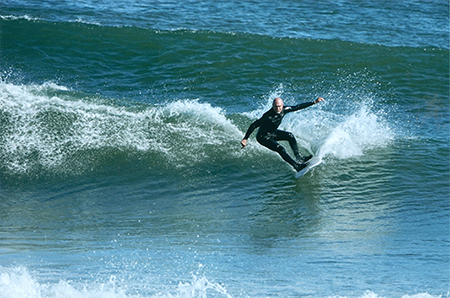 photo by Martha Lardent

As a local surf photographer and filmmaker, I have seen and documented most of the locals here in New England. I can pretty much pick out every single surfer in the lineup by their own unique styles. And believe it or not, they all have their own individual styles and stances. Unlike most of the pros, who surf very similar to each other, because they gear their surfing to appeal and appease the judges. And by judges, I mean all those who judge them. From the contests, to the social media peanut gallery, to those who read the magazines, and watch their movies.



photo by Ginger Nelson

But the local surfers? They all have their own style. And Mike Rosa is one of those surfers that I can pick out a mile away. I know his stance as he's taking off, I know his bottom turn stance, I know his tube stance, and I know his cutback stance. When he takes off on a wave, I know immediately that it's him. We all have our own style. And Mike Rosa has his own style.

When it comes to surfing other spots, Mike is a world traveler.

Not one to be confined to just surfing the local New England breaks. He has traveled and surfed some of the best waves in the world. Places like: Tavarua in Fiji, Maui, Kauai, Oahu, the Big Island in Hawaii, Mexico, Australia, Biarritz, in France, California, and up and down the East Coast.
Then of course there's the Caribbean. Puerto Rico, Barbados, and down into Central America. Like I said, Mike has traveled around the world.



Johnny Meehan and John "JT" Taylor with a gift for Mike from Tavarua.

When I asked him what was the biggest wave he'd ever surfed? He immediately answered Cloud Break on Tavarua in Fiji. Sometime between 92-94, he caught the biggest wave of his life. He said it was a solid 15'. That's a Big wave, even by today's ridiculously big wave standards. Johnny Meehan wrote that he saw Mike catch the biggest wave out at Cloud Break that was hands down the biggest wave that anyone from NH had ever caught. That's pretty damn significant.

And Johnny is a pretty straight shooter. He tells it exactly like it is.

And when I asked him when and where was his worse wipeout? The answer was the same. Cloud Break on Tavarua Island in Fiji. He had a "hold down" during a big set that he thought that "this could be it." And by "It" I'm talking about "cashing it all in," "buying the farm," "getting your ticket punched." It was that bad. He told me he never got a chance to get a deep breath before that thrashing. He even got to the point where he was thinking of his family and how he was never going to see them again. That's pretty heavy stuff. But like all bad wipeouts, whatever it is that doesn't kill you, only makes you stronger. And I'm sure that was the case with Mike.

He survived that wipeout and lived to see another day.

And more than that. He started a whole new life. He came home and started a family here in New Hampshire.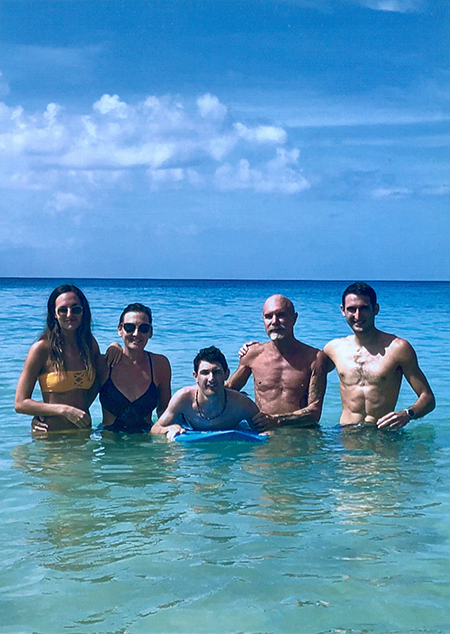 He and his wife lovely wife Laura have been married for 30 years. They have three beautiful children. Chase, Skyler, and Bella. And their lives revolve in and around the ocean. From the beaches of NH, to the beaches of Barbados. Michael is a true family man. It runs deep in his blood and veins. His family is everything to him. He loves all three of his kids and is so very proud of them. And I'm sure that Laura and the kids are equally proud of him.

Mike is also a fighter in the truest sense of the word. The name Rosa is synonymous with fighting.

From Chucky Rosa (Chucky's Fight) to his two nephews who fight in the MMA. There's a lot of discipline in being a fighter. It is a relentless pursuit as far as the training and mental fitness that goes with it. You have to have that innate sense of discipline. He does not drink or smoke. He told me that he works out every single day. That's the last 22 years with Karate, and the last 7 years with Yoga. Most of you surfers out there are well aware of the connection between Surfing and Yoga. Though, I've never personally tried it, I know the benefits of practicing it. And I have the highest respect for those who commit to it. Especially competing.




And if it can enhance your surfing? All the better. Because at the end of the day, that's what we all really want. To be able to surf better and longer.

I ended the interview by asking Michael what surfing meant to him.

He said that surfing was everything to him. That it even, "saved his life" (a line that I have said many times in the past). He looked me in the eye, and thought about what he was going to say next for a few seconds, before saying. "You can paddle out on a good day and catch a bunch of waves, but not really getting any good ones, and then, that one wave comes along. And that one good wave, can make your whole session. And you leave the water with that one wave in the back of your mind. And everything is good in the world."

I get it. And most of you surfers get it too. It's called being stoked. Mike Rosa is stoked on surfing, and all that is good with surfing. From the camaraderie of surfing with friends, to surfing alone at a remote break hiding in plain sight, from surfing with his family in Barbados, to surfing with Sky on the beach, with Sky hooting him on. This is before and after their miles long walks along the seacoast. They have become NH Seacoast icons. Mike and Sky. In short, Mike is stoked to be surfing. "I'm going to surf for the rest of my life." He said as I was leaving. And I believe him.




I also believe, that he's going to end up surfing longer than most of the surfers that are half his age. And those of you who know him, will agree with me.

*Be sure and check out Mike's gallery down in the photo section.

"SURFING, KARATE, YOGA, And FAMILY HEALS ALL WOUNDS."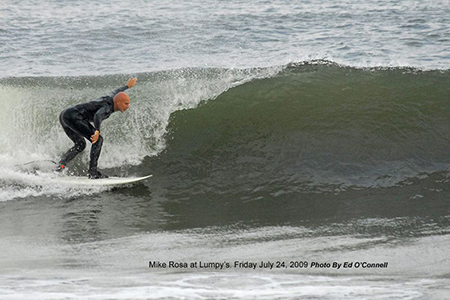 I was stoked to find this pic of our LOCAL LEGEND Mike Rosa by Ed O'Connell. This was shot on July 24th, 2009. Ed and I used to make up names of some of the breaks for our own amusement and maybe to throw some of those who don't know better a curve ball. You know, "Lumpy's? Where the hell is that?" Ha ha. Photo by Ed O'Connell
*Click the photo above to see a larger version of Ed's Pic.

NOW FOR SOME LOCAL AND NATIONAL NEWS
DEADLINE IS THIS COMING THURSDAY JULY 28th, 2022.
The 18th Annual RPOTW SURF ART BLOG will be posted on July 31st, 2022. Deadline for submissions is July 28th, 2022. Click on the image below to see a larger version.




The MARINE MEMORIAL ON HAMPTON BEACH is adding a new name to those who were lost at sea.
Click on the image below to learn more.




The annual JIMMY DUNN HBCF. Click on the ad to purchase tickets. Act now. Tickets will be going fast.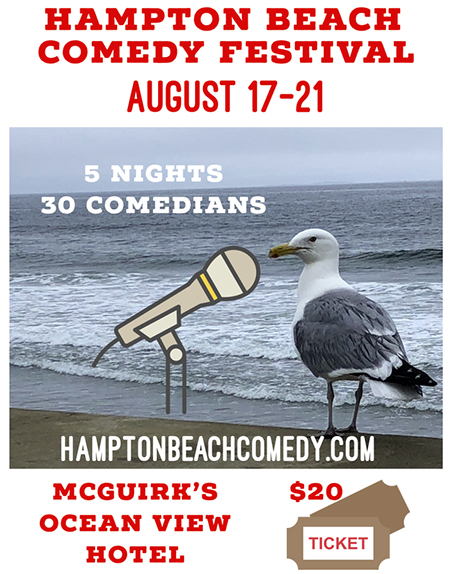 The 14th Annual HIT THE BEACH EVENT is on schedule this year for Friday August 26th, 2022. So mark your calendars.
CLICK ON THE IMAGE BELOW TO SEE A LARGER VERSION.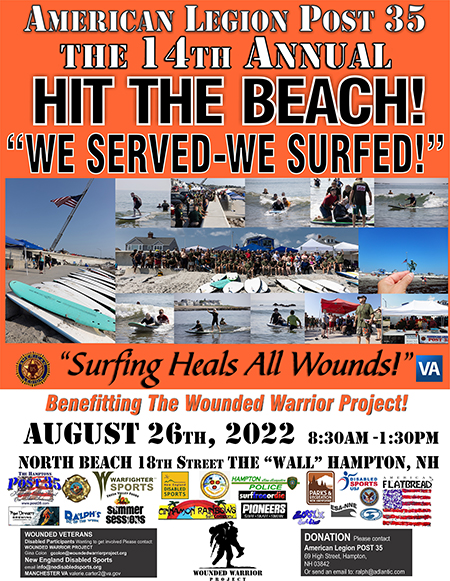 IN LOVING MEMORY OF EVAN AUSTIN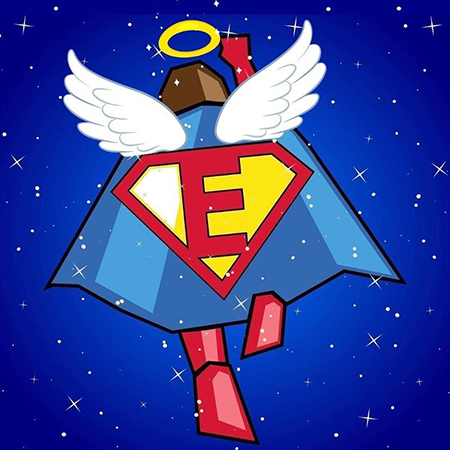 DIPG THE CURE STARTS NOW
To learn more about Evan and his journey visit https://thecurestartsnow.org/sup.../view-heroes/evan-austin/
KSM Photoshop of the Week
The past two weeks have been brutally hot. With Wildfires and severe droughts. Things got pretty hot down there at GITMO too. KSM is allowed to lay in the sand at GITMO for short intervals to try and stay cool. Here we see the Sheik with his favorite Tank Top. His "Pop cycle" tank. He claims when he's lying on the sand at GITMO, it reminds him of the deserts of the Middle East. In fact, he's paid off a few of the guards to import some camel and goat manure to spread around his towel. Nothing smells more like home to Khaliddy, than Camel and Goat shit. You guys smell what I'm cooking here? I think you do.

And so my friends,
please take advantage of this weekly photo shop of the mastermind who planned 9-11 and resulted in the deaths of 3,000 innocent civilians by KSM (Khalid Sheik Mohammed).
*Note to self -must pick up a case of SUN BLOCK at
Home Depot This Week.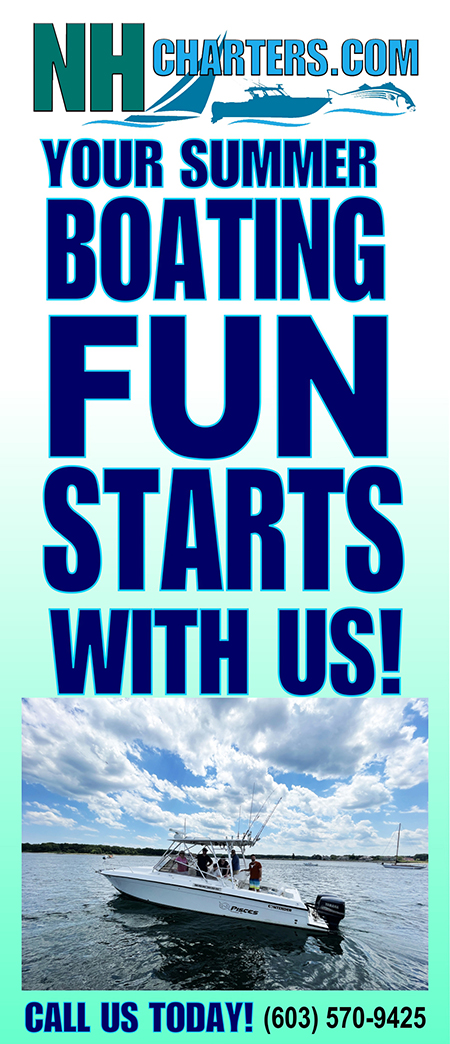 Click on the ad above to schedule you Charter today!


This is Eli Dicken. Eli single handedly stopped a mass shooter who had an AR 15 and was hell bent on shooting as many people as possible. Eli shot and killed the shooter just 15 seconds after the shooter opened up on innocent civilians. Eli was legally armed with a 9mm Glock handgun. Eli is a hero. Plain and simple, a hero. He did what 300 trained police officers couldn't do in Uvalde Texas the week before. He acted on his own and saved countless of lives. He's earned our praise.
Please keep local surfer Mike Keefe in your thoughts and prayers in the next few months during his treatments. Hang in there Mike!
Please keep local Surfer/Musician Pete Kowalski in your thoughts and prayers. SURFING HEALS ALL WOUNDS!
Please Keep local surfer Bill M. in your thoughts and prayers.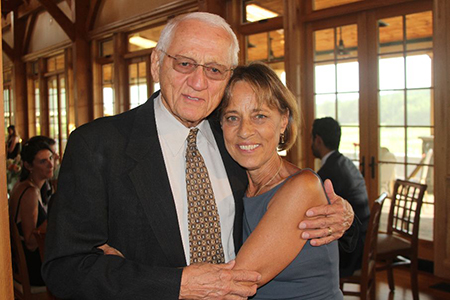 REST IN PEACE Rick Dreyer 88yrs old beloved Uncle and Godfather of Kim Grondin. Kim loved this man. He was someone truly special in her life. May he rest in peace.
HAPPY BIRTHDAY Nick Africano July 26th, 2022
HAPPY BIRTHDAY Longboard Larry July 26th, 2022!
HAPPY BIRTHDAY Mick Jagger July 26th, 2022!
HAPPY BIRTHDAY Tami Heide July 23rd, 2022!
HAPPY BIRTHDAY Judith Rastl July 23rd, 2022!
HAPPY 33rd WEDDING ANNIVERSARY Kevin and Kim Grondin July 23rd, 2022
PLEASE keep Kim Grondin in your thoughts and prayers too. She's doing OK, after her surgery on Wednesday July 20th, 2022.


Please Support ALL The photographers who contribute to
Ralph's Pic Of The Week every
week for the last
18
years.
** BUY
a
HIGH RES Photo from any of the weeks on RPOTW.

Remember my friends... Surfing Heals All Wounds
.

Pray for Surf. Pray for Peace. Surf For Fun.


Ralph