This photo by Joe Carter was taken on Sunday July 14th, 2019 across the street from CINNAMON RAINBOWS. That's me in the red rash guard and black cover (hat for you civilians) giving a brief history of the origin of the SURFER'S PADDLE. Standing to my immediate right is Matt Williams. He was one of Tim's best friends. He has his hand on the shoulder of Tom Sheridan. Tom is Tim's father. Standing next to Tom is Bridgett (his wife). I really only met them recently through social media, and in helping them all organize this paddle. I met both of Tim's parents, and Bridgett. And they are all truly wonderful people.

I wish I could say that I knew Tim well enough to call him a close friend. But I only knew him through surfing, and the local skateboard crew. But having said that, he was a surfer, and that's all I need to know. He was one of us. A member of that special tribe of water-men. And surfers will gather at a local surf break whenever one of their own passes away. We do it as a celebration of their life as a surfer. It is without question, a unique and special ceremony. And unless you have witnessed one, it is something that you never forget.

I did my very first SURFER'S MEMORIAL PADDLE in 1978. 41 years ago.

My then best friend Joe Somogyi passed away from exposure to Agent Orange. He was only 27 years old. A fellow Vietnam Veteran and a true hardcore Surfer. Joe named a lot of the breaks here in NH that surfers still surf today. I never forgot that first one. And I knew, that there would be more in my lifetime. I've done literally dozens ever since Joe's paddle. And each one has been special. Not just for the surfers, but the family and friends of the surfer. And most of them don't surf. When we do these paddles we make sure that everyone can participate. Not everyone is going to jump on a surfboard and paddle out into the ocean. Especially here in the northeast. It can get cold out there. The paddle is for everyone, surfers and non-surfers.




As you can see by the photo above by Joe Carter. People gather on the beach and everyone has the opportunity to speak of the departed surfer. This gives family members and friends a chance to talk about the surfer. At Tim's paddle service, many of his friends and family spoke about him. This is when you hear and learn things about the surfer that you might not have ever known. It was great to hear so many people speak of Tim.




This is another pic by Joe Carter. I am explaining what we will be doing and how everyone can participate. As you can see there was a large gathering of friends and family. The weather was perfect and there was love in the air.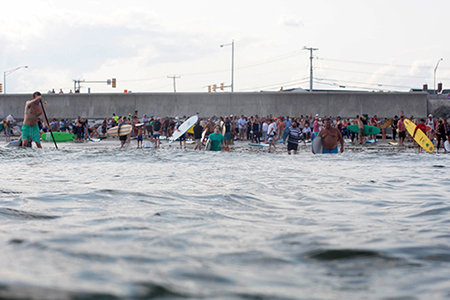 The other wonderful thing that happened was the water was warm. Look unless you live here you have no idea how cold the Atlantic can get in the summer. But on this day? It was warm. In fact, lots of people didn't wear a wetsuit. Trust me, that's warm. When you don't have to put on the rubber it's a rare occasion. Tim's paddle was perfect.

So what happens after everyone speaks on the beach? The surfers grab their boards and take a single flower with them and paddle out. Those who do not paddle all gather at the water's edge and they too have a single flower. The surfers all paddle out and form a large circle. Typically the surfer who we are honoring is represented by a family member. In this case it was Tim's father Tom. We all make the large circle and then take turns talking about the surfer. In Tim's paddle may of the surfers spoke of of him.




There was laughter, and there were tears.




And Tom bless his soul, poured some of Tim's ashes into the beautiful flowered wreath. Then we counted to three and we all threw our flowers into the middle of the circle and as we did we all hooted (screamed) as loud as we could while splashing water everywhere. And the people on the beach hooted and threw their flowers into the ocean.

And then we all slowly made our way back to the beach.

Where there were more tears and more bouts of laughter.
And in the end, there was only joy and love filling the air. We had given Tim a proper Surfer's Memorial Paddle. New friends were made. And old friends got reacquainted. May Tim rest in ever-loving peace. And may God watch over his family and close circle of friends.

There are two full galleries from the paddle down in the gallery section.
*ALL iPhone users can new view the galleries on their iPhones.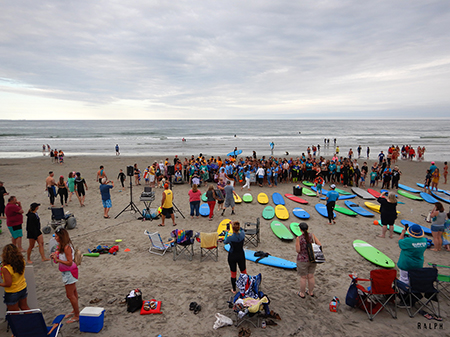 On Thursday July 18th, 2019 the first SURFING WITH SMILES went off without a hitch. Surfing With Smiles (SWS) is another local event that is synonymous with Hampton. SURFING WITH SMILES and HIT THE BEACH are two of our most popular summer events each year. Dave "CROP" Cropper from Cinnamon Rainbows has sponsored this event since day one. I recently called Dave the "silent hero" for his role in SWS and HTB, as well as providing boards and wetsuits for the Surfer's Paddles.

To witness a SURFING WITH SMILES event can only do one thing. Put a Smile On Your Face. It is exactly what the title says it is. Kids surfing and having a blast. I made a video from this last one and it is down in the video section. Watch it and smile.


This first SWS of 2019 was in loving memory of Curtis McGadden and Tim Sheridan. Bridgett Hughes and Tom Sheridan pose with a framed poster of their son Tim. Like I said, it's all about the smile.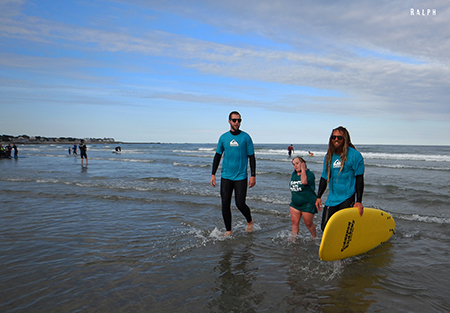 Cam and Pev walking with one of the kids after she caught her wave. One of the things I've noticed over the last 10 years or so with SWS, is that I see surfers that I know giving something of themselves, that I'm sure that they were unaware of. Surfers can be a secretive bunch when it comes to going surfing. The last thing any of them want is to surf with a crowd. But during these SWS events, they are the complete opposite.

Each and every volunteer gives so much to these kids and their parents.

It is infectious to witness the love and the laughter. And for me personally, I feel a huge sense of pride for my fellow tribesmen and women. They give back to these kids who sometime struggle with daily routines and make them all feel like true Kings and Queens of the surf. I'm proud of each and every one of them.

And speaking of pride. Yesterday was the 50th anniversary of the Moon landing. I don't remember exactly where and what I was doing, I can tell you that I was busy being a Grunt in the Marine Corps. We never found out about it until later. So to the crew of the APOLLO 11 and the many thousands of NASA workers who worked in Houston and the Cape Canaveral launch site congratulations. 50 years ago, the world came to a stop to witness something that has never been done before.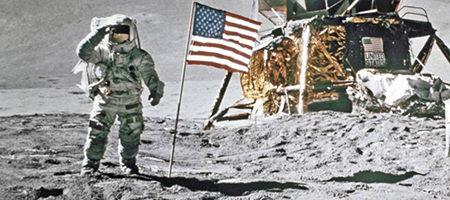 Neil Armstrong walked on the Moon. We salute you all.

ATTENTION ALL SURF ARTISTS. PLEASE SEND ME YOUR ART!




You've had a full year to draw, paint, and make sculptures. Send them my way. And do it this week. I'm sorry for the short notice, but time's a wasting. EMAIL ME YOUR SURF ART TODAY!

We went and saw the BEST BIG BAND in the entire Northeast on
Friday July 19th, 2019 at the Blue Ocean in Salisbury Beach, MA
I wrote a review and took some pics. Hey, that's what I do.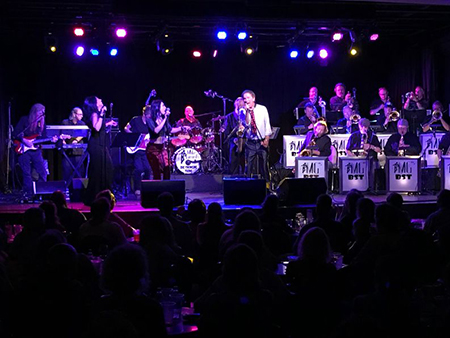 For the complete review of MIKE GIRARD's BIG SWINGING THING
CLICK ON THE ll Review and photos.
"Surfing, Music, Community, and Love Heals All Wounds."


This is a very colorful board on this unknown rider from 2013.
I chose this pic because I want to REMIND you all to send me your surf art this week. Photo by Ed O'Connell
*Click the photo above to see a larger version of Ed's Pic.

Now for Some Local, National and International News
This funny hat is what one of the country's funniest comics sent me this week. Jimmy Dunn and his friends are hosting the funniest weekend of the summer again. "Ain't nobody funnier than Ole Jimmy Dunn. I'll tell you what. That sum-bitch is funny."
(Sorry Jimmy, I don't know what possessed me to write that. I think I was channeling Lil Abner or something.) Any way, get yer asses down there this weekend! I'll be there!




Jimmy Dunn and his annual HAMPTON BEACH COMEDY FESTIVAL! July 25th, 26th, 27th, and 28th! FOUR NIGHTS!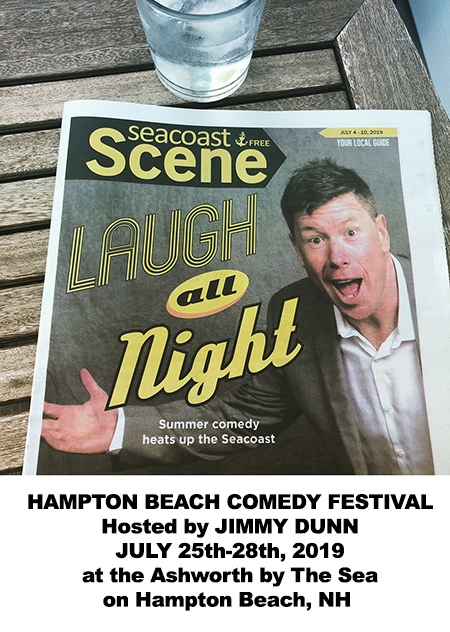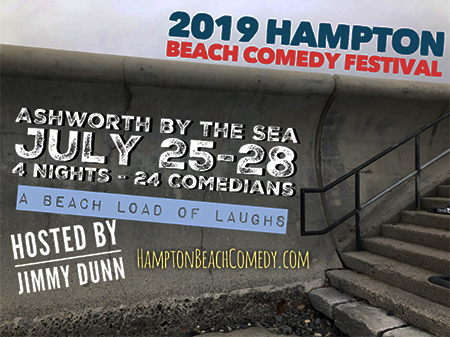 These are some of the BEST times of the summer here in Hampton. I go every year and laugh my ass off. Get your tix NOW!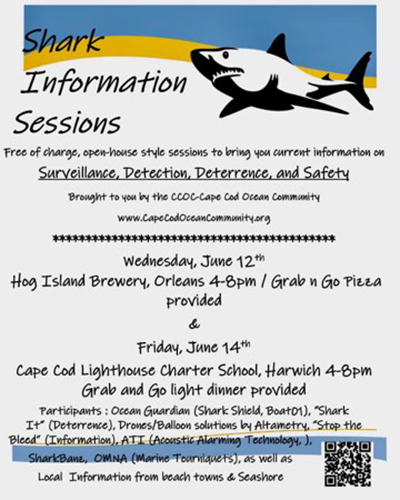 CULL (KILL) THE FRICKING SEALS!! Enough is enough.
This is no joke. Something MUST Be Done about the Seal Population on the Cape. It's time to cull the Seals.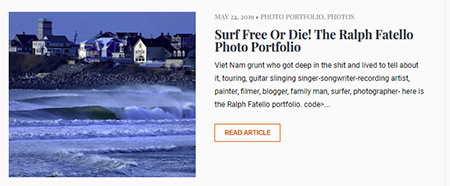 ESM (Eastern Surf Magazine) using a READY MAG format did the Best of Ralph's Pic. And while they couldn't possibly use everything thing I've ever done, they did manage to put up some 50 pics of mine, plus two videos. And I was truly humbled by their intro. Mez said some nice things about me. CLICK ON THE IMAGE ABOVE TO SEE THE WHOLE Spread.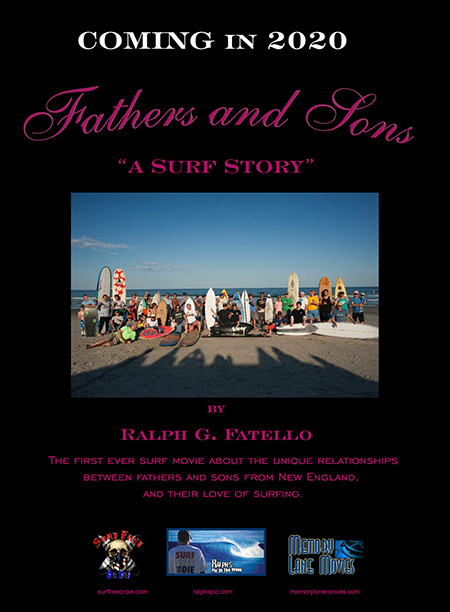 So while I was making the GRANITE GIRLS video I came up with this project and concept. It's never been done before. As hard as that seems to be. I'm onto yet another groundbreaking Surf Movie concept. This will be an overview of Surfer dads and their sons. It's a work in progress and I'm hoping to get as many dads and their sons as possible in this movie.




It's that time of year again when we have to start thinking about our annual HIT THE BEACH. This is our 12th year and we are looking forward to this day. So mark your calendars. There will
be more on this as the summer winds down.
HIT THE BEACH XII on August 30th, 2019.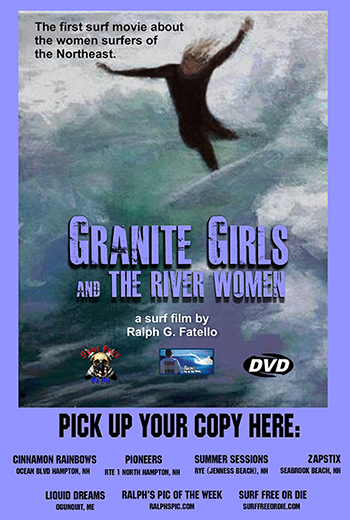 The DVD's are available at all the local surf shops. Or by
sending me an email. ralph@adlantic.com or send a check for $20.00 made out to ADLANTIC and send it here:

ADLANTIC
c/o OC Studio Suites
703 Ocean Blvd Suite C-4
Hampton, NH 03842

Or RENT or BUY it Online. You have spoken and I have listened. You don't have a DVD player so I made it available Online. Watch it on your Smart TV, your computer, or your cellphone! I can't make this any easier my friends.


GRANITE GIRLS and The RIVER WOMEN from Ralph's Pic Of The Week on Vimeo. NOW AVAILABLE on VIMEO ON DEMAND.

KSM Photoshop of the Week
KSM caused a scene down at GITMO this week by claiming that he and his ISIS crew were the First Terrorists to walk on the Moon. Can you imagine the audacity to that statement. I swear Khaliddy is going going bat shit crazy down there in that GITMO heat. KSM was just a young Terrorist lad on July 20th, 1969. He was still learning how to mate with goats at that age. I swear the things that pop up on this section make me laugh. You're welcome by the way.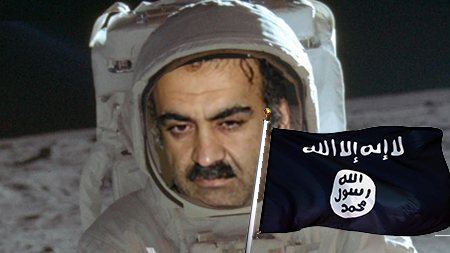 And so my friends, please take advantage of this weekly photo shop of the mastermind who planned 9-11 and resulted in the deaths of 3,000 innocent civilians by KSM (Khalid Sheik Mohammed).

*Note to self -must pick up a case of HOW TO DO THE MOON WALK by Michael Jackson at Home Depot this week.

CONGRATS TO KAINALU NICHOLS Going PRO!
*Look for the full story in two weeks. Sorry this got moved
due to the large volume of events this past week and
coming week.
HAPPY BIRTHDAY Judith Rastl July 23rd,, 2019!
HAPPY BIRTHDAY Tami Heide July 23rd, 2019!
HAPPY BIRTHDAY Janelle Donahue July 23rd, 2019!
HAPPY BIRTHDAY Vince Shazam July 26th, 2019!
HAPPY 30th Wedding ANNIVERSARY K&K Grondin
July 23rd, 2019!
GET WELL SOON Kim Grondin!

RIP John Grady NH surfer

FYI Lenny Nichols is looking for someone or someones to take over the ESA-NNE District. Please contact Lenny Nichols by calling his cell (603) 944-2418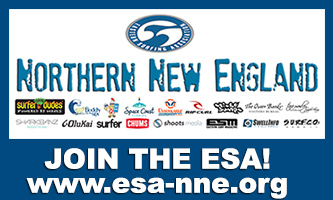 Please Support ALL The photographers who contribute to
Ralph's Pic Of The Week every week for the last 13 years.
** BUY a HIGH RES Photo from any of the weeks on RPOTW.

Remember my friends... Surfing Heals All Wounds.
Pray for Surf. Pray for Peace. Surf For Fun.

Ralph