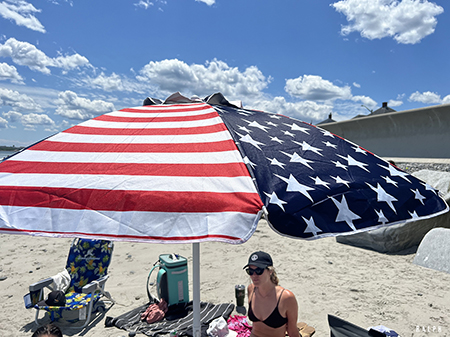 SURFING ON THE 4th OF JULY. 7-4-2022 North Beach (THE WALL).
There were waves on July 4th. It wasn't anything great. But, there were waves. Just enough to push you along and give you a summer thrill. And there were plenty of people around to take advantage of the fun little thigh to waist high waves. Or, as my friend Johnny Meehan like to call them, "Waste High." That's pretty clever if you ask me. It was an all around pleasant day at the beach.

Three quarters of my immediate family were there. My wife and I, my son Max and his girlfriend Jacquie, my daughter Noelle and her husband Pete, and their little daughter Malia. The weather was perfect. Though the water was a little chilly. But nothing we hadn't experienced many times in the summer in New England. We're all pretty used to it by now. Our water temps can be anywhere from the high 50's to the low 70's in the summer.

Like I said, we're all pretty used to it.

I swear I am looking more and more like my father these days. My tan lines reflect the old school look that he used to always have. Let's face it, I am not able to get the full body tans that I used to have back when I was a young man. Nope. I get the old parent tan. But I'm OK with it. It was Independence Day. As long as I'm not wearing "Depends?" I'm doing fine.

With it being late morning, there was little to no chance of the errant fireworks going off around us. In fact, chances were slim. Still, it was the 4th of July, and it would only be a matter of time before folks started lighting off their own firecrackers and roman candles. Ugh.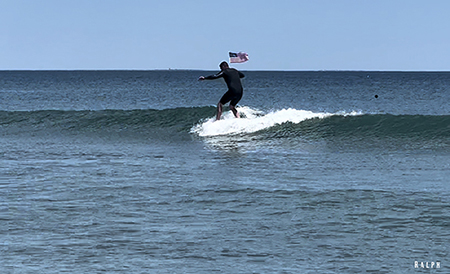 Local Longboarder Mikey Moran paddled out with a small Flag. I shot a few video clips of him surfing with a Flag. The pic above is a video frame grab of one of his waves.

At the exact time this pic was taken, there was an evil plan about to be hatched in Illinois.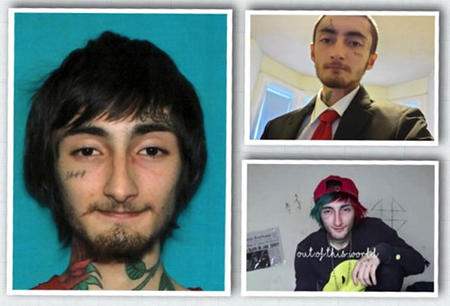 For the record, I don't typically Blog about Mass Shooters. I simply don't want to give them the time of day. And I certainly don't want to feed into their sick thirst for fame. Because, whether anyone is willing to admit this or not, that is exactly, what they seek. I want to scream when I hear the authorities say, they are trying to figure out "what their motivation was." Hello? Their motivation is their proverbial "15 Minutes Of Fame." It's not a mystery. There's no hidden message behind these shootings. It is all about that sick desire to have their mugs splattered across the front pages of every newspaper in the country, as well as every news station and cable show. That's their motivation. And we feed that thirst and hunger after every Mass shooting by giving them exactly what they want.

Born during the Columbine shooting in 1999, it's been non stop ever since.

And the weapon of choice these last mass shootings (since 2004) has been the AR-15. If the country were to ban the sales and manufacturing of every single AR-15 going forward, there are still over 20 million of them in the country. Yes you read that correctly. 20 million of them. Good luck getting those off the streets. The good news is, most of them are owned by law abiding citizens and collectors. On the morning of July 4th, I had a serious conversation with a close friend about AR-15's . He had mentioned that a member of his family wanted to use them for Boar hunting. I told him I know of people who use them for Boar hunting down in Florida. These are legitimate gun owners/hunters who use them on wild pigs.

But, as I have said many times in the past, there is always going to be that 10%. That small fraction of the population that is at this very minute, biding their time, waiting in the wings. Fantasizing about being the next senseless killer, of innocent civilians. Trust me, they are out there right now.

Call them copy cat killers, or just part of this new cult that our society has created. The violent video game enthusiasts, the bullied, the loners, the mentally unbalanced, the sick individuals who are detached from the rest of the world. And those who follow radical cults and hate groups.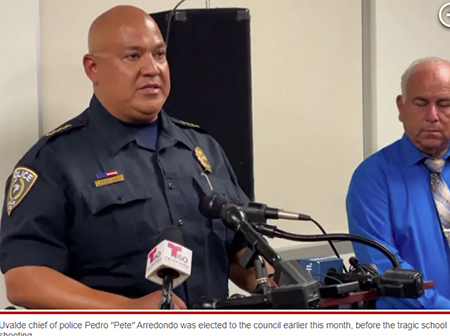 These last two mass shootings have really gotten to me. The one in Uvalde, Texas where the Chief of Police Pedro Arredondo waited for over an hour before attempting to stop the killing of children. Over an hour. He should not only resign from the police department, but he should be held accountable. Those parents are demanding answers, and so far nobody has given them anything solid to hold onto. Disgusting. Absolutely disgusting.

But this shooting on July 4th? Four days after SURFING WITH SMILES?
This one really got to me. And I know I'm not alone.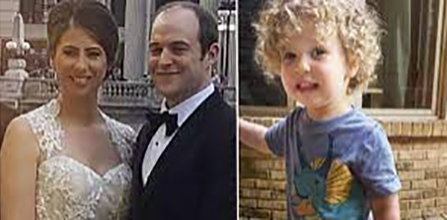 The parents of a two year old boy, who died together? With the dad protecting his young son, by covering him with his own body. Just heartbreaking. And then there's the 8yr old twin boy (below) who will now spend the rest of his life paralyzed from the waist down, because of a bullet that severed his spinal cord. Both of these stories got me thinking.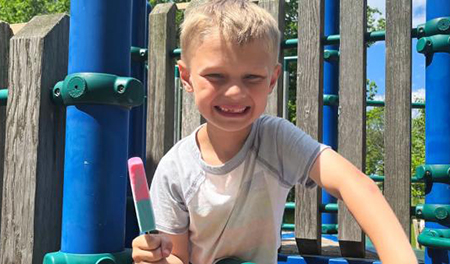 So here's what I think we should do. (Besides the obvious.) Stricter, way stricter laws for buying AR -15's. The father who cosigned for his son Bobby Crimo III in Highland Illinois to purchase that AR-15? He needs to be held accountable. For him to say that he "saw nothing unusual about his son's behavior?" Are you kidding me pal?

It didn't take me but a few seconds after watching just two of his videos, for me to come to the conclusion, that his son was way off the reservation. That young Bobby Crimo III had become completely unglued. Allowing him to have an AR-15? That is wrong on so many levels. My God.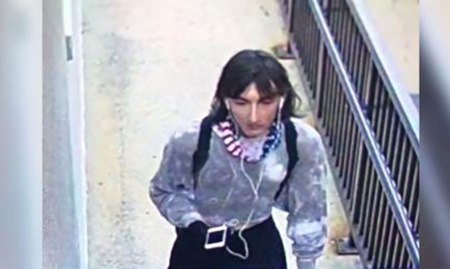 Now, this might cause some of you to think that I may be going too far with this solution. But hear me out. We need to reinstate a FEDERAL DEATH PENALTY for all Mass Shootings. No more pussyfooting around. It's time to get serious. No jail time. No mental health facilities. No more media exposure for these cowards. The DEATH SENTENCE. And not just a humane death sentence. I think we bring back a firing squad. And not just any firing squad. A firing squad of shooters using AR-15's. These cowards need to know how those rounds feel, tearing through your flesh and bones.

Now here's the kicker. And this is the part of this solution that is really going to raise a few eyebrows. The firing squad is made up of family members of the victims. In other words, those who have really been devastated by these mass shootings, should be allowed to pull the trigger on these cowards.

"But Ralph, what if they don't know how to shoot straight?" All the better I say.

Who cares if they can't shoot straight? I say the more nonlethal flesh wounds, the better. These cowards need to suffer. Imagine a firing squad taking 20 to 30 minutes to execute the shooter.

If this is made public and passed into law, I am willing to bet that we will see an immediate drop in mass shooters. If we don't give them the media attention they crave, and we allow untrained family members, to be able to shoot these guilty cowards, until they are confirmed dispatched? We will see an immediate drop in mass shootings. Call it, fighting fire with fire. Literally.

Look, you and I both know, that the chances of this happening are slim to nil. There's a zero chance of this ever becoming a reality. There's too many of you who have no stomach for this kind of punishment. And I get it. We've become too civilized. Too soft. The thought of this kind of punishment makes your stomach turn. However, I'd be willing to bet, that there are some family members out there today, who would jump at the chance to be able to legally pull this off. What's the old saying: "Revenge is a dish best served cold."

There are some of you, who are reading this right now, who have to admit, just the mere thought of what I have proposed, is making you feel better about how to deal with these senseless mass shootings. Maybe it's time we brought back some good old fashioned Frontier Justice. Why the hell not? If some potential Mass School shooter gets cold feet thinking of what their end would be like? And he now has some serious second thoughts? Well?

That's called a deterrent. That, my friends, is a victory. It's the turning of the tide. It's one for the good guys.

Or, continue to do what we do now. And just wait for the other shoe to drop.

Waiting for the next AR-15 magazine to be filled to capacity, and the inevitable BREAKING NEWS to flash across our cell phones and TVs about the latest Mass Shooting. Because as sure as the sun will rise tomorrow, so too will the next Mass shooter plan his last 15 minutes of fame. In his weak and pathetic mind, he'll be famous. He will become giddy at our reaction. He will smile, because we are weak. Look at his face. This is his mug shot after killing 7 people and wounding 30. Look at his face. That smug smile.




There's no remorse. He knows he's now famous. In his mind, he's made it.
We think we can VOTE our way out of this living nightmare. I wish it really were that easy. Look at his face, and then look at the faces of the families he has destroyed. He's not earned the right to smile.

I am not going to end this Blog on a bad note.

Because in spite of the terrible news last week, there was still some great positive uplifting moments. Just like this. Paul McCartney was joined on stage by Dave Grohl and Bruce Sprinsteen at Glastonbury. Needless to say, the three of these Rock Icons brought the house down. Rock Royalty right here.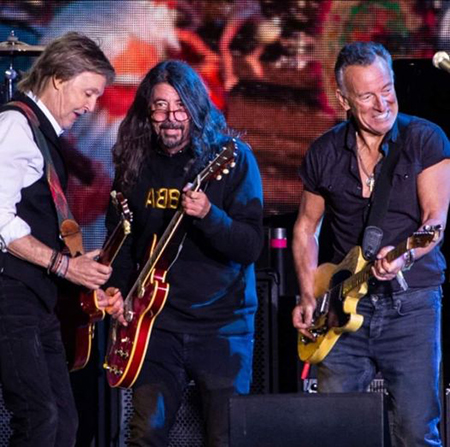 "JUSTICE AND ROCK N ROLL HEALS ALL WOUNDS."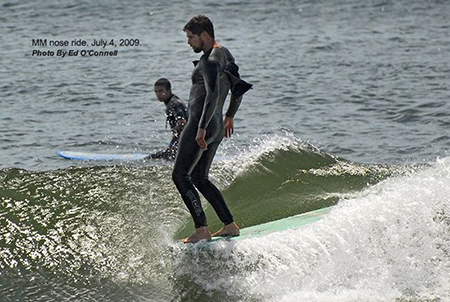 This is a pic of Mikey Moran on July 4th, 2009. The man had style back then and he still has it today. Photo by Ed O'Connell
*Click the photo above to see a larger version of Ed's Pic.

NOW FOR SOME LOCAL AND NATIONAL NEWS
Send me your Surf Art. The 18th Annual RPOTW SURF ART BLOG will be posted on July 31st, 2022. Deadline for submissions is July 28th, 2022. Click on the image below.




The annual JIMMY DUNN HBCF. Click on the ad to purchase tickets. Act now. Tickets will be going fast.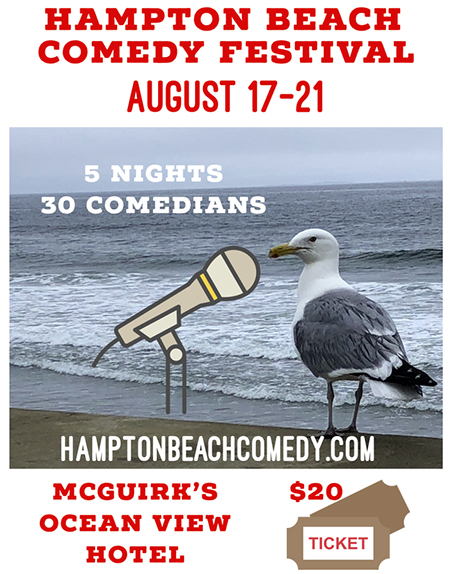 The 14th Annual HIT THE BEACH EVENT is on schedule this year for Friday August 26th, 2022. So mark your calendars.
CLICK ON THE IMAGE BELOW TO SEE A LARGER VERSION.


Dan Lanio Memorial Scholarship Fund
IN LOVING MEMORY OF EVAN AUSTIN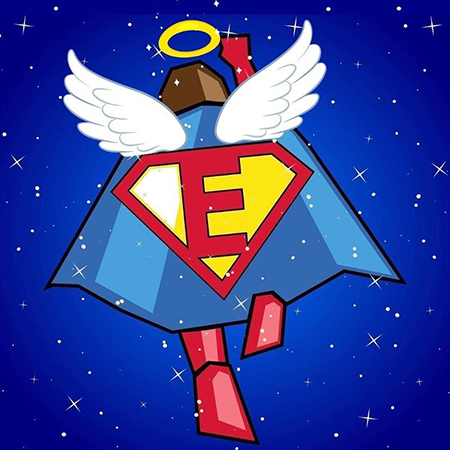 DIPG THE CURE STARTS NOW
To learn more about Evan and his journey visit https://thecurestartsnow.org/sup.../view-heroes/evan-austin/
KSM Photoshop of the Week
This past week was the annual running with the Bulls in Pamplona Spain. Now you're probably asking yourselves, how on earth did KSM end up on the streets of Pamplona? Come on people. You know damn well how he ended up there. First of all, Ole Khaliddy is a glutton for punishment, and second of all, The Sheik (as we all know) is full of Bullshit. Oh and the fact that I photo-shopped him
. If you look closely, you'll see that this Bull has not only gored the Sheik, but he's also exposed his buttocks. *Note his fellow Al Qeada cronie "Al KaBong" yanking on the bull's tail.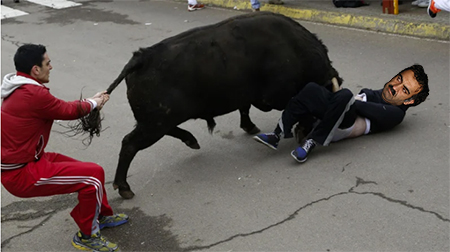 And so my friends,
please take advantage of this weekly photo shop of the mastermind who planned 9-11 and resulted in the deaths of 3,000 innocent civilians by KSM (Khalid Sheik Mohammed).
*Note to self -must pick up a case of Bull "Shiite" Manure at
Home Depot This Week.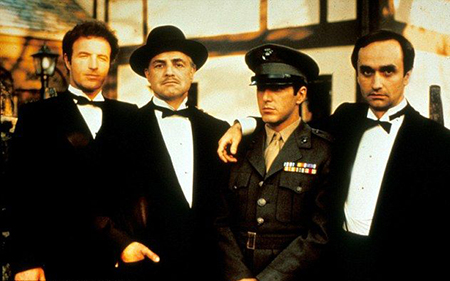 REST IN PEACE James Caan actor who played Sonny Corleone (on the left) in the Godfather. He was 82 yrs old.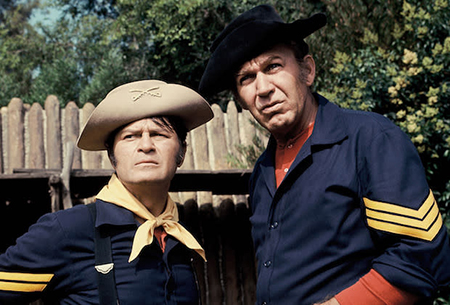 REST IN PEACE Larry Storch Cpl Agarn from F Troop (left)
he was 99 yrs old.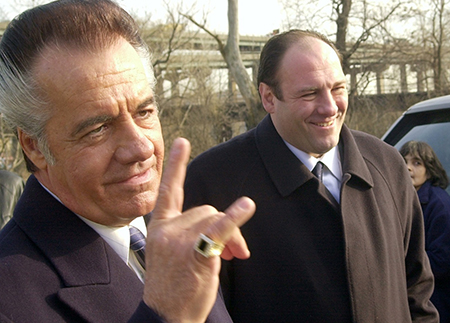 REST IN PEACE Tony Sirico (Paulie Walnuts) from the Sopranos (left) he was 79 yrs old.


Please keep local surfer Mike Keefe in your thoughts and prayers in the next few months during his treatments. Hang in there Mike!
Please keep local Surfer/Musician Pete Kowalski in your thoughts and prayers. SURFING HEALS ALL WOUNDS!
Please Keep local surfer Bill M. in your thoughts and prayers.
REST IN PEACE Rick Dreyer 88yrs old beloved Uncle and Godfather of Kim Grondin.
HAPPY BIRTHDAY AMERICA July 4th, 2022!
HAPPY BIRTHDAY John Rastl July 12th, 2022!
PLEASE keep Kim Grondin in your thoughts and prayers this week. She's doing fine, but she could use a few extra prayers especially on July 13th, 2022.

Please Support ALL The photographers who contribute to
Ralph's Pic Of The Week every
week for the last
18
years.
** BUY
a
HIGH RES Photo from any of the weeks on RPOTW.

Remember my friends... Surfing Heals All Wounds
.

Pray for Surf. Pray for Peace. Surf For Fun.


Ralph