January 9th, 2022 The RUN is 21 out of 21 Weeks.
Waist high or better at least once a week.
There were chest to head high waves on Tuesday
January 4th, 5th, 6th, & 7th, 2022.

THE RECORD FOR THE MOST CONSECUTIVE WEEKS IN A ROW FOR WAIST HIGH OR BETTER. August 8th, 2021 was 53 WEEKS! TOPPING THE 43 CONSECUTIVE WEEKS SET IN 2009!
Send your SURF Pics to me directly to ralph@adlantic.com.
Need photos by 10 AM on Saturdays. Seriously.
By 10AM. Make sure they are 1300 pixels wide.
If you have more than 10 pics please use wetransfer.com it's free up to 2 gig. Please DO NOT send me over 50 pics without first contacting and communicating with me.
Thank you.

Click on Archives link to see all the past Blogs
and pics.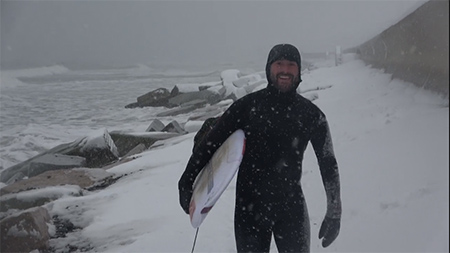 This is Jon Kiskinis. This is a VFG (video frame grab) from the video I posted at the top of the page. I shot this during the snow storm on Friday January 7th, 2022 right here in Hampton, NH
I first met Jon Kiskinis in 2008 here at The WALL in Hampton, NH. At the time, my friend quota was pretty full, so I was not auditioning for any new friends. Besides, he was just fresh out of "Gromhood" and had yet to reach his current status of being "one of the local rippers". As most of you know, you have to earn it. When I first saw him surf, he looked more like an extra from the show "YELLOWSTONE". He had kind of a bull riding stance. He was smart enough to listen to my friendly advice back then, and it paid off. You really gotta have thick skin to be around me in the surf world.

There's wisdom and knowledge in my sarcasm.
Within a few years, he started to pop up on my radar. His name was hard to remember at the time, and I was constantly asking him what his last name was. In short, he was/is a good kid. We could carry a conversation, and that's important. Before you could say "What's His Name Again?" I learned not only how to say his last name, but to write it down.
Fast forward a few more years, and Jon had put in his dues and took some friendly advice and the next thing you knew, he was showing up in the Blog.
Jon is 28 years old and is about to embark out to the West Coast to work a dream job with SURFLINE. We all wish him the Best. And as most NH transplants to the West Coast, he can stay in touch through social media and the weekly Blog. I can't tell you how many NH transplants have moved out West and stayed in touch via the weekly Blog. Jon will now join ranks with those who have called NH their true home.

GODSPEED Jon Kiskinis. GODSPEED. Don't forget to send us some pics and vids of California. Watch the video at the top of the page for the SNOW DAY session on Friday January 7th, 2021.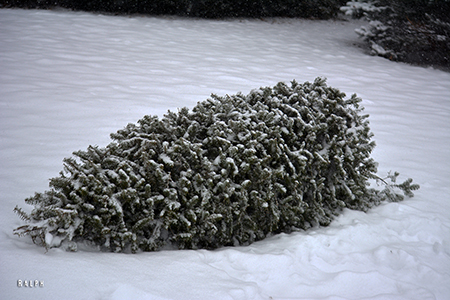 Is there a sadder Post Christmas sight than this?
I realize I'm showing everyone my softer side here, but, ever since I was a young boy, the sight of our Christmas Tree lying out on the side of the road, like discarded trash, has always caused me to pause, and get melancholy.

But, we are strict with our Holiday traditions. And we stick to them.

Every December 1st, the lights go up on the house, and the bushes. The Blue Spruce is lit, the Christmas tree is bought and decorated. We host our holiday parties with family and friends during the coming weeks, and typically have a wonderful holiday season.

But, come January 1st, it all comes down.

And I mean all of it. Inside and out. Still, seeing that tree lying out in the snow this morning? Yeah, that really got to me. Maybe it's just "Old Man Winter" getting a little too close to me.

So much for being a tough old Marine.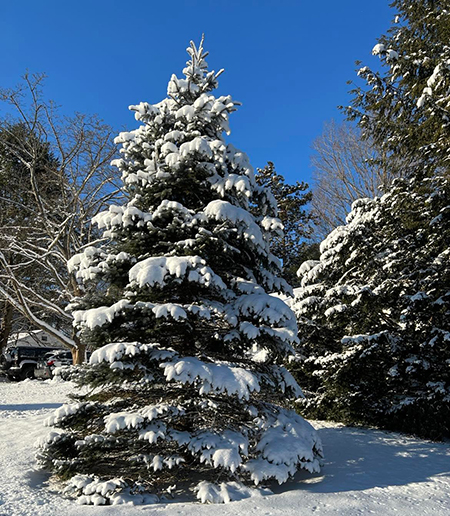 Here's our Blue Spruce the day after the snowstorm. As much as I hate the cold, I have to admit, I love winter scenes like this. Especially when it's in our front yard. We planted this Blue Spruce after losing my mother and Cory's father in 2005. Today would have been Jerry's 82nd Birthday.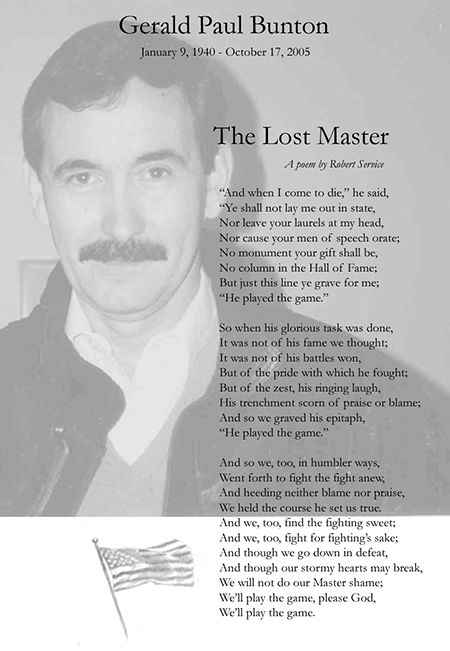 Jerry Bunton was one of the bravest men I have ever known. He is with his beloved JoEllen this day. Their first celebration together since he passed.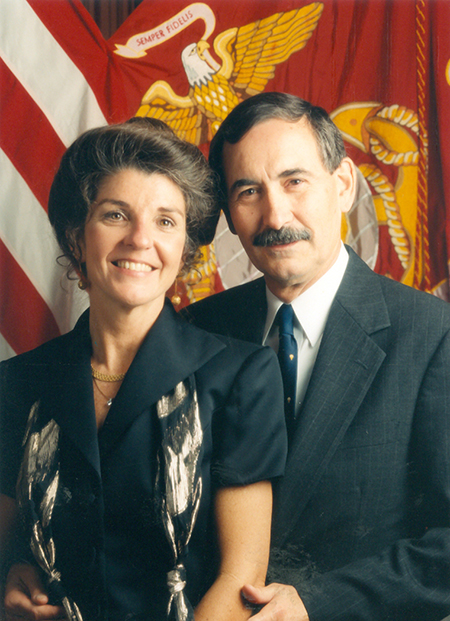 I've had this photo on my desk since 2004. It was taken at the Marine Corps Ball. We miss them both every single day. Happy Birthday Jerry, dad, Grampy. Happy Birthday.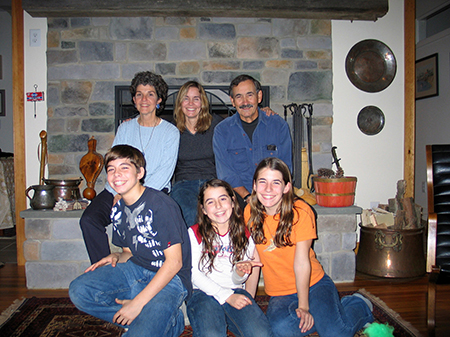 The last family photo I took down at the farm. They may be gone, but their memories live on in our hearts forever.

Only a few RPOTW calendars remain. This year's calendar was a whole different concept than last years. I used one large empty wave pic and then sprinkled in the smaller action shots. Plus I wrote a caption for each month. After all, I am a writer of sorts.

Click on the image below to see a larger version of the calendar.




The Annual RPOTW Calendars Are Out. I'm asking $20 pr calendar. You can pick one of these up at CINNAMON RAINBOWS or email me.
"SNOW STORMS AND SURFING HEALS ALL WOUNDS."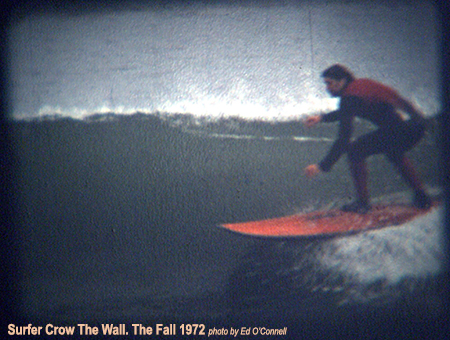 This is a pic of a true Maine/NH legend. Surfer Crow was one of the best surfers back in the early pioneering days on the NH/ME seacoast. There are a handful of legends that are still around. Paul Hamblet, Steve Clark, and Crow. He and Ed were close friends. I'm sure Crow misses his Sunday walks at Ogunquit with Ed. I know I miss him. The Fall of 1972.
Photo by Ed O'Connell
*Click the photo above to see a larger version of Ed's Pic.

NOW FOR SOME LOCAL AND NATIONAL NEWS


The NEW ENGLAND PATRIOTS PLAY MIAMI TODAY.
The outcome of this game will determine where they end up in the Play Off standings. They are currently in the Playoffs as a WILD CARD. But a WIN could move them in many different directions. Including back to the top of the heap. But that determines how the other teams play out their final game of the season. KC, Titans, and the Bengals are all part of the equation.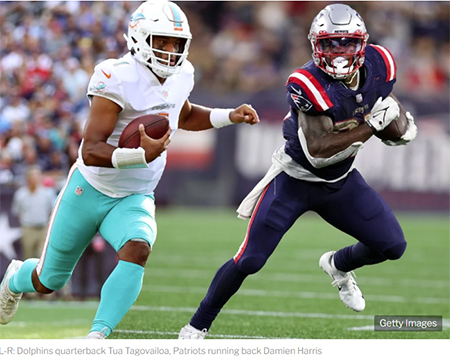 After last week's annihilation of the Jaguars the team should be ready to take on the Dolphins. But that damn Voodoo BS of not being able to beat them at their home base is getting tired. It's time we got that monkey off our backs. *And having owned a real monkey back in 1971, there's only one way to deal with a monkey bite. You gotta bite back. Or that monkey will own you. On that note. GO PATRIOTS! The World is watching you today!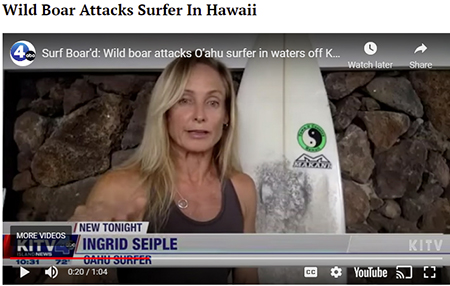 So my friend JIMMY DUNN sent me this link last week. Jimmy is a comic, and like most comics, they see things in a different light than most folks. Like this terrifying experience. While this would most certainly scare the crap out of most people. Comics (like Jimmy) see this as being funny. You know what? I think it's funny too. Thanks Jimmy for sending this in. Keep scouring the Internet for more of this Bat Crazy Shit.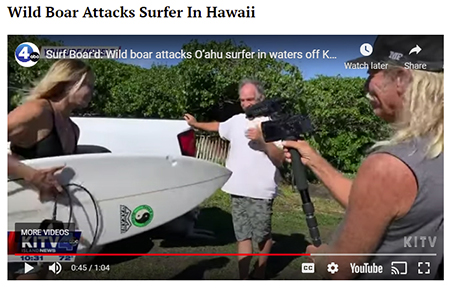 The PIG BIT HER SURFBOARD! What the ever loving hell...? Now there's a story to tell the grandkids some day. WTF??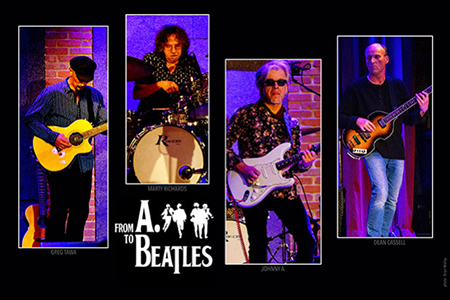 Appearing at the BLUE OCEAN in Salisbury Beach, MA
on February 25th, 2022 Click on the ad to buy Tickets.

THE SOFIA SMITH SCHOLARSHIP FUND
If you can afford to donate a few dollars to help Greg Smith's daughter Sofia out please click on the image below to lend a hand. Thank you and Mahalo.

*The SURFER'S PADDLE video for Greg Smith is down in the video section of the Blog. It's worth watching if you've not had the chance to. The drone footage by Martha Lardent is worth the viewing alone.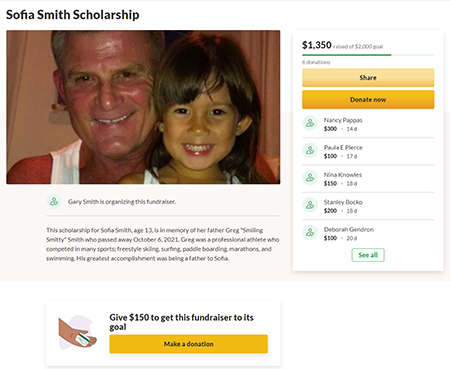 Thank you for Helping Out the Daughter of this NH Surf Legend.


KSM Photoshop of the Week
I'm not surprised to have stumbled upon this pic of Khaliddy hauling in a dead boar after successfully harvesting one back in the mountains of Afghanistan. This was of course before he was captured in 2003 in Pakistan, and long before his current status as a loser Terrorist living down in GITMO. Ain't no Pigs in GITMO. Less you call KSM a Pig and his fellow Al Qeada chumps pigs.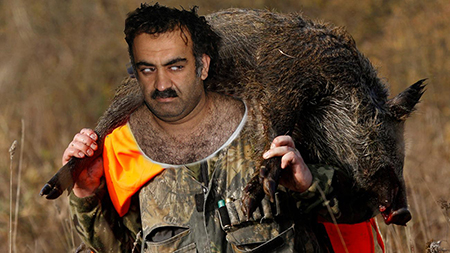 And so my friends, please take advantage of this weekly photo shop of the mastermind who planned 9-11 and resulted in the deaths of 3,000 innocent civilians by KSM (Khalid Sheik Mohammed).

*Note to self -must pick up a case of Bacon at
Home Depot this week.




REST IN PEACE Sidney Poitier. The First Black actor to win an Oscar. He was great in GUESS WHO'S COMING TO DINNER. And TO SIR WITH LOVE. He was 94 yrs old.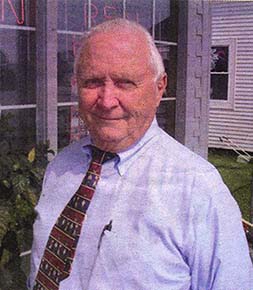 REST IN PEACE Senator Bob Preston age 92.
Bob Preston was a true gentleman. He did more for our country and our state than most even dream of. He was always so nice to me and never forgot my name whenever we met. My most sincere condolences to his family and thousands of friends and colleagues. Thank you Senator for your service.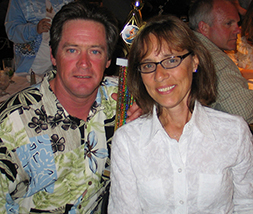 HAPPY BIRTHDAY Kim Grondin January 13th, 2022!
We All LOVE Kim! And hope she has a Great Birthday!
PLEASE Keep local Surfer/Musician Pete Kowalski in your thoughts and prayers throughout the year.
Finally PLEASE keep Kim Grondin in your thoughts and prayers.

Please Support ALL The photographers who contribute to
Ralph's Pic Of The Week every week for the last 16 years.
** BUY a HIGH RES Photo from any of the weeks on RPOTW.

Remember my friends... Surfing Heals All Wounds.
Pray for Surf. Pray for Peace. Surf For Fun.

Ralph






Yesterday- AFTER THE SNOW STORM. Hampton, NH 1938.
(Below) Can you imagine what it was like back then? I'm sure the driving was beyond difficult. This was before WWII. Those old buildings are still there today. But if you're like me, you're wondering if there was surf on this day. Think of how many perfect days went by with not a single soul surfing.
Photo c/o Hampton Public Library.
*Click on the pic to see a larger version.



I kept a daily Blog on my CATCH A WAVE FOR MOLLY surf campaign, when I surfed every single day for 365 consecutive days. Click on the Banner above to read entries of my daily journey. There's some really interesting and true experiences
that happened during that year. Some of which are to this day, unexplainable. Some are just mind blowing. But all true.

I started on July 26th, 2010 and ended on July 26th, 2011.

Some rainy Sunday, pour yourself a cup and go through the journal. Pay close attention to the month of May in 2011. Read that month and let me know what you think of that. Be forewarned it will change you forever.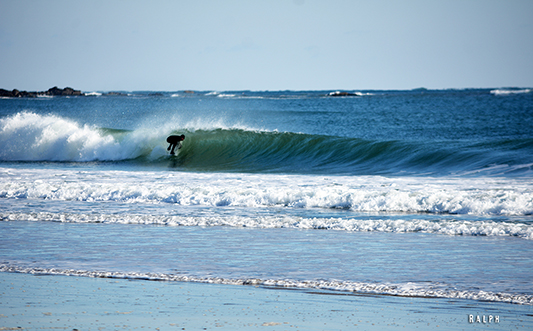 (Above) I looked down the beach and saw this Goofyfoot pulling into these green barrels. It was Jack Madden. Thursday January 6th, 2022
Photo by RALPH *Click on the photo above to see the whole gallery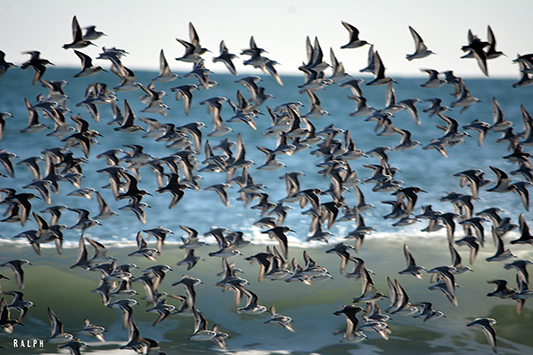 (Above) I love it when these Sand Pipers go swarming by me.
Thursday January 6th, 2022 Photo by RALPH
*Click on the photo above to see the whole gallery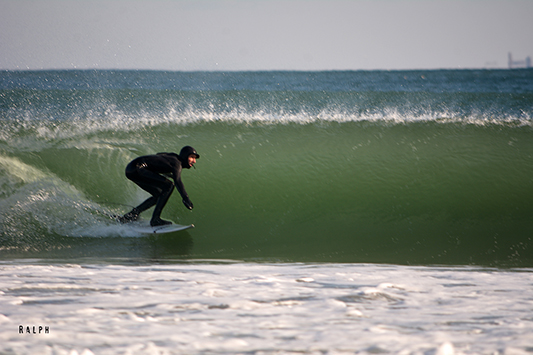 (Above) Jack Madden. Thursday January 6th, 2022 Photo by RALPH
*Click on the photo above to see the whole gallery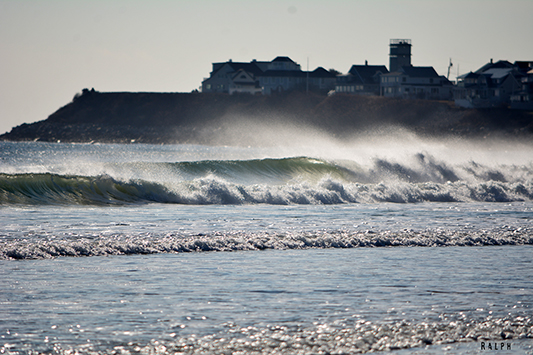 (Above) Still may favorite view in 2022. Thursday January 6th, 2022
Photo by RALPH *Click on the photo above to see the whole gallery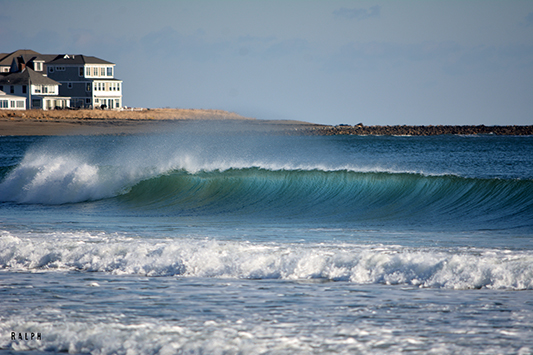 (Above) Though looking north can be just as good.
Thursday January 6th, 2022 Photo by RALPH
*Click on the photo above to see the whole gallery

Today- THE GLASSY BUMP.
Tuesday January 4th, 2022
Photos by RALPH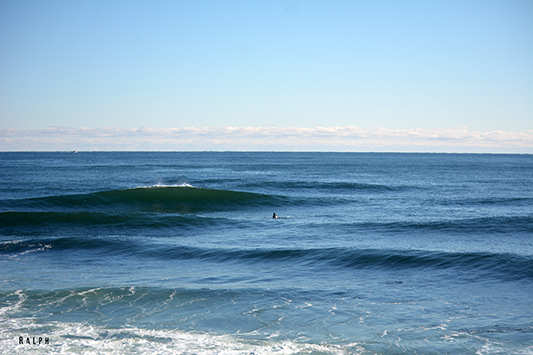 (Above) They were not very big, but they sure were glassy. Pete Rizzo had this all to himself. Tuesday January 4th, 2022 Photo by RALPH
*Click on the photo above to see the whole gallery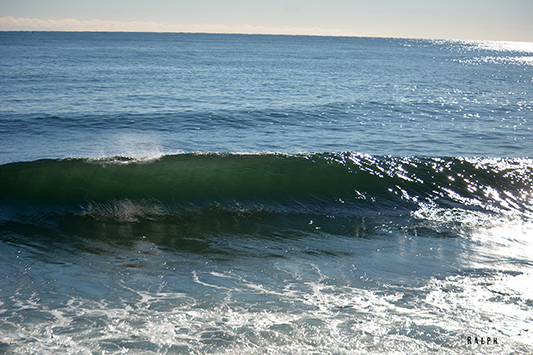 (Above) There was this inside slider just begging to be ridden.
Tuesday January 4th, 2022 Photo by RALPH
*Click on the photo above to see the whole gallery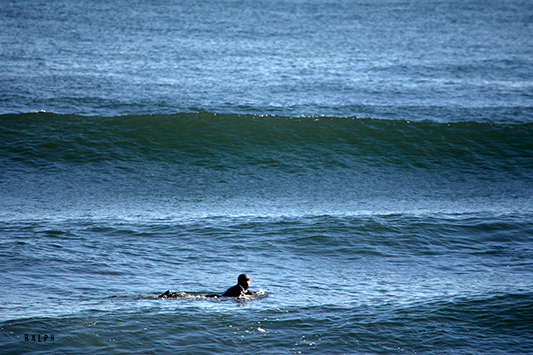 (Above) Pete Rizzo dealing with the NO CROWD factor.
Tuesday January 4th, 2022 Photo by RALPH
*Click on the photo above to see the whole gallery