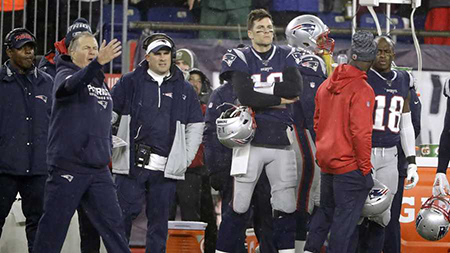 OK so I woke up this morning with a hangover. And this is coming from a man who is 31 years sober. No it wasn't a drug or alcohol hangover, it was an emotional but physical hangover because of the Patriots Football game I watched last night. Now before you turn your heads away in disgust because you're not a fan of the Patriots, or just not a fan of the NFL in general, you have to understand where I'm coming from.

I have been a fan since the dark days. The very dark days.

You see before this last 20 year reign of greatness came about, there was a time when the Patriots were the laughing stock of the NFL. Most of the kids today that are under the age of 40 don't know anything about the past. This year was considered a bad year. And we were what 12-4? That's funny.

I remember the 1-15 years. That's a bad year. If we could simply win a game back then it was considered something to celebrate about. So once we won that First SUPER BOWL? And then went on to win five more? It was literally like we had all died and gone to heaven. We had been living the dream.

And then this 2019 season came about after winning our 6th title last year. We started the season 8-0. The people who hated us hated us even more. And we all ate that shit up. We loved it that the rest of world hated us. It was for us older fans a sweet revenge. But ever since the Baltimore game the wheels started to slowly come of the bus. The second half of the season was disastrous. They lost 4 out of the 6 last games. Including losing the 4-11 Miami Dolphins and blowing the BYE week. It was in a word, very unPatriot like. The Bill Belichick Tom Brady duo was not what it was just a few years ago.

Tom Brady is 42 years old. That's old for a QB in the NFL.

Nobody wants to get hit by a 300 lb lineman, and certainly nobody who is in their early 40's. As you 45yr olds and older guys already know, the body cannot sustain that kind of punishment. Still, there were moments of brilliance from Brady. Just when you think they were out of it, they somehow managed to get back into the game and win it. And last night was one of those games. They were up 10-3 going into the 2nd qtr, and they had the ball on the 1 yard line. The old Patriots of the last few years would have called a series of different plays to pick from and score. Not this team. Not this year. Try as they might, they couldn't punch it in from the one yard line. It was depressing. They went into the half down by one point 14-13.

This guy Derrick OH HENRY was a load. They couldn't stop him the entire first half. He gained over 200 yards rushing and running after catching a few short passes. All the TITANS had to do was hand the ball to Henry. He did the rest.
And to make matters worse, it was his birthday. I'm sure when he blew out the candles on his birthday cake he made a wish to beat the Patriots. Bam.




The Patriots defense figured a way to slow this monster down in the 2nd half. And they did. The score remained 14-13 with just 26 seconds left in the game. The final score was not important. And one could point the finger at a lot of players throughout the game. The dropped ball from Edleman for a first down. The poor play calling from Josh McDaniels. And the sinister moves by TITANS coach Mike Vrabel in the 4th qtr that had every fan and player in Patriots nation fuming. That is until someone pointed out that Belichick
himself had used that same technique against the JETS when Vrabel was playing for the Patriots. So he learned that from the Hoodie himself. Ouch.
Ye Reap What Ye Sow.

What's really sad for my personal life is, our daughter Noelle and her Fiancée Pete went to that game. It was Noelle's first time seeing the Tom Brady Era Patriots. She was so excited and couldn't wait to go. Here they are standing near the field last night. I told her "No matter what the outcome, you will have seen the GREATEST Quarterback and Coach in the history of the NFL."

And that's the truth.




Noelle and Pete at the game on Saturday night. Still a memorable night
for the both of them.




This is Brady after the game shaking the hand of a fan. Clearly he's upset.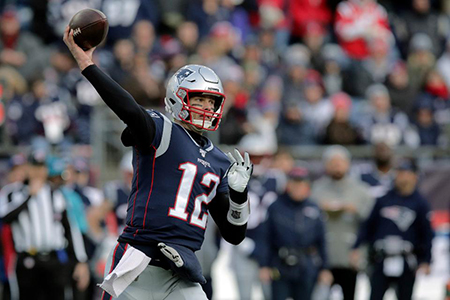 And this is a pic of Tom Brady doing what he's done a few hundred times in his career. Throwing a TD pass from one of the earlier games this year. It's hard to say where this will all end up. But one thing's for certain, those of us who were lucky enough to witness this greatness these last 20 years, have nothing to be sad or ashamed about. We were witness to the GREATEST NFL FOOTBALL TEAM IN THE HISTORY OF THE NFL! Thank You Tom Brady and Bill Belichick and all the players and coaches from the last 20 years. It's been one hell of a ride! LET'S GO!!!!!

Speaking of History, for the first time EVER in the History of our country a presidential candidate came to Hampton, NH to Surf our waves. And not just surf, but surf in winter conditions and actually catch a half dozen or so waves. It's true. TULSI Gabbard is a combat veteran who served as a Major in the US ARMY and did two tours in the Mid-east. She's a Congresswoman from Hawaii who just so happens to surf. Gee, a combat vet who surfs? You think that's a good reason for me to get involved with this photo and video shoot? Oh hell yes it is/was. Look, I am not going to say that this is NOT a political event. I know it is. They all are. But how many presidential candidates can boast that they went surfing in Hampton, NH in the dead of winter? Here let me answer that for you. NONE! ZERO! NADA!

TULSI is the ONLY one. And guess what? She can surf. Yup.




Dave "Crop" Cropper owner of CINNAMON RAINBOWS Surf Shop and Lenny Nichols from the ESA-NNE helped TULSI get set up in a winter wetsuit and a proper board and had her paddle out into some chest to head high surf on January 1st, 2020. It was great. She's the REAL DEAL.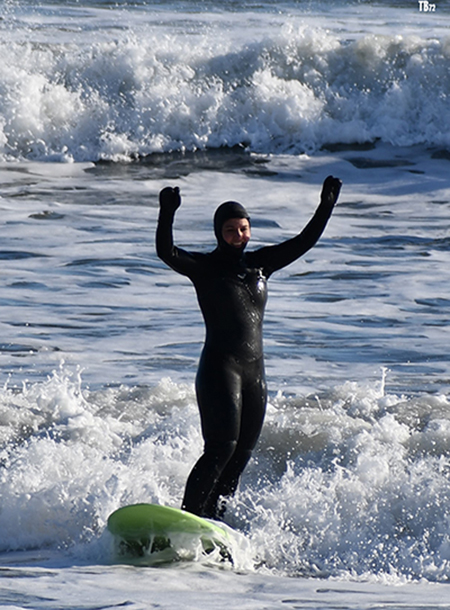 She was stoked to be able to catch a few waves and join in with the locals.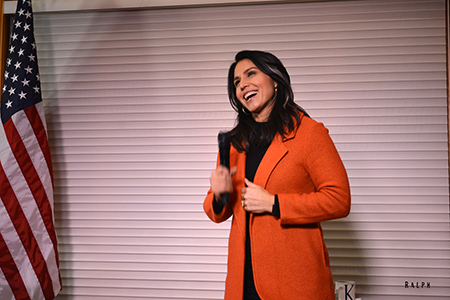 We went and saw her in an intimate setting in a home here in Hampton a couple nights before she surfed. She was a great speaker, who is capable of reaching across the aisle (much like John McCain) and could if given the chance start to heal this nation. She is truly all about working together. And her experience in the Military is a big part of the reason why she is more than qualified to do the job. I have the utmost respect for her and Mayor Pete. Both are veterans who served in the war. I have said this many times before, but it's true. I think it should be a criteria for anyone who wants to be president should serve at least two years in the military. I believe that neither TULSI or PETE would ever start a war. It's always those who have never served that seem to want to send troops into harms way.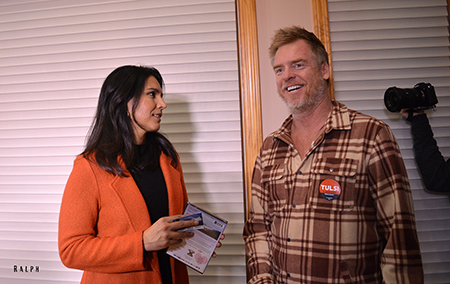 TULSI is holding my DVD GRANITE GIRLS and my card in her hand as she talks with Dave Cropper. I think if more people had the chance to meet with her and listen to her they would see and hear what she's all about. I was impressed with her as an individual.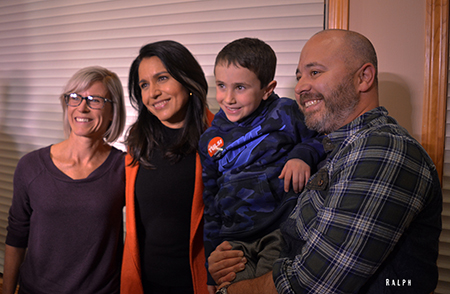 Melinda and Chris with little Finn came to see her talk.




And when Finn gave her a hug there were lots of smiles in that room.
Check out the two galleries down in the photo section and check out the video I posted from that day. TULSI Gabbard "A Soldier's Heart"

And speaking of hearts...there's no bigger heart in Hampton than this woman.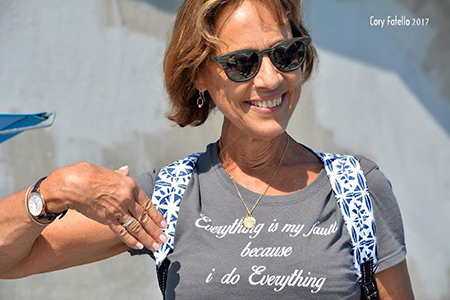 Kim Grondin's Birthday is on Monday January 13th, 2020. If you know her or see her somewhere wish her a Happy Birthday. Or if you're friends on facebook send here a Birthday greeting. She's a true Hampton treasure.

And finally, I saw this on facebook. It's from the diary of the late Duane Allman from the Allman Brothers Band. 50 years ago. It's really good. Read it.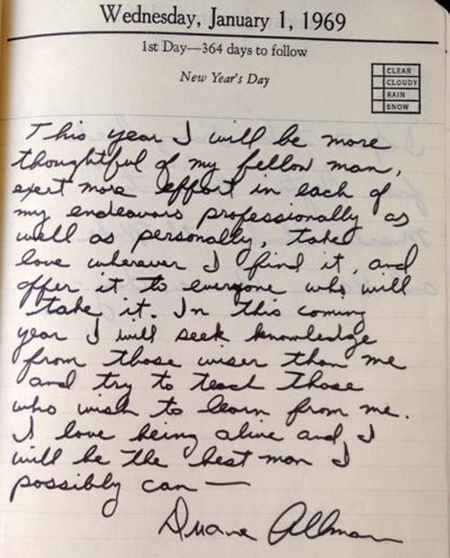 "Surfing, Football, Music, and LOVE Heals All Wounds."


This is Max Fatello out surfing at a spot all by himself on a very large day back in 2013. I remember this day. We got dumped on by a large winter storm (NEMO) and the roads were almost impassable. Somehow Max found his way to the ocean and I was down south on the border shooting the surf there. I remember calling Ed and telling him that Max was going to try and surf at this spot. And if he could get there he might get the only pics from this swell. Well, Ed dropped what he was doing and found his way to the break and managed to get a few pics of Max. I like this one because Max is just letting that inside wave go by. You can just make him out looking outside for the incoming sets. That's a gull flying by next to him. Max brought this day up at Ed's paddle the following year. He got emotional talking about this day. After hearing the story I think we all did. Photo by Ed O'Connell
*Click the photo above to see a larger version of Ed's Pic.

Now for Some Local, National and International News
I'm sure you're all aware of the killing of IRAN'S Maj. Gen. Qassim Suleimani last week ordered by our 45th president . If you haven't you must be living under a rock. This is BIG news. And it's getting bigger. And depending on who you listen to it's a hot topic that has once again drawn the line in the sand between both parties. The GOP is all for this killing. And the DEMOCRATS for the most part are against it. And the INDEPENDENTS like me are somewhere in the Middle. First and foremost, this guy is responsible for killing over 600 Americans and wounding thousands more. And for that alone, he's better off dead.

He's a bad, very bad human being.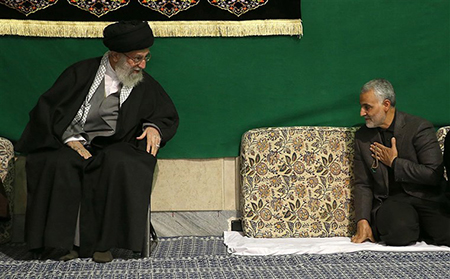 And I will tell you, that I am personally glad that he's dead. And you should be too. He was number two behind Ayatollah Ali Khamenei. He was that big of a deal in IRAN. I've had a problem with IRAN ever since the suicide Bombing of the Marine Barracks in Beirut Lebanon on October 23rd, 1983. If he had anything to do with that bombing I am happy that he's gone. That day was the biggest loss of life in the Marine Corps history since Iwo Jima in WWII. I can remember crying while out surfing that morning thinking of those poor Marines trapped in that rubble. Awful.

I would suggest you just read the different opinions online or in the newspapers about him. Maj. Gen. Qassim Suleimani is, or rather was a terrorist. But today he's a dead terrorist that killed his last American. Look I'm not someone who just came down with last night's cold front, I know what's coming. I know there will be revenge killings that will come in all forms. Suicide bombings on Military targets. As there will be with soft targets. There will cyber attacks and there may even be something more significant.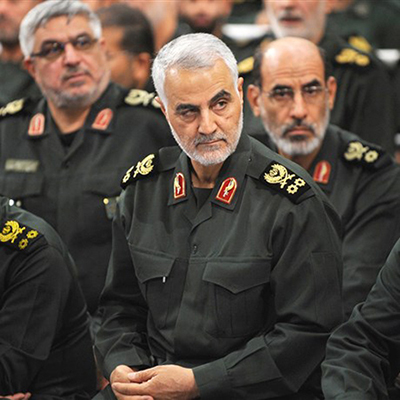 The IRANIANS who love and support him are all chanting
DEATH TO AMERICA and ISRAEL. It's nothing new. We've all seen this and heard this before. Should we be concerned? of course we should. But this is the dilemma of such operations. It's dammed if you do and dammed if you don't. And as an INDEPENDENT I'm going to wait to see what transpires in the next few weeks and months. Because we know somethings gonna happen. And I am not beyond 45 doing this now to create a diversion because of the upcoming Impeachment trial. l would not be the least bit surprised if this is exactly what he did.

I'd personally like to know if Obama and Bush ever had Suleimani in their sights. And if they did, why did they pass on him? I would like to know if he's been on a hit list for some time now. That would help me form an opinion. If it turns out that we have been after this guy since 9-11 that would be helpful. And if it turns out that the intelligence reports are true (that he was plotting to kill Americans) that too would be helpful. Like I said, I'm going to wait and see. Meanwhile, I'm not going to lose any sleep over his demise, or the vehicle he was riding in.





Damn...that's one melted ball of death right there.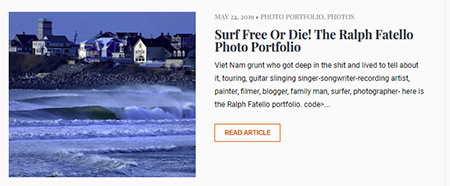 ESM (Eastern Surf Magazine) using a READY MAG format did the Best of Ralph's Pic. And while they couldn't possibly use everything thing I've ever done, they did manage to put up some 50 pics of mine, plus two videos. And I was truly humbled by their intro. Mez said some nice things about me. CLICK ON THE IMAGE ABOVE TO SEE THE WHOLE Spread.

COMING FATHER'S DAY 2020.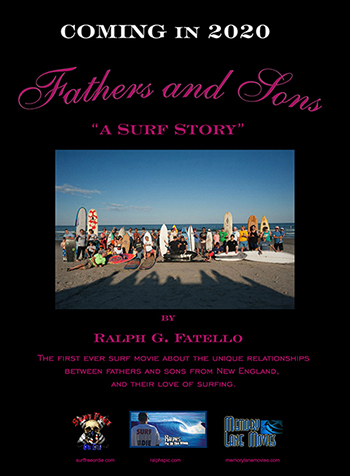 Before the Fathers and Sons movie I'm planning on another release. This too will be unique.

I'm calling it "FOR LOVE AND WAVES."
The story of couples who surf.
Married couples. Single couples. Gay couples. Lovers who surf together. From SURF FREE OR DIE and RALPH'S PIC OF
THE WEEK.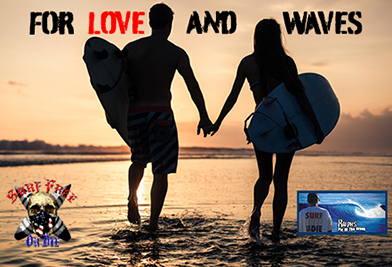 Posting on Valentines Day February 14th, 2020.

*Finally to the COWARD who sent me an anonymous email last week saying all kinds of untrue nasty shit about me warning recreational drug users and addicts on the dangers of FENTANYL, I'm still waiting to hear from you. But being a COWARD, I understand your fear. You're a coward. And everyone knows, that Cowards have no balls. Time to man up.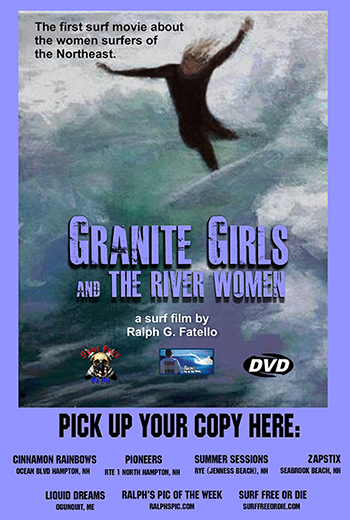 The DVD's are available at all the local surf shops. Or by
sending me an email. ralph@adlantic.com or send a check for $20.00 made out to ADLANTIC and send it here:

ADLANTIC
c/o OC Studio Suites
703 Ocean Blvd Suite C-4
Hampton, NH 03842

Or RENT or BUY it Online. You have spoken and I have listened. You don't have a DVD player so I made it available Online. Watch it on your Smart TV, your computer, or your cellphone! I can't make this any easier my friends.


GRANITE GIRLS and The RIVER WOMEN from Ralph's Pic Of The Week on Vimeo. NOW AVAILABLE on VIMEO ON DEMAND.

KSM Photoshop of the Week
This made everyone in KSM's cell block happy. To have Khaliddy make this END OF YEAR Collage is quite the honor. He's in some pretty significant company here. Happy New Year KSM...looks like another year in prison for you. The start of yet another decade in prison. Must really suck huh?




And so my friends, please take advantage of this weekly photo shop of the mastermind who planned 9-11 and resulted in the deaths of 3,000 innocent civilians by KSM (Khalid Sheik Mohammed).

*Note to self -must pick up a case of Last Year's Sales Items
at Home Depot this week.

Each winter I run these promos form our friends in the mountains. LOON, CRANMORE, and PAT'S PEAK. Just click on these logos below to see what's happening up north.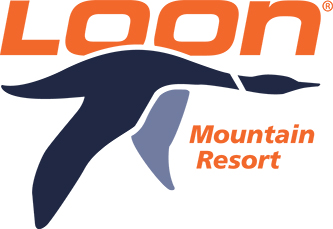 New England's Most Accessible Resort
EXIT 32 off of 1-93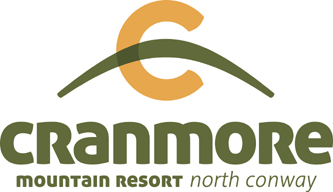 North Conway's Family Mountain
Located in North Conway, NH
Voted # 1 Ski Town in the country by USA Today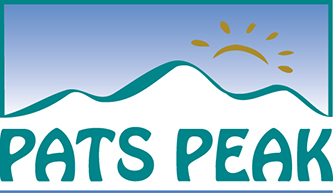 Southern New Hampshire's Family Friendly Mountain
Close To Home!

Congrats to Julia Nichols on the birth of baby girl number 2 HAPPY NEW YEAR!
HAPPY BIRTHDAY Jerry, Dad, Grampy, January 9th, 2020!
HAPPY BIRTHDAY Kim Grondin January 13th, 2020!
REST IN PEACE USMC General Paul X Kelly
PLEASE Keep longtime NH Surfer Greg Smith in your Prayers.

Lenny Nichols & Colin Madden
Co-Directors, NNE District
Eastern Surfing Association
www.esa-nne.org
@esa.nne.surf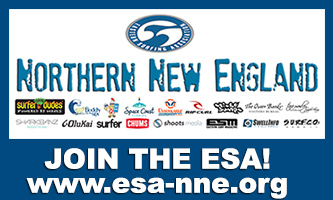 Please Support ALL The photographers who contribute to
Ralph's Pic Of The Week every week for the last 13 years.
** BUY a HIGH RES Photo from any of the weeks on RPOTW.

Remember my friends... Surfing Heals All Wounds.
Pray for Surf. Pray for Peace. Surf For Fun.

Ralph