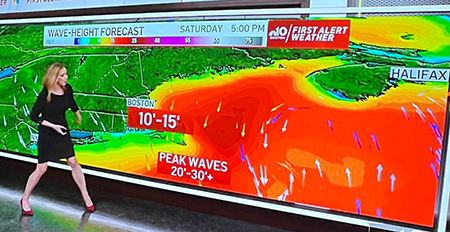 The FIRST BLIZZARD of 2022. WINTER STORM KENAN.
OK so Winter Storm Kenan came to town and the world came to a screeching halt. It was another one of those Bomb O Genesis or Bomb Cyclones. Or a NASTY Nor'easter. Take your pick. It was a decent sized storm and yeah, there were hurricane force winds, and relatively big seas, and I suppose some flooding here and there, but to be perfectly honest with you? I've seen bigger storms. I don't want to downplay this thing, but Good Lord the hype on this storm was way over the top.

But I get it. It's news. And when it's a weather related big story, it does seem to take on a life of it's own. And this was one of those storms that had non-stop coverage 24-7. Hell they were preempting the World News. I thought we were going to war with Russia? And what about Neil Young and Joe Rogan?




These two were doing battle on Social Media like two heavyweights going at it in a 12 round bout. But you know what? Nobody gives a rats ass about SPOTIFY when you got a NASTY NOR'EASTER knocking on our front doors.

And they even put COVID on hold. Then if all of this wasn't big enough news, ESPN drops a bomb shell on us by reporting that Tom Brady is retiring! Say what? OK now this is big news. Then an hour later Tom Brady says he's not retiring. Wait what? Look, most Pats fans are still not over losing Brady, but most of us still root for him even though he plays for Tampa Bay. So which is it? Is he, or isn't he? Turns out he is retiring. Ever feel like a Yo-Yo? Sheesh.

But back to Kenan. At least this was a story with legs, Sea legs.
I was having deja vu (or PTS) all over again. The BLIZZARD of 78 came to mind. They were making KENAN as big of a deal as THE BLIZZARD OF '78. Really? Yup. Though I seem to recall a BLIZZARD back in 2015 that rocked all of New England. But the bar was set with the Ole BLIZZARD of '78.




And this? This is a photo of Rt 128 in 1978. It was literally a Parking Lot.

I remember it well. I was living on the North Shore at the time and remember this storm. Hell I even went surfing in Beverly during this storm. That was a Blizzard to end all Blizzards. But you would have thought that none of the past Blizzards mattered with the Hype they were laying on us during this storm.

They had it all. maps, graphs, reporters standing out in the wind and snow showing us how the texture of the snow looks like. They stood on the beaches, in the streets, pointing at the tiny waves lapping the coast. Some of them had goggles on. It's like "Who the hell are they talking to?" We're New Englanders. We've seen snow. We've seen wind. And those of us who surf, have seen WAY bigger waves. But, they go through the motions like we're all tourists visiting New England for the first time. Hello? We're locals. We know.

And look, I'm not trying to downplay this storm completely. There were hurricane force winds, and thousands of people lost power for a few hours, and I suppose there were more than a few motor vehicle accidents. Heck, I almost went off the road myself when I drove down to the coast to shoot my longtime friend Johnny "JIM" Meehan as he paddled out at the peak of the storm to catch some waves at his favorite break.


It was impossible to shoot in those conditions though. I saw him catch at least 3 waves and ride them. And then I saw two other rides that I believed was him, but it was like watching a ghost. I couldn't tell if it was him, or just my imagination. I mean, it was "Ghostly" looking out there.

Not gonna lie, the driving was not recommended. Total whiteout conditions. But dammit, if my friend was gonna paddle out, I was going to be there to capture it. But honestly? I should have waited out the storm, and get it in the morning. The morning was really good.


Here's a a pic and a meme I made of Johnny. This was him coming out of the water and walking up the beach. Like I said, I could not see enough to shoot him out in the water. Whiteout conditions. Look for the full WINTER STORM KENAN AKA BOMB O GENISIS or BOMB CYCLONE with all the photo galleries as well as my video in next week's Blog.

Until then Enjoy this week's Blog with all the action from this week.

THE SEACOAST OF NH LOST A TRUE PATRIOT AND AMBASSADOR
THIS WEEK WITH THE PASSING OF DESI LANIO

Desi was a good friend to so many of us here on the Seacoast. And the reason why is because he made so many of us feel special. His honest and true character of giving back to the community was not lost on those who knew him. I've known Desi since his time at Le Bec Rouge on the main beach in Hampton. Going through my old photos I came across these.

This was Memorial Day 2018.

I was driving my JEEP with WWII vets and Korean War vets on-board. Desi came out to give the late Warren White WWII Marine Corps vet a small Flag. When I was Commander of Post 35, I always looked forward to marching by the 401, because I knew Desi would have a big crowd out front cheering us on and waving flags. He was so patriotic.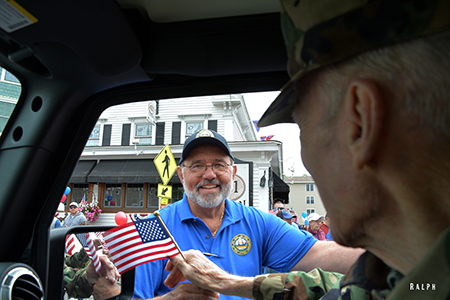 Warren passed away two years ago. It's hard to believe that they are both gone from this earth. They were two of my favorite people here on the Seacoast. Desi was only 69 years old.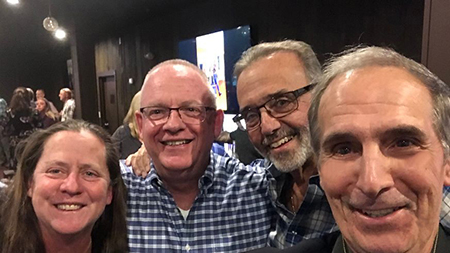 Here's a "SELFIE By RALPHIE" last October at then Chief Richie Sawyer's Retirement Party from HPD. Richie and Desi were very close friends.

Below is a series of PM's that Desi sent me over the last few years.




Desi would have turned 70 this past Thursday. I was so looking forward to wishing him a Happy 70th Birthday.




I'm not afraid to tell a friend or family member that " I love them." And neither was Desi. We always ended our chats with a "love you brother."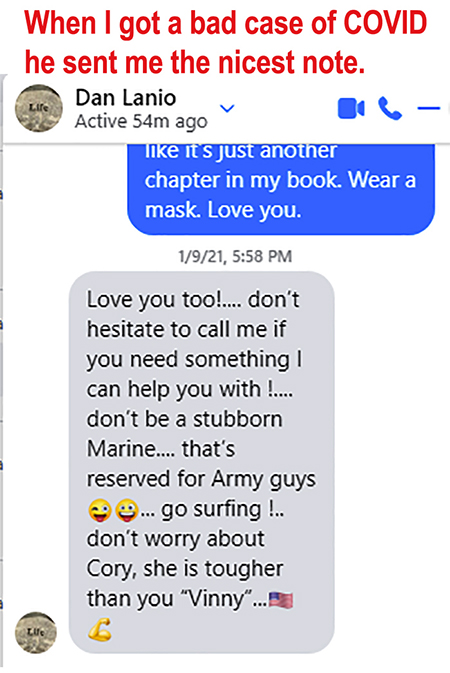 And when I caught COVID in January of 2021 Desi reached out to me.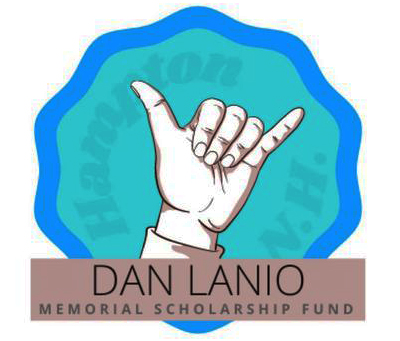 Dan Lanio Memorial Scholarship Fund

This community is amazing. The outpouring of support for Dan "Desi" Lanio has been emotionally overwhelming. It warms our heart to see all of the tributes and memories that you all have shared over the past few days. Many out there have sought out ways to honor the man who brought so much joy to all of us, and Experience Hampton has been working with people from all over the Town of Hampton to create the Dan Lanio Memorial Scholarship Fund.

This fund, will make a scholarship available for the WHS Extended Learning Opportunities Program (ELO). A couple of years ago, Desi raised close to $4,000 to start the first scholarship for ELO. This program was near and dear to Desi, as was supporting all the students from Winnacunnet High School.

Experience Hampton offered to accept donations to create this fund, and ensure that the donations being made were channeled to the official "Dan Lanio Memorial Scholarship Fund". Please know that we will ensure your contributions will only benefit the student recipients of this fund, and not be used for any other operational expenses.

As our way to honor Dan "Desi" Lanio, Experience Hampton will be contributing $2,500 as the initial opening donation. Desi was a key member in creating Experience Hampton, and we are truly grateful to the legacy he left behind, and we will do our best to honor his memory moving forward.



If you are interested in donating, no matter how big or small, please send and make out all checks to:
Experience Hampton, PO Box 444, Hampton, NH 03843
(Please indicate in the memo portion that the check is for the Dan Lanio Memorial Scholarship Fund)
"DESI AND SURFING HEALS ALL WOUNDS."


This is a pic of Sashi Lyford surfing during the Inauguration of President Obama. Didn't I just run a pic from this same swell last week? Yes I did, but it wasn't of Sashi. So deal with it. The whole concept of this section is that it's a photo that Ed O'Connell shot. And that's what you have here. Photo by Ed O'Connell
*Click the photo above to see a larger version of Ed's Pic.

NOW FOR SOME LOCAL AND NATIONAL NEWS


THE GREATEST QUARTER BACK TO EVER PLAY THE GAME IS RETIRING. TOM BRADY 22 YEARS IN THE NFL WON 7 SUPER BOWL TITLES. 6 WITH THE PATRIOTS.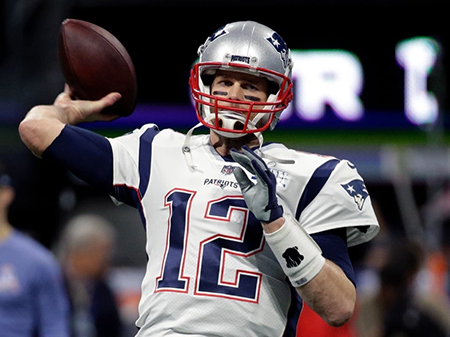 I can remember it like it was yesterday. September 23rd, 2001. My young son Max and I were at the game in Foxboro, MA the Patriots were playing the JETS. It was the first home game after 9-11. The Patriots had the ball with 5:03 remaining in the game, when QB Drew Bledsoe tried to run for a first down. Mo Lewis hit Bledsoe so hard that he literally knocked him out of the game. He was hurting. It was bad. Real bad.

And in comes Tom Brady. There was a collective sigh in the stadium.
I looked at Max and said these exact words: " We're outta here Max, the season is over." Little did I know, shit, little did the world know, how wrong we all were. The next 20 years were the best years of our New England Patriots fans lives. What an incredible run. What amazing memories. Six Super Bowl titles. And so many memorable games. Just the best times of our lives as fans.

Thank you Tom. Thank you for everything. You were the best. You were the GOAT. God Bless you and your family going forward. I know we will be seeing you doing something in this sport. Whether it be a commentator or something else where you will be in front of a camera and have a microphone. And when you speak, we're all gonna listen. And so will Tony Romo.
So Give 'em hell Tommy! Give 'em hell!.

WHEN IT RAINS IT POURS. OFFENSIVE COORDINATOR
JOSH McDANIELS WILL BECOME THE NEW HEAD COACH FOR THE LAS VEGAS RAIDERS.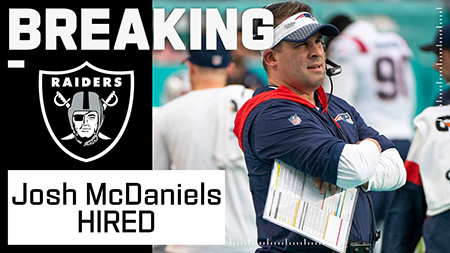 I did not see this coming,. in fact, many of us thought that Josh would hang around long enough to take over as Head Coach with the Patriots once Bill Belichick retired. Guess not. It's too bad, because Josh and Brady were super tight, and together they made a hell of a combo. And the REALLY sad thing is, Josh was mentoring Mac Jones the same way he worked with Brady. Man, things are looking bleak for us again. Oh well, there's always next year. I do want to wish McDaniels the BEST OF LUCK until they play us. Then I want them to fail miserably. Hey, I'm a homer.

RAMS vs BENGALS IN SUPER BOWL LVI.
SUNDAY FEBRUARY 13th, 2022 at 6:00PM.




Last week's Divisional games were ones for the ages. Those Four games were some of the BEST Playoff games in the history pf the NFL, and today's two games were just as good . The AFC CHAMPIONS are the CINNCINATI BENGALS they Beat The KANSAS CITY CHIEFS in OT. And the LA RAMS are the NFC Champs having beat the SAN FRANCISO 49'rs. Between you and me? I like watching a stress free Playoff game. So much more fun. Don't get me wrong, I'd rather be stressing watching the Patriots play, but I am enjoying myself watching these games. Same goes for my wife and family and my close friends.

CONGRATULATIONS DAVID "BIG PAPI" ORTIZ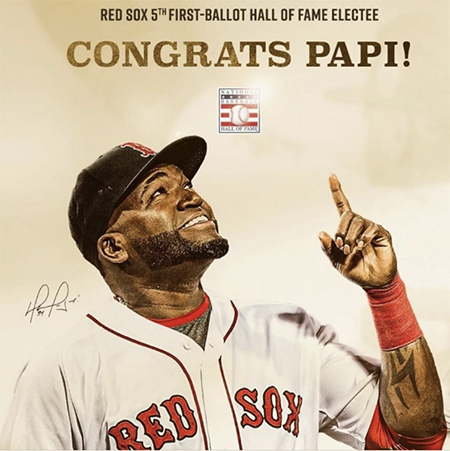 And now for some good news surrounding Boston sports.
Congrats HALL OF FAME BOUND David Ortiz. He's earned it.

Please Donate to this Timmy Sheridan GO FUND ME page.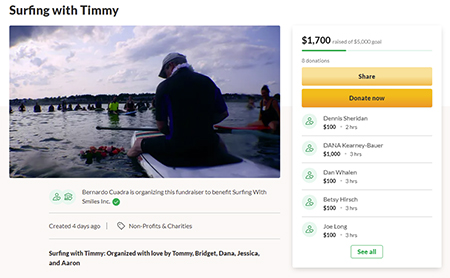 THE GO FUND ME PAGE in Memory Of TIM SHERIDAN

Timmy passed away very suddenly in June, 2019, and is now riding the eternal wave. Timmy had a passion for surfing. He taught friends and relatives how to surf and volunteered with Surfing with Smiles, a non profit organization that gives those who may otherwise not get a chance to be out on the water, the thrill of a lifetime. It is run solely by an amazing group of volunteers, three times a summer. Surfing with Smiles is an organization near and dear to our hearts. We are fundraising in Timmy's honor with the goal of providing scholarships for lessons and equipment rentals to assist Surfing with Smiles participants and others who may not be able to afford lessons, the opportunity to get out on the water.

*Please click on the image above to read more and to make a donation to this GoFund Me page in memory of Timmy Sheridan.


This effort is in conjunction with Cinnamon Rainbows Surf Company in Hampton, where Surfing with Smiles began, and
one of the biggest supporters of SWS.
Checks can also be made out to Surfing with Smiles, and please note Tim Sheridan Scholarship in the memo. Checks can be mailed to SWS c/o Cinnamon Rainbows Surf Shop, 931 Ocean Blvd., Hampton, NH 03842
THE GREATEST SONGWRITING TEAM THE WORLD HAS EVER KNOWN. LENNON/McCARTNEY of the BEATLES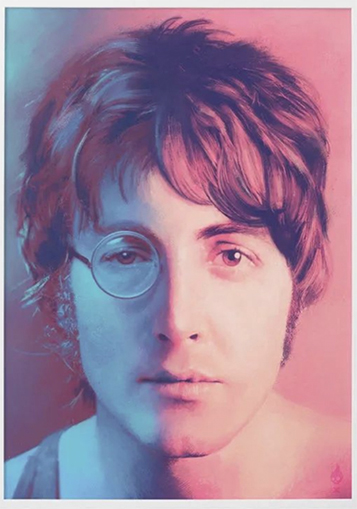 And speaking of
the Beatles
...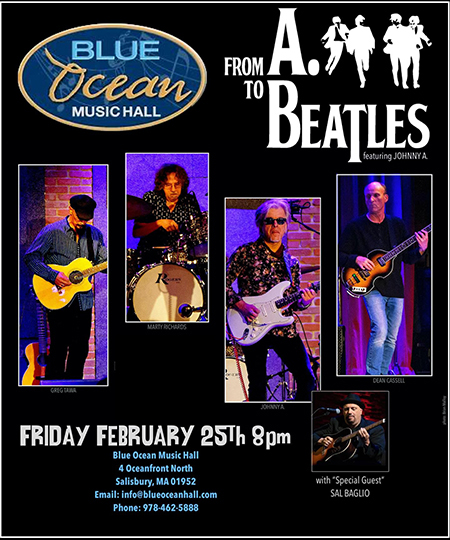 Appearing at the BLUE OCEAN in Salisbury Beach, MA
on February 25th, 2022 Click on the ad to buy Tickets.

*Sal Baglio has been added to the show!


KSM Photoshop of the Week
This was one of those weekly KSM memes that sort of made itself. Whenever Joni Mitchell joined forces with Neil Young to protest SPOTIFY because of some of the things that Joe Rogan has said, well? I could not help myself my friends. Turns out KSM wants us to ban SPOTIFY too. He's removing his songs TAKE YOUR HANDS OFF MY GOAT and his duo with Neil Young's new recording of "ROCKING IN THE FREE WORLD."
Only they are calling themselves The FORGOTTEN GEEZERS.




And so my friends, please take advantage of this weekly photo shop of the mastermind who planned 9-11 and resulted in the deaths of 3,000 innocent civilians by KSM (Khalid Sheik Mohammed).

*Note to self -must pick up a case of old Joni Mitchell and Neil Young 8 tracks at Home Depot this week.

HAPPY 70th BIRTHDAY Desi Lanio January 27th, 2022!
HAPPY BIRTHDAY Kelly Ciarmataro January 28th, 2022!
REMEMBERING TET in RVN January 30th, 1968.
PLEASE Keep local Surfer/Musician Pete Kowalski in your thoughts and prayers throughout the year.

Please Support ALL The photographers who contribute to
Ralph's Pic Of The Week every week for the last 16 years.
** BUY a HIGH RES Photo from any of the weeks on RPOTW.

Remember my friends... Surfing Heals All Wounds.
Pray for Surf. Pray for Peace. Surf For Fun.

Ralph






Yesterday- THE BLIZZARD OF '78.

That's my old Pick up truck. Boy if that vehicle could speak, the stories it would come up with would make you shake your head. Note how high the snow banks are. That was all shoveled by hand. No snow plows, no snow blowers, just me and my shovel. Anyway, that's what a real blizzard looks like.

Photo by RALPH
*Click on the pic to see a larger version.





I kept a daily Blog on my CATCH A WAVE FOR MOLLY surf campaign, when I surfed every single day for 365 consecutive days. Click on the Banner above to read entries of my daily journey. There's some really interesting and true experiences
that happened during that year. Some of which are to this day, unexplainable. Some are just mind blowing. But all true.

I started on July 26th, 2010 and ended on July 26th, 2011.

Some rainy Sunday, pour yourself a cup and go through the journal. Pay close attention to the month of May in 2011. Read that month and let me know what you think of that. Be forewarned it will change you forever.