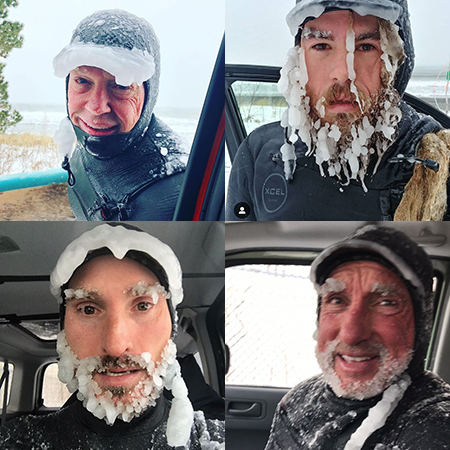 There's something to be said for this kind of dedication. I mean, honestly, take a look at these guys. From left to right: Top left Johnny Meehan, Pev, Kyle Linseman, and Kenny Linseman. This is for real. It takes a lot of freaking cold to make saltwater freeze. Look at this shit. I've been here before. Though I don't have any photos of me in this state, I do remember laughing hysterically at myself when I looked in the rear-view mirror in my vehicle. I can also remember blasting the defroster and heat in my vehicle trying to thaw out my face and hair. Imagine having your eyelashes and eyebrows freeze.

You have to admit, this is pretty damn funny. I laugh every-time I look at it.

OK so Monday January 21st, 2019 was one of the coldest days I've ever been out in. It's cold out in the water but it is colder standing on the beach shooting photos. I know this, because I've done both. And Monday was one of the coldest by far. How cold was it?

Well, my fingers felt like Frozen French Fries!

I'm not kidding. I did all I could to get the circulation running through my extremities. I was doubled up in thermal everywhere on my body. I had face protection as well. I had two pairs of the thickest wool socks on, and my gloves were thick with Thinsulate. But for some unknown reason (to me) I could not feel my fingers. In fact, as I stood on the rocks about 35 yards from where the boys were surfing, I kept clapping my hands. I mean I was clapping as loud as I have ever clapped.

The funny thing is, the boys thought I was clapping at them. I was not. They did nothing worthy of me clapping that loud. I was simply trying to get the blood flowing in my digits. After a while (and I do mean awhile) I was able to use my fingers. Or rather partial use them. Them "French Fry Fingers" were starting to defrost. But man was it ever difficult. I tried keeping my trigger finger hand in my coat pocket with my glove off. It was easier to shoot with no glove on that hand. Easier but not warmer. I use my finger for the NIKON and my thumb for the SONY 4K. I was trying to do it all.

I was alternating between my Video camera and my still camera.

I really couldn't tell if I was getting any of the shots or the clips. It was too cold to check them and the cameras were freezing up. I am not sure what temperature is safe with either one of those cameras. So we all took a beating out there. Me and my cameras.

The very next morning I went back down to shoot the frozen mini waves. Or as I am fond of calling them "Slurpees." This natural phenomenon happens when Ice/slush forms at the water's edge and the waves hit the shoreline and the saltwater wave melds with the ice/slush creating this strange looking living slow motion liquid matter. I shot both stills and video. I have not seen the clips yet, but I do have a gallery of the stills. Here's a few to whet your appetite.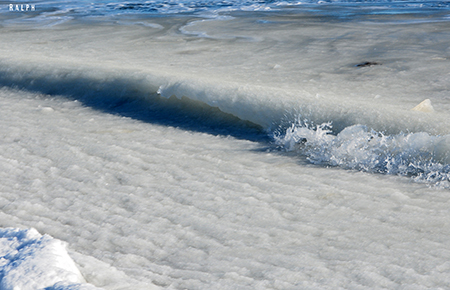 This wave is moving. And it is all frozen water in a slush like state.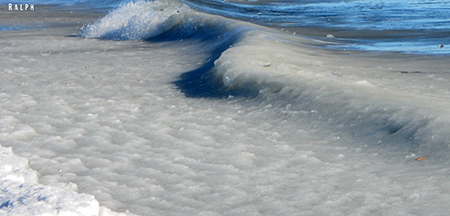 And although I can take credit for shooting these particular images, I cannot take credit for discovering these fascinating freaks of nature. It was Brian Nevins who first introduced me to this freakish winter display. I'm not sure if Brian is the original one to shoot these or not, but I do know that I have never seen this kind of thing before I saw Brian's pics some 5 to 7 years ago.

So I tip my hat to Brian Nevins for turning me onto these cool waves.

I have been planning this for the last few years. And for a number of different reasons and or excuses, it never came together until Tuesday January 22nd, 2019. All the elements came together on that morning. The swell, the tide,
and the wind was a slight off shore. But most importantly, the sun was warm
in my face.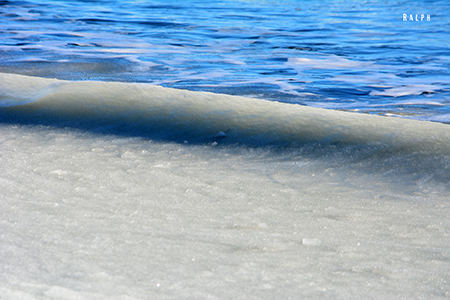 And as most of you can clearly see, I got the goods.

Like I was saying. It takes a serious cold temperature for saltwater to freeze.
I'm not a scientist, so I don't have the actual numbers and equations but I'm sure if one were to Google this question you would find the answer.




These plates of ice were scattered up and down the beach that morning.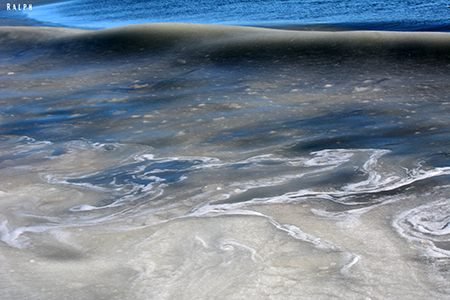 Some of the waves took on a liquid molten claymation look to them.




There were still familiar sights of actual waves that would weave their way through the icy slush to form perfect mini tubes. I don't know, I'm fascinated by these little mini Slurpees. The next time it's single digits and the wand is howling out of the northwest take a trip down to the ocean and look for these slushy shore-breaks. Who knows, you might like it. Or not.

For the second time in two weeks another friend has passed away from injuries sustained in a Skiing accident. Phil Maloney age 65 of Hampton, NH
was a longtime reader of this Blog. He was an expert skier (like my friend Kurt Cochran) who knew his way around the Mountains of New England. His favorite mountain was Sugarloaf. I drive by Sugarloaf many times every October. I love it up there. It truly is another world. Although I only knew Phil to say hello to every summer, I do know his wife Sue. We share a lot in common. But I guess the fact that he was a loyal reader of this blog it seems as though I know him more than I would just anyone else that I knew on a casual basis.

I think what bothers me is the fact that he would have read my blog about Kurt. So that would have been fresh in his mind as he was skiing this past weekend. My office mate and longtime friend Johnny Meehan is forever telling me that "Phil sent me a photo from your Blog today." Apparently Phil was always telling Johnny every-time I ran a photo of him (Johnny) surfing.




Both Kurt and Phil were 65 years old when they died on the Mountains. As a surfer, I can appreciate the fact that they died doing what they loved. I'm sorry for Sue's lost and his daughter Molly and his other relatives and friends. Especially Johnny. They were good friends. Rest In Peace Phil, and thank you for reading my weekly Blog.

"Surfing and Skiing/Boarding Heals All Wounds."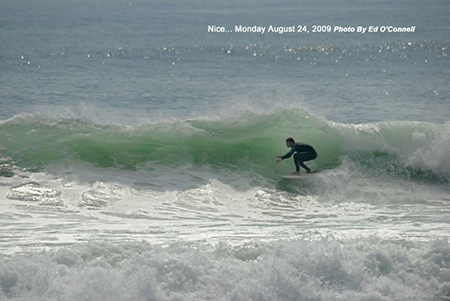 I'm not gonna lie. One of the most enjoyable things about this weekly Blog is I get to look through all of Ed's photos and pick one out each week. Suffice it to say, I have enough of his pics to cover the next 10 years or so. Not sure who this is, but it never really mattered to Ed. He would shoot everyone and anyone who was surfing well, or was on a decent looking wave.
Photo by Ed O'Connell
*Click the photo above to see a larger version of Ed's Pic.

Now for Some Local, National and International News
This meme? Oh hell yeah, I had myself a fun time putting this one together for you all. Look, I was ready and feeling OK if they lost this last game. I mean let's all be honest here. They have won Five Super Bowls. FIVE! So yeah, I was ready to turn the page and move on. But...apparently they were NOT READY. They won again, and once again the New England Patriots are heading for their 9th Super Bowl. Their third year in a row. I mean, it sounds absurd me even writing this. But these are the facts.




Now we have to all get ready to churn out another gut wrenching Super Bowl title. Could be worse, we could be like Patrick Mahomes and his Kansas City Chiefs. As they get ready to sit this next game out and wonder what the hell happened. Well long story short Chief's fans. You got beat by a team of professionals. A team who knows how to win. From the head coach down to the Special Teams players. The Patriots mean business.




So...we went from the Divisional win against the Chargers at Home. To the amazing win over the Chiefs on the road to this. Super Bowl LIII (53). Just think, Brady won his first Super Bowl 17 years ago against the Rams.




Can he beat this young upstart QB Jared Goff? Well, I am not a betting man, but I'm thinking he can. He's beaten everyone else. And if they do win? Brady could walk away from the game and the NFL a true Champion having bookended his career Super Bowl wins against the Rams. Six titles. Destiny awaits.

It would or could be a Perfect Parting.


Win or lose, History will be made next Sunday Night.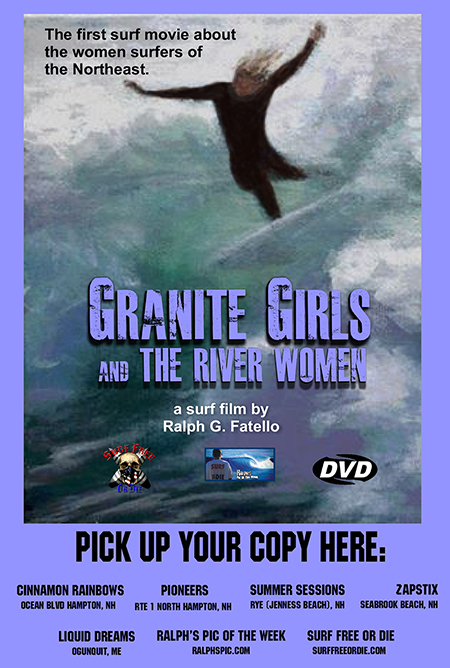 The DVD's ARE IN! We are taking orders via email. The much awaited All Women Surf Movie of the ladies and girls of the Northeast are available at all the local surf shops.
To order yours just send me an email. ralph@adlantic.com or send a check for $20.00
made out to ADLANTIC and send it here:

ADLANTIC
c/o OC Studio Suites
703 Ocean Blvd Suite C-4
Hampton, NH 03842
Or RENT or BUY it Online. You have spoken and I have listened. You don't have a DVD player so I made it available Online. Watch it on your Smart TV, your computer, or your cellphone! I can't make this any easier my friends.


GRANITE GIRLS and The RIVER WOMEN from Ralph's Pic Of The Week on Vimeo. NOW AVAILABLE on VIMEO ON DEMAND.


KSM Photoshop of the Week
This pose by Roger Stone? Google Richard Nixon's last day at the office as he boarded the Helicopter to whisk him away into the history books. Truth is Stone has a tattoo of Nixon on his back. Google that as well. But KSM? Why is he there? Come on, you know why he's there. Because I put him there. Whenever something negative appears in the News it's a safe bet that Ole Khaliddy will be there. It's what I do.




And so my friends, please take advantage of this weekly photo shop of the mastermind who planned 9-11 and resulted in the deaths of 3,000 innocent civilians by KSM (Khalid Sheik Mohammed).

*Note to self -must pick up a case of Nixon Tell All Books at Home Depot this week.

REST IN PEACE Phil Maloney
HAPPY BIRTHDAY Kody Grondin January 25th!
HAPPY BIRTHDAY Kelly Ciarmataro January 28th!

FYI Lenny Nichols is looking for someone or someones to take over the ESA-NNE District. Please contact Lenny Nichols by calling his cell (603) 944-2418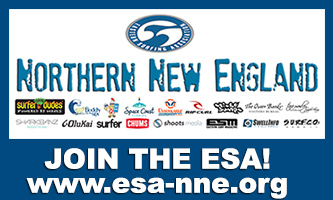 Please Support ALL The photographers who contribute to
Ralph's Pic Of The Week every week for the last 13 years.
** BUY a HIGH RES Photo from any of the weeks on RPOTW.

Remember my friends... Surfing Heals All Wounds.
Pray for Surf. Pray for Peace. Surf For Fun.

Ralph





(Above) This is Kenny Linseman. It's funny, I didn't know it was him until I saw the pics later in my studio. Sunday January 20th, 2019. Photo by RALPH
*Click on the photo above to see the whole gallery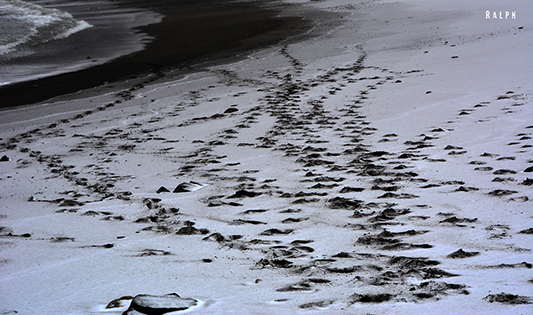 (Above) I call this "Proof Of Man." Sunday January 20th, 2019.
Photo by RALPH *Click on the photo above to see the whole gallery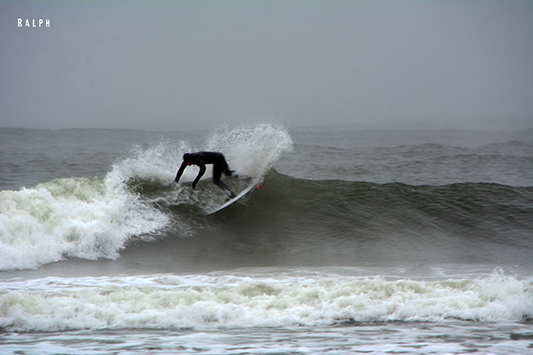 (Above) This might be Matt Colby. It was hard to tell who was out there. It was cold, snowy, and murky. Sunday January 20th, 2019. Photo by RALPH
*Click on the photo above to see the whole gallery





(Above) Kyle Linseman was all smiles heading out to join his pop and friends. Sunday January 20th, 2019. Photo by RALPH
*Click on the photo above to see the whole gallery