January 23rd, 2022 The RUN is 23 out of 23 Weeks.
Waist high or better at least once a week.
There were head high to overhead waves on Sunday
January 16th, 2022. And HUGE Surf on January 17th-18th, 2022
From WINTER STORM IZZY

THE RECORD FOR THE MOST CONSECUTIVE WEEKS IN A ROW FOR WAIST HIGH OR BETTER. August 8th, 2021 was 53 WEEKS! TOPPING THE 43 CONSECUTIVE WEEKS SET IN 2009!
Send your SURF Pics to me directly to ralph@adlantic.com.
Need photos by 10 AM on Saturdays. Seriously.
By 10AM. Make sure they are 1300 to 1555 pixels wide.
If you have more than 10 pics please use wetransfer.com it's free up to 2 gig. Please DO NOT send me over 10 pics without first contacting and communicating with me.
Thank you.

Click on Archives link to see all the past Blogs
and pics.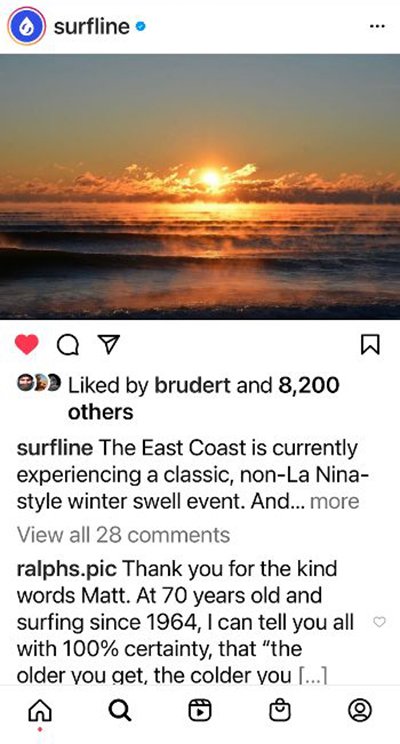 This is a SURFLINE POST ON INSTAGRAM From This Past week.
This pic of mine was from Saturday January 15th, 2022. I ended up getting a pretty bad case of Frost Nip that morning. Frost Nip is not as bad as Frost Bite. But can turn into Frost Bite if not taken care of. It was 4 degrees out with a windchill factor of 17 below zero. It was cold. I was dressed properly, but made the mistake of answering my cellphone at 7:00AM. In under a minute my hands got Frost Nip. And they never fully recovered. That whole day was terrible for my hands. The video above that's titled OF SUN,SEA, AND SMOKE was all shot on that day. And, my hands were stinging all day long. All because I answered my phone. It was so incredibly cold that morning.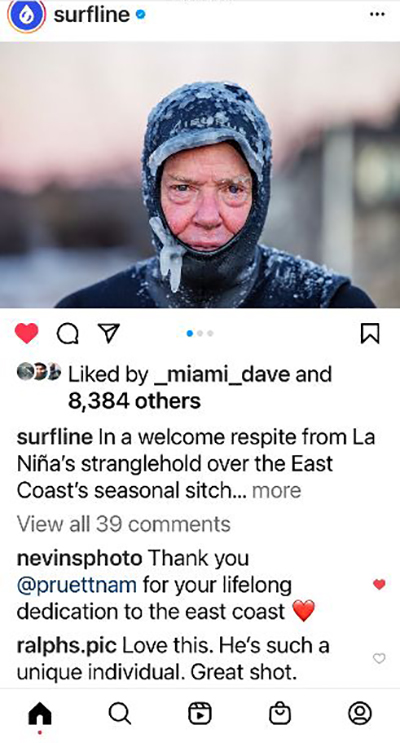 And this? Ha ha. This is a pic from Brian Nevins that he took of Johnny "JIM" Meehan that morning. This too was on SURFLINE'S INSTAGRAM Post. SURFLINE did a running "live" piece on Instagram they called EAST BOUND DOUBLE DOWN. It was basically following the hour by hour progress of Winter Storm IZZY. But because both Brian and I submitted pics and video from the 15th, they opened the window a little to include that first biting cold swell we got on Saturday January 15th, 2022. Brayden Rudert also was featured in this Insta piece. If you're on Instagram you should check it out.

But, it was IZZY that they really wanted. And we gave them the goods.

The other video (above) was shot just two days after the Sea-smoke video. That was all about Winter Storm IZZY. I've posted these videos here on the front page to allow you to see them in a larger format. As most of you know, I've been shooting these breaks for over 50 years. And this particular swell? Well, watch the video. It was pretty significant. Some are calling it the BEST footage of this particular break. I'm not so sure about that, but, it is significant. Of that I am sure.

This week's BLOG is chock full of IZZY pics. I've got 8 galleries of IZZY.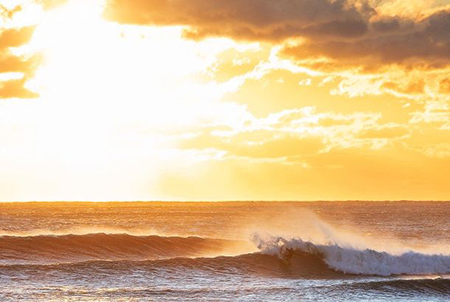 Here's a pic of Kody Grondin taken by Brian Nevins on Tuesday January 18th, 2022. I was slightly to left when Kody was out there. I shot a wave or two from my angle and you can see it in my IZZY video. FYI, Kody is turning 30 on January 25th, 2022. Hard to believe those boys are all in their 30's now.

So I got a call last week from a representative of NHPR (New Hampshire Public Radio), the woman on the phone Mary McIntyre, said she was checking out my Blog and wanted to reach out to me because they were doing a story on Winter Surfing. After a short conversation I agreed to meet with her and also directed her to Dave Cropper at CINNAMON RAINBOWS. One of her colleagues Rick Ganley was going to suit up and try surfing for the very first time in his life. OK, but most people try surfing for the first time in more forgiving conditions. But I admired his moxie and went along for the ride.

After all, anything could happen out there, and I wanted to be there to get it on film if it did. Here's a series of pics from Saturday January 22nd, 2022. The air temp was 17 degrees and the water temp was a balmy 40 degrees.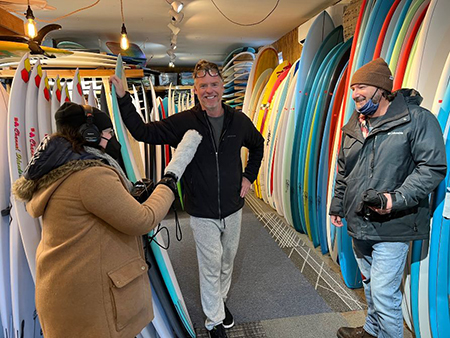 Here's Dave talking with Jackie and Rick prior to suiting up.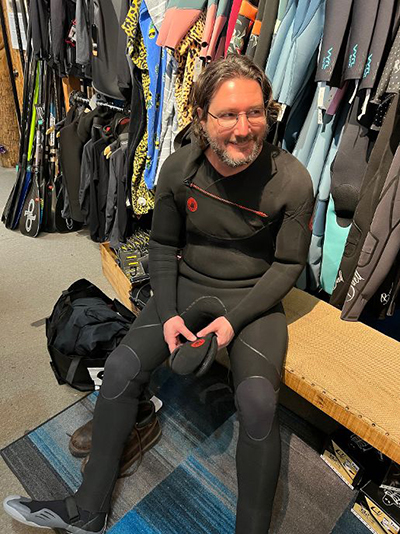 He's never been in a wetsuit before. Let alone a winter suit. But as you can see Rick was all smiles. *Those smiles turned to grimaces once that first wave hit him in the kisser.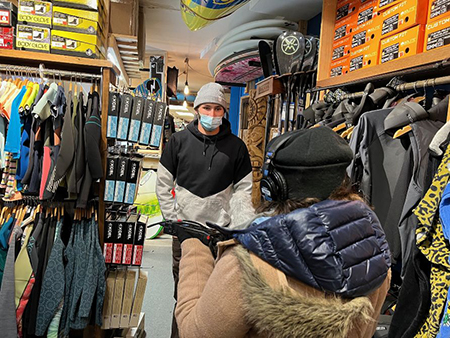 Carter got some airtime with Jackie before we all headed out.




Dave did his best to give Rick last last minute tips. FYI there was an actual thigh to waist high swell running. So there was plenty to push him along.




Typically most beginners don't get to "pop" right up. They tend to crawl to their feet before losing their balance and falling. And much to his credit, Rick did remarkably well, considering it's freaking January! Good on you Rick.




All in all Rick caught about 5 waves and experienced what it's like to be in the ocean in the middle of winter. It's not for everyone, that's for sure.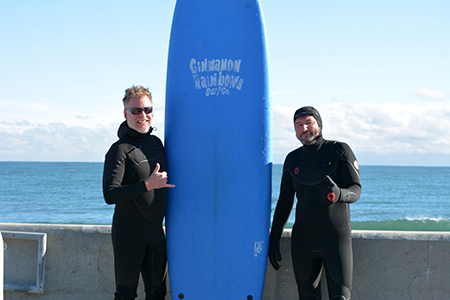 Dave "Crop" Cropper and Rick Ganley after their "Winter" session.

The piece is going to air in February on NHPR. It's radio, so you'll have to use your imagination. But everything you hear was real. Is Rick going to take up surfing? Maybe. He has a 20yr old and a 11yr old at home who have never tried surfing. I tried to encourage him to take the whole family surfing. Only, next time come back in June Rick.

"SURFING HEALS ALL WOUNDS."


This is a pic of Mike Stanek surfing during the Inauguration of President Obama. I remember surfing that day myself. Man that was 13 years ago already? Time sure flies. Photo by Ed O'Connell
*Click the photo above to see a larger version of Ed's Pic.

NOW FOR SOME LOCAL AND NATIONAL NEWS


THE CONTINUED FALL OUT AFTER THE PATRIOTS DISAPPOINTING LOSS IN BUFFALO ON 1-15-22

The reason, or rather the beginning of reasons, of why the Patriots lost 4 out of their last 5 games all stems from the BYE WEEK. Whatever happened to the team, happened during the Bye Week. This is according to not only me, but hundreds of others who I have heard, seen, or spoken to. Something happened during the Bye week. And nobody has a definitive answer as to what that is. Much like the Malcolm Butler mystery during the Super Bowl loss to the Eagles. Nobody knows. The Belichick Mafia is stiff lipped about it all.

My personal opinion (which doesn't hold much water) is that there is dissension in the coaching staff. I think that the Mullet headed son of BB is a problem. The old saying of there's "too many chefs in the kitchen?" That might be true here. And I think it came to a head during the Bye week. Otherwise how do you explain this team who won 7 games in a row prior to the Bye end up losing 4 of their last 5 games? Some thing's rotten in Denmark. We might never know. Just like the Malcolm Butler benching.

I will say this, I am genuinely enjoying these Play-Off games with zero to no stress. It's a welcomed feeling, being stress free when you have no dog in the fight. But...I'd rather be stressed watching our team battle it out, than to not be stressed watching these other teams. Speaking of which. I'm rooting for TB12 and Jimmy G. I hope one of them makes it to the Big Show.

REST IN PEACE MEATLOAF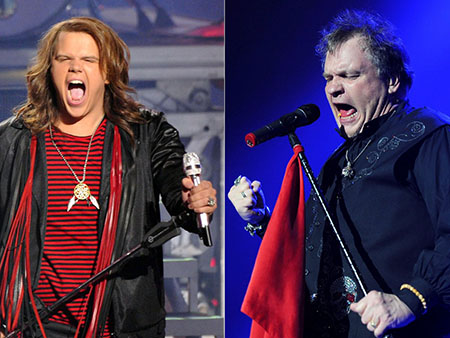 Meat was 74 years old. I was never a big fan of his music, but I can certainly appreciate his success. There's no denying his contribution to both film and music. Though I did hear that he was an ANTI VAXXER. Hope it wasn't Covid that got him. I will admit that I am a big fan of eating Meat Loaf. What man doesn't like Meat Loaf?

REST IN PEACE Louis Anderson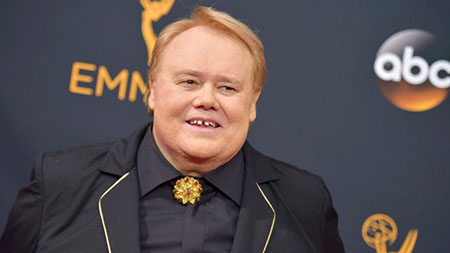 Anderson was 68 years old and was battling cancer. It seems like every time we turn around we are losing another celebrity. SPOILER ALERT. We are (hopefully) all going to grow old and eventually pass away. So while these celebrity deaths seem to be coming like hotcakes we are all going at some point. Besides, anyone over 65, has had a pretty good run. And I say this knowing that I am well beyond that window. I live each day with sincere thanks and a heart full of being grateful. That's the truth.

Because there are far to many stories of those leaving us way before their time. Like Timmy Sheridan (see below).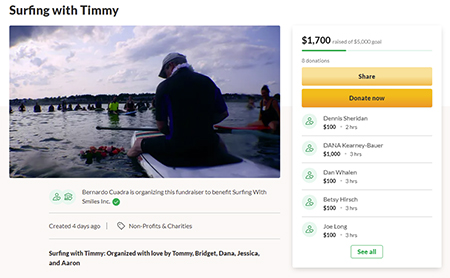 THE GO FUND ME PAGE in Memory Of TIM SHERIDAN

Timmy passed away very suddenly in June, 2019, and is now riding the eternal wave. Timmy had a passion for surfing. He taught friends and relatives how to surf and volunteered with Surfing with Smiles, a non profit organization that gives those who may otherwise not get a chance to be out on the water, the thrill of a lifetime. It is run solely by an amazing group of volunteers, three times a summer. Surfing with Smiles is an organization near and dear to our hearts. We are fundraising in Timmy's honor with the goal of providing scholarships for lessons and equipment rentals to assist Surfing with Smiles participants and others who may not be able to afford lessons, the opportunity to get out on the water.

*Please click on the image above to read more and to make a donation to this GoFund Me page in memory of Timmy Sheridan.


This effort is in conjunction with Cinnamon Rainbows Surf Company in Hampton, where Surfing with Smiles began, and
one of the biggest supporters of SWS.
Checks can also be made out to Surfing with Smiles, and please note Tim Sheridan Scholarship in the memo. Checks can be mailed to SWS c/o Cinnamon Rainbows Surf Shop, 931 Ocean Blvd., Hampton, NH 03842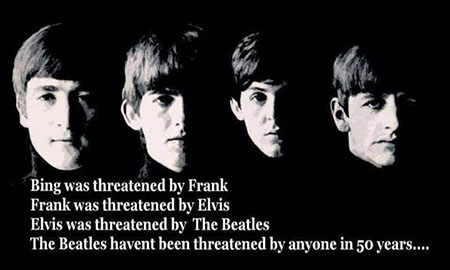 And speaking of the Beatles...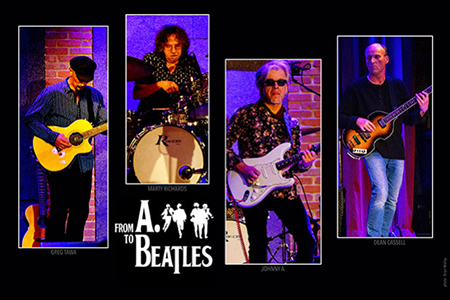 Appearing at the BLUE OCEAN in Salisbury Beach, MA
on February 25th, 2022 Click on the ad to buy Tickets.




KSM Photoshop of the Week
This might upset the Pro Russian readers of The Blog. I'm pretty sure Putin and Khaliddy are not on the same page as far as invading UKRAINE. But the visual was too funny not to create. After all, this section of the Blog has one purpose. And that is to make you smile and chuckle at the misery of the person who was the mastermind of crashing airplanes into buildings resulting in the killing of 3,000 innocent Americans. I hope Putin does not invade. Mostly because I'm more concerned with what 46 will end up doing (or not doing). IMHO, he is not doing a very good job.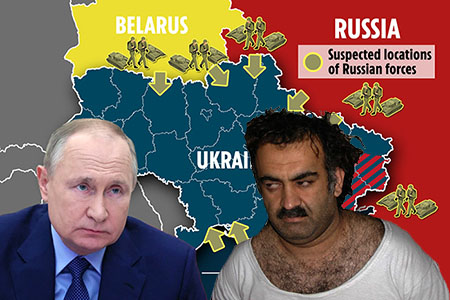 And so my friends, please take advantage of this weekly photo shop of the mastermind who planned 9-11 and resulted in the deaths of 3,000 innocent civilians by KSM (Khalid Sheik Mohammed).

*Note to self -must pick up a case of Vodka at
Home Depot this week.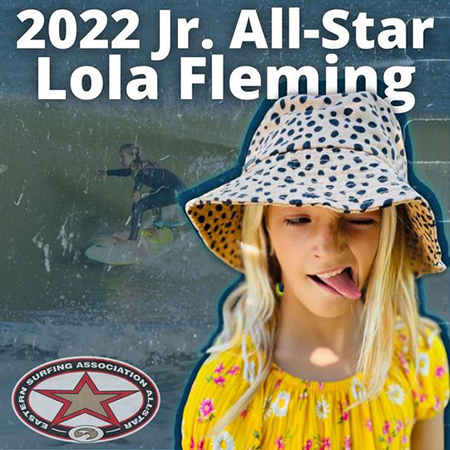 CONGRATS to Lola Fleming on making the ESA All Star Team!

My friend Stan Bocko appeared on the CD package in The FAMILY FUED along with Louie Anderson. *Stan is Dave.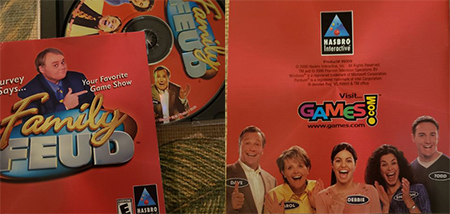 HAPPY 30th BIRTHDAY Kody Grondin January 25th, 2022!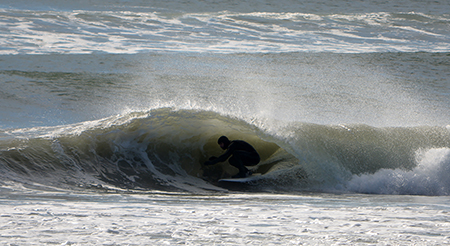 GO BUCS! GO FORTY NINERS!

PLEASE Keep local Surfer/Musician Pete Kowalski in your thoughts and prayers throughout the year.

Please Support ALL The photographers who contribute to
Ralph's Pic Of The Week every week for the last 16 years.
** BUY a HIGH RES Photo from any of the weeks on RPOTW.

Remember my friends... Surfing Heals All Wounds.
Pray for Surf. Pray for Peace. Surf For Fun.

Ralph






Yesterday- JOHNNY VEGAS & The One Armed Bandits 1981.
(Below)
Back in the day (1978) my band (VINNY) had created this sort of a pseudo joke band called JOHNNY VEGAS and The One Armed Bandits. It was my brother Johnny as Vegas, with me, Lester Edlridge, and Peter Goutzos as the One Armed Bandits. We only did three shows between 1976 and 1984. We played The RAT in Boston, The Canterbury in Beverly, and The Main Act in Lynn. Surprisingly, we only have these cheap photos from the Main Act. I don't know what I was thinking at the time. But in hindsight, I so wished I had recorded these shows. Especially the RAT show.
I only remember parts of our set list. We started the show with Robert Goulet's "WHAT NOW MY LOVE" . Then we would break into a couple of of Elvis songs including HOUND DOG and JAIL HOUSE ROCK. I believe we did LET ME STAND NEXT TO YOUR FIRE by Hendrix. The highlights were when Johnny did a mournful rendition of HOUSE OF THE RISING SUN where he would literally collapse on the stage while sobbing into the mic. I would try to revive him but could not, it was only until I stood up and pleaded with the audience to bring him back to life by chanting "JOHNNY JOHNNY JOHNNY!" And he would suddenly scream like James Brown and break into I FEEL GOOD. And the crowd would go crazy. We would end the set with the same Robert Goulet song "WHAT NOW MY LOVE" with Johnny blowing kisses to the women in the crowd as he left the stage. As they ( I swear to God) threw undergarments at him.
It was both fun and stupid. But boy was it ever memorable.
Photo c/o The VINNY BAND

*Click on the pic to see a larger version.



I kept a daily Blog on my CATCH A WAVE FOR MOLLY surf campaign, when I surfed every single day for 365 consecutive days. Click on the Banner above to read entries of my daily journey. There's some really interesting and true experiences
that happened during that year. Some of which are to this day, unexplainable. Some are just mind blowing. But all true.

I started on July 26th, 2010 and ended on July 26th, 2011.

Some rainy Sunday, pour yourself a cup and go through the journal. Pay close attention to the month of May in 2011. Read that month and let me know what you think of that. Be forewarned it will change you forever.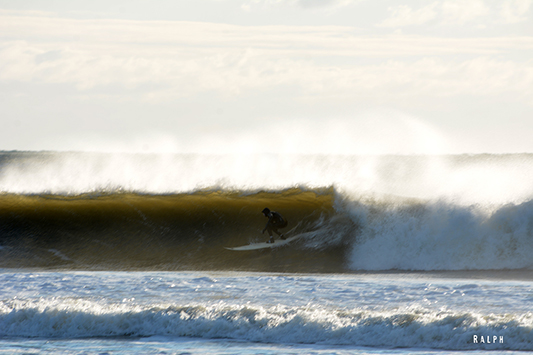 (Above) This is Johnny "JIM" Meehan. Tuesday January 18th, 2022
Photo by RALPH *Click on the photo above to see the whole gallery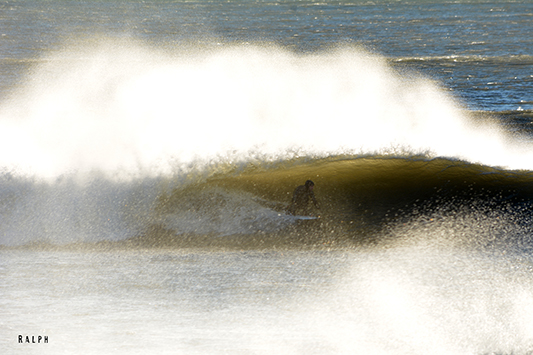 (Above) Jon Kiskinis on one of his last decent waves at this spot.
Tuesday January 18th, 2022 Photo by RALPH
*Click on the photo above to see the whole gallery




(Above) "FIVE O'S" with no takers. Tuesday January 18th, 2022
Photo by RALPH *Click on the photo above to see the whole gallery




(Above) The "SURF SHACK." Tuesday January 18th, 2022
Photo by RALPH *Click on the photo above to see the whole gallery




(Above) Just because. Tuesday January 18th, 2022
Photo by RALPH *Click on the photo above to see the whole gallery


Today- WINTER STORM IZZY DAY II
Tuesday January 18th, 2022 Photos by Dina Crawford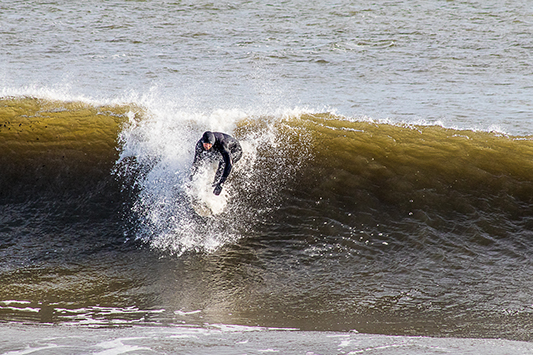 (Above) The sandbars were messed up but that didn't stop some guys from paddling out. Tuesday January 18th, 2022 Photo by Dina Crawford
*Click on the photo above to see the whole gallery




(Above) WINTER STORM IZZY comes to DINALAND.
Tuesday January 18th, 2022 Photo by Dina Crawford
*Click on the photo above to see the whole gallery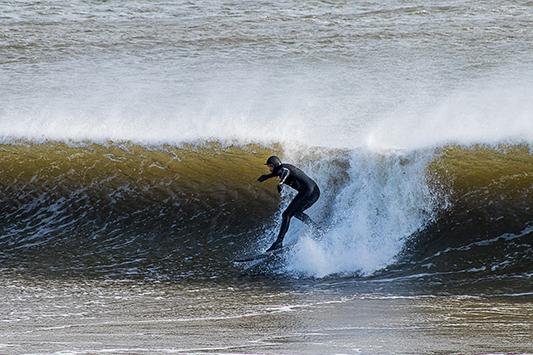 (Above) Step on the gas or step on the brakes? The Gas baby!
Tuesday January 18th, 2022 Photo by Dina Crawford
*Click on the photo above to see the whole gallery