This is STILL the reason the Blog is late this week. I'm still dealing with the lingering affects of COVID-19.

OK so it's been over 10 days since I contracted COVID -19 and had to deal with the fallout. And admittedly I was not prepared for the lingering after affects of this virus. It clearly caught me off guard and continues to do so. As most of you know, there are many different stories when dealing with COVID. Some of them mild, and some of them severe. It all depends on which one you end up getting. I suppose mine was somewhere in between the two extremes. Though looking back at the peak of my fever, it sure felt like the extreme to me. In fact, I was not sure how it was all going to end that night.

I fought hard to stay clear of the ER. But I admit I was teetering on needing to go. After all, there was only so much my wife could do to help me battle that fever. Once the fever broke I knew I had it somewhat under control. At least I was not going to the ER. That was a minor victory. Speaking of victories.

"ENGUARD ZEE COVID!"




However, I owe a lot of my success to this Surfer/MD Mark Henschke.
Through a mutual friend/surfer contact, Johnny Meehan, contacted Mark and Mark immediately took the bull by the horns, and got me on an asskkicking regiment to help me battle this virus. the rest as they say is history. Mark has been dealing with COVID up close and personal the last year or so. I can't thank him enough for stepping up to the plate and helping me.




This is Mark's son Taylor last week surfing for the FIRST TIME in Florida!
I guess the apple doesn't fall too far from the tree. I'm stoked for them both.

So where am I today? Well, I have no taste and no sense of smell. I'm still fatigued. And feel rundown.

But I have to think the worse is behind me now. Or I'm hoping that's the case. There have been a few minor setbacks. It's the old one step forward -two steps backwards. But, I can handle this now that I'm out of the danger zone.

I've been very fortunate to have such a loving and caring network of family and friends. I hear from certain family members every single day. Every single day. Same with certain friends. They are constantly checking in on me. It's very sweet of them to do so. And I love each and every one of you. Same with all the wonderful social media posts, and comments.




This was the ultimate surprise. The drive by mini parade by my daughter Gabby and her husband Brent along with the three grandkids! Talk about uplifting. This tender moment in my world made my day.




You're the best Gabby. I love you guys.

Then of course there's the haters out there. Those who wish me ill, and those who hate others. I can't help those people. When a friend asks for forgiveness and you turn your back on them? How do you justify that? To those of you who are consumed with hate involving politics, and a simple difference of opinions? I can only pray for you.

Your hate does not affect me. Not in the least.

You are like a miserable cancerous cell, that needs to be removed from society. Hypocrites, every last one of you. I'll say a prayer for you. Lord knows you need it.

In fact I'll let Dr Martin Luther King say it best for me. TRUTH.
Hopefully all you haters can stop hating. If not? Your world will continue to shrink. There's no room for you going forward. STOP HATING.

Come January 20th, 2021 we will have a NEW president. It's out with the old and in with the new. It's up to each and every one of us to make a difference. Justice should and will be served for those who broke the laws on January 6th 2021. Let the courts decide each case. Though I know it's hard in the court of public opinion. We all want to be heard. But there is more enough evidence to convict those who committed those crimes last week. And I do mean everyone. Yes the current POTUS. 45 was once again IMPEACHED and rightfully so. He incited that riot. He led those losers to commit crimes and murder, and he should pay the price.

NOBODY is above the Law. NOBODY.




This is the FACE OF COVID-19. Deal with it. If I can get it, you can get it.
BE SMART PEOPLE. WEAR A MASK. PROTECT EACH OTHER.




My BEN AIPA Story Winter 1980

I had been surfing the North Shore of Oahu that winter and needed a break from getting my ass kicked everyday out there. Every surfer knows that the South Shore in the winter months is much less intimidating than the North Shore. I had been dealing with huge surf and frightening moments both in and out of the water. After all, that is notorious for Hawaii's North Shore. I was used to it.

My buddy Larry Crateau and I needed a break from that constant stress. So we drove south one morning in search of something more manageable. With the North Shore at a solid 8-12' Hawaiian, there had to be smaller waves in town. Or that's what we had been hoping for.

As luck would have it, we found ourselves at Kaisers. It was about 3-5' just super glassy, and there was nobody out. We were thrilled! Finally we could paddle out without the fear of drowning and get into some fun tropical surf. We were giddy with excitement.

We both hit the water laughing and hooting and started to paddle out to the line-up. Neither one of us had ever surfed here before. We couldn't believe we had it to ourselves. Turns out we didn't have it to ourselves for very long. Off in the distance I could make out two surfers entering the water and watched them paddle out. Just as they got to within a 100 yards of the line-up, a decent sized set popped up on the reef. I spun and did a casual no paddle take-off on the biggest peak of the set.

As I dropped into the wave and got to my feet, I somehow got tangled in my leash, and ended up getting turned completely around, and fell flat on my ass on the deck of the board facing backwards. There I was going backwards in a sitting position. I tried to stop by dragging my hands into the water, but only made it worse. I was going full speed on my ass facing backwards, when I turned to my left and saw the two surfers paddling out. Larry Bertleman, and Ben Aipa. They both looked at me and shook their heads. And then I heard Ben say under his breath, as I went zipping by him, "Fucking kook."

I was horrified. Mortified. Completely and indescribably humiliated into complete submission.

My inglorious ride ended up on the shallow reef on the inside. I remember cutting my feet on the reef as I struggled to right myself. I called over to my friend Larry in a hushed voice. "What's the problem? " he asked. "We need to go now. " I said in a concerned voice. "Right now!" "Why what's wrong?" Larry asked. "That's Bertleman and Aipa! There's no way we can paddle back out there after what I just did."

Larry looked at the two local legends that were now having themselves a good chuckle at my most Kookiest of Kook moves. "I'm serious Larry. I'm paddling in." He reluctantly joined me, as we left that scene with our tails between our legs. All you surfers can feel my pain and shame.

The sad part of this story is, my late best Friend Joe Somogyi who passed away in 1978 was a huge Ben Aipa fan. Had things been different, I might have approached him and told him of my war hero friend who loved him and his boards. But not after what just went down.

The way I look at it, I was lucky to get out of there with just being called a Kook. REST IN PEACE Ben. Maybe you'll get to meet Joe after all. And I'm sure you'll both have a good laugh at my expense.
"LOVE, FORGIVENESS, and SURFING HEALS ALL WOUNDS!"


This week's Ed's corner is from January , 2008. The surfers are two very close friends of mine. Bobby Morgan and Markey J. This angle is again called ED'S CORNER. I named it after Ed. He was forever planting himself in that corner and getting this unique angle. Now you all know the TRUE Story of Ed's Corner.
Photo by Ed O'Connell
*Click the photo above to see a larger version of Ed's Pic.

Now for Some Local and National News

Three weeks ago I posted about Sam George and his new venture. If you like great writing with wit, humor, and an incredible legitimate insight to everything that is surfing, you will LOVE
Sam George's new venture.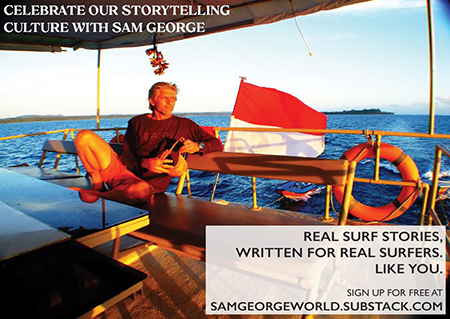 *CLICK ON THE IMAGE ABOVE START READING TODAY*

*I urge you all to sign up to get these important and entertaining stories of our world. Besides, it's FREE. Trust me it's worth it.

OK just because Im preaching ANTI HATE dosen't mean I don't have a sense of humor. Besides these memes were not made by me. I do however find them amusing.


These losers are all going to jail. Unless they get pardoned. And that would be a crying shame. These two below are just plain stupid. Though there is no law against being stupid, we can have a good chuckle at their stupidity.




How can you not laugh at this? You can't.




What 45 forgot about was the PRIVATE SECTOR. You don't overrule the Private Sector Mr President. Besides, the world is a safer place without 45 TWEETING HIS FOOL ASS OFF EVERY 3 SECONDS! I for one won't miss his stupid tweets!

50 years ago on January 12th 1971 the WORLD OF TV would change forever. ALL IN THE FAMILY was one of the BEST SITCOMS in the History of Television. Classic ARCHIE BUNKER lines that shook the world of comedy. I remember it all.


Caroll O'Connor and Jean Stapleton as ARCHIE and EDITH Bunker. Worth watching again if you never saw the original series. Brilliant writing and acting.

You bet your ass I was cheering for this man last night. He gave us 20 years of NFL Bliss! Tom Brady is THE GREATEST OF ALL TIME! And I am hoping he gets Ring number 7! GO BUCS!




The Bucs won 30 to 20. They beat the Saints and Drew Brees in what was touted as the Geritol Bowl. But if you were wondering just how classy an act TB 12 is. This was Brady and Brees after the game. Tom sought out Brees after the game and hung out with him and even tossed Drew's son a football for a TD.

Who does this? Tom FREAKING BRADY That's who!



Yes I'M A BUCS FAN! GO BUCS!


2021 RALPH'S PIC CALENDARS SOLD OUT!
I'm waiting for more orders before I make another run.
If you ordered one just hang in there.

RALPH'S PIC OF THE WEEK is 2021 CALENDARS
It's all local surf and surfers. If you're interested in getting one send me an email to: ralph@adlantic.com

I'm asking $20 per Calendar.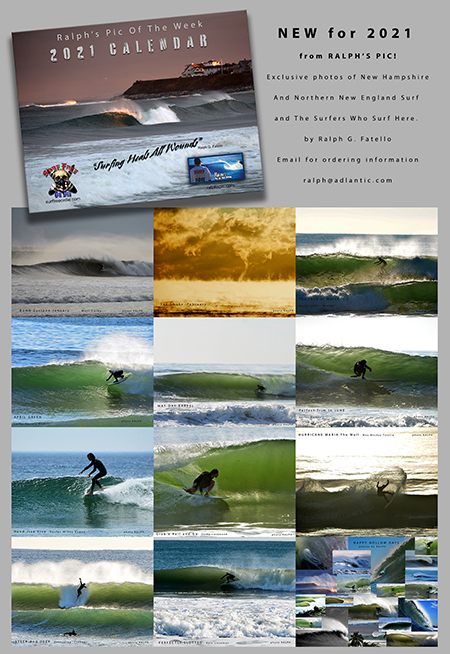 Who doesn't want a local New England Surf Calendar? I shot all the photos. Yes they are from The BLOG.

KSM Photoshop of the Week
OK I couldn't resist one last KSM meme with e a LAST STAND concept. This is KSM with Santa Anna before the Infamous Battle of The Alamo. Like last week's 45's Last Stand. This too seemed appropriate. January 6th, 2021 was Trump's Alamo.




And so my friends, please take advantage of this weekly photo shop of the mastermind who planned 9-11 and resulted in the deaths of 3,000 innocent civilians by KSM (Khalid Sheik Mohammed).

*Note to self -must pick up a case of Coonskin Davey Crockett hats at Home Depot this week.

REST IN PEACE Phil Spector WALL OF SOUND 81 years old complications due to COVID.
HAPPY BIRTHDAY Kim Grondin January 13th, 2021!
PLEASE Keep 90 yr old Chuck Dreyer (Kim Grondin's dad)
in your thoughts and prayers he had surgery on 1-18-21.
PLEASE Keep longtime NH Surfer Greg Smith in your Prayers.
PLEASE Keep local Surfer/Musician Pete Kowalski in your thoughts and prayers this Holiday season.

Please Support ALL The photographers who contribute to
Ralph's Pic Of The Week every week for the last 16 years.
** BUY a HIGH RES Photo from any of the weeks on RPOTW.

Remember my friends... Surfing Heals All Wounds.
Pray for Surf. Pray for Peace. Surf For Fun.

Ralph