EASTIE GO WESTIE. January 28th to February 3rd, 2020.

This story does not start here. This story started 41 years ago, down in the Caribbean island of Tortola BVI. January 21st, 1979 to be more specific. Ironically, on Super Bowl Weekend. I say ironically, because we all just watched the Super Bowl a week ago today. 41 years in the making.

Back in December of 1978 me and the late John "JT" Taylor were in need of a tropical surf trip. The winters were starting to get to us. We had lost a dear friend to cancer a few months prior, and we just needed to get away. JT picked Tortola. And he did so, not by anyone tipping us off to potential surf, he just looked at a few maps and saw the proximity to Puerto Rico, and figured that there had to be surf. He was right. There was surf. Great surf.
John "JT" Taylor and Ralph Fatello. This pic was taken in Tortola the second week of January 1979. Not only did we find great surf, but we also met and made two lifelong friends from California.




Sam George and Jeff Chamberlain from Central California.
They were there on a surf trip/vacation with their wives. Both JT and I were instantly taken by Sam's surfing. Up until that trip, we had never seen anyone surf like Sam. We were literally blown away by his rail to rail surf style and his ability to get barreled. Keep in mind in 1978, in New Hampshire, we were all still learning by what we saw in the mags, and the occasional surf movie that came to town each summer. Don't get me wrong, we had good surfers in the 70's. Kevin Grondin, Greg Smith, JT, Joe Somogyi, and a bunch of others.

But nobody was surfing like Sam George. Nobody.




Suffice it to say, we were impressed. We all ended up staying in the same house on the Hill. "Ellie's" place had a commanding view of Little Apple Bay. We would all surf all day, with Jeff and I taking photos and movies, and then talk story each night. We all learned a great deal about each other and our cultures. I can remember telling those guys stories about The RAT in Boston and the whole punk rock scene back home. And they in turn would tell us about the perfect surf they had in Central California. Clearly they wanted nothing to do with our scene, but JT and I made mental notes about Central Cal and we talked about going out there to sample their waves.

Long story short, we made a pact to stay in touch.


This is me on January 21st, 1979 Super Bowl Sunday. Jeff took this photo. It remains to this very day, one of my favorite ever photos ever taken of me. The tropical setting, with the sailboat out the back. I would stare at this photo for years and dream of going back to Little Apple Bay.

Truth is, I never went back. Hawaii, PR, Central America, and Mexico were my tropical destinations. But I never forgot that first tropical trip to Tortola. And apparently neither did Jeff and Sam. It was the trip for all of us, that set the bar and the tone for all future surf destinations. It all started in January 1979.

We all reconnected over the years. Mostly by snail mail.
Sam wrote a short piece on me Surfing at Sunset when I did a video for my band and was on MTV. I was the first ever Surfer to use surfing in a Rock Video. Sam at the time was the the editor of SURFING. Sam went on to do so many things in our Tribe. SURFER, movies, documentaries, countless articles in every major surf publication. His narrations are second to none.
And Jeff wrote a story on me in SURFER about me surfing everyday in memory of my dad in 2000-2001. Speaking of my dad, it was 20 years ago on February 7th, 2000 that he passed away. Hard to believe he's been gone that long. Twenty years.




A WWII Veteran who fought in the South Pacific, an artist, musician, father, grandfather, uncle, brother, cousin, and friend to so many. Not to mention being one of the funniest men to ever walk on this planet. Miss you dad.

Back to the California story...
Like Sam, Jeff is a prolific writer and has appeared in many surf publications. Between the two of them, they have been featured in every single mag that ever rolled off the presses.

JT and I were always commenting with each other every time one of them popped up on the surf radar. We got a kick out of reading their stories and watching Sam on the big screen. We never saw each other again until 2002 when I went out there after my CATCH A WAVE FOR GUS surf campaign. We had a great time. And ironically we all watched the Patriots Snow Bowl together. The infamous "Tuck Rule" was brought to light much to the dismay of all the Raiders fans in the room. But that was a great trip. I made a movie about that trip. SURFING THE SOUL. It was basically documenting every surf spot and gathering that we all did.

I went back out in 2004 for Jeff's surprise 50th Birthday party. Only this time I brought Max with me. Mackey got to surf some of the best waves that Central California has to offer. It was a classic trip and the Tribe was getting bigger with each visit out west. The EASTIES and The WESTIES were a thing.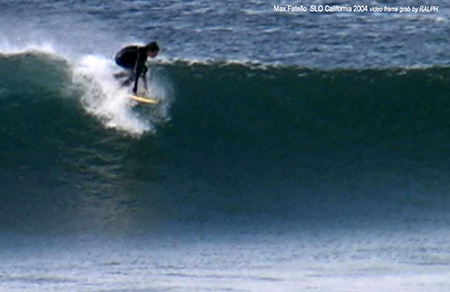 But then as life always seems to throw you a curve ball, things got dark.

JT got brain cancer and passed away the summer of 2014. We were all devastated. The summer of 2014 was awful. We lost JT, my nephew Michael Colby, Ed O'Connell, Rick Savastano, and Martha's brother Alan. And to add to that darkness, I was dealing with some serious medical issues. My liver was failing. I got sick. Real sick. And I was running out of options.
Things looked bleak there for a while.
I had tried every single treatment under the sun. Triple chemo, countless MRI's, and ultrasounds. I had so much blood-work that I thought I could fill a lake with my blood. MGH (Mass General Hospital) in Boston had run out of treatments. And then something happened.

In December of 2014, the Westies got on a plane and came out to see me.




Talk about total surprises. Rocky, Sam, Doug, Wheels, Robert, and Jeff made a surprise visit to come out and see me, and well, they were basically here to offer motivation and support, but, they were really here to say Goodbye.

And I knew that. I was so overwhelmed that these guys would do that for me.

I'm not going to lie, that visit will always be to me, one of the determining factors in me being cured. Because the very next year in 2015, I was picked by the Doctors at Mass General to try this new clinical trial. And guess what? I was cured. It seemed surreal to be sick for so long, and having run the course in all available treatments, to suddenly be cured? I have to say, that Love cured me. The Love of my family and friends were tantamount in me beating this thing that was trying to kill me. Love killed the disease. Love.

That was six years ago. In the time since that visit, I was planning on going back to continue the "Love Of The Tribe" and to surf those perfect waves again. This time I would be taking Dave "Crop" Cropper along with Max. Dave and I have been talking about this for years. When those guys came out in 2014 they met Dave, and once again, a new friendship was forged. The Tribe got bigger. Let's face it, anyone who knows Dave Cropper knows what kind of person he is. Everyone loves him.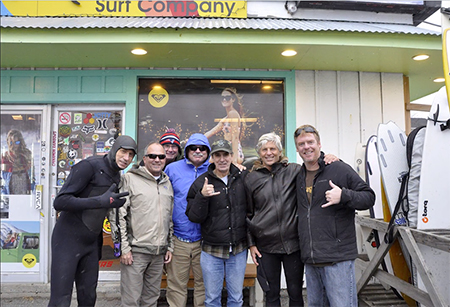 So Dave has an interesting connection to all of this. In November of 1978 Jim Kempton wrote an article in SURFER and called it Islands In The Stream. It was a story about Little Apple Bay in Tortola. Only Jim called it ...wait for it... CINNAMON RAINBOWS! Can you believe it?




The shop was named after Little Apple Bay in Tortola! Talk about a cool but strange connection to all of this. I believe there is a God. And sometimes, the Lord works in wondrous ways. So if the Lord had anything to do with all of us getting together? I need to stop right here, and thank the Lord.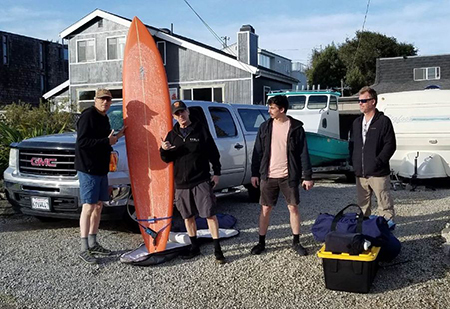 So fast forward to last week. Dave, Mackey, and I landed in LAX and drove north to meet up with Jeff and his lovely wife Paige (who is an amazing cook), along with their lovable dog Lucy. For the next week their home would be our command post. And what lovely hosts they were. Putting us up in the comfort of their home was a delightful transition for us. I got the guest room and Mackey and Dave got the Big Foot Trailer. And when Rocky showed up he slept in the office. There was plenty of room for all of us. And we were ready for what Captain Chamberlain had in store for us. And trust me, he had a full itinerary. We were whisked out of the CP (Command Post) from day one and began a whirlwind tour of his world that had our heads spinning.

As you might have guessed there are hundreds of photos to pour through in the galleries. And later this week I will be posting a video that will be in the video section. But I quickly wanted to share with you one of my personal highlights. Although I am cured from the disease, I am still dealing with some medical issues that will be with me until my dying day. One of them is I have an enlarged spleen. My doctors have said that if I were to rupture my Spleen I have all of 30 minutes to get to a hospital or I will die. That seems drastic. But I take heed of what they say. So when they suggest I stop surfing completely I tell them NO. Same with upland bird hunting. NO. I'm not going to stop living. Besides, "You Can't Kill Me." I jokingly tell my family and friends. I know that's silly, but I seem to have dodged my share of bullets in my life. But I'm not stupid ( I only look stupid). So I take precautions.

I no longer surf in the winters (here in NH). I stopped in 2016. I do however surf in the warmer months. From May to October. And I will swim out to shoot in the water as much as I can year round. But I am well aware of where my Spleen is located and I protect myself as much as I can. So I did get out this trip to catch a few waves. And I mean a few. But during that short window and unbeknown to me my son Max went to the beach to grab my camera to snap a few of me. Most of them will never be seen by the public, but a few did make it into his gallery. His gallery is featured down in the photo section. But one photo in particular caught my eye.

The photo reminded me of the late Rick Griffin's famous photo from the movie PACIFIC VIBRATIONS. Perhaps you remember. It was Rick crouched down and flying along on a perfect California wave with the kelp in the face.




I looked at the photo that Mackey shot of me and it reminded me of that pic.




Looking at them both now it's obvious that Rick's is a better overall image.
But there are some similarities. Most notably the kelp in the wave face.
To me that is California surfing. It's probably the closest I will come to duplicating Rick's image. Before you start to think that the galleries are filled with pics of me surfing I'm here to tell you that is not the case. For I know only to well, that we all start off as Kooks, and we all end up as kooks. But I'm having fun.

And FUN is the key word when it comes to surfing.




Another cool highlight was when me, Dave, Rocky, two other guitar players, and a cool keyboard player Billy Burke all jammed at his house. It was great. How this surf trip turned into this cool impromptu jam was one for the ages. That was a gas. Playing with Dave is always fun, but having Rocky join in on the drums was priceless.

There are some good pics of good waves and good surfers in the galleries.

Thank you Jeff, Paige, Lucy, Dougie, Rocky, Sam, Wheels (and Selena), Scott (Wally), Brad (and Avery), Tom, Crop, and Mackey. And everyone else we met this last week. We had a Blast! We Love You All and we will see you next January (if you'll have us)!

THREE SHALL BE THE NUMBER. SEE It. BELIEVE IT. REMEMBER IT!

"Surfing, Friends, and Family Heals All Wounds."


This is Tony Berardini back in the summer of 2010. Back when both of his hips were working properly. I remember this day. I had been out surfing the wall when I called Tony to tell him to get his ass down here it's really fun. Ed was up on the wall shooting and as he always seemed to do, he captured everyone who was out there that day. I wish I had a high res version of this photo for Tony. But Ed never sent me high res. They were all at 72 dpi. He kept the high res original shots. maybe if Kathy (widow) is reading this she can get in touch with me and maybe we can go through his files. Lord knows he must have a few million of them.
Photo by Ed O'Connell
*Click the photo above to see a larger version of Ed's Pic.

Now for Some Local, National and International News
I'm not going to harp on the Impeachment trials of 45. Lord knows we've all had enough of that madness. The outcome was just as we all expected it would be. The ONLY member of the GOP who had the courage to vote the truth will no doubt be punished by the man who would be King. The wrath of 45 will come like a swift and powerful sword. I have the utmost respect for Mitt Romney.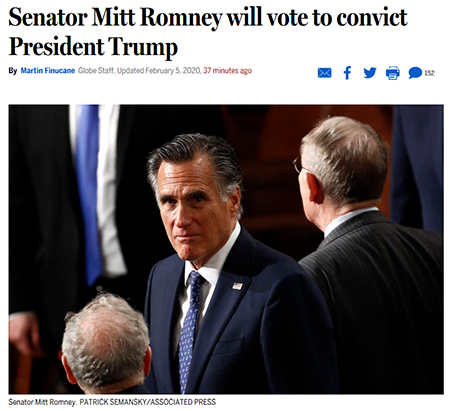 You voted with the TRUTH in mind sir. Pay no attention to those who dismiss you. You did the right thing. Well done Mr Romney.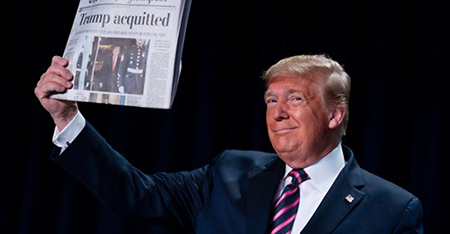 His absurd speech the next day was nothing short of insanity. There's never been anyone like him. The man has no class. No reasonable thinking human being can possibly think otherwise.
This? This is beyond pathetic. President Bone Spurs is a classless bully who needs to be defeated come November. To hell with Impeachment. VOTE HIM OUT OF OFFICE!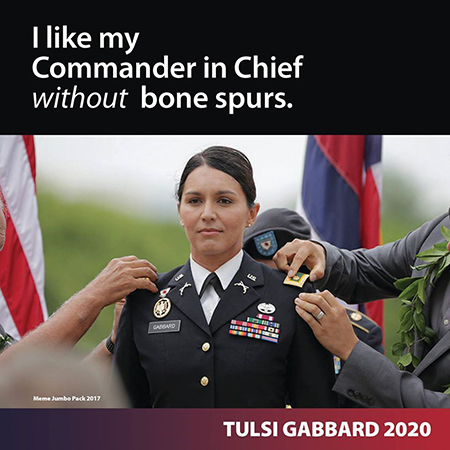 I'll be voting for one of the two Military Veterans on Tuesday February 11th, 2020. Pete or TULSI. That's who gets my Vote.
I recently told a news reporter that I think anyone who wants to be president needs to have a minimum of 2 years active duty in the Military. It should be the first criteria for anyone wanting to be president. You want to send people off to war? You need to have worn the uniform so YOU KNOW what it's really like. If they make this a law, watch how the number of candidates shrinks.

So the Sox traded Mookie to the Dodgers. I'm not a real fan of baseball, but I know that Mookie was a fan favorite. So why would you let him go? Anyone?
Mookie we hardly knew ye. Swing for the fences Mookie!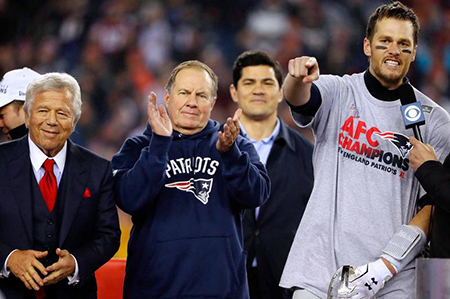 And speaking of letting go...Mr Kraft and Coach Belichick...PAY THIS MAN WHAT HE HAS EARNED. Don't be stupid. Pay him.
This man Don Gavin is the GODFATHER of Boston Comedy and he currently has the Number 5 Comedy Record in the country. I've seen Don Gavin a few times and he is very funny. He's also a good friend and equally funny man of Jimmy Dunn. Now I ask you all. What else do you need to know? Buy this album.




Click on this ad image and buy DON GAVIN'S new album.
Hey we all need to laugh.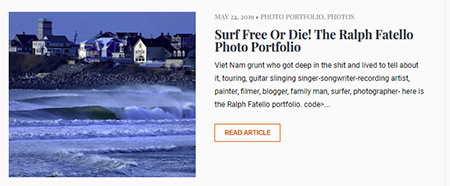 ESM (Eastern Surf Magazine) using a READY MAG format did the Best of Ralph's Pic. And while they couldn't possibly use everything thing I've ever done, they did manage to put up some 50 pics of mine, plus two videos. And I was truly humbled by their intro. Mez said some nice things about me. CLICK ON THE IMAGE ABOVE TO SEE THE WHOLE Spread.

COMING FATHER'S DAY 2020.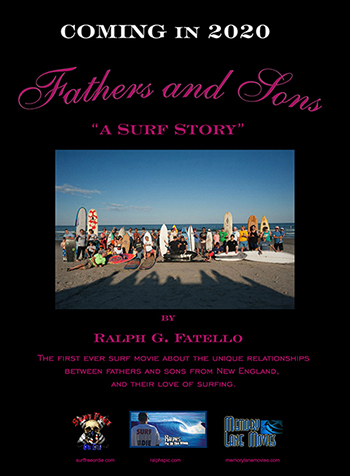 Before the Fathers and Sons movie I'm planning on another release. This too will be unique.

I'm calling it "FOR LOVE AND WAVES."
The story of couples who surf. Married couples. Single couples. Gay couples. Lovers who surf together. From SURF FREE OR DIE and RALPH'S PIC OF THE WEEK.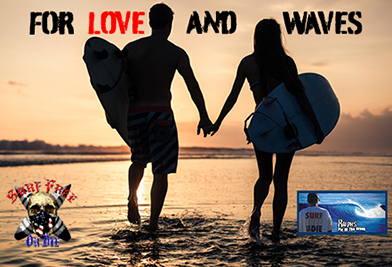 The posting of this video has been delayed. Still waiting on pics and clips from some of the couples. I'll let you know when it's ready for viewing. Thanks for your patience.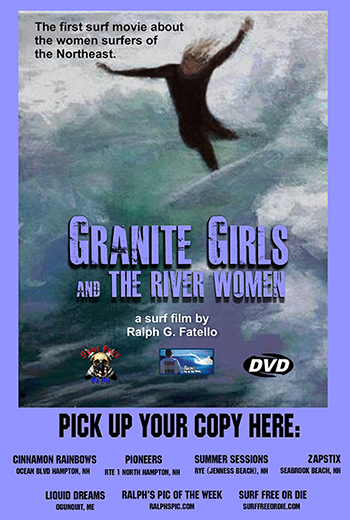 The DVD's are available at all the local surf shops. Or by
sending me an email. ralph@adlantic.com or send a check for $20.00 made out to ADLANTIC and send it here:

ADLANTIC
c/o OC Studio Suites
703 Ocean Blvd Suite C-4
Hampton, NH 03842

Or RENT or BUY it Online. You have spoken and I have listened. You don't have a DVD player so I made it available Online. Watch it on your Smart TV, your computer, or your cellphone! I can't make this any easier my friends.


GRANITE GIRLS and The RIVER WOMEN from Ralph's Pic Of The Week on Vimeo. NOW AVAILABLE on VIMEO ON DEMAND.

KSM Photoshop of the Week
Now would you look at the ONLY person not wearing a mask. Damn you KSM! You're gonna bring the Corona-virus back to GITMO. You know what? On second thought, don't wear a mask.
I say let nature take it's course. Sorry Khaliddy.




And so my friends, please take advantage of this weekly photo shop of the mastermind who planned 9-11 and resulted in the deaths of 3,000 innocent civilians by KSM (Khalid Sheik Mohammed).

*Note to self -must pick up a case of Face masks at Home Depot this week.

Each winter I run these promos form our friends in the mountains. LOON, CRANMORE, and PAT'S PEAK. Just click on these logos below to see what's happening up north.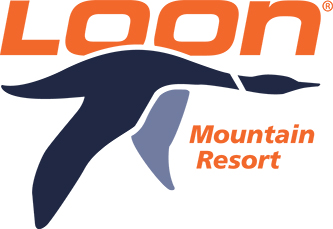 New England's Most Accessible Resort
EXIT 32 off of 1-93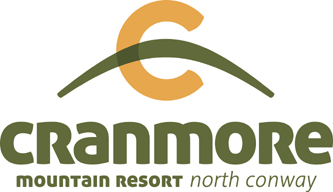 North Conway's Family Mountain
Located in North Conway, NH
Voted # 1 Ski Town in the country by USA Today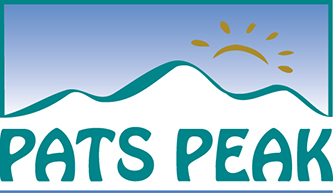 Southern New Hampshire's Family Friendly Mountain
Close To Home!

REST IN PEACE Kirk Douglas age 103!
REST IN PEACE Robert Conrad age 84!
HAPPY BIRTHDAY Jesse QWILL February 17th, 2020!
HEAL QUICKLY Jacko Keefe and Johnny Meehan!
REST IN PEACE Comet Fatello February 3rd, 2020.
REMEMBERING Gus Fatello gone 20 years on 2-7-2020.
PLEASE Keep longtime NH Surfer Greg Smith in your Prayers.

Lenny Nichols & Colin Madden
Co-Directors, NNE District
Eastern Surfing Association
www.esa-nne.org
@esa.nne.surf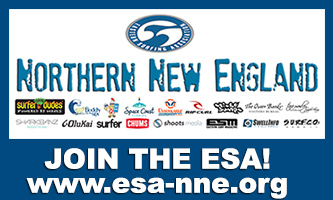 Please Support ALL The photographers who contribute to
Ralph's Pic Of The Week every week for the last 13 years.
** BUY a HIGH RES Photo from any of the weeks on RPOTW.

Remember my friends... Surfing Heals All Wounds.
Pray for Surf. Pray for Peace. Surf For Fun.

Ralph