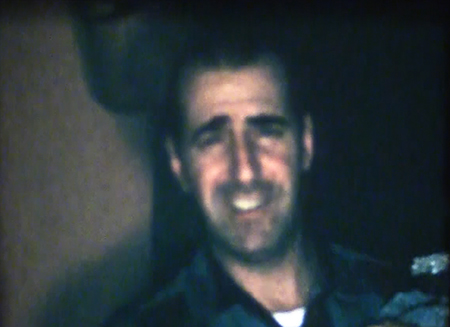 We lost my father Gus 21 years ago today. February 7th, 2000.

He had a massive stroke on February 5th, and slipped into a coma. I knew that day when I saw him in the hospital that he wasn't coming back. He was still breathing, but I could see clearly that he was not there. I'm not sure where he was. Somewhere between the living world, and the next world. It was shocking and sad. Shocking because he was only 75 years old. Sad because, my mother and siblings were praying for a miracle. But I knew. He wasn't getting out of this one. Not this time.

He had been battling with diabetes the last ten years of his life.

The disease was slowly eating away at him. Losing toes, fingers, and talk of more amputations. His quality of life had taken a turn for the worse. Unable to walk, drive a car, go to the beach, go out in the woods, or visit friends and family. It had been a rough last few years. Still, the stroke was something that none of us saw coming. I suppose in a way, it was a blessing in disguise.

When the doctor told him the week before, that they would have to amputate his wedding ring finger, he had had enough. He was not going to let that happen. "You're not taking my wedding finger." He said. I was in full support of that decision. "Good for you dad." I said.

The image above was a "selfie" from the 1950's. He was always taking "selfies" long before these rampant "cell phone selfies" that you see today.
I took up taking selfies as a result of being around him as a young boy. Hell, my close friends will tell you that I've been taking "Selfies" since the 60's. I jokingly call them "Selfies By Ralphie." But it was my dad. He was the originator. I just copied him.

He was a major influence in my life. Everything I ever did and became, is because of him.

He was a WWII veteran who fought with The FIGHTING SEABEES in the South Pacific. He was an artist, musician, photographer, filmmaker, husband, father, grandfather, and he was the person who turned me onto the biggest passion of my life. Surfing.

Think about that for a minute. My father "Gus" turned me onto surfing.

I ended up doing a year long undertaking where I would catch and ride one wave every single day in memory of my father. I called it CATCH A WAVE FOR GUS. From July 26th, 2000 to July 26th, 2001 I did just that. I raised $33,000 for the American Diabetes Association in his memory.

Besides being all the things I wrote above, he was always laughing and joking with everyone. My dad had a sense of humor that was hard to match. The year I was in Vietnam he sent me a letter one day, that I'll never forget for as long as I shall live. We were out in the bush on top of a hill, when we got mail. When I opened the letter, a Yellow Jacket (Hornet) fell out of the envelope. I was like "What the ...? How the hell did that happen?" Did my dad somehow lick the envelope and while he wasn't looking a Yellow Jacket flew into the open letter? I was blown away. How the hell did that hornet get in that letter?

Then I started to read his letter.

"Dear Ralph,

Hope you and your friends are doing well and are all safe. We're all praying for you and your friends. Just a few more months and you'll be back home surfing and playing your guitar. So keep your head down.

Listen, I want you to do me a big favor. The other day while lying on the beach, in Rockport, this Yellow Jacket stung me on my arm. He got me good. Hurt like hell. Anyway, I wanted him to be buried as far away as possible. So I thought I'd mail him to you, and you could bury him in Vietnam. Ha ha.

Love Dad"

Well you can imagine my reaction. I started laughing so hard as I stood up looking for the dead yellow jacket. I grabbed the yellow jacket and started calling my fellow Marine buddies over to my foxhole. "You guys have to read this and look at that hornet." Before you knew it, my Company Commander Capt Conrad caught wind of the commotion and came over to where we were all standing and laughing.

I explained to Capt Conrad as to what had just happened. Then Capt Conrad did something that I'll never forget. He told me to get my squad ( I was a squad leader and had 9 Marines under me) and our weapons and to follow him. "Oh and bring that dead hornet." he barked out. We gathered our weapons and we went out through the wire and stood on the edge of this hill.

He had me bury the hornet.

He then gave us the order to "LOCK AND LOAD." Our M-16's all slammed rounds into the chambers. That distinct sound caught the attention of the
other Marines in our platoon.

We all stood there and Capt Conrad gave us the orders:

"DETAIL ATTENTION! PREPARE TO FIRE. READY. FIRE! FIRE! FIRE! ORDER ARMS. FALL OUT." I looked over at Capt Conrad smiling and I said "Thank you Skipper" (Skipper was what we called our captains). He smiled at me and the squad, and then shook his head laughing as he walked back to the platoon. Talk about a classic moment in life.

All because of my dad.




I did this photoshop years ago. It's my dad on the left in GUAM in 1944
during WWII, and that's me on the right in NAM in 1970.

We were always making light of everything in the home.

The year he was diagnosed with diabetes we were hanging around the kitchen. Me, my father, and my brother Johnny. We were talking about the inevitable. Dialysis. I looked at my dad and said "Dad do you want a kidney?" He looked up at me and said, "I don't want your kidney Ralph." I looked at him and said "I'm not talking about my kidney, I'm talking about one of Johnny's."

I can still hear him laughing from that night.




My mother Eva and father were married for 50 years. That's quite a mile stone. My mother passed away 7 years later in 2007. God I miss them both.

On February 4th of this past week, another local Surf family lost the patriarch of their family. Dan Kirby, father of Terence Kirby passed away. He was 94 years old. He and his late wife Emma ( who passed away a few months ago)
were married over 70 years! That's incredible. God Bless their souls.




Dan was a firefighter for 30 years and was drafted at the age of 17 into the ARMY during WWII. He and his brothers were raised by their mom after their father passed away at a young age. He and his brothers all served our country. Some of them enlisted in the Marines and fought in Korea.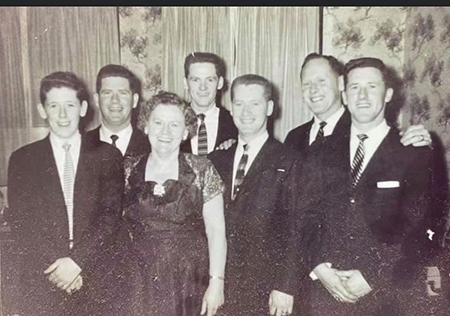 The Kirby boys and their mother. Dan was the oldest.




Jonah, Michael, Dan, Emma and Mary Kirby. The good and honest genes of Dan and Emma have been passed down to their children and grandchildren. Dan and Emma are together again in heaven. May They Both Rest in Eternal Peace. Thank you Dan for your incredible service to our country. With a son like Terence, you will never be forgotten. Rest easy sir.




Last month local surfer Stan Chew lost his brother John very suddenly. I made a brief mention of his passing, but didn't have a pic to share. This is Stan's brother John. They both loved each other as brothers do. And here's a part of a eulogy that Stan wrote .

" I told him that he was more than a brother, he was my mentor. He taught me how to play the guitar when I was so very young. He ushered me into the world of Johnny Cash, Lester Flatt, Bill Monroe, The Country Gentlemen and Ray Charles. He showed me that a life of adventure, of being outdoors, was noble. The pursuit of happiness was our right.

I told him I loved him, and always had. My life, in so many ways, is John's blueprint. A great road map my brother!
John lived this life without compromise and brought this to his wife Bunny and his children Denby, Jason, Jake, Steph and of course his grandchildren.
God rest my brother, God rest."
They were true brothers. Our condolences to the Chew family. Love is forever.

"LOVE, RESPECT, and SURFING HEALS ALL WOUNDS!"


This week's Ed's corner is from January 30th, 2008. This is Kevin "Doc" Grondin doing a classic carving cutback. I believe he was 53 years old at the time this was taken. Photo by Ed O'Connell
*Click the photo above to see a larger version of Ed's Pic.

Now for Some Local and National News

This past week two FBI agents were killed in action while serving a warrant for Child pornography charges in Florida. Three other FBI agents were wounded. The shooter cowardly took his own life. This story is so upsetting. These agents spent their careers trying to save children from these monsters. And the coward who killed these agents, and wounded the other three, shall not be named here. The agents who were killed were:



FBI Agent Daniel Alfin and FBI Agent Laura Schwartzenberger.
They leave behind families and friends as well as a nation of mourners. Of which I am one of them. This story really disturbed me on so many levels. How could this happen? How could they not know that this individual was armed and dangerous? There are so many questions that need to be answered.

Meanwhile, the family and colleagues of these heroes must plan their memorial services, and now learn to live without them in their lives. It's so sad. If there's a silver lining in this dark cloud, it's the knowledge that there are brave Americans serving this country both at home and abroad trying to protect our children.

May their souls rest in peace. And may the three agents who were wounded heal quickly so they can get back out there and capture more monsters.

Tonight is the Night. SUPER BOWL 55. One of these two talented QB's will walk away with the coveted Lombardi Trophy. My money is on TB 12. I really hope he wins his 7th Ring as he walks into that arena for a record breaking 10th time.
GO Tom Brady! GO BUCS! You have a sea of New England fans behind you. We have not forgotten what you gave us for 20 years!




GOOD NEWS Jay McCarthy had a successful triple bypass surgery on Tuesday February 2nd in Florida and is currently recuperating. Jay is a great guy and his family and friends all thank you for your positive thoughts and prayers.




Happy 50th Birthday Bryon Rivers! February 6th, 2021.
Bryon is a longtime surfer and reader of this Blog! Hope
you got your Birthday wave on Saturday February 6th!




Last month the Evans family lost their beloved pet Rocky.
Rocky was Ricky's co-pilot for a longtime. I've always said, that pets are family too. Dogs, cats, whatever you have living with you that are not part of the human race, they are family. We mourn them when we lose them. Rest in Peace Rocky.
Six weeks ago I posted about Sam George and his new venture. If you like great writing with wit, humor, and an incredible legitimate insight to everything that is surfing, you will LOVE
Sam George's new venture. His stories are the best.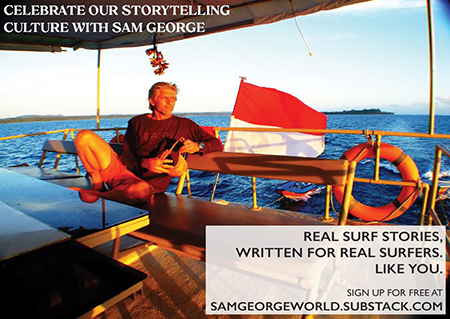 *CLICK ON THE IMAGE ABOVE START READING TODAY*

*I urge you all to sign up to get these important and entertaining stories of our world. Besides, it's FREE. Trust me it's worth it.

THIS JUST IN.

The QUEEN of Boston Rock has passed away.




Tontileo was an icon at places like The RAT and Cantones back in the mid to late 70's. She was a talented artist and just the nicest human being. She was dear friends with my wife Cory and so many others from back in the day. She and I shared a special bond in that we both have raised and trained pointing dogs since the early 70's. Not many of the R&R scensters know that about her or I for that matter. I hope she is finally at peace.
LONG LIVE THE QUEEN!

KSM Photoshop of the Week
I'm not surprised that KSM would be a Chief's fan. I know he hated the Patriots. Anything to do with Red, White, and Blue he was against. I know how much he hated Bob Kraft for saying those infamous words after the Patriots won their first Super Bowl. "We are all Patriots!" And we were. A year later we would capture Khaliddy and he still sits at GITMO awaiting death.

So yeah, Ole KSM is wearing the Native American head dress and hanging out with Belly Boy. All the more reason we want Tom Brady to win tonight. Let's piss off Khalid Sheik Mohammed.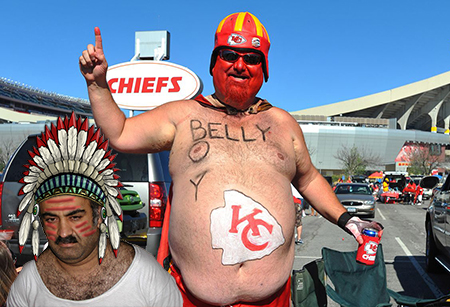 And so my friends, please take advantage of this weekly photo shop of the mastermind who planned 9-11 and resulted in the deaths of 3,000 innocent civilians by KSM (Khalid Sheik Mohammed).

*Note to self -must pick up a case of Hawaiian Tropic sun tan lotion at Home Depot this week.

CONGRATS to Ryan McGill and Alex LaChance on the birth of their baby boy "Noa!" According to Ryan mother and baby are doing great. I know that uncle Ty is stoked too! Such great news!
HAPPY 50th Birthday to Bryon Rivers February 6th, 2021!
REST IN PEACE Dan Kirby age 95 passed on 2-4-21.
REST IN PEACE Tontileo passed on 2-4-21.
PLEASE Keep 90 yr old Chuck Dreyer (Kim Grondin's dad)
in your thoughts and prayers as he recovers from surgery.
PLEASE Keep longtime NH Surfer Greg Smith in your Prayers.
PLEASE Keep local Surfer/Musician Pete Kowalski in your thoughts and prayers throughout the year.

Please Support ALL The photographers who contribute to
Ralph's Pic Of The Week every week for the last 16 years.
** BUY a HIGH RES Photo from any of the weeks on RPOTW.

Remember my friends... Surfing Heals All Wounds.
Pray for Surf. Pray for Peace. Surf For Fun.

Ralph