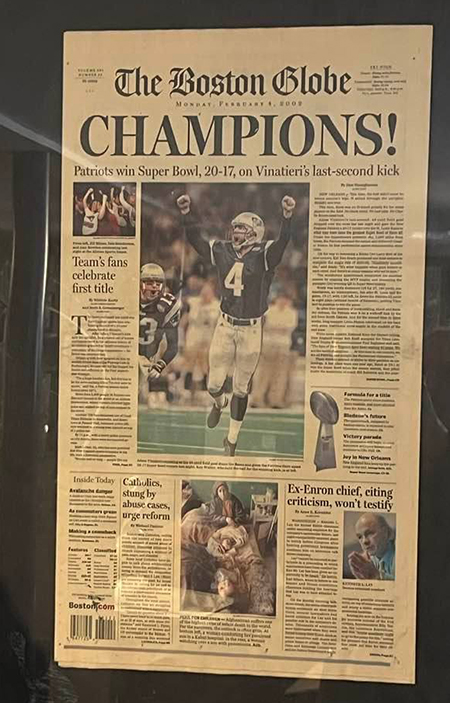 TWENTY YEARS AGO. FEBRUARY 3rd, 2002. THE FIRST TITLE.
This still hangs in my office. And it will remain there as long as I shall live and work here. The first of six titles. Certainly, nobody could see the writing on that wall. Nobody could have predicted what was to come. That The New England Patriots would go on to win SIX SUPER BOWL TITLES. Nobody saw that coming. Last week I wrote about the hit that Mo Lewis of the NY JETS put on Drew Bledsoe late in the 4th qtr as Bledose ran for a first down. He didn't get the first, nor did we win that game. We lost 10-3. My son Max and I were there. The most significant event of that game was when Bill Belichick and Charlie Weiss looked over at the rookie back up QB and told him to get out there. If you remember I looked at my son Max and said: " We're outta here Max, the season is over."

That back up QB (as we all know by now) was Tom Brady.

And what followed the very next game, is now part of Patriots History and folklore. You would have to live under a rock to not know what became of the New England Patriots after Tom Brady took over the helm. They became a bona fide "Dynasty". Even today it's hard to write this stuff, I mean, it's literally fairy tale kind of stuff. But it happened, and if you were around 22 years ago, you know how grateful we all are. I mean we were truly blessed.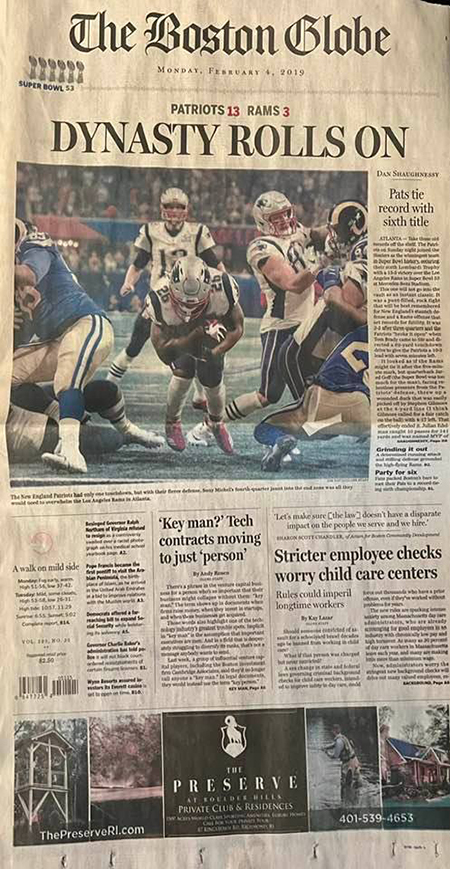 And while we are on the subject. It was six years ago on the same night, against the same team, that we won our last title. Of course by then, we were living the dream. In 2017 we all saw and witnessed the GREATEST COME BACK in the history of the NFL. To come from behind 28-3 late in the 3rd qtr against the Atlanta Falcons only to tie it up, and play the first ever OT period in the history of the Super Bowls. That game was one for the ages. Tom Brady had commandeered the greatest come back ever. He was named the GOAT after that game. And the name stuck with him. GOAT "Greatest Of All Time."

So when he officially retired on Monday January 31st, 2022 those of us in Patriots Nation were full of love and respect for the greatest Quarterback in the history of the game. The problem started when he wrote a 9 page retirement speech and thanked everybody under the sun in Tampa Bay but he glaringly omitted the Patriots. Not a single mention of the coaches, the players, the owners, and most importantly, the fans. And as a die hard fan, I felt slighted. And I was not alone. So, because I use Social Media primarily to promote this Blog, I went ahead and posted about my feelings.

The good news is most of my followers agreed with me. But some did not.

Some got nasty. Some got belligerent. And some got just plain stupid.

Those of you who know me best, already know that I don't turn a blind eye to that kind of BS. I have a steel trap mind. If you write something nasty, or hurtful? I'm not going to forget that. Especially, if it's untrue and ugly. Look, I used to be a professional musician, I've had both good reviews and bad reviews. That came with the territory. Look, I can take all of kinds of criticism. We should all be open to constructive criticism. But if you write something that is just untrue and hurtful? Well, there's going to be hell to pay for that. Someday, and somewhere down the road, I'll remind you.

But the truly funny part about some people on Social Media is, they complain and complain about certain posts, when all they really have to do is ignore it and move on to something else. I mean nobody is making you read anything. If you don't like it or agree with it? Just move on. Don't be what comedian Bob Marley calls it "Don't be a dink." Speaking of which, even Bob Marley agreed with me on the Brady cold shoulder. But honestly? There's really nothing Brady could or say or do that would change how I feel about him. He will ALWAYS be the GOAT in my eyes.

In fact, here's what I posted after I started getting some negative feedback.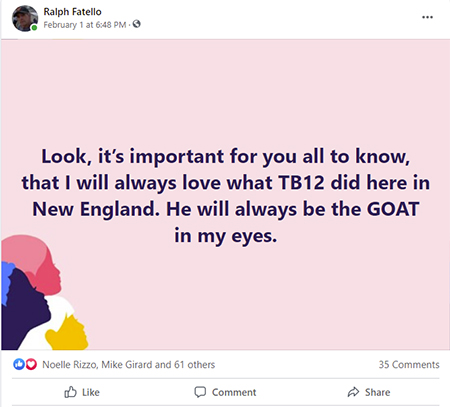 So that seemed to pacify some of the haters. Truth is, TB12 did snub the Patriots and Patriots nation. He did come out with a big thank you two days later. But only after Robert Kraft had to post a beautiful congratulatory thanks to him directly. Brady replied with a nice (too little too late) response. And then a day later, he came out with a nice video thanking all of Pats Nation.

What Tom may, or may not know is this: Most of the TB12 fans cheered for him when he became a Tampa Bay Buccaneer. We all cheered for him and Gronk in the Super Bowl last year, when he won his 7th title. So we remained loyal to him. We know you thanked us when you went to Tampa Bay. But this was different. You were leaving the arena for good. You needed to thank everyone who helped you along the way. That certainly means The New England Patriots. There will never be another QB like him. We were blessed to have had him for 20 years. Long Live The GOAT!




From the GOAT to the BOAT (Boringest Of All Time).
I'm sorry, but, try as I might, I cannot get behind this *sport. I'm into the Winter Olympics, but this? This is NOT a Sport. It's a game. Look, anything that I could actually try out for, and make it at my age, can't be spoken in the same breath as all the other REAL Winter Sports. If I offend anyone out there, I apologize. But I'm not changing the way I feel about this thing. CURLING? The only curl I know that's even close to this being a sport is, the "Curl on a Wave." Get rid of it and make room for more athletes. Or get them all a job in maintenance/janitorial work. Lord knows we could use a few more street sweepers too. Man those brooms you ex-curlers!




I saw this the other day and nodded my head in agreement.




And this? This just cracked me up. Can you imagine?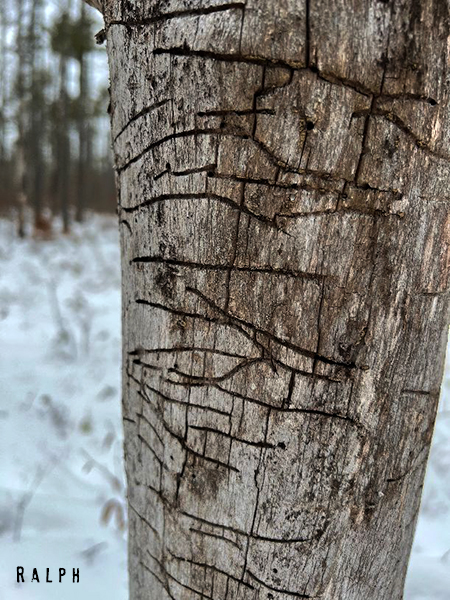 I took this pic the other day while out in the woods. I'm guessing these markings are from termites. The tree was dead. But still artful.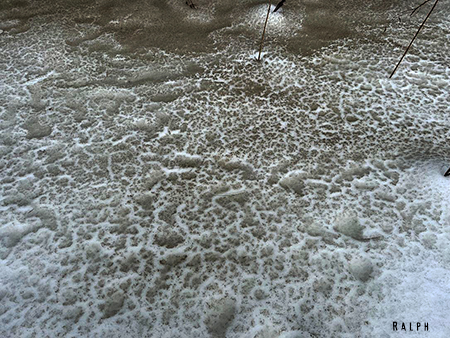 Speaking of natural art. I looked down at this snow cover and saw this.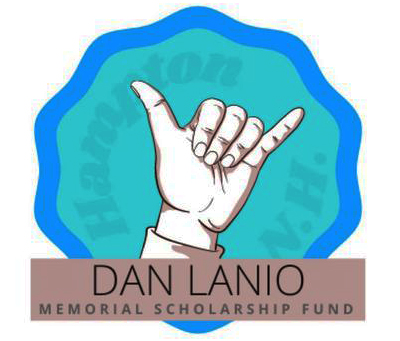 Dan Lanio Memorial Scholarship Fund

This community is amazing. The outpouring of support for Dan "Desi" Lanio has been emotionally overwhelming. It warms our heart to see all of the tributes and memories that you all have shared over the past few days. Many out there have sought out ways to honor the man who brought so much joy to all of us, and Experience Hampton has been working with people from all over the Town of Hampton to create the Dan Lanio Memorial Scholarship Fund.

This fund, will make a scholarship available for the WHS Extended Learning Opportunities Program (ELO). A couple of years ago, Desi raised close to $4,000 to start the first scholarship for ELO. This program was near and dear to Desi, as was supporting all the students from Winnacunnet High School.

Experience Hampton offered to accept donations to create this fund, and ensure that the donations being made were channeled to the official "Dan Lanio Memorial Scholarship Fund". Please know that we will ensure your contributions will only benefit the student recipients of this fund, and not be used for any other operational expenses.

As our way to honor Dan "Desi" Lanio, Experience Hampton will be contributing $2,500 as the initial opening donation. Desi was a key member in creating Experience Hampton, and we are truly grateful to the legacy he left behind, and we will do our best to honor his memory moving forward.



If you are interested in donating, no matter how big or small, please send and make out all checks to:
Experience Hampton, PO Box 444, Hampton, NH 03843
(Please indicate in the memo portion that the check is for the Dan Lanio Memorial Scholarship Fund)
"TB12 AND SURFING HEALS ALL WOUNDS."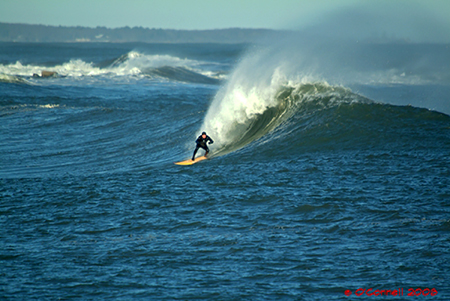 This is Lenny Nichols back when he still had a pair of healthy hips. January 28th, 2008. I remember this swell, and I remember exactly where Ed was standing when he shot this pic. He loved that corner. He could shoot right into the wave with his 500mm and get as close as you get without getting wet. It's also the reason why I call this section "ED'S CORNER." It's the corner theory. Photo by Ed O'Connell
*Click the photo above to see a larger version of Ed's Pic.

NOW FOR SOME LOCAL AND NATIONAL NEWS


I love this pic. Some of the GREATEST Still living QB's of our time. Brett Farve, John Elway, Roger Staubach, Peyton Manning, Joe Montanna, Tom Brady, and Dan Marino. Though I'm sure there's a few QB's who are missing from this pic that should be in there. But I'm not sure what the occasion is here. This could be something that these guys fit the criteria for.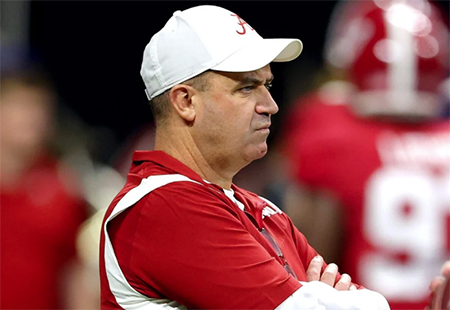 Is this our next Offensive Coordinator? Bill O'Brien? I hope so.
With Josh McDaniels going to the Las Vegas Raiders we are going to need someone who knows the system. And O'Brien has ties with the team and Coach Belichick.

Sorry to be so hurtful to this guy (below). But I'm sick of hearing comparisons to Brady. Sorry son, you ain't Tom Brady.
In fact, you are not even close. Keep playing though. You have potential. Just not GOAT potential.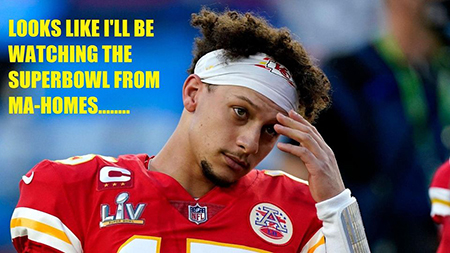 I did not see this coming. And neither did he. Oh well.

RAMS vs BENGALS IN SUPER BOWL LVI.
SUNDAY FEBRUARY 13th, 2022 at 6:00PM.




Who do you like in the Super Bowl? I'm rooting for the Bengals.
Two reasons. First the AFC. Second. They are the underdogs.
Though ex Patriot Sony Michel does play for the RAMs. And I
kind of like Matt Stafford. Oh I don't know, I just know that the Bengals have been the laughing stock in the NFL for many years. They have never won a Super Bowl. So... I want them to win.


Please Donate to this Timmy Sheridan GO FUND ME page.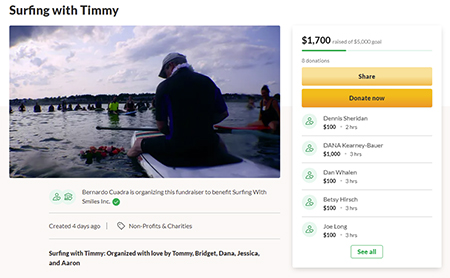 THE GO FUND ME PAGE in Memory Of TIM SHERIDAN

Timmy passed away very suddenly in June, 2019, and is now riding the eternal wave. Timmy had a passion for surfing. He taught friends and relatives how to surf and volunteered with Surfing with Smiles, a non profit organization that gives those who may otherwise not get a chance to be out on the water, the thrill of a lifetime. It is run solely by an amazing group of volunteers, three times a summer. Surfing with Smiles is an organization near and dear to our hearts. We are fundraising in Timmy's honor with the goal of providing scholarships for lessons and equipment rentals to assist Surfing with Smiles participants and others who may not be able to afford lessons, the opportunity to get out on the water.

*Please click on the image above to read more and to make a donation to this GoFund Me page in memory of Timmy Sheridan.


This effort is in conjunction with Cinnamon Rainbows Surf Company in Hampton, where Surfing with Smiles began, and
one of the biggest supporters of SWS.
Checks can also be made out to Surfing with Smiles, and please note Tim Sheridan Scholarship in the memo. Checks can be mailed to SWS c/o Cinnamon Rainbows Surf Shop, 931 Ocean Blvd., Hampton, NH 03842
This is the coolest post card. This was written by Paul McCartney to Ringo Starr 2 days after the Rooftop concert in London.
*Courtesy of Ringo Starr.
And speaking of
the Beatles
...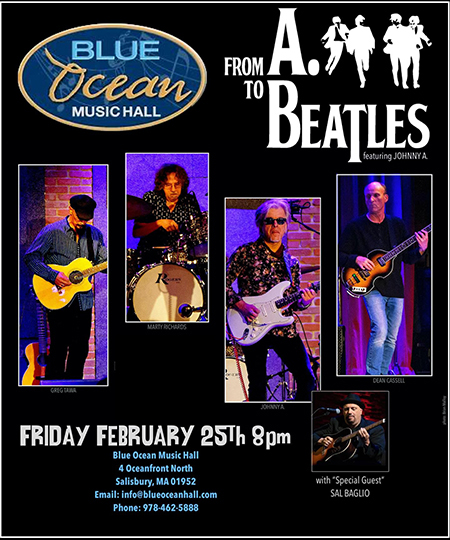 Appearing at the BLUE OCEAN in Salisbury Beach, MA
on February 25th, 2022 Click on the ad to buy Tickets.

*Sal Baglio has been added to the show!


KSM Photoshop of the Week
This one caught me by surprise. I did not know that Ole Khaliddy was involved in this prestigious event. Punxsutawney Phil predicted 6 more weeks of winter and no chance for parole for the 3,000 year sentence for Khalid Sheik Mohammed. Sorry KSM. You ain't getting out of GITMO unless it's to be transferred to a colder location. I really hope they do. He should not be in the tropics. He should be suffering in the frigid cold regions.




And so my friends, please take advantage of this weekly photo shop of the mastermind who planned 9-11 and resulted in the deaths of 3,000 innocent civilians by KSM (Khalid Sheik Mohammed).

*Note to self -must pick up a case of Ground Hog Pelts
at Home Depot this week.

HAPPY 70th BIRTHDAY Desi Lanio January 27th, 2022!
HAPPY BIRTHDAY Kelly Ciarmataro January 28th, 2022!




CONGRATS TO LEAH and ROB Piersiak on the Birth of
their third child Mave Frances. Born on February 3rd, 2022!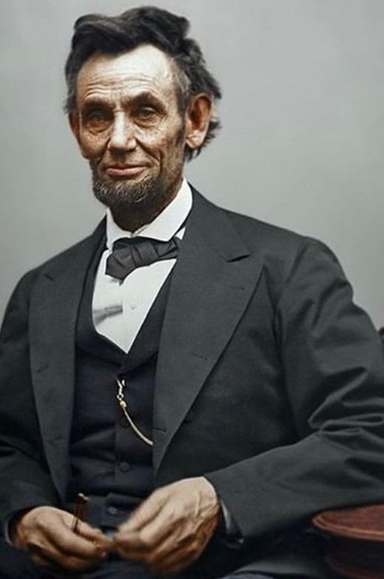 HAPPY BIRTHDAY Abe Lincoln February 12th, 2022!
*Boy I wish you were around today. Your Old party could use you. Hell the whole country could use you. We're doomed with the last two idiots we have had in the White House.
PLEASE Keep local Surfer/Musician Pete Kowalski in your thoughts and prayers throughout the year.

Please Support ALL The photographers who contribute to
Ralph's Pic Of The Week every week for the last 18 years.
** BUY a HIGH RES Photo from any of the weeks on RPOTW.

Remember my friends... Surfing Heals All Wounds.
Pray for Surf. Pray for Peace. Surf For Fun.

Ralph






Yesterday- JOAN CRAWFORD 1949. WAIKIKI, HI

That's quite the board Joan is holding. I'm sure this was just a posed photo. I can't imagine a "Bitch" like her actually being a real surfer. But then again, I've known a few bad apples on surfboards. So who knows? I only know this. We are all going to get old some day and well...leave this earth. So if you haven't tried surfing yet, get going. The sooner the better. It is after all a young persons sport/lifestyle.

Photo Courtesy of David Wills
*Click on the pic to see a larger version.





I kept a daily Blog on my CATCH A WAVE FOR MOLLY surf campaign, when I surfed every single day for 365 consecutive days. Click on the Banner above to read entries of my daily journey. There's some really interesting and true experiences
that happened during that year. Some of which are to this day, unexplainable. Some are just mind blowing. But all true.

I started on July 26th, 2010 and ended on July 26th, 2011.

Some rainy Sunday, pour yourself a cup and go through the journal. Pay close attention to the month of May in 2011. Read that month and let me know what you think of that. Be forewarned it will change you forever.