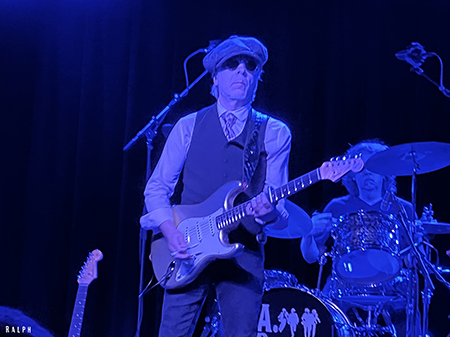 FROM A. TO BEATLES February 25th, 2022
BLUE OCEAN in Salisbury Beach, MA
(George Harrison's Birthday)
by Ralph G. Fatello

Friday February 25th, 2022 was one for the ages. How's that? Well anyone who lives on the East Coast will remember that we had one ass kicking snow storm that day. It started in the wee hours of the morning, and went right into the night. I went with my wife Cory, and our dear friends Anne Marie Foley and Kelly Knapp. We all knew each other from back in the days of The RAT where we all hung out and played music. And to be honest with you, none of us thought we were actually going to go to the show.

We just assumed the Club would not be open.

I mean we got 10-12" of snow, and there was no letting up at 7:00PM. In fact, Sal Baglio who was scheduled to be the opener, had to bail due to the terrible driving on 495. Which is too bad, because Sal was also one of the old RAT crew. It was going to be Old Home Week. And I was looking forward to seeing Sal play again. It had been too long. But, that damn snow storm prevented him, and I'm sure a few others, from getting in their vehicles and driving in that major snow storm.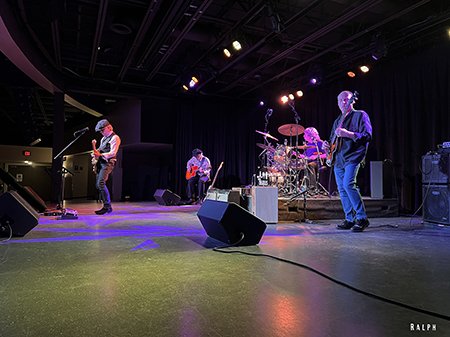 *Click on the photo above to see the whole gallery

When Anne Marie texted me and said "Johnny said the show is on." To which I replied, "If Johnny is playing, we're going. I'll drive and come and pick you all up, and drive you all home." Much to my surprise the girls were all in. I would have driven alone if they didn't want to go. But they were good to go. So off we went into the belly of the beast.



*Click on the photo above to see the whole gallery

Truth be told, I had been looking forward to seeing this show for months. Actually, I've wanted to see it ever since I first heard about this latest project from one of the most renowned guitarist in the world, Johnny A.

I've seen Johnny a few times in the last 5 years doing his "ME AND MY GUITARS" show. That's where he literally shows up with a couple of his signature guitars, and plays live in front of an audience as he proceeds to build each song in layers, and in real time. It is both fascinating, and mind blowing, not to mention, that he always sounded amazing all night. But this? This was different. This was Johnny playing with humans again. And not just any humans, these guys were the real deal. In other words, there was no dead weight in this group. With Johnny A. on lead guitar, Dean Cassell on bass, Marty Richards on drums, and Greg Tawa on rhythm guitar, these legends came to play. And not just play any old songs. They were digging deep into the vault of music by the best band that ever existed. The BEATLES.



*Click on the photo above to see the whole gallery

Like Johnny said at the beginning of the night. "If you don't like The Beatles, you came to the wrong show, and you will not be having a good time tonight." But there was nobody in the respectfully full room that didn't like The Beatles. Everyone in that club loved The Beatles. And they loved Johnny. And they all drove through a snow storm to prove it.

It's also important to know that, FROM A. TO BEATLES is ALL instrumental. There were no vocals. Nobody is singing on stage.

The only voices you heard this night were coming from the audience. And yes I was singing my ass off. We all were. Me, Cory, Kelly, and Anne Marie were singing all night. We weren't exactly harmonizing like Lennon, McCartney, and Harrison. But we were all singing, and all having fun.

So what's it like to hear an entire night filled with Beatles songs from practically every LP with no vocals? Well, if you're a Beatles fan, that's easy. It was great. And, if you're also a fan of the guitar, it was heaven sent.

Hearing this tighter than shit band, knock out Beatles song, after Beatles song, while Johnny meticulously played all the vocal parts, on his guitar, as well as all the memorable Beatles riffs and solos was nothing short of nirvana. I not only LOVE the Beatles, I LOVE the guitar. And let me just say this right up front here. Johnny A. is one of the best in the world at what he does.

He not only was channeling George Harrison this night, he was stepping in and out of the realm of Hendrix's world, and (dare I say it?) Yes, I'll say it. And not only say it. But say it with conviction. He was sounding at times like… Jeff Beck. I first noticed it on NOWHERE MAN where the band went into a freeform mini jam. Now, I have never said that about any other guitar player I have ever seen, or heard. I mean Beck is in a world all of his own. But Johnny was tapping into those obscure, and weirdly wonderful sounds, that only Beck makes.



*Click on the photo above to see the whole gallery

Giving nods to the greats on the guitar, was all done with love and respect.

He and the band have already devoted their time and passion, into making these wonderful instrumental renditions of songs that most of us have grown up with. So these unique arrangements of songs, that have become the very fabric of our lives, was such a fresh new treat for all of us. In a cool way, it was like hearing these songs for the first time.

Dean Cassell was hitting all of McCartney's bass lines. The thing about McCartney is, he never got due credit for his incredible bass playing. Paul McCartney is one of the best bass players to ever pick up a four string. And Dean did him justice this night. He was as smooth and flawless as Paul himself. And, he had a Hoffner bass. You know, the traditional violin bass. Dean really sounded great.

Marty Richards had the task of playing those solid Ringo beats. I will say this without any reservation. Ringo Starr was the BEST R&R drummer of all time. And when I say best, I mean LESS is BEST. Ringo was always in the pocket and his fills and rolls were always so tasteful. Marty was all of that, and more Friday night. At one point he did those iconic Ringo fills in THE END and he did them with one hand. What? I watched him do those fills with one hand because he had some other percussive piece in his other hand. Marty that was freaking cool.

Greg Tawa had the rhythm guitar sounding so beautiful all night long. He played some of the nicest guitar parts of the night. AND I LOVE HER sounded like George. IF I FELL with those Lennon like strumming parts was spot on. Greg is a great player in his own right. And it was so cool to see him playing with Johnny and the two of them sounded so good together.
And Johnny? Every time I see him he blows me away. I love the way he steps out and takes a solo, and just goes on these long trippy guitar journeys, and just when you think he's gone too far, that he's so far removed from the original structure of the song, and then, he's back. He somehow, some way, that only great players can do, finds his way back home again. And when you're playing Beatles songs, it's important to find that melody again. Because, your audience is waiting for it. And when he does come back, all is right with the world.

One highlight for me was when he played all three guitar solo parts in THE END. The original recording had John, Paul, and George trading solos at the end of that song. But leave it to Johnny not only play all three solos perfectly, but to have the right tone and sound for each separate solo. Who does that? Nobody does. Nobody but Johnny A.
Look, I have seen my share of Beatles Tribute bands. Name one, I've probably seen them. And some I've seen many times. But this is different. With FROM A. TO BEATLES , the guitar becomes the voices of John, Paul, George, and Ringo. And when you stop and think about some of the more intricate vocal lines of the Beatles, and try to imagine what they would sound like coming from an electric guitar? It's hard to describe in writing. You need to see them, and hear it for yourselves. I can pretty much guarantee, that you will not only like it, but love it.

Unless you of course, you don't like The Beatles.

And if that's the case, why even bother reading this? Ha ha. Trust me kids. If you like the Beatles, and you like the guitar. Go see this show. You will not be disappointed.
Everyone, and I mean everyone, at the Blue Ocean loved them. "And in the end, the love you take, is equal to the love you make." Lennon/McCartney

FROM A. TO BEATLES Set list
Friday February 25th, 2022
Blue Ocean Salisbury Beach.
HERE COMES THE SUN
ALL MY LOVING
A HARD DAY'S NIGHT
YOU'VE GOT TO HIDE YOUR LOVE AWAY
ACT NATURALLY
NOWHERE MAN
'TIL THERE WAS YOU
HOLD ME TIGHT
STRAWBERRY FIELDS FOREVER
TICKET TO RIDE
DRIVE MY CAR
IF I FELL
THE NIGHT BEFORE
THINGS WE SAID TODAY
WHILE MY GUITAR GENTLY WEEPS
BLACKBIRD
I'LL BE BACK
SHE SAID SHE SAID
A DAY IN THE LIFE
AND YOUR BIRD CAN SING
AND I LOVE HER
I CALL YOUR NAME
YOU CAN'T DO THAT
THE END I WANNA HOLD YOUR HAND
HEY BULLDOG
GET BACK/CHICKEN SHACK




This was the very next morning after the A. To Beatles show.
The morning we had great surf and beautiful empty waves.

Good morning friends. In spite of all the terrible news in the world, the War in Ukraine, the never ending Pandemic, high inflation, rising gas prices, and everything else that has negative overtones. In spite of all that, it's important to remember and take in, all that is still beautiful, and still peaceful. And although the Christmas season is well behind us, this sentiment is never more truer, than it is today. PEACE ON EARTH. GOOD WILL TO MEN.

"BEATLES, PEACE, and SURFING HEALS ALL WOUNDS."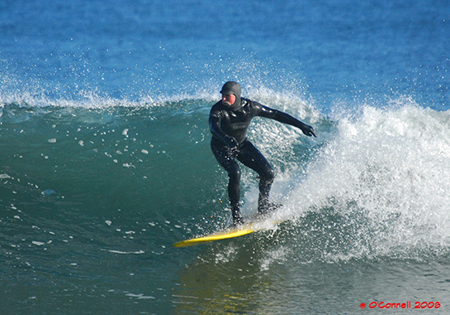 This is Lenny Nichols. Coincidently Lenny's father is from Ukraine. Back when the Ukraine was part of the Soviet Union. So there's a local tie to the current struggle over there. Photo by Ed O'Connell
*Click the photo above to see a larger version of Ed's Pic.

NOW FOR SOME LOCAL AND NATIONAL NEWS


The War in Ukraine is now into it's 5th day. There have been casualties on both sides. But surprisingly, there are more Russian casualties than Ukraine. Nobody saw that coming. Nobody that is but the people of Ukraine. They are fighting for their very existance. They are fighting for their land and democracy. And when you get resistance like that? Well the bigger aggressive forces find out that heart and will can overpower the bigger forces. And that's what's happening. The US and NATO nations have levied some serious snactions, but in my honest opinion they need to do more. They need to provide whatever military equipment the Ukraine needs.
There is stiff resistance all over Ukraine. The people are fighting well beyond what Putin and his cronies originally anticipated. I don't think that Putin saw this kind of defensive posture from these people. I suppose it's been shocking to a lot of the Russian commanders and their troops. of course there's the backlash of that kind of resistance. And that happened today when Putin put Russia's Nuclear Forces on Alert. That my friends, is rather frightening. Nuclear forces are now on alert?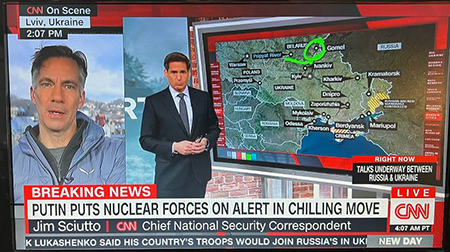 I just hope it does not come down to that madman actually starting a nuclear war. And not to sound like a know-it-all, or saying the proverbial "I told you so", but, I have been saying since 9-11 that we will all witness in our lifetime, a nuclear bomb or device go off somewhere in this world. And not only will we witness it, but we will see it a hundred times over. Because somebody, somewhere will have cell phone video of it. And I know you can all see that clearly. It takes little or no imagination, to see that scenario become a reality. Ugh.

These are frightening times my friends. Very frightening.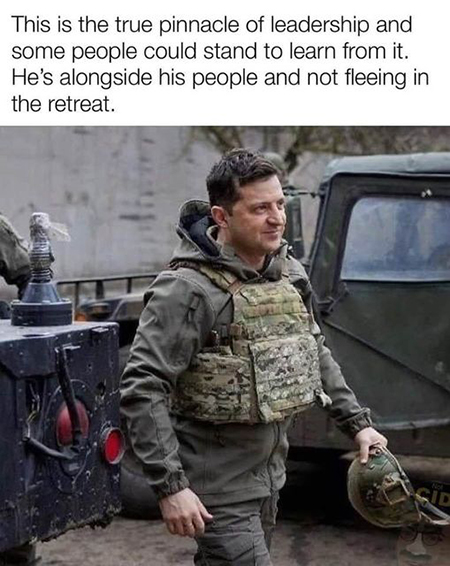 I like this man. He is the real deal. President Zelensky.




And these guys? With Presidents Day coming and going last week, here are three modern day presidents. One I despise, one I have only respect for the office of the presidency, and one I have the highest respect and admiration for. I'll let you think about who exactly I'm talking about. But it should be very obvious.


Dan Lanio Memorial Scholarship Fund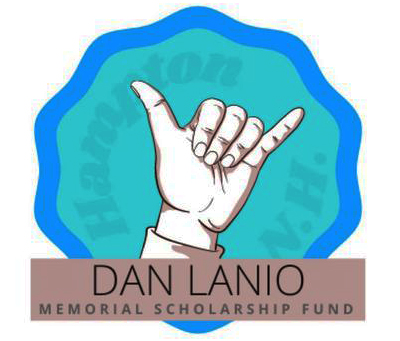 This community is amazing. The outpouring of support for Dan "Desi" Lanio has been emotionally overwhelming. It warms our heart to see all of the tributes and memories that you all have shared over the past few days. Many out there have sought out ways to honor the man who brought so much joy to all of us, and Experience Hampton has been working with people from all over the Town of Hampton to create the Dan Lanio Memorial Scholarship Fund.

This fund, will make a scholarship available for the WHS Extended Learning Opportunities Program (ELO). A couple of years ago, Desi raised close to $4,000 to start the first scholarship for ELO. This program was near and dear to Desi, as was supporting all the students from Winnacunnet High School.

Experience Hampton offered to accept donations to create this fund, and ensure that the donations being made were channeled to the official "Dan Lanio Memorial Scholarship Fund". Please know that we will ensure your contributions will only benefit the student recipients of this fund, and not be used for any other operational expenses.

As our way to honor Dan "Desi" Lanio, Experience Hampton will be contributing $2,500 as the initial opening donation. Desi was a key member in creating Experience Hampton, and we are truly grateful to the legacy he left behind, and we will do our best to honor his memory moving forward.



If you are interested in donating, no matter how big or small, please send and make out all checks to:
Experience Hampton, PO Box 444, Hampton, NH 03843
(Please indicate in the memo portion that the check is for the Dan Lanio Memorial Scholarship Fund)
Please Donate to this Timmy Sheridan GO FUND ME page.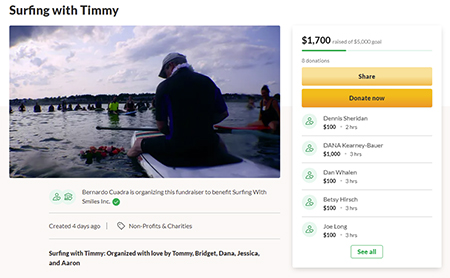 THE GO FUND ME PAGE in Memory Of TIM SHERIDAN
Timmy passed away very suddenly in June, 2019, and is now riding the eternal wave. Timmy had a passion for surfing. He taught friends and relatives how to surf and volunteered with Surfing with Smiles, a non profit organization that gives those who may otherwise not get a chance to be out on the water, the thrill of a lifetime. It is run solely by an amazing group of volunteers, three times a summer. Surfing with Smiles is an organization near and dear to our hearts. We are fundraising in Timmy's honor with the goal of providing scholarships for lessons and equipment rentals to assist Surfing with Smiles participants and others who may not be able to afford lessons, the opportunity to get out on the water.

*Please click on the image above to read more and to make a donation to this GoFund Me page in memory of Timmy Sheridan.


This effort is in conjunction with Cinnamon Rainbows Surf Company in Hampton, where Surfing with Smiles began, and
one of the biggest supporters of SWS.
Checks can also be made out to Surfing with Smiles, and please note Tim Sheridan Scholarship in the memo. Checks can be mailed to SWS c/o Cinnamon Rainbows Surf Shop, 931 Ocean Blvd., Hampton, NH 03842




KSM Photoshop of the Week
Now this made me chuckle. Leave it to Khaliddy to be a volunteer tank commander in the Russian Army over the weekend, only to be taken out by a 90yr old Ukrainian woman with an anti Tank Weapon provided by (wait for it) the good ole USA. Knowing Al Qeada's anti woman stance, this little victory was especially hurtful to the Sheik. He couldn't believe a woman was capable of that kind of strength, and determination. Well you know it now Khaliddy. You damn well know it now.




And so my friends, please take advantage of this weekly photo shop of the mastermind who planned 9-11 and resulted in the deaths of 3,000 innocent civilians by KSM (Khalid Sheik Mohammed).

*Note to self -must pick up a case of GORILLA GLUE
at Home Depot this week.


REST IN PEACE Carmen Dimarca. Musician, record producer, and a dear friend to so many.
HAPPY BIRTHDAY Jesse Ciarmataro February 17th, 2022!
HAPPY 66th BIRTHDAY Lenny Nichols February 22nd, 2022!
HAPPY ANNIVERSARY Mr & Mrs Rastl February 23rd, 2022!
77th Anniversary of the Flag Raising in Iwo Jima February 23rd, 1945-February 23rd, 2022. God Bless all the Marines and Sailors who fought and died there. Semper Fidelis
CONGRATS TO LEAH and ROB Piersiak on the Birth of
their third child Mave Frances. Born on February 3rd, 2022!

PLEASE Keep local Surfer/Musician Pete Kowalski in your thoughts and prayers throughout the year.

Please Support ALL The photographers who contribute to
Ralph's Pic Of The Week every week for the last 18 years.
** BUY a HIGH RES Photo from any of the weeks on RPOTW.

Remember my friends... Surfing Heals All Wounds.
Pray for Surf. Pray for Peace. Surf For Fun.

Ralph