I posted a comment on social media this week that I should probably repeat here. And that is, you would think that after taking a million photos of surfing, and shooting miles and miles of video, that I would somehow get tired of doing this. Become uninterested and bored with it all. But nothing could be further from the truth. I honestly look forward to each new swell, and relish every new change in the weather, and I love seeing and talking with the surfers who love riding our waves. I'm as stoked today on surfing as I was when I caught my very first wave in 1964. And I will do this, until my last dying breath.

I posted that because I caught myself being giddy over this last swell.




The surf was good all day. And after snow blowing out both driveways I drove as fast as I could down to the ocean to capture the beauty of the waves and the action of the surfers. And I think the older I get, the more I appreciate the wonders of what surfing provides to me and everyone else who loves it as much as I do. Not that I needed to explain myself to others, but more along the lines of sharing the love in another format. As in the written word.

OK enough of that. Let's get going on the news of the week. Holy Mackerel.

What the hell happened this week that made the two biggest stories of the week seem so implausible. There's no logical explanation for either one. But seeing how this is a weekly Blog, I have to delve into the meat and potatoes of each story. So let's start with the Jussie Smollett case. As mind boggling as it may seem we must try and get into the head of young Jussie, who is a gay black man, and who stars in the TV show EMPIRE.

You stupid son of a bitch. What the hell were you thinking?

And by now I'm assuming you all know what he did. But just in case, he basically claimed that he was attacked by two MAGA hat wearing homophobic racists who assaulted him, put a noose around his neck, called him the N-word and the F-word while beating and slapping him while yelling "This is MAGA country!" The news was startling at first. And all the left leaning politicians jumped on board supporting him. Call it the ultimate rush to judgment. But...as the wheel turned and the detectives and investigators looked deeper into his claims, it turned out that this was all a hoax made up by Jussie himself. Look, I'm no criminal, but if I were to stage some kind of wacky scene that Smollett did? Well for starters I would not have chosen two black men as the ones who assaulted him. Call me crazy, but it seems that maybe you hire two white guys to do this phony assault.

And you might not want to appear on Good Morning America. WTF???

Because I am a visual person, I created some Memes for this particular story.




Those quotes are what he actually said on GMA. Are you kidding me? And of course the left wing side of the political playing field all had to weigh in. And that included the Old Coot Bernie Sanders who announced his bid for president of the United States a few days earlier. (God Help Us All).

Well as you all know by now, the Chicago Police did an outstanding job and cracked this case wide open. I watched the CPD Superintendent Eddie Johnson hold a press conference and and I was so impressed with him that I had to create this meme. I really do wish he was running for office.




And when Jussie was arrested and charged with filing a false police report among other serious charges, he appeared in court and then drove off in a white van with TV reporters chasing him all the way. It was very reminiscent of OJ Simpson's white Bronco ride of shame.




And to make matters worse, Smollett went straight to the studio where they were shooting EMPIRE to continue his plea of innocence and to ask the crew and fellow actors for their support. That lasted all of 24 hours when the studio announced they were writing his character out of the last two episodes. Ouch.
And yet, he's still claiming that this attack was real. They have a mountain of evidence including testimony of the two (alleged) attackers who were paid with a $3,500 check from Smollett. They have their cell phone records plus a ton of video. I would say this is an open and shut case, but I remember only too well what happened during the OJ trial. He got away with murder.

But this is different. Smollett hurt so many people. Especially gays and blacks. The homophobic racists claims back fired and have set them all back for any future claims. And it's no secret how I feel about 45 and his MAGA crew. But this was also an unfair attack on them. Much like the young man who wore the MAGA hat while the older Native American an alleged Vietnam Veteran (he was not a Vietnam vet) confronted him in Washington DC recently. That kid was portrayed as a MAGA racist interfering with this Native American. That all turned out to not be true. The real culprits were those Black activists who started all of that trouble. That kid is now suing the Washington Post for $250 million dollars. And I hope he wins. I don't like the MAGA hats, but I despise injustice. And this is a perfect case of that.

And just when you thought the news couldn't get any weirder this happens.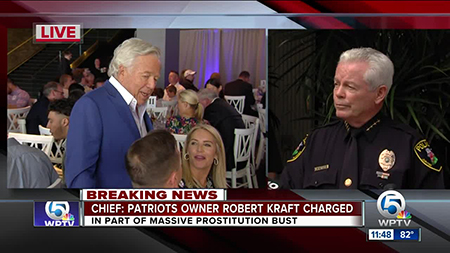 Oh God...say it's not true. But once again, the evidence is overwhelming. Video footage of Kraft entering a strip mall in Jupiter Florida and into a Massage Spa and having sex with a prostitute. Paying $60 dollars? Wait, am I missing something here? A Billionaire paying $60 dollars to have sex with a prostitute in a strip mall in Florida? What the ever-loving F**K was he thinking??? But once again, apparently Kraft like Spollett, wasn't thinking.
I mean how could he be? If the story were to read like ROBERT KRAFT ARRESTED WITH HIGH CLASS CALL GIRL AFTER SPENDING $20,000 for a Night of Sex, that would be one thing. But this? Paying $60 dollars for a "quickie" in a Strip Mall. It just doesn't make any sense. Does it?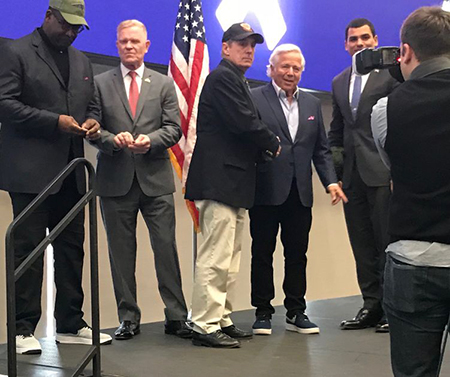 This is a photo of me shaking Robert Kraft's hand last November 9th, 2018 when he pinned a medal on my chest along with 50 Vietnam Veterans from New England. It was hands down one of the proudest moments in my life. I suppose I should be happy that this embarrassing arrest didn't happen before this meaningful event. And I'm REALLY glad that it didn't happen before the Super Bowl. And we should feel pretty damn lucky because this sting was in motion weeks before the AFC Championship.

Again the presumption of innocence must be played out here. But I have a bad feeling about this one. And judging from the out roar across the country, the Haters are back on the war path. And I shudder to think what Roger Goodell and the NFL has in store for him. One thing's for sure, his reputation is forever smeared because of this. Spygate, Deflategate, and now Sexgate.

Oh the horror...the horror...the horror.

On this day February 23rd, 1945 these six brave Marines raised the flag on top of Mt Suribachi on Iwo Jima. Over 6,000 Marines died on that Island.
But they killed 20,000 Japanese in the process. The US and our allies needed Iwo Jima's air strip to launch attacks onto the mainland of Japan.
This photo was the reason I enlisted in the Marines. Semper Fi.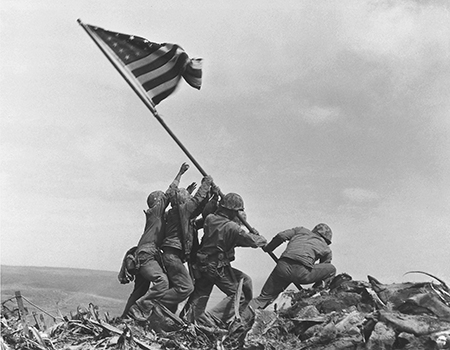 "Surfing, Marines, and all WWII Vets Heals All Wounds."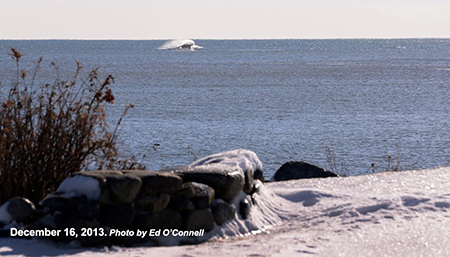 I found this pic of Ed's and it reminded me of one of my own pics I shot last week. Though it's not of the same break, but the concept is the same. I miss our "mirror" shots where we would both end up taking pics of the same wave or the same surfer. Used to crack us up. Damn I still miss you Ed.
December 16, 2013. Photo by Ed O'Connell
*Click the photo above to see a larger version of Ed's Pic.

Now for Some Local, National and International News
This week our beloved POTUS is traveling to Vietnam to meet with Kim Jong Un. I made this Meme (below) because like many of McCain's followers I have not gotten over his mean and disgusting remarks he said about McCain when he was a POW at the Hanoi Hilton in North Vietnam. There's a YouTube video about 45 getting a Purple Heart that some Veteran gave him. It's worth watching because of the idiotic remarks he says about the Purple Heart. "I've always wanted a Purple Heart." Think I'm kidding? Google it.




The man is a walking talking Buffoon of Colossal proportions. And when he gets back from Vietnam, another REAL Vietnam Veteran will have a nice surprise waiting for him. The MUELLER REPORT. I believe his presidency will live or die at the hands of this much awaited report. If it turns out, that he did nothing wrong then he should finish his ONE term as POTUS. But if it turns out he's guilty? Well, let the Chips (and his hair) fall where they may.

Speaking of Guilty. I am GUILTY of BEING a BEATLES FAN!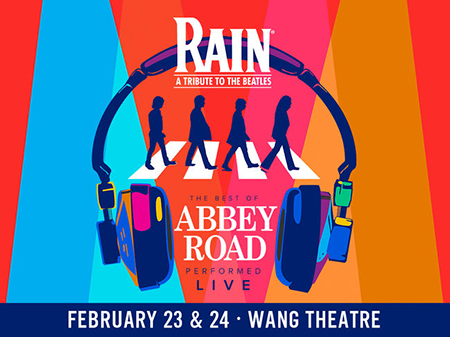 This coming Saturday night February 23rd, 2019 and Sunday night February 24th, 2019 a handful of us are heading into town to see RAIN. They are the tribute to The BEATLES that I saw last year. I fell in love with them the second they hit the stage. I have never seen the actual Beatles, and it is clearly one of my life's biggest regrets. I've seen McCartney a couple of times and loved every single second of that show. But never saw the BEATLES. That is until I saw RAIN. I'll write a review of the show for next week's Blog. Speaking of shows. This is a MUST SEE Show!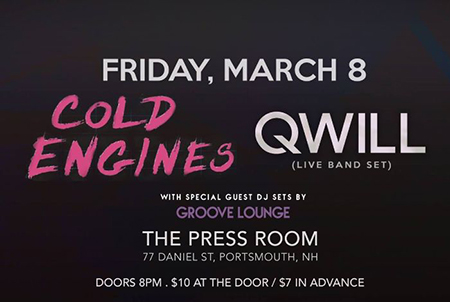 This is the same QWILL who you have heard before in my surf videos. If you are within an hour's drive of the Press Room in Portsmouth on Friday March 8th I strongly urge you to catch this show. Trust me, it will be worth every mile and cent you pay.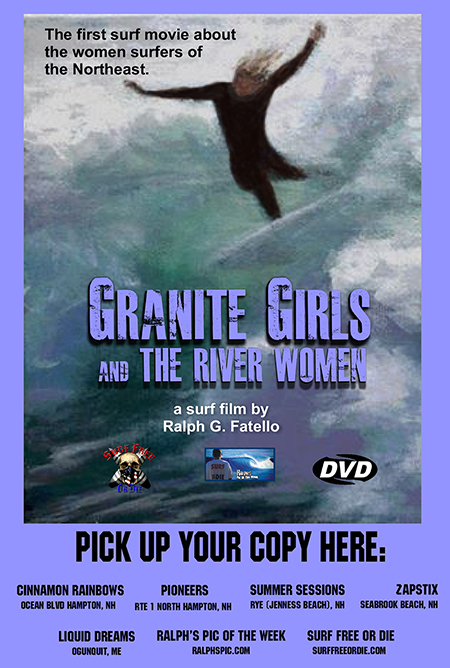 The DVD's are available at all the local surf shops. Or by
sending me an email. ralph@adlantic.com or send a check for $20.00 made out to ADLANTIC and send it here:

ADLANTIC
c/o OC Studio Suites
703 Ocean Blvd Suite C-4
Hampton, NH 03842

Or RENT or BUY it Online. You have spoken and I have listened. You don't have a DVD player so I made it available Online. Watch it on your Smart TV, your computer, or your cellphone! I can't make this any easier my friends.


GRANITE GIRLS and The RIVER WOMEN from Ralph's Pic Of The Week on Vimeo. NOW AVAILABLE on VIMEO ON DEMAND.


KSM Photoshop of the Week
Here's a sad photo if there ever was one. I should have known better that KSM was a GIANT'S fan and that he somehow found his way to Jupiter Florida to mock Robert Kraft and his untimely woes of getting busted in this Prostitution ring. Though Khaliddy is no saint when it comes to abusing women and young girls. Hardly, fricking Al Qeada helped write the book on abusing women. That bastard has really pushed my buttons with this.
Wait, I just remembered that I created this silly Photoshop. Still, couldn't you picture KSM doing this? Well I could. Bastard.




And so my friends, please take advantage of this weekly photo shop of the mastermind who planned 9-11 and resulted in the deaths of 3,000 innocent civilians by KSM (Khalid Sheik Mohammed).

*Note to self -must pick up a case of KY Jelly at Home Depot this week.

REST IN PEACE Peter Tork Monkee's bassist.
REST IN PEACE Nick Carfardo Boston Globe Sports writer.
REST IN PEACE Buddy (my nephew's dog).
REST IN PEACE Al Roach HPD.

FYI Lenny Nichols is looking for someone or someones to take over the ESA-NNE District. Please contact Lenny Nichols by calling his cell (603) 944-2418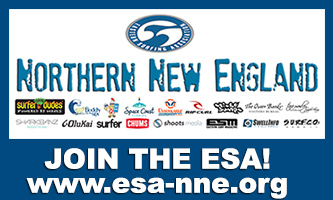 Please Support ALL The photographers who contribute to
Ralph's Pic Of The Week every week for the last 13 years.
** BUY a HIGH RES Photo from any of the weeks on RPOTW.

Remember my friends... Surfing Heals All Wounds.
Pray for Surf. Pray for Peace. Surf For Fun.

Ralph