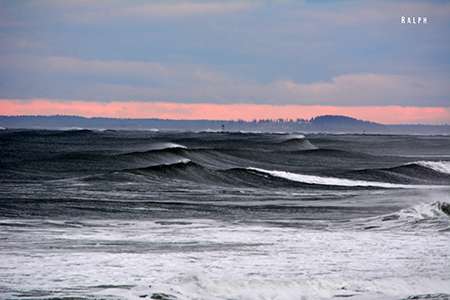 The Surf Gods delivered some Pre Valentine's Day Candy for those with a sweet tooth on the 13th, but it ended up being the waves that did most of the eating. And boy did they ever chow down on some surfers. I shot the whole carnage and winced every time one of the boys got swallowed up. It was hard to watch at times, but I realize I have a job to do, and I had to stay focused on getting the shots and video, even if some of the victims were close friends and relatives of mine. It's almost like being a combat photographer. You can't get caught up in the battle per'se, you just have to concentrate on getting the shots. You can watch it all later and have your human reactions. But when it's going down, I put on the blinders and line up the cross-hairs on the action.

Trust me there was plenty of action to document. Just watch the new video.

And not for nothing, but you know this whole "eat" term that surfers use to describe wiping out? Well it dawned on me this last swell, that it's not the surfers who are "eating it" it's the waves who are "eating them." It's true. I watched from 9:00AM to dusk, as wave after wave, ate surfer after surfer. And much to my surprise, I did not witness a single broken board throughout the day. I saw a lot of broken egos. But no busted fiberglass on the beach. And those waves were board busting monsters.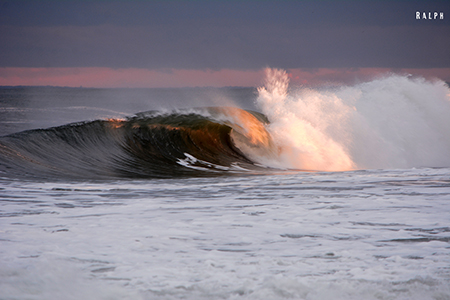 Like this wave for instance. This is about a 6' to 8' face. For you non-surfers that's about a foot or two overhead on an average sized surfer who's just under 6' tall. But what you can't see is just how shallow it is. This wave is breaking in a couple of feet of water. And this particular spot is a beach break. It's unloading on sand. Not soft fluffy sand. More like hard cement like sand. And although we mostly surf over rock reefs and point breaks, there are some places that have sand bottoms. At this particular spot, the waves come out of deep water and hit the shallow sandbars and just explode on the beach. I do mean explode. With a loud thunderous roar. All this action happens a mere 25 to 30 yards from the shoreline. So it's in your face. And it is clearly not for the faint of heart.

If you are having any doubts, my advice is PLEASE don't paddle out.

And I say this knowing that I'd be getting good footage of you getting your ass kicked. So for me to say that, it's probably a good idea to heed my advice. I've talked to more than a few friends from that potential embarrassment. They all thanked me later after seeing the footage. Thankfully nobody got hurt this last swell. I joke about the carnage, but I don't want to see anyone get hurt just so I can get some decent footage. Let me rephrase that. I don't want to see anyone "I know" get hurt. Assholes are fine. Send them out there. I'm kidding.

Now as most of you know, the video footage I shoot is only as good as the music I use. The songs I use in my videos really move my visuals along. It's important to use the right song, otherwise your footage falls flat. I have been fortunate enough to have a deep talent pool of musical family and friends at my beck and call. Starting with my own library of recorded music. As some of you know, I am a musician and have recorded enough music to fill a few documentary's. But I also have friends and family who produce some great music. Like my super talented nephew QWILL.




His music is perfect for my surf videos. I mean he's a surfer himself. I turned him onto surfing and I was a significant influence on him at an early age with my own music. So he got both bugs. Music and surfing. I recently did a "BEST OF RPOTW" using one of his latest all instrumental tracks called "Mirrors" Eastern Surf Magazine (ESM) is going to be doing a feature on my work, and his song will be used in that edit I did. I'll let you all know when that ESM piece comes out. And today is his birthday. So happy Birthday Jesse. We all Love you. And we all miss Buddy.




Buddy is his dog who passed away last week. Buddy's Birthday was yesterday. I'm a dog person. I've had dogs my entire life. So I know what dogs are all about. Don't get me wrong, I also have cats. And I love our cats. But dogs have always had my heart and soul. My heart sank last week when I found out that Buddy had passed. I like to think that there's a heaven where our pets roam the same streets and paths that we shared together. The thought of seeing all of my pets again, would be...well, heaven sent.




You were a good dog Buddy. I hope you visit Jesse, K, Jaiden, and Eli
in their dreams. They sure miss you.

Speaking of musical talent. The edit I did this week features another local surf talent. Jack Shea provided the soundtrack. A song called "The Way." I've known Jack for a few years now. In fact, he interviewed me a couple of times in the last five years. One for some UNH college paper and another for Seacoastonline. Somewhere along the way, I turned Jack onto QWILL. And he loved him. So the other day he approached me as I was shooting and asked if he could submit some songs of his to consider using for my surf videos. I said "Sure send me something." He did and the results of that exchange are down in the video section.




Jack is a super talented singer, songwriter, guitarist, and he's a surfer.
You can see more of Jack Shea on his Instagram page @iamjackshea.

"Surfing, Music, and Dogs Heals All Wounds."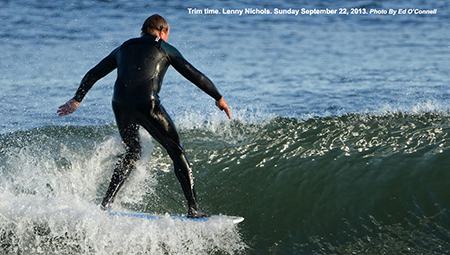 I am sure Lenny who is on his way to Hawaii right now to see his daughter, granddaughter, and his son is smiling at this pic. More than likely snickering because he'll be getting his fair share of Tropical dream waves. Aloha Lenny. September of 2013.
Photo by Ed O'Connell
*Click the photo above to see a larger version of Ed's Pic.

Now for Some Local, National and International News
Last week I gave you all a history lesson on the New England Patriots. I hope you all learned something that you might not have known prior to last week's Blog. This meme that I made will stay up just one more week. Why? Because I think it's funny.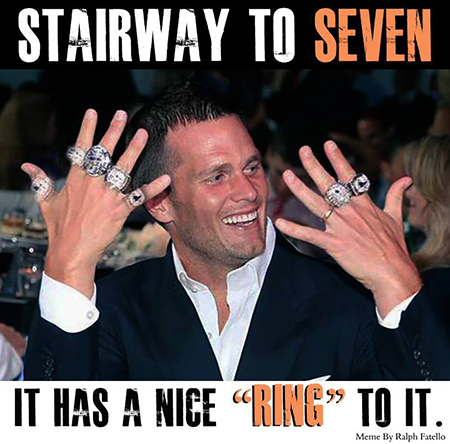 And because it could very well come true. Let me just add that IF the Patriots were to win a 7th Title under Brady and Belichick I will personally walk away from the Boasting and the Gloating. And I will look forward to some other team winning the coveted Lombardi Trophy. But until that time, expect more of this.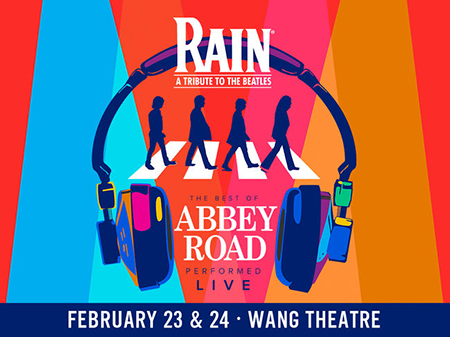 This coming Saturday night February 23rd, 2019 a handful of us are heading into town to see RAIN. They are the tribute to The BEATLES that I saw last year. I fell in love with them the second they hit the stage. I have never seen the actual Beatles, and it is clearly one of my life's biggest regrets. I've seen McCartney a couple of times and loved every single second of that show. But never saw the BEATLES. That is until I saw RAIN.

They are the closest sounding, looking, acting, like the band on the planet. I can only imagine how many hours were spent trying to get note for note of each Beatles song they do. Last year they did the entire Sgt Pepper's LP. This year is Abbey Road. Start to finish. We can't wait. "And in the end, the love you take, is equal to the love, you make."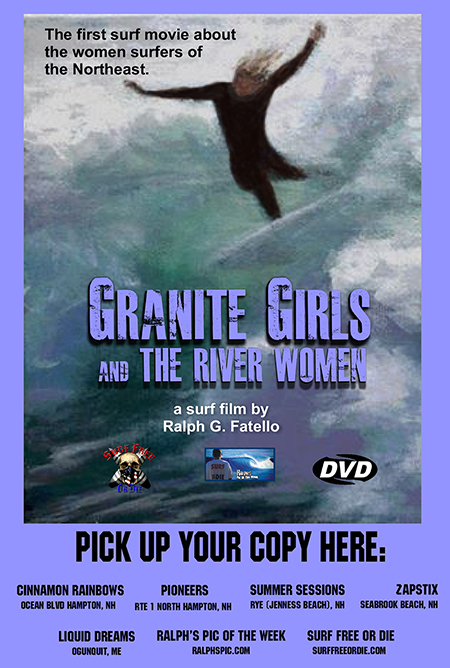 The DVD's are available at all the local surf shops. Or by
sending me an email. ralph@adlantic.com or send a check for $20.00 made out to ADLANTIC and send it here:

ADLANTIC
c/o OC Studio Suites
703 Ocean Blvd Suite C-4
Hampton, NH 03842

Or RENT or BUY it Online. You have spoken and I have listened. You don't have a DVD player so I made it available Online. Watch it on your Smart TV, your computer, or your cellphone! I can't make this any easier my friends.


GRANITE GIRLS and The RIVER WOMEN from Ralph's Pic Of The Week on Vimeo. NOW AVAILABLE on VIMEO ON DEMAND.


KSM Photoshop of the Week
Here's a rare photo of KSM in a DANCING WITH THE STARS audition. Turns out he failed miserably. Again with the violent outbursts and his anti Semitic rants. The producers of the show couldn't handle him. And as a result he never got the gig. Just
as well. This had disaster written all over it.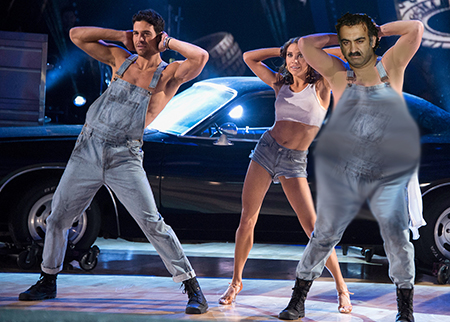 And so my friends, please take advantage of this weekly photo shop of the mastermind who planned 9-11 and resulted in the deaths of 3,000 innocent civilians by KSM (Khalid Sheik Mohammed).

*Note to self -must pick up a case of used overalls
at Home Depot this week.

HAPPY BIRTHDAY Jesse QWILL February 17th, 2019!
REST IN PEACE Buddy (my nephew's dog).
REST IN PEACE Al Roach HPD.

FYI Lenny Nichols is looking for someone or someones to take over the ESA-NNE District. Please contact Lenny Nichols by calling his cell (603) 944-2418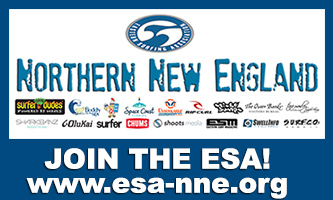 Please Support ALL The photographers who contribute to
Ralph's Pic Of The Week every week for the last 13 years.
** BUY a HIGH RES Photo from any of the weeks on RPOTW.

Remember my friends... Surfing Heals All Wounds.
Pray for Surf. Pray for Peace. Surf For Fun.

Ralph