I wrote this on our kitchen blackboard the day before the Super Bowl.
Now some of you might be thinking? Why would you be rooting for a team with these two players when they both left your team? That's a legit thought and question. To those who say "I have no dog in this fight, so I don't care who wins or loses." I, or rather we (my family), don't feel that way. We do have a dog in this fight. In fact we had two dogs in that fight. Tom Brady and Gronk.

Need I remind you that we (New England) had Tom Brady for 20 years.




You don't just let that go. You don't invest 20 years of rooting for a team and QB like TB12, and then forget about him. We are TB12 fans. And we're Gronk fans. Tom Brady helped the New England Patriots win SIX SUPER BOWL Titles! Gronk helped them win 3 of those 6. Of course we were going to root for them. They are part of our history.

Besides, our New England Patriots did not even make the Play-Offs this year.

It was a NO BRAINER. Those two players still mean something to any TRUE New England Patriots fan. To say otherwise is not being true to your heart. We all invested in TB 12. And when he left (because they wouldn't pay him) we were all heart broken. They (Kraft and Belichick) thought he was done. At age 43 he couldn't compete with these young gunslinger quarterbacks out there. These run and gun QB's who seem to be everywhere these days. Clearly, that's not TB 12's MO.

Tom Brady is from the old school of QBs. He stands tall in the pocket, and can fire the ball with cannon like accuracy. But they (Bob and Bill) couldn't see that. We could. The fans could still see it. But they could not. So they let him go. This, aging old QB who went to the Super Bowl 9 times with New England and took home 6 rings. Clearly, he would fall flat on his face in Tampa Bay. There's NO WAY he will make it to the Super Bowl.

Even when he beat Drew Brees and Aaron Rodgers, they doubted him.

But not to those of us who knew better. TB12 is a freak. He's the GOAT. You let the GOAT out of the pen. And to add insult to injury, he took GRONK with him. All you had to do was pay him. Pay him what he's earned. Pay him what he deserves. Pay the GOAT! You stupid sons of bitches!




We all wore our TB 12, Gronk, and Patriots gear. I wore my first Super Bowl Victory Tee shirt. Cory wore her Gronk shirt, and Pete and Noelle wore their TB 12 shirts. And we had an absolute blast watching that game. For not being our team, it sure felt like we were watching the Patriots again in the Super Bowl. It was great!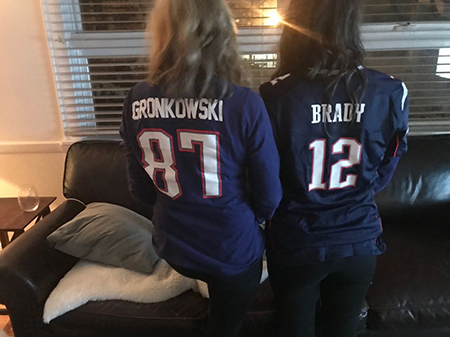 True Blue loyal fans through thick and thin. Cory and Noelle.

And because they were my witnesses. I called the first TD of the game by saying out loud, "Wouldn't it be great if Brady threw to Gronk for the first TD
of the game?" And the very next play? BAM!!! And then they repeated it. Brady to Gronk again. Then to add a little more salt to the wound, the third score was Brady to Antonio Brown (another ex Patriot).

Un-Freaking-believeable.




This was always my favorite Brady play. Taking the knee.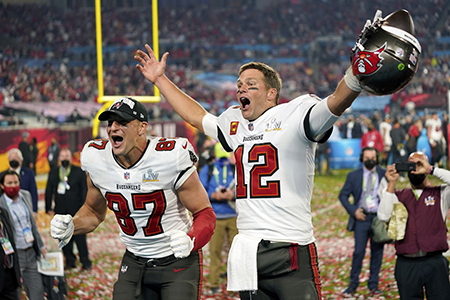 Guess who's going to Disney World? At least it's close by.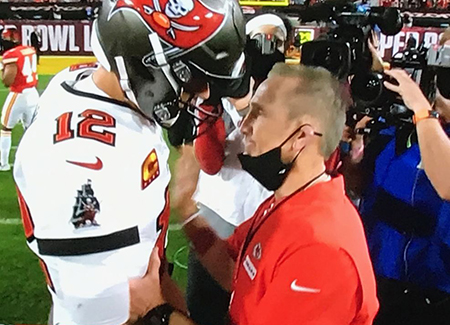 All the "experts" said that the Chiefs Defensive Coordinator Steve Spagnuolo had Brady's number. He knew how to beat him. That may have been true in the past Stevie, but not on this day. Bucs 31- Chiefs 9. The Chiefs did not score a single touchdown. They could only muster 3 Field Goals.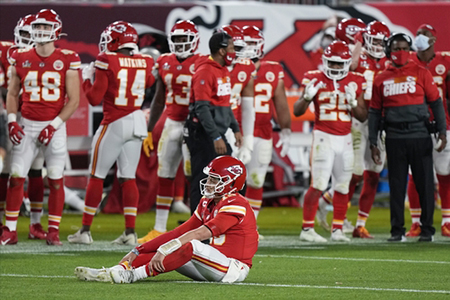 I remember one of the Super Bowl's that the Patriots lost, there was a photo that was very similar to this of Brady. I remember hating that photo. I'm sure the Chief's fans hate seeing this.




And this. This is the look of shock and defeat. Mahomey is not happy here.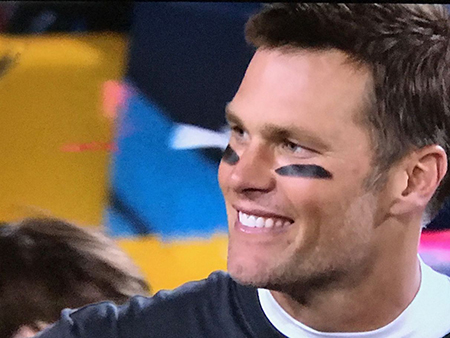 And this? This is the look of happiness and victory. And not for nothing here, but this man does not look like he's 43. He looks more like 33. And I would not be the least bit surprised if he's still playing at 53!




The Brady Bunch. I love this photo. It's the Real Deal.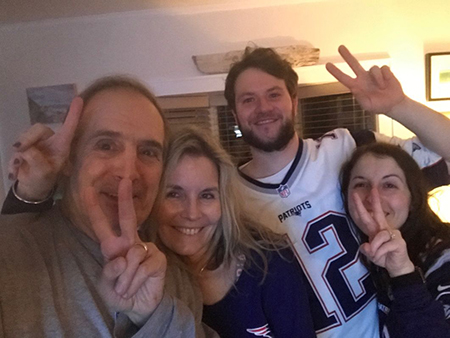 The Fatello Bunch. SEVEN FINGERS FOR SEVEN RINGS!




"THE GOAT, LOVE, and SURFING HEALS ALL WOUNDS!"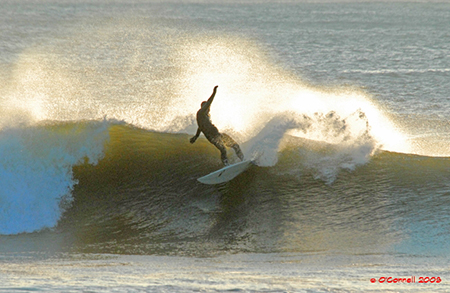 This week's Ed's corner pic is from February 14th, 2008. It's a Valentine's Day pic. I'm not sure who the surfer is, and I wasn't sure back when Ed took this. Regardless, it's a V-Day Wave
from Ed. Photo by Ed O'Connell
*Click the photo above to see a larger version of Ed's Pic.

Now for Some Local and National News

This past February 9th, 2021 marked the 57th anniversary of the Beatles playing on the Ed Sullivan show. As most of you know, I'm a huge Beatles fan. And that night literally changed my life forever. I was already playing my guitar learning Ventures songs, but that night? I knew right then and there, that I would be a Rock and Roller and have my own band. And I did. My brother Johnny and I would play in bands together since 1971. And we did.

In fact, the music on the video I posted (above) is all original music from our band The NOR'EASTERS. And like millions of others who watched the Ed Sullivan show that night we went on to play and record our own songs for years. We had records and airplay on some of the biggest Rock stations in the country.

One of the songs in the video above was recorded directly off of the radio. WBCN 104 FM in Boston was a huge factor in our careers from the VINNY Band, to SEMPER FI, to The NOR'EASTERS. The Rock Of Boston BCN!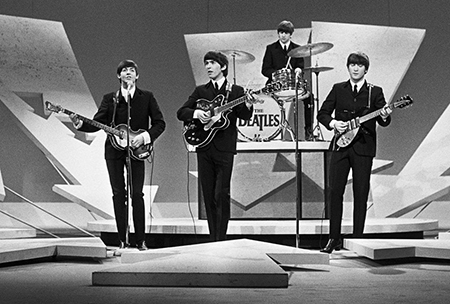 And it all started with these four Mop Tops from Liverpool England on this night. The BEATLES LIVE on the Ed Sullivan show, February 9th, 1964. The day that changed my life.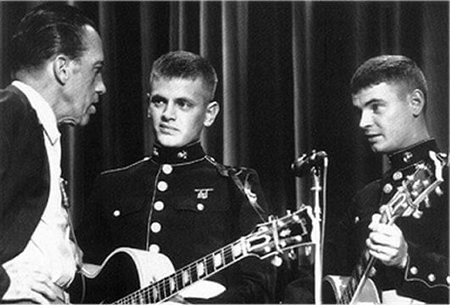 Before there were The BEATLES, there were acts like these guys. The EVERLY Brothers. What I didn't know until recently was, they were both in the Marine Corps! How did I not know this? Anyway, here they both are appearing on the Ed Sullivan show wearing their dress blues. How freaking cool is that?

Ironically, The BEATLES were huge fans of The EVERLY Brothers. With songs like BYE BYE LOVE and ALL I HAVE TO DO IS DREAM, how could they not be.

This sad news just came in. New Jersey Surfing legend Charlie King passed away a few days ago. I did not know Charlie that well. I only knew him through Kevin "Doc" Grondin and Charlie's son Ray. The handful of times I saw Charlie surf over the years it was pretty evident that he could not only surf, but he was one of the best I'd ever seen. The man had style. My heart goes out to his family especially his kids Katie and Ray. I've gotten to know Ray pretty good these last 10 years or so.

I know how close he was to his father. I'm so sorry for their loss.

And if there's any silver lining in this dark cloud of sadness, it's the fact that both Katie and Ray are the surfers they are today because of their father. The love that they all shared for each other and for the ocean, does not go away. In fact, it will only get stronger as the years go by. And look for signs. There will be signs from your dad. You just have to open your eyes and ears. He will be with you for the rest of your lives.

The whole King family has my Love and my respect.

Because I did not know Charlie as well as some of his NJ peers, I'm re-posting a piece that his friend and fellow photographer wrote. The words and photos below are all from Bruce Chrisner.




"Sorry this is a little lengthy, but Charlie deserves it!

Charlie "Snappy" King Fixture at Manasquan Inlet for quite a long time, Ruler of the Peak...no matter who else thought they were, he was that GUY! He would save you from Drowning if needed, & then tell you to hit the Bch, and don't paddle back out if you can't handle it, he would tell you the Rules of the Water & of the Line-Up if needed as well. If you were that guy that showed promise with your surfing, and showed Respect, that's what you got back from Charlie, and he would pass down his vast knowledge of the Ocean and Line-Up to you as well.

You only saw the gnarly side of Snappy if it was needed, if it got dangerous out in the Line-Up, or if an argument occurred, and he was surfing he became part of that Conversation and nipped it in the bud quickly, & let whoever was involved know who messed up, he wouldn't get physical...he didn't need to, he would assess the situation and let you know right away what was right and what was wrong, this was his domain, and he knew it. Plus he had plenty of back up out there if he needed it.

He told me once during a rather Large swell out on first peak that he didn't ask for the Job he just fell into out at The Inlet, it was bestowed upon him and handed down to him by the Generations before him that surfed there. Such as Charlie Duerr, Scotty's older Brother! Our Inlet is a sacred place and an amazing World Class Wave, and that's exactly how Charlie surfed it, and kept the peace out in the line-up, like it mattered, and it did!

But he also had a big heart, as big as the Grand Canyon, as most guys with his personality type do behind it all! If you Showed Charlie Respect out in the water or on the Beach, that's exactly what you got back from him! He was my Best Man in my Wedding and one of my Best Friends in the world! Stevie Stillman said something to me when I called him at 11:30 last night to make sure he knew what happened to Charlie, and he said: "Ya know Harri, none of us would be the Surfers and Watermen we turned out to be without Charlie's influence, and guidance"!

Sometimes being told you f-ed up was what was needed! It was always full circle with Snappy! The Nicknames that were in his brain, and his sense of humor was epic, and we all had many a laugh with some of the names he threw out there when surfing! So many Stories, so many laughs, it is really hard to see him Leave Us. I love both of his kids Katie King and Raymond King like they are my own, and I know they both made him such a Proud Papa.

Ray just charging huge waves in Charlie's name all over the World, and Katie, Surfing and Teaching School up in Maine, and now Starting a Family. Maryann you loved him and stood by him no matter what happened, not always an easy task with Charlie. Barb, Carol, Suzie, & Michael, your Brother/Uncle Char loved you all so much, I guess I was one of the lucky ones to hear him express that. Charlie wasn't big on Sentiment, it was there, it was just deep within him, behind the Crust.

I'm Gonna miss my friend so much! Rest easy My Man! I know you're with Jackie Meyer, up in that eternal line-up telling each other to "go, no you go, no Charlie you go, this one's urs...you just got here"!

I Love you Brother! RIP Charlie, You were a Stand Up no Bullshit Kinda Guy & your Surfing was Top Notch as was your Heart!"

Written by Bruce Chrisner.

*See the YESTERDAY Pic of Charlie King by Bruce Chrisner

I've been waiting for the right time to post this pic of Mike Tyson. After reading Bruce's tribute to Charlie King, I think this might be the right time.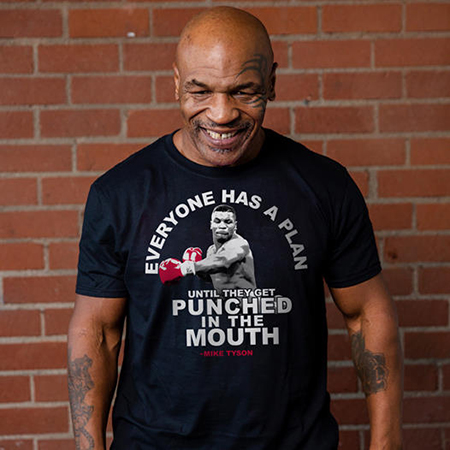 Ain't this the truth? Everyone has a plan until they get punched in the mouth. And getting punched by Tyson? No thanks.
Seven weeks ago I posted about Sam George and his new venture. If you like great writing with wit, humor, and an incredible legitimate insight to everything that is surfing, you will LOVE Sam George's new venture. His stories are the best.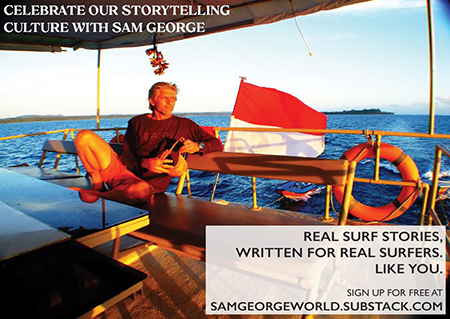 *CLICK ON THE IMAGE ABOVE START READING TODAY*

*I urge you all to sign up to get these important and entertaining stories of our world. Besides, it's FREE. Trust me it's worth it.

KSM Photoshop of the Week
I'm not at all surprised that KSM would be there when a intoxicated GOAT came stumbling out of the marina last week during the celebration of the 55th Super Bowl Champs. Yes the GOAT had a few too many. But who cares? He's entitled to celebrate like everyone else. It's good that the GOAT's bodyguard is re-directing him away from Khaliddy. Ain't no telling what kind of bugs are on Ole KSM. He's more than likely carrying some kind of infectious disease. Get The GOAT away from that POS!




And so my friends, please take advantage of this weekly photo shop of the mastermind who planned 9-11 and resulted in the deaths of 3,000 innocent civilians by KSM (Khalid Sheik Mohammed).

*Note to self -must pick up a case of Avocado Tequila
at Home Depot this week.

NOT ALL THE REPUBLICANS VOTED TO ACQUIT.
MITT ROMNEY VOTED TO CONVICT. AND IF JOHN McCAIN WERE STILL WITH US, HE WOULD HAVE VOTED RIGHT ALONGSIDE OF MITT. WHY? BECAUSE THEY CAN SEE AND HEAR THE TRUTH.

HAPPY VALENTINES DAY Cory! I LOVE YOU!
REST IN PEACE Charlie King.
HAPPY BIRTHDAY Jesse "QWILL" Ciarmataro Feb 17-2021!
CONGRATS to Ryan McGill and Alex LaChance on the birth of their baby boy "Noa!" According to Ryan mother and baby are doing great. I know that uncle Ty is stoked too! Such great news!
HAPPY 50th Birthday to Bryon Rivers February 6th, 2021!
REST IN PEACE Dan Kirby age 95 passed on 2-4-21.
REST IN PEACE Tontileo passed on 2-4-21.
PLEASE Keep 90 yr old Chuck Dreyer (Kim Grondin's dad)
in your thoughts and prayers as he recovers from surgery.
PLEASE Keep longtime NH Surfer Greg Smith in your Prayers.
PLEASE Keep local Surfer/Musician Pete Kowalski in your thoughts and prayers throughout the year.

Please Support ALL The photographers who contribute to
Ralph's Pic Of The Week every week for the last 16 years.
** BUY a HIGH RES Photo from any of the weeks on RPOTW.

Remember my friends... Surfing Heals All Wounds.
Pray for Surf. Pray for Peace. Surf For Fun.

Ralph