So I created this meme this week after Brady retired and Kelly Slater won his 8th Pipe masters crown just a few days before he turned 50. Unlike TB12, Slater is NOT retiring. At age 50 he is staying on the current tour and who knows how that could play out. Now as far as the BOAT? I wrote last week about my feelings towards CURLING. So I posted this on Social Media and got quite a few laughs. Come on people. This should not be in the Winter Olympics. There are far more deserving (actual) athletes who should be in the spotlight than these guys. Curling is like winter Boccie. It's just a game.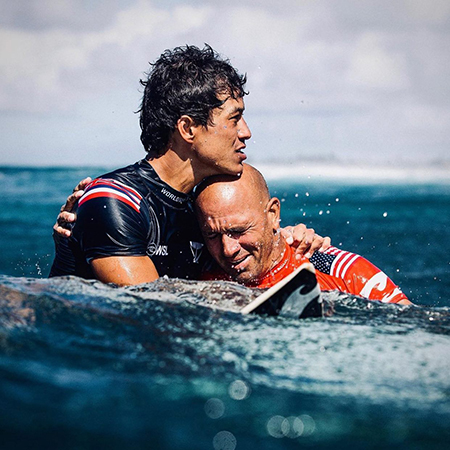 This is the pic of the year (according to the Surf Industry mucky mucks). Kelly Slater breaking down out in the water as his competitor Seth Moniz comforts him. The photo was taken by legendary lens man Brian Bielman.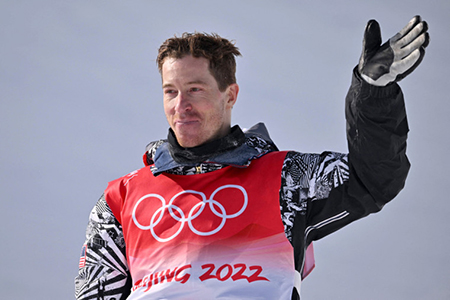 And speaking of legends and GOATS. Shawn White retired after his pretty
impressive final run in the Snowboarding Competition. 35 years old and a handful of Gold Medals, he went out like a Champ. Godspeed Shawn.




And before the week was through, Bruins Goalie Tukka Rask has hung up his blades for the final time. 15 years with the Bruins. He broke all kinds of records playing with Boston. Some say he wasn't as good as his records indicate. I say "Your record proves just exactly who and what you are." He was one of the best, and personally, I liked him. And hats off to any athlete who goes out with grace. Unlike those who stumble and fall at the end.

Thank you Tukka for all the wonderful memories. Godspeed to you as well.

On another GOAT related subject. Richard Seymour was inducted into the Football Hall Of Fame. He was one of the GREATEST to ever play. I'm so happy for him. He's earned his way into the HOF. And he will always be a Patriot to so many of New England fans. Congrats to you sir.




Yesterday (Saturday) February 12th, 2022 I hung out with some local friends and watched as they went through their weekly ritual of ice Fishing. My longtime friend Markey J invited me to come and hang with his brother Andy and their close friends. There wasn't much in the way of actually catching fish, but the camaraderie of their friendship and background was what made this a great couple of hours.

These men are all outdoors men. They hunt and fish.

And while I'm not one for fishing, I can certainly appreciate those that do.
My late father used to take me and my brothers fishing all the time. But, somewhere along the way, I got out of it. Spending time outdoors with friends is something I have done my whole life. Whether it be with my human friends or my canine friends. I will always be an Outdoors man.




Thank you boys for inviting me to hang out with you all. I had fun. And I'm glad you all got a kick out of some of my wild stories. Those stories I shared will be in my book along with all the other crazy times that I've lived through. FYI that Chowder was to die for. *Click on any of these photos to see the larger pics in the gallery




Lenny hauled in this small pickerel but released it back into the frozen river.




Here's three generations of service to our country and state, as well as a passion for the great outdoors that started with "Pops". The Vetters are a great family. Maybe this is the year I try to eradicate a few of those thug birds. I'll be sure to let you guys know if I change my mind.

This past Wednesday February 9th, 2022 was the 58th Anniversary of The BEATLES performance on the Ed Sullivan Show. Below is my short story
on my experience of that historical night.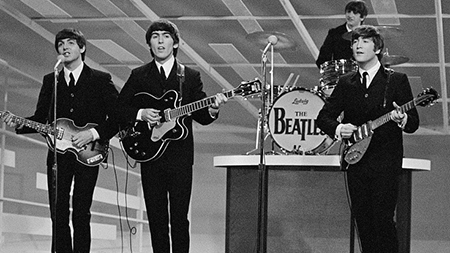 December 1963 was when I first heard them. "I Want To Hold Your Hand" by the BEATLES came blasting out of my small transistor radio on WMEX in Boston, MA . Woo Woo Ginsberg was the DJ. My favorite station at the time was "MEX." 1510 on the AM dial. I can remember it as clear as day. Arnie "WOO WOO" Ginsberg waking us all up to this new sound from Liverpool, England. It was the beginning of something that changed millions of young lives forever. And it came at a time, when our country was really hurting. The month before we all experienced the horror of the JFK assassination. We were still reeling from that awful time. And this was before Vietnam became a household word.

The BEATLES came into our lives at a time when we all needed something. Funny how these things happen.

Prior to the Beatles, I was listening to The VENTURES. I was obsessed with them. Yes, I listened to Elvis, and Buddy Holly, and a little bit of Ricky Nelson, but it was the Ventures that I loved. That whole cool surf guitar sound was right up my alley. But hearing I WANT TO HOLD YOUR HAND for the first time? I was all in. Every time that song came on the radio we turned it up. I couldn't wait to hear more. All the photos of them that started to trickle in. Then there were all the news clips of The BEATLES in England.

And then they were coming to America. By the time January rolled around, we were hearing the flip side of I WANT TO HOLD YOUR HAND which was an even more rocking tune; I SAW HER STANDING THERE. By the end of January we were going crazy with SHE LOVES YOU.

BEATLEMANIA had hit full force in our neighborhood and our schools. Every single kid I knew was into them.

Then on February 7th, 1964 they came in on Pan Am Flight 101. Landing at JFK in New York, only to be greeted by thousands of screaming fans. They were here in America. There was the newsreel footage of them at the airport, followed by their charming, and funny impromptu interview inside the Pan Am building. It was so incredibly exciting for all of us. The buildup to Sunday February 9th, 1964 at 8:00PM on the Ed Sullivan show was like waiting for Christmas morning. Their singles I WANT TO HOLD YOUR HAND and SHE LOVES YOU were flying out of the record stores. And so was their first LP in America MEET THE BEATLES. We had both singles and played the snot out of them on my father's record player. We were not allowed to use his big stereo console, but we could use his old record player. We played those two records to death. And we listened to WMEX constantly on any Beatle updates. Sunday could not get here quick enough.

Funny, how I do not remember what the weather was like that day. I suppose I was in a trance all day.

That night we all huddled around our small black and white TV in our tight den. And by all, I mean my mother Eva, and my father Gus, myself (I was the oldest of six), my sister Donna, my brother Johnny, my younger sisters Gale and Eva Marie, and my youngest brother David. I don't recall what we had for dinner. I'm guessing I was so excited I couldn't eat anyway. But that anticipation? My God…it was unbelievable. Counting down the minutes, the seconds, to finally seeing and hearing them.

And when the moment finally came, and Ed Sullivan stepped out and uttered those famous words;
"LADIES AND GENTLEMEN…THE BEATLES!"

And when Paul McCartney sang the opening lyric "Close your eyes…" to ALL MY LOVING, we, all of us, had changed forever. Every future rock and roller that night got sucked up into that vacuum of euphoria. There has never been anything quite like it since. And I for one, never looked back. I was all in from that moment on. Their first set consisted of ALL MY LOVING, TIL THERE WAS YOU, and ending with SHE LOVES YOU. That final song of the set, had us up and singing along. When Paul and George did the "Oooo" answer while shaking their mop top Beatle haircuts, the girls went crazy. And me and Johnny were smiling ear to ear. It was a night, I'll never forget. For as long as I shall live and breathe. I won't ever forget that night.

Their second set was even better. They came out rocking with I SAW HER STANDING THERE and ended with I WANT TO HOLD YOUR HAND. We knew every word and sang along. We were going crazy. The Fatellos were rocking out! I remember after they ended that final song, I looked over at Johnny, who was 10 at the time (I was 13) and said "This is what we're going to do." The very next day, I made cardboard guitar cutouts for me and Johnny.
I had a Hofner violin bass like Paul McCartney's bass, and Johnny had a Rickenbacker guitar like John Lennon's guitar. And we would lip sync to our Beatles records. And my dad (God love him) went out and bought MEET THE BEATLES at Zayre's Department store that same week. My parents were very cool when it came to The Beatles, and all the other British Invasion bands that followed. We were lucky.

My dad was a musician who loved all kinds of music. Mostly jazz and Sinatra. But he really liked the Beatles. And so did my mother.



It wasn't long before me and some of the kids in the neighborhood started our own band. My first electric guitar was a black Silvertone. My first amp was a Harmony ( I still have both). Our band was called "Johnny and The Diamonds." Kevin Bochynski on lead guitar and vocals, me on rhythm guitar and vocals, Ben Russell on bass, and John Tsourtsouris on drums.

Those of you who know a little about my musical background, know that Johnny and I made good on that promise on February 9th, 1964. Albeit, after my time in the Marines and the war. But when I came home for good, we started our first band. The BEAVER BROTHERS in 1971, followed by VINNY in 1976-1984, then SEMPER FI from 84-to 88, and then The NOR'EASTERS from 1988 to the present. Though we rarely play out these days, and when we have, it's just been he and I. So I guess you'd call us The FATELLO BROTHERS. We've gone full circle. From the BEAVER BROS to The FATELLO BROS.

And it all started 58 years ago that night.
"Ladies and Gentlemen…The Beatles…"
"GOATS, BEATLES, and SURFING HEALS ALL WOUNDS."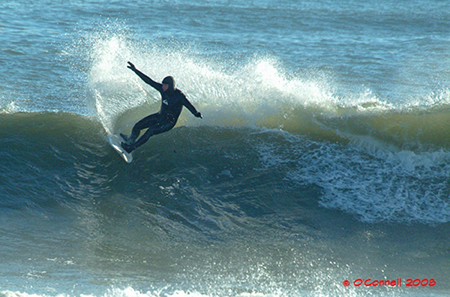 This is Kevin "Doc" Grondin on January 29th, 2008. Like last week's EC pic, I remember this swell, and I remember exactly where Ed was standing when he shot this pic. He stood where I now stand when this spot is working. Photo by Ed O'Connell
*Click the photo above to see a larger version of Ed's Pic.

NOW FOR SOME LOCAL AND NATIONAL NEWS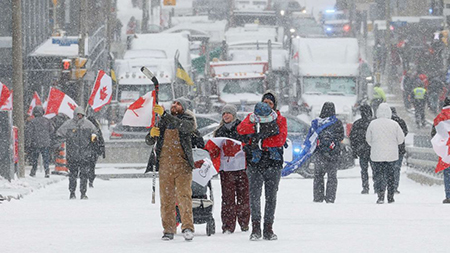 I don't know what the current status is on this TRUCKER PROTEST, I do know that both Canada and the United States are on the verge of grinding to a stop. This is yet another fallout due to the massive restrictions brought on by COVID-19. Will there no no end to this thing? All across the country some states are reducing the mask mandates both in schools and restaurants.

There are those who stand on both sides of this issue.

I got vaxxed only because I could not do anything without my Vax card. My doctor told me I had natural immunity and to hold off getting Vaxxed until the antibodies in my system had come down. They never did, so I got vaxxed anyway. And yeah, I got sick after both shots. But I have my VAX Card. And I've got more antibodies in me "than the average bear." Had to throw in that Yogi The Bear line.

Meanwhile, WORLD WAR III is knocking on the door...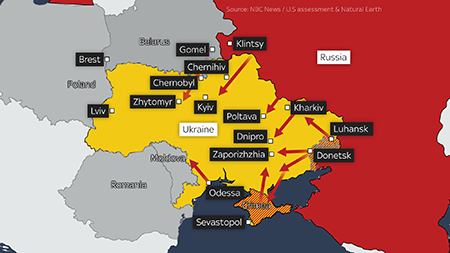 Russia is poised to attack the Ukraine at any given moment. In spite of all the huffing and puffing from our esteemed leader, Putin is going to do what Putin wants to do. No matter what the hell our "Commander In Sleep" says. NATO is on the verge of war. And this is going to be a test the likes of which we have not seen in decades. I pray that I am wrong, but all the Intel points to an imminent invasion. Buckle up kids, things are gonna get bumpy.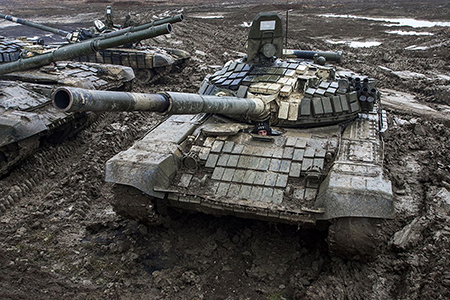 These are Russian Tanks armed for bear and ready to invade
the Ukraine. You know, the Marine Corps recently (within the last 5 years) did away with all of their tanks. And I for one, questioned that move. Sorry but this looks to be a conventional war. And with Russia having all these tanks, and our Marines have none? I don't know, but it seems as though the thinning of our armament seems a bit premature.

I know the ARMY still has tanks. But the Marine Corps no longer has them. They are strictly an amphibious assault group now. They also did away with the Choppers (CH-46) that I flew on in Vietnam, and now only use the Osprey. It's a new world. And a scary one at that.

RAMS vs BENGALS IN SUPER BOWL LVI is on TODAY!
SUNDAY FEBRUARY 13th, 2022 at 6:00PM.




Who do you like in the Super Bowl? I'm rooting for the Bengals.
Two reasons. First they are an AFC team. Second. They are the underdogs. Though ex Patriot Sony Michel does play for the RAMs. And I kind of like Matt Stafford. Oh I don't know, I just know that the Bengals have been the laughing stock in the NFL for many years. They have never won a Super Bowl. So... I want them to win. GO BENGALS!

Dan Lanio Memorial Scholarship Fund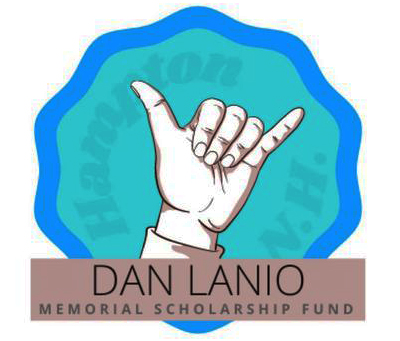 This community is amazing. The outpouring of support for Dan "Desi" Lanio has been emotionally overwhelming. It warms our heart to see all of the tributes and memories that you all have shared over the past few days. Many out there have sought out ways to honor the man who brought so much joy to all of us, and Experience Hampton has been working with people from all over the Town of Hampton to create the Dan Lanio Memorial Scholarship Fund.

This fund, will make a scholarship available for the WHS Extended Learning Opportunities Program (ELO). A couple of years ago, Desi raised close to $4,000 to start the first scholarship for ELO. This program was near and dear to Desi, as was supporting all the students from Winnacunnet High School.

Experience Hampton offered to accept donations to create this fund, and ensure that the donations being made were channeled to the official "Dan Lanio Memorial Scholarship Fund". Please know that we will ensure your contributions will only benefit the student recipients of this fund, and not be used for any other operational expenses.

As our way to honor Dan "Desi" Lanio, Experience Hampton will be contributing $2,500 as the initial opening donation. Desi was a key member in creating Experience Hampton, and we are truly grateful to the legacy he left behind, and we will do our best to honor his memory moving forward.



If you are interested in donating, no matter how big or small, please send and make out all checks to:
Experience Hampton, PO Box 444, Hampton, NH 03843
(Please indicate in the memo portion that the check is for the Dan Lanio Memorial Scholarship Fund)
Please Donate to this Timmy Sheridan GO FUND ME page.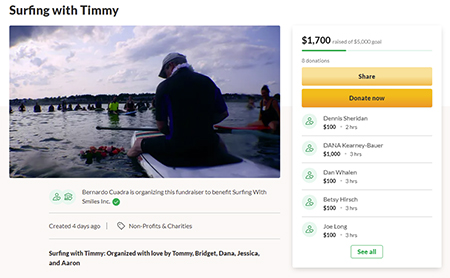 THE GO FUND ME PAGE in Memory Of TIM SHERIDAN

Timmy passed away very suddenly in June, 2019, and is now riding the eternal wave. Timmy had a passion for surfing. He taught friends and relatives how to surf and volunteered with Surfing with Smiles, a non profit organization that gives those who may otherwise not get a chance to be out on the water, the thrill of a lifetime. It is run solely by an amazing group of volunteers, three times a summer. Surfing with Smiles is an organization near and dear to our hearts. We are fundraising in Timmy's honor with the goal of providing scholarships for lessons and equipment rentals to assist Surfing with Smiles participants and others who may not be able to afford lessons, the opportunity to get out on the water.

*Please click on the image above to read more and to make a donation to this GoFund Me page in memory of Timmy Sheridan.


This effort is in conjunction with Cinnamon Rainbows Surf Company in Hampton, where Surfing with Smiles began, and
one of the biggest supporters of SWS.
Checks can also be made out to Surfing with Smiles, and please note Tim Sheridan Scholarship in the memo. Checks can be mailed to SWS c/o Cinnamon Rainbows Surf Shop, 931 Ocean Blvd., Hampton, NH 03842
And once again, speaking of
the Beatles
...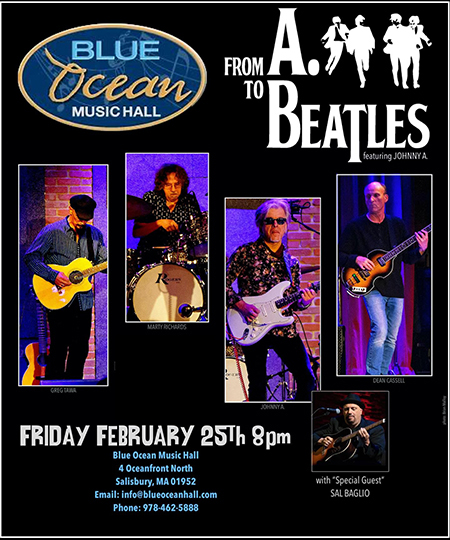 Appearing at the BLUE OCEAN in Salisbury Beach, MA
on February 25th, 2022 Click on the ad to buy Tickets.

*Sal Baglio has been added to the show!


KSM Photoshop of the Week
Ah ha! I knew KSM didn't have a sporting bone in his Al Qeada body. Of course he would be a CURLER. Ole Khaliddy is just what I expected him to be. A non athletic POS. A clown among clowns. This miserable suffering bastard is a CURLER! I didn't think I could be any more disgusted with him. But I was wrong




And so my friends, please take advantage of this weekly photo shop of the mastermind who planned 9-11 and resulted in the deaths of 3,000 innocent civilians by KSM (Khalid Sheik Mohammed).

*Note to self -must pick up a case of used checkerboards
at Home Depot this week.

HAPPY BIRTHDAY Matt Colby February 12th, 2022!
HAPPY VALENTINES DAY February 14th, 2022!
*Especially to you baby!
HAPPY BIRTHDAY Jesse Ciarmataro February 17th, 2022!
HAPPY ANNIVERSARY Mr & Mrs Rastl February 23rd, 2022!
CONGRATS TO LEAH and ROB Piersiak on the Birth of
their third child Mave Frances. Born on February 3rd, 2022!

PLEASE Keep local Surfer/Musician Pete Kowalski in your thoughts and prayers throughout the year.

Please Support ALL The photographers who contribute to
Ralph's Pic Of The Week every week for the last 18 years.
** BUY a HIGH RES Photo from any of the weeks on RPOTW.

Remember my friends... Surfing Heals All Wounds.
Pray for Surf. Pray for Peace. Surf For Fun.

Ralph