For those of you who know me well, you know, that I am a man of deep traditions. One of my strictest traditions is December 1st. No matter what the weather, or how I am feeling, I put the lights on the house and bushes, and most importantly, I put the "Blue lights on the Blue Spruce." I don't care if it's raining, snowing, or 20 degrees below zero. The lights are going up. Some of you are shaking your heads right now, and I understand that. I might do the same if the shoe were on the other foot. But it's not. It's my shoe. I make the call. No matter what the weather or how I'm feeling.
And this year I was feeling a little on the hurting side.

As some of you know (those who read this every week) I had a partial tear on my MCL on my left knee. Those of you who have had any kind of knee injury involving the MCL you already know how painful that it. It is shall we say, "uncomfortable." As in very uncomfortable.

Ironically, I had almost the same injury on my right knee on December 1st, 2011. That year I tore my meniscus, my quad tendon, and had a slight fracture on my right knee. My current injury is on my left knee. Back in 2011 I had just finished putting the lights on the house when I injured myself. I'm thankful that both of my injuries happened before and after my December 1st tradition.

To be honest, I don't think I could have gotten it done had it happened within a day of two of getting injured. I mean, it was/is that painful. I'm thankful that I dodged that bullet.

And this year was a first. I actually had help with the first part of getting the lights up on the Blue Spruce. My new son-in-law Pete helped me get the wrap around going. He held the ladder for me while I perched high on the upper rungs to drop the loop over the very top of the tree. It is a very delicate and precise maneuver to accomplish. Pete was a big help. Once I got the loop on the top branch I held the ladder while he started to do the top section . And we did it during the Patriots game.

A game they somehow won against the Arizona Cardinals. We did the top quarter of the tree together and I ended up doing the rest.

And the very next day, we went out and got our family Christmas Tree.

Typically we go and get our tree after the annual Town Christmas Parade. But once again, COVID raised it's ugly head, and put the Kabash on the Parade. So we adapted and overcame the obstacle that is COVID. One of our most treasured traditions is getting our photo taken by the Tree company. That company is BASSETT XMAS TREES. We've been going there for many years. They have a great selection of trees and I highly recommend them. Just tell John Bassett that Ralph sent you. Then hand him your camera. He'll gladly take your photo.




This year's Fatello contingent consisted of me, Cory, Noelle, Pete, Mackey, and Jacquie. John Bassett loves taking our picture every year. Like I said, it's a tradition. And here at our home, traditions breathe through our souls.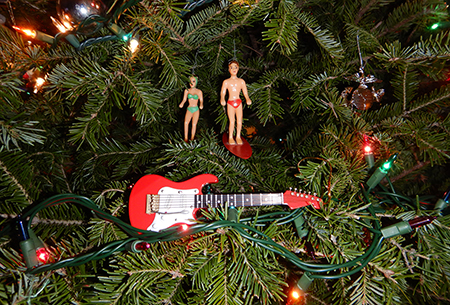 And this tradition is one I never tire of. The two surfer ornaments were actually on top of our wedding cake in 1987. They were a gift from a dear friend of mine, Elliott Easton from the band The CARS. He gave it to us in 1985. It is to this very day, one of my favorite ornaments of all time.
The red guitar in the foreground was a gift that we bought ourselves from another dear friend of the CARS, Nancy Winslow who runs a beautiful shop in Rockport, MA. She and her man David Robinson of the CARS are dear friends of ours. We love them both. David and I as some of you already know have been friends since the early days of the CARS. David produced several of my records and countless demo tapes. The reviews speak volumes of his work with me and my bands. I'm so glad we have all remained such good friends over the years and decades.




Drop by and say hello to Nancy, and pick something up cool for the Holidays. She's really got a great selection. Who knows, David might be in the shop.

So be sure and say hello to a true Boston Rock legend.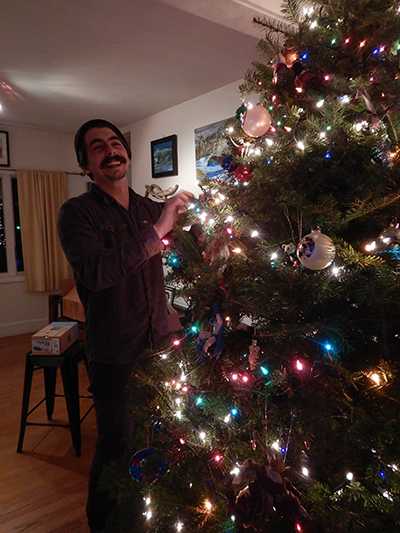 Our son Max was all smiles helping in with the decorating the tree. I'm posting this pic for two reasons. First, it's the Holidays, and second, I'm posting a photo of my old band down in the yesterday section. And if you look closely you'll see that I'm sporting quite the mustache. So Mackey was not the first to have a mustache in the family. In fact, my dad had one and so did Cory's dad. So the "Lip Fur" is nothing new in our family.

And speaking of tradition. The last thing we do with the tree is, I put the star on top. Now this star is not just some ordinary star. This star was Cory's when she was a little girl. Years ago when she showed me the star she was embarrassed by it. I on the other hand thought it was the most meaningful star I had ever seen in our home. It was like something Charlie Brown would have on his tree. It was that special. I love that old wrinkled star.




No sir, that star will always be on top of our tree. As long as I am here,
that star will be there. And that's a tradition you can bank on.
As we were all saying goodnight to the kids, we looked up and saw that the moon was shining bright on the Blue Spruce. I took this with my cell phone. But I think you get the overall Christmas magic vibe. Sure did look pretty.

"CHRISTMAS TRADTIONS HEALS ALL WOUNDS!"


This week's Ed's corner is an unknown. And truth be told, I chose this guy because his board kind of matches the background color of the Blog this week. Hey I'm always thinking of you guys, I want to make this Blog pop every week. Still having said that if any of you know this guy let him know he's on the Blog.
Thanksgiving Day November 26th, 2008. Photo by Ed O'Connell
*Click the photo above to see a larger version of Ed's Pic.

Now for Some Local and National News

The 40th Anniversary of the assassination of John Lennon is this coming Tuesday. December 8th, 1980. A day that literally shocked the world. To this very day, I will never understand what that asshole was thinking when he did what he did. I will NOT mention his name. He is unworthy of any mention by me, or any true Beatle fan for that matter. To kill John Lennon? My God, why? Why would you do such a thing? To completely disrupt the balance of what the four members of the Beatles did, to stop the music that was still yet to come. And yes, they had broken up, but there was always that chance. A chance to see them together again. You evil son of a bitch. You took that from all of us.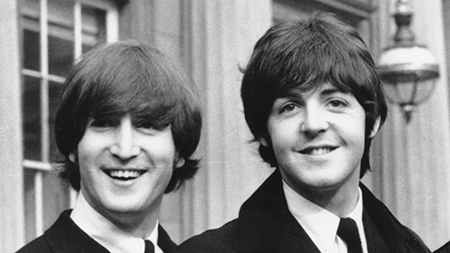 The two most prolific songwriters of all time. John and Paul.

What these two accomplished in such a short time would never be repeated by any artist, not before, or since. Lennon and McCartney. The songs, the harmonies, the instruments, the production, all of it. Taken away 40 years ago this coming Tuesday. Look, I know the music is still here. That can never be taken away by anyone. I am referring to the unknown future.

That's what was taken from all of us on December 8th, 1980.

Like a lot of you, I found out from Howard Cosell. Watching Monday Night Football. The Patriots vs The Dolphins. Howard Cosell broke into the game and told the world. And honestly? I have never been the same since. Any true Beatles fan will say the same. The music stopped that day. Just stopped.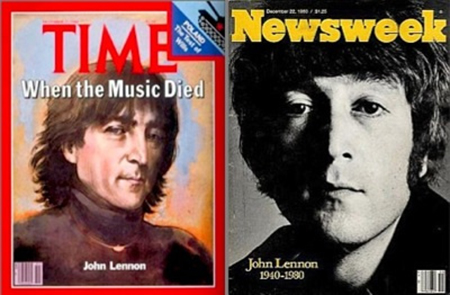 I have both of these magazines. Like a lot of you, I went out and bought everything. I was in deep mourning. Just completely devastated. But as bad as we all felt, poor Yoko Ono felt worse.




For what he took from his fans, paled in comparison to what he took from her. He took their undying love. He not only killed the music, he killed their love. You disgusting piece of human vile. I hope you rot in an everlasting hell, that is full of pain and suffering for all of eternity. You will never see the light of day again.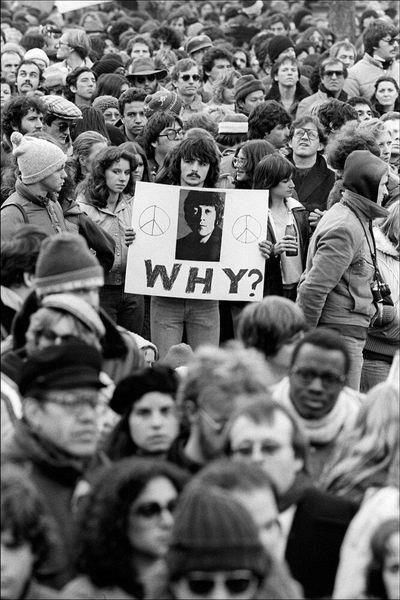 This photo above is as powerful today as it was 40 years ago.

REMEMBER PEARL HARBOR. December 7th, 1941!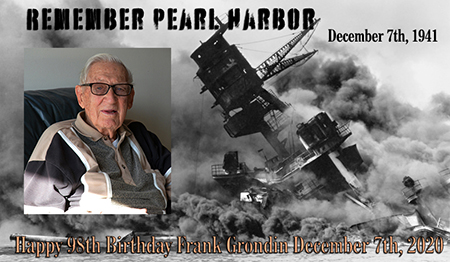 I am not about to end this section on the sad news about Lennon. Nope. Not gonna do that. Instead, let's talk about a local legend who's turning 98 tomorrow. Frank Grondin will be 98 years old on December 7th, 2020! I could write a book on this man. In fact, I did a video of him. A personal documentary on his remarkable life. To know Frank is to love him. And those of us who do know him, we love him with all our heart and soul.
Kevin and Kim Grondin share that love unlike any other couple I know. To say that they are angels would not be a stretch of any kind. Frank lives with them both on the compound and they are there 24-7 taking care of this incredible human being. Frank has suffered greatly in his life, he lost his wife Virginia of many years, he lost two of his four children, too many friends and relatives to count and through it all he has kept a stiff upper lip fighting off the emotions and physical pains that come with such losses.




Frank is a WWII Veteran and a recipient of the Purple Heart. The last Memorial Day parade we had in Hampton, I drove Frank in my JEEP and had these honorable placards made up with his name on them. I wanted people to see and greet a true war hero.
Frank who is a humble man, down plays his role in helping to save America. Not me, I want him to know that we all love and respect him. HAPPY 98th BIRTHDAY FRANK GRONDIN!
KSM Photoshop of the Week
I from time to time stumble across rare photos of KSM. Like this one. This is from his failed audition to play one of Santa's elves. What possessed him to even audition is a mystery. Anyway, enjoy this week's KSM Photo shop. It's OK to laugh. Ho Ho Khaliddy!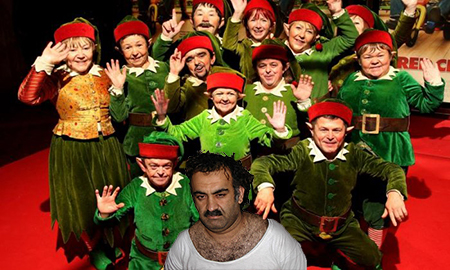 And so my friends, please take advantage of this weekly photo shop of the mastermind who planned 9-11 and resulted in the deaths of 3,000 innocent civilians by KSM (Khalid Sheik Mohammed).

*Note to self -must pick up a case of NORTH POLE TOYS
at Home Depot this week.

HAPPY 98th BIRTHDAY Frank Grondin December 7th, 2020!
REMEMBER PEARL HARBOR December 7th, 1941!
HAPPY BIRTHDAY Donna Baldassari December 13th, 2020!
REST IN PEACE Rhea Berardini 1920-2020
REST IN PEACE Paul "TANK" Sferruzza 67 years old.
PLEASE Keep 98 yr old Frank Grondin in your thoughts and prayers, as well as Chuck (Kim's dad) .
PLEASE Keep longtime NH Surfer Greg Smith in your Prayers.
PLEASE Keep local Surfer/Musician Pete Kowalski in your thoughts and prayers this Holiday season.

Please Support ALL The photographers who contribute to
Ralph's Pic Of The Week every week for the last 16 years.
** BUY a HIGH RES Photo from any of the weeks on RPOTW.

Remember my friends... Surfing Heals All Wounds.
Pray for Surf. Pray for Peace. Surf For Fun.

Ralph