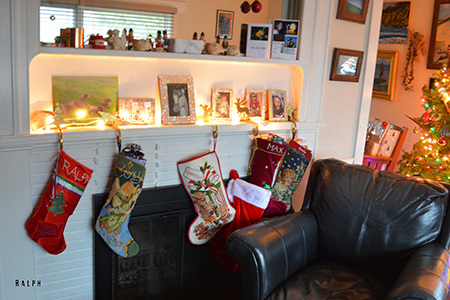 Christmas Day was one for the ages. It rained all day and into the night. Actually, it started the night before. Christmas Eve. It was more like Halloween Eve. As the winds blew hard all night long. 50 to 60 mph with stronger gusts. We never lost power but, we did lose our outdoor Christmas Lights. Which is almost worse for me. The horror of the Blue Spruce being down on Christmas morning was too much. I was able to trouble shoot the power outage and get the Blue Spruce lit up properly.

Don't ask me how I did it, because it was really just a series of trial and error tasks. I finally had to opt for there being just lights out front. The lights out back and near my office were down for the duration. And honestly? At this point, they can stay down. As long as I have the Blue Spruce lit up, I'm good.

Besides after the New Year's Day festivities, they all come down.

Yes, there's a little bit of Chevy Chase in me, along with my own father who did our childhood home with Christmas decorations. And speaking of my late father. He as some of you already know turned me onto both surfing and home movies. He was a hack filmmaker. He has rolls and and rolls of movies that he'd edited and spliced together the old fashioned way. And I took up that baton by making my first surf movies the same way. I have reels and reels of old 8mm and super 8mm of both my dad's old movies and my own.

For years I've been wanting to transfer those old movies to digital. Truth be told I had been doing that right along, but I've been doing it in an archaic method, I would simply project the image on my movie screen and then tape the that image with my video camera. Surprisingly, some of them came out pretty good. But not so surprisingly some did not. So I've been waiting for something to come along in the home market of doing these transfers for years. This is the best device that is available for a price that I can afford.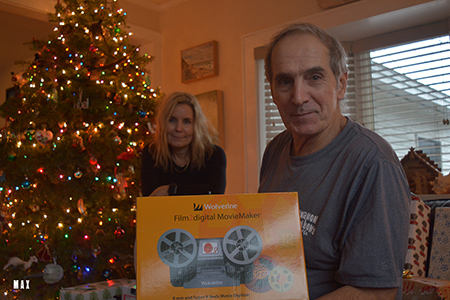 It's called The WOLVERINE. I'm hoping it does a good enough job for what I need. Which is to convert all the old 8mm and super 8mm movies to digital. And (what there's more?) ...YES there's more! We (Cory and I bought these for the both of us) also got the hub that takes all the old video cams from 8mm to High 8 to Mini DV's. I'm pretty excited about the prospect of bring these old tapes back to life to share with my family and friends.

I'll let you know how they come out. Because, who knows? This could be a
mini business venture if all goes according to plan. I could be transferring your old movies and tapes if things go smoothly. So figures crossed.

The DAY BEFORE CHRISTMAS, my friend Tony Berardini turned 74.




Click on this image above to see a larger version.

Now about that DAY AFTER CHRISTMAS SWELL.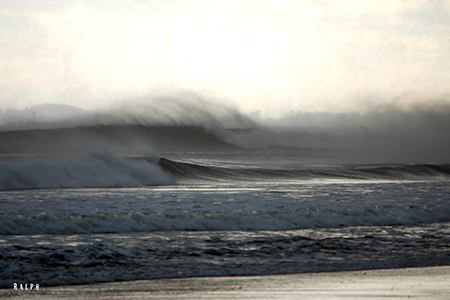 So the photo above? Yeah, that's the Day After Christmas.

This particular pic was taken during this wild snow squall that came out of nowhere. The skies went dark and the snow blew hard. And just as soon as it started, it was over. But the swell itself? It was an all day affair.

When the winds blow that hard, for that long, it doesn't take a rocket scientist to realize that there was going to be surf the next day. And boy was there ever.
It's all in the very first gallery. If you were around you scored, if you weren't? Ugh, you missed it. But...not to worry because, I captured the highlights of the day with still photography and video. The stills are in the galleries and the video will be coming later this week.

I stopped by the shop a few before Christmas. Yes I wore a mask.
You've heard of THE THREE WISEMEN?
This is THE THREE MASKED MEN.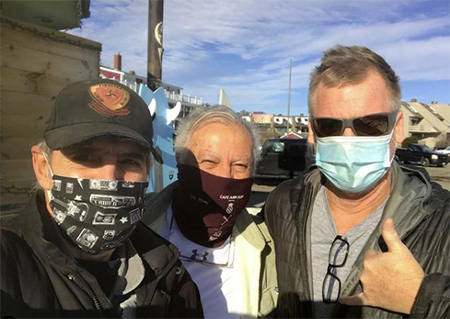 Ralph, Vinnie, and Crop.

So 2020 is coming to an END. THANK GOD!

Though if I am to be truthful, (and why wouldn't I?) This year was not that bad of a year for me personally. I mean it didn't really have that negative affect on my personal life. I was still able to go to beaches to both surf and photograph the surf. I was still able to spend just as much time as I usually do out in the woods with my dog(s). My youngest daughter got married in early September and nobody got sick from COVID, and certainly nobody passed away from it.

Yes it's been a drag not going to restaurants and clubs. Not seeing friends and family. I mean this was the first Thanksgiving and Christmas where we stayed home. I miss seeing my extended family. And I miss seeing friends on a social level. And I am truly saddened by the 300,000 Americans who lost their lives to COVID. But I am hopeful, and looking forward to getting the Vaccine. Even if there's some new strain of COVID coming over from England as I write this. I'm praying that this nation can finally begin the healing.

Though I have, and know of certain individuals who are still consumed with hate for Trump and anyone who voted for him. My guess is we are a long way away from being healed. The Hate must stop. Hate will eat you up.

Anyway, I'm looking forward to 2021.

I was going to do a recap on the last year but it's already been done a million times already. So I made this quick graphic to highlight the big stories of 2020. I think it's easy enough to follow.




Hope you all had a wonderful Christmas and Hanukkah. Remember.




"HAPPY NEW YEAR! BE KIND. BE THOUGHTFUL. BE VIGILANT.
AND REMEMBER SURFING HEALS ALL WOUNDS!"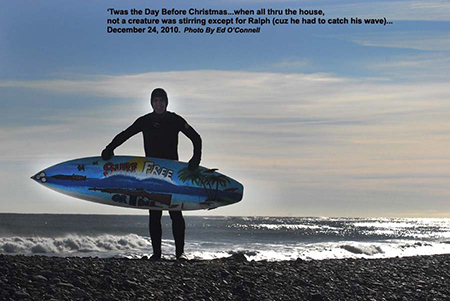 This week's Ed's corner is from December 24th, 2010. The surfer is me. It was during my MOLLY campaign. Click on the photo to see a larger image. Photo by Ed O'Connell
*Click the photo above to see a larger version of Ed's Pic.

Now for Some Local and National News

Last week I posted about Sam George and his new venture.
If you like great writing with wit, humor, and an incredible legitimate insight to everything that is surfing, you will LOVE
Sam George's new venture.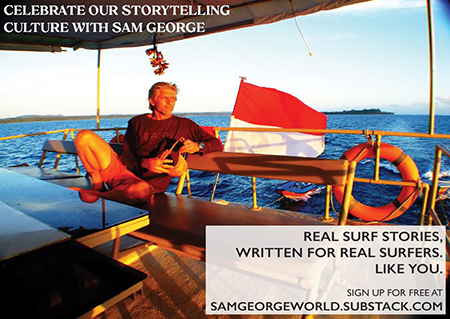 He sent me an email (see below) and I instantly signed up.
*CLICK ON THE IMAGE ABOVE START READING TODAY*

This is the email I received from Sam.


Ralph,

After more than 30 years in the business of writing about surfing, I reject the general perception that surfers don't read. Trouble is, with print media dead there's not much out there worth reading these days, aside from marketing promos, salacious gossip and narrowly-focused, almost entirely cynical surf contest coverage (with the exception of blogs like yours, of course!)

To that end I've aligned myself with a platform that allows me to publish a much more sophisticated spectrum of content for the discerning surfing devotee, with stories, editorials and the insightful examinations of what I describe as "the surfing world and all that's in it."
I'm hoping you find something in there for you. Please click on the link below to get started. And Ralph, if you're stoked about what you find, please feel free to share the link with your myriad, enthusiastic followers. You're way ahead of me in this online publishing realm.


Many thanks,

Sam
*I urge you all to sign up to get these important and entertaining stories of our world. Besides, it's FREE. Trust me it's worth it.




One of my favorite guitar players from the 70's passed away on December 23rd, 2020. Leslie West of MOUNTAIN was 75 years old. He had a great singing voice as well as a great tone on his guitar. He made his guitar groan. Every single time I heard MISSISIPPI QUEEN I stopped what I was doing and turned up the volume. I loved that song. This photo was taken by my friend Richie Parsons at the BEACHCOMBER on the South Shore of Massachusetts in 1977.

This just in. FRANK GRONDIN father of legendary surfer Kevin Grondin and his wife Kim (who was the caretaker of Frank the last years of his life) passed away today at age 98. You younger surfers know his grandson Kody Grondin, and his granddaughter Leah (Grondin) Piersiak




Pictured here with his late wife Ginny. They were married for 63 years. I'll be writing a full obituary Blog next week on Frank.




Kevin and Kim pictured here in 2017 on Frank's 95th birthday.
Our most sincere condolences to the entire Grondin family.
Look for the full FRANK GRONDIN story in next week's Blog.

RALPH'S PIC OF THE WEEK is selling 2021 CALENDARS
It's all local surf and surfers. If you're interested in getting one send me an email to: ralph@adlantic.com

I'm asking $20 per Calendar.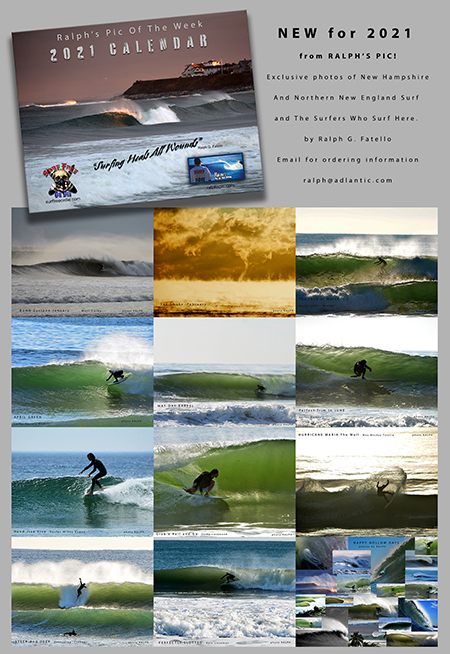 Who doesn't want a local New England Surf Calendar? I shot all the photos. Yes they are from The BLOG.


KSM Photoshop of the Week
I wanted to share the Happy New Year KSM Greeting from GITMO. Though he does not sound to happy. Wonder why?
This miserable POS should never have a Happy Moment for the rest of his life. He should ROT away in GITMO. Nobody I know will shed a tear. Khalid Sheikh Mohammed will spend another year behind bars. Which is to say, he's far better off than those he killed on 9-11. So don't worry about Ole Khaliddy. He's fine.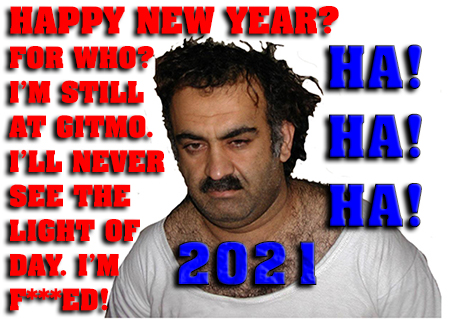 And so my friends, please take advantage of this weekly photo shop of the mastermind who planned 9-11 and resulted in the deaths of 3,000 innocent civilians by KSM (Khalid Sheik Mohammed).

*Note to self -must pick up a case of Noise Makers at Home
Depot this week.

REST IN PEACE Leslie West of Mountain.
REST IN PEACE Frank Grondin 98, of Hampton, NH
HAPPY NEW YEAR!!
HAPPY 1st Met 37th Anniversary Cory December 23rd, 2020!
HAPPY BIRTHDAY Tony Berardini December 24th, 2020!
HAPPY BIRTHDAY Baby Jesus December 25th, 2020!
PLEASE Keep 90 yr old Chuck Dreyer (Kim Grondin's dad)
in your thoughts and prayers.
PLEASE Keep longtime NH Surfer Greg Smith in your Prayers.
PLEASE Keep local Surfer/Musician Pete Kowalski in your thoughts and prayers this Holiday season.

Please Support ALL The photographers who contribute to
Ralph's Pic Of The Week every week for the last 16 years.
** BUY a HIGH RES Photo from any of the weeks on RPOTW.

Remember my friends... Surfing Heals All Wounds.
Pray for Surf. Pray for Peace. Surf For Fun.

Ralph