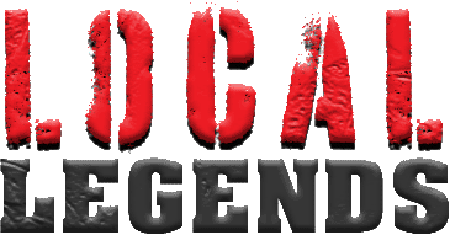 MEET THIS MONTH'S LOCAL LEGEND TONY BERARDINI.




Tony Berardini started surfing in 1961 in San Diego, CA. He and his friends surfed all the name breaks in southern California and down in Baja in the early 60's. Here we are 61 years later, and he's still surfing. I know that's probably hard to grasp for some of you younger surfers. Sixtyone years of riding waves. There's only a handful of surfers around these parts that can make that claim. That's pretty damn impressive. And I'll tell you something else that's equally impressive. In 1963 he built his own surfboard. Check the board below.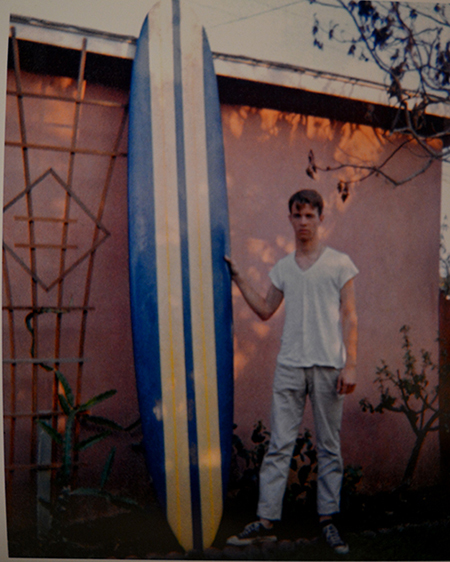 I don't know much about shaping and glassing boards, but I do know that making a longboard from scratch is pretty cool for a young surfer. Tony surfed and hung out in sunny California for much of his youth and then he got hit with the music bug. He played saxophone in a band and really got into music. Tony is the ONLY person I know, who saw Jimi Hendrix at Monterey in 1967. That show was essentially Jimi's American debut. Most rock music fans will remember Jimi lighting his guitar on fire after his set. It's all true.

Rock and roll history was made that night and Tony Berardini was there.

The seed was planted and Tony was on a mission. His love and passion for rock music was now in the fast lane there was no stopping him now. At one point his journey brought him Eastbound to Boston, Massachusetts. That's where we crossed paths. And that was the beginning of Tony finding his way north to the NH seacoast, where most of you surfers know him.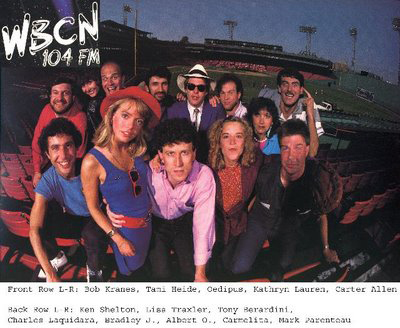 Of all the LOCAL LEGENDS I've done since March of this year, Tony and I share a common love and passion for not only surfing, but for music, and the music business. For you see, Tony (who turned 76 on Christmas Eve) is a musician, a disc jockey, and was the General Manager for one of the biggest and best Rock and Roll radio stations in the entire country. WBCN 104.FM
Any surfer in New England who surfed between 1968 to 2009 has heard of BCN . Tony was the man at BCN. The GM at BCN was a big deal. And Tony along with PD (Program Director) Oedipus helped guide that ship to the moon and back. They had a stable of some of the best jocks in the industry, and WBCN with Tony at the helm, was truly THE ROCK OF BOSTON.

I met Tony in 1979 at the after party of the First ROCK AND ROLL RUMBLE.

We got to talking about the band and the Rumble, and then we got around to talking about our past. When I found out he was from San Diego, I asked him the obvious question. "Do you surf?" When he immediately answered "Yes." I was all over him. "Dude, you have to go surfing with me. We have unbelievable waves." He looked at me like I had two heads. "Really? There's surf here in New England?" "Are you kidding me? My brother, first things first, we need to get you a wetsuit. I'm going to show you waves that will blow your mind." I couldn't believe it either. I finally found someone in the Boston Rock scene who surfed.




Well, long story short I dragged Tony out into the frigid waters of New England and turned him onto surfing our waves. He surfed them all, from Mass to Maine, and of course, here in our beloved New Hampshire. He was stoked on our surf and he would surf before and after work. Hey, he was a surfer, and you all know what surfers do. They go surfing no matter what. Tony was/is no different. It dawned on me as I was speaking about dragging Tony off into insane Nor'easters that I could have been responsible for getting him killed. It's true. We surfed some crazy swells back then, including the infamous HALLOWEEN Storm of 1991.

You know it better as the PERFECT STORM. October 25th-31st, 1991.

Back in '91 I dragged Tony out at a local reef break. It was a solid 8-10' swell. Dark, windy, and quite frankly, a little scary. But we were young and full of piss and vinegar. There were waves all week from this storm. Just like this past week. It would eventually tap out on the biggest day October 30th, 1991. But the day before, we were out dodging the bigger sets. Watching in complete awe as each wave got bigger and bigger. Tony was new to this spot. I used to be one of the main locals there. I pretty much cut my teeth on that reef. It was my home break. I loved that spot more than any other spot around.

That week of waves was one for the ages. I was a hard ass back then. I refused to paddle out the easy way (in the channel). I used intentionally paddle out through the section where all the waves were breaking. When Tony asked why we would be paddling out that way I told him. "We are sending those who are sitting outside a message. That we are willing to take waves on our heads to prove that we mean business." For some reason Tony went along with that logic. In hindsight it was stupid. Arrogant and stupid.

Once I got Tony outside it was pretty hectic. There was only a handful of other surfers in the lineup. They all knew how to surf. This storm was not one of the faint of heart. Any way, long story short, I called Tony into a sizable peak. As he put his head down and paddled, I saw the wave jack up another two feet.
You surfers all know that there's no referee blowing his whistle to stop the play. It's all running time. There's nothing anyone can do to stop the wave from coming and doing what it's going to do.

Well, Tony was at the top of this 10' A-frame peak. The wind was holding him in the lip as he fluttered there, precariously hanging over the lip. When he got to his feet the wind let up and he dropped straight down the elevator shaft! I remember gasping thinking to myself "You freaking idiot you just killed the GM of BCN." I thought in a flash of all the people that would be wanting my head on a platter. And just as I was thinking all of this, something miraculous happened. Tony made it to the bottom still on his feet! he cranked a bottom turn and then shot up into the face of the wave. He went by me so fast I barely had time to duck dive. But when I popped up on the other side the wind was howling and blowing the spray from that wave back out to sea.

I honestly didn't know if he was dead, dying, or actually flying along on the wave of his life. Turns out it was in fact, the latter.

Because I was out surfing I did not have a camera. So I ended up drawing a picture of him making that drop. He has it hanging in his house today. And if you look closely, at the poster below. The black and white drawing above his shoulder you can see the drawing. That day, and indeed that week, will go down as one of the most significant days in New England Surf History.
And that day Tony became one of us. I won't ever forget it. Neither will he.
Tony is also a mad dog snowboarder.
Every year he hits the slopes from Killington to Utah. And although he is no longer able to stand up on a surfboard (three hip replacements) he has a Mikel Evans Paipo board that he rides all the time. And guess what? He gets barreled almost as much as Kevin because he's so close to the tube by lying down. We have a saying in the Wounded Warriors. Surfing is Riding a wave Period. Standing up, sitting down, kneeling down, and lying down. It's all riding a wave. No matter how you do it.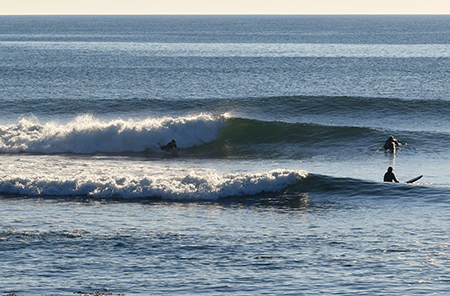 Photo by Shelly Berardini

Tony and his wife Shelly have been a big part of our community. Every single SURFING WITH SMILES and every Wounded Warrior HIT THE BEACH events. They've been there.


I personally could not do half of what I do without their help. Tony helps me out behind the scenes at the HIT THE BEACH events. He's been to every single one of them. Same with SURFING WITH SMILES.
With one of his favorite SWS surfers Grace!




Tony in the yellow rash guard has never missed a WOUNDED WARRIOR
HIT THE BEACH event.


Tony is also a part of a group of surfers who meet every single September 11th to honor those who died that day. We all meet at the surf break we were surfing on that terrible day. It was 21 years this year.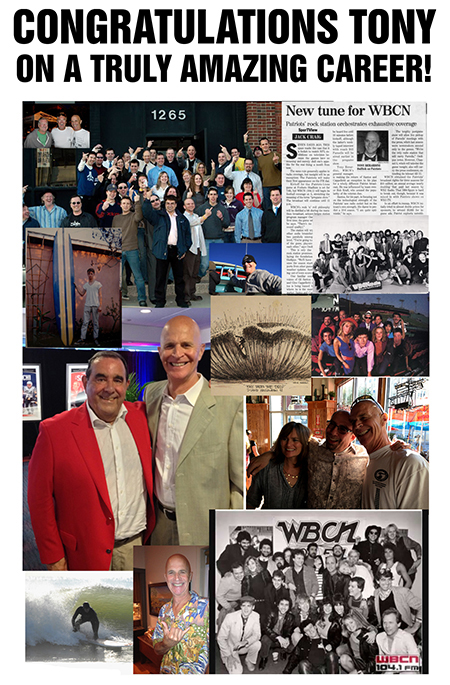 When Tony Retired from WBCN and the CBS Sports Radio I made this poster for him. He truly had a remarkable career, which included bringing the New England Patriots to WBCN. That was one of the coolest things that this region had ever experienced. Broadcasting the games in FM stereo was killer. BCN and the Patriots? Never in a million years did I think that was possible. But it was and it did happen, thanks in a large part to Tony making it happen. Check out Tony and Gil Santos in this poster. How cool is that? And at the tender young age of 72, Tony took up surf photography. I gave him a few pointers and then sent him off into the arena. He's done pretty damn good. I've always said, "you have to be a surfer to be a good surf photographer." Not always, but it sure as hell helps. TB72.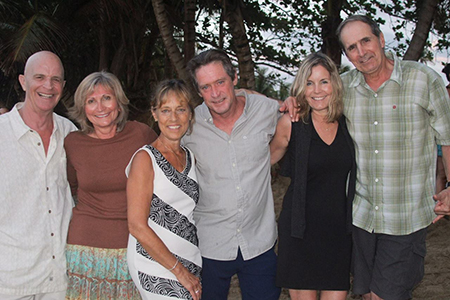 Tony & Shelly, Kim & Kevin, and Cory & Ralph on a surf vacation in PR
We are all friends for life. And I will always consider Tony more like a brother than a friend. We have been there for each other since 1979 and I know we will be there for each other to the end. And with his parents genes, (They both lived deep into their late 90's) he's going to outlive us all.
Mahalo my brother for everything!


"ROCK & ROLL-BOSTON SPORTS-SURFING HEALS ALL WOUNDS."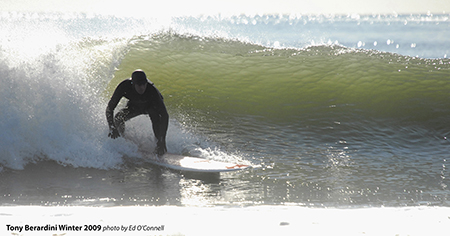 This is one of my favorite Ed O'Connell shots. Ed and Tony were good friends. And even though they didn't know each other very long, they really enjoyed each other's company. We had such great times when Ed was still with us. Tony and I had some memorable sessions out there with Ed on the beach
documenting the whole session. Photo by Ed O'Connell
*Click the photo above to see a larger version of Ed's Pic.

LOOK WHO IS RECEIVING THE FAITH IN THE FUTURE AWARD AT THE HAMPTON AREA CHAMBER AWARDS.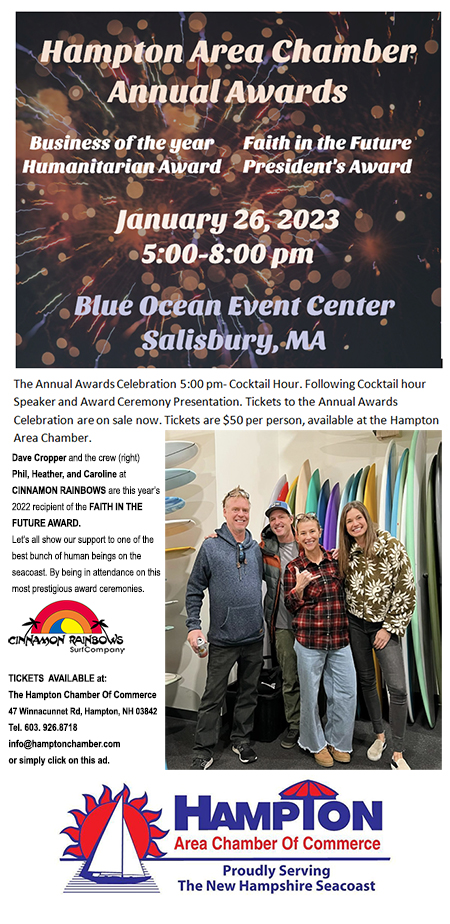 PATRIOTS LOSE ANOTHER HEARTBREAKER IN THEIR LOSS TO THE BENGALS 22-18



Once again the New England Patriots lose an absolute soul crushing loss to the Bengals last week. Down 22-0 the Patriots came marching back scoring 18 unanswered points and had a 1st and goal on the Bengals 6 yard line. With little to no time on the clock, they were poised to win the game. But once again Rhamondre Stevenson fumbled the ball on the 5 yard line and the Bengals recovered the ball.

The Patriots were knocking on the door to victory and blew it. It was pretty damn exciting, But dammit if they didn't lose it again. And ironically it was because of Stevenson who the week before lost the game by doing some kind of crazy hot potato dance against the Raiders. All he had to do was take a knee and play in the OT period.

Granted none of that crazy lateral bullshit should never have happened if the officials in NY saw what we all saw on that TD catch by the Raiders. That was NOT a TD. His toe was out. Those are the NFL rules. But apparently not last week. I'm not sure what the hell they saw, but the certainly didn't see what we all saw. Now? Now we're 7-8.

And yet, somehow we still have a chance to get in the WILD CARD slot. How? We have to beat BOTH the Dolphins and the BILLS. We might be able to squeak by the Fins but no way on earth we're beating the Bills.
The whole thing stinks.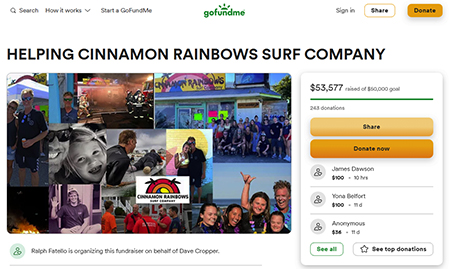 *Click on the photo above to make a donation

The HISTORY OF NEW HAMPSHIRE SURFING DOCUMENTARY. 58 years in the making.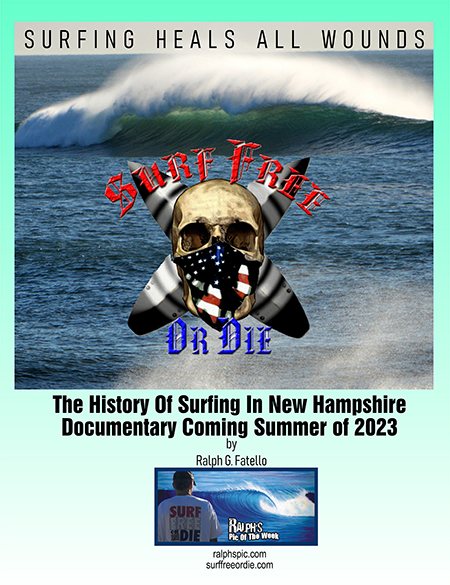 This should be ready by next Spring/Early Fall 2023. This has been 58 years in the making.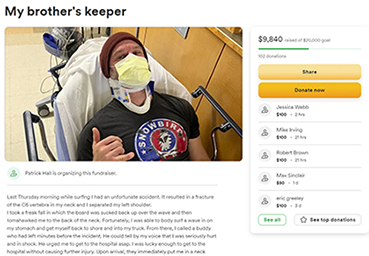 CLICK ON THE IMAGE ABOVE TO HELP OUT LOCAL SURFER/MUSICIAN Patrick Hall


When I was a kid I loved MAD MAGAZINE and Alfred E. Newman. In fact, my dream job was to get to work at MAD.


KSM Photoshop of the Week
When I recently googled "Creepy Santas" look who popped up. I couldn't believe it. Wait, yes I could. I of course made this happen through the weekly magic of Photoshop.I mean who in their right mind would have Khalid Sheik Mohammed be a Santa? Nobody that is but me. I'm sorry, I can't help myself. I see nothing but miserable situations for Khaliddy every week. I know it's been 21 years since 9-11. But, I truly have not forgotten.

Osama Bin Laden may be dead and gone. But this POS still lives in GITMO. And he was the one who came up with the idea of flying airplanes into buildings. I'm not gonna forget that. So, as long as I do this blog, you can expect Ole KSM to be in these weekly photoshop memes. Besides, I know for a fact that some of you love seeing this every week. You're welcome. Merry Christmas.

And so my friends,
please take advantage of this weekly photo shop of the mastermind who planned 9-11 and resulted in the deaths of 3,000 innocent civilians by KSM (Khalid Sheik Mohammed). *Note to self -must pick up a case of used Santa suits at Home Depot this week.


CALENDARS IN THE SHOPS OR EMAIL ME DIRECTLY
ralph@adlantic.com.




REST IN PEACE GUS LINSEMAN

Father to local surfer Kenny Linseman and grandfather to local surfers Holly and Kyle Linseman of Hampton. Kenny and the kids were very close to Gus. Kenny was a good son, and I know they will all miss him. Our most sincere condolences to them all.

REST IN PEACE Madeline Susan Johnson
July 27,-2020 to December 12, 2022
She was the niece of local surfer Cam MacLeod. The whole surf community sends their condolences to Cam's family during this tragic and sudden loss. Surfing heals all wounds.
HAPPY BIRTHDAY Brent Labreck December 10th, 2022!
HAPPY 70th BIRTHDAY 12-13-22 to my Sister Donna!
HAPPY 39th ANIVERSARY Cory! December 23rd, 2022!
HAPPY 4th ANNIVERSARY Noelle and Pete Rizzo 12-23-22!
HAPPY BIRTHDAY Tony Berardini December 24th, 2022!
HAPPY BIRTHDAY Baby Jesus December 25th, 2022!
Please keep local surfer Mike Keefe in your thoughts and prayers in the next few months. Keep fighting Mike!
Please keep local Surfer/Musician Pete Kowalski in your thoughts and prayers. SURFING HEALS ALL WOUNDS!
Please Keep local surfer Bill M. in your thoughts and prayers.

Please Support ALL The photographers who contribute to
Ralph's Pic Of The Week every
week for the last
18
years.
** BUY
a
HIGH RES Photo from any of the weeks on RPOTW.

Remember my friends... Surfing Heals All Wounds
.

Pray for Surf. Pray for Peace. Surf For Fun.


Ralph